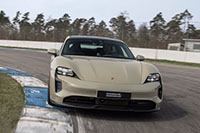 Everyone who follows the auto industry knew that Tesla's Model S would eventually get knocked from its first-place sales pedestal in the mid-size electric luxury sedan segment (which is actually a thing now), but some might've expected the upstart EV replacing it at the top to be from some all-new brand like Lucid. As we all now know it was Porsche's Taycan that took best-selling honours in this category last year, let alone every month since.
To be fair to Tesla, its flagship four-door has been with us mostly unchanged for a decade, which is a surprisingly long stint for any car and certainly testament to how advanced the original was when it came on the market in 2012. Then again, one glance at the Taycan and the Model S looks downright frumpy, which was no doubt part of Porsche's plan when penning the now three-year old BEV.
Taycan GTS Hockenheimring Edition commemorates 90 years of famed racetrack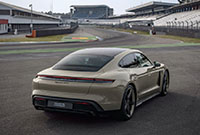 So, how should Porsche celebrate this monumental occasion? Once again breaking the track record at the legendary Nürburgring Nordschleife might be a good idea, especially since the only car to do so was a preproduction Taycan Turbo back in 2019 that, while achieving a pretty impressive lap time of 7:42.34 minutes and therefore making Tesla's four-year old 8:50-minute lap of a Model S P85D look as if it was merely cruising along in "chill" mode, got walloped by an updated 2021 Model S that ran the ring in just 7:35.579 last fall, no doubt in Plaid track mode.
Thus far Porsche hasn't taken the bait, but they've nevertheless conjured up a new special edition that pays tribute to 90 years of motorsport on Germany's second-most famous race course, the Hockenheimring, and while only available in Europe and therefore somewhat useless information for any Canadian that doesn't also own a hunting cabin in the Black Forest or ski lodge in Chamonix, it's a worthy racetrack to commemorate and a nicely dressed up Taycan to boot.
Hockenheimring has a long history of notable winners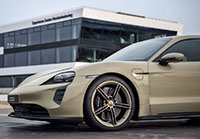 The Hockenheimring, located in Baden-Württemberg, Germany, hosted Formula 1 as recently as 2019, but was a regular haunt of motorsport's supreme series from 1977 to 2006, except for 1985 when the German Grand Prix was held at a reconfigured Nürburgring circuit, which had lost F1 in 1976 due to safety concerns.
The great Michael Schumacher achieved four Formula 1 victories at the Hockenheimring, while plenty of other racing greats have competed in DTM (Deutsche Tourenwagen Masters), a.k.a. the German Touring Car championship, World RX (rallycross), EuroNASCAR, and the World Endurance (Sportscar) Championship, in which Porsche has run away with many class victories and championships.
Stunning Stone Grey beige earth-tone joined by beautiful Bronzite highlights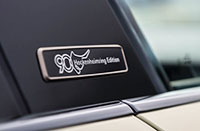 No doubt the new 2022 Taycan GTS Hockenheimring Edition's most eye-catching feature is its Stone Grey exterior paint, which we dare you to call beige. As if a car that can sprint from zero to 100 km/h in just 3.7 seconds could ever be considered beige, let alone one that looks as dramatic as any Taycan, but it's also a bit browner than grey, so we'll have to accept that Porsche used some creative license when positioning this hue within their "Heritage" colour palette's nomenclature and leave it there.
It's part of Porsche's Paint to Sample program, as is Bronzite that gets used for the five twinned spokes of this unique Taycan's 21-inch Mission E Design alloy wheels, the rims painted in Stone Grey to match the car's bodywork. Bronzite also adorns the car's side skirts, rear diffuser, and Taycan badges.
Island Green highlights combine with Paldao hardwood inside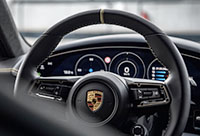 The Taycan GTS Hockenheimring Edition's cabin is slightly more subtle in execution than its sheet metal, much due to black leather being used throughout, except for a thin strip of Island Green leather found atop the steering wheel as a centre marking. Island Green stitching gets used in all the right places too, while Paldao hardwood inlays dress up key areas and yet more Bronzite can be found where satin-silver might otherwise be, including the steering wheel spokes, gear lever and surrounding area, HVAC vent slats, and even the rim around each cupholder.
Additionally, the Hockenheimring Edition's carpeted floor mats get yet more Island Green highlights, while a Hockenheimring track map and special logo get embossed into the leather-clad centre armrest, as does the key fob, illuminated door sills, and projector LEDs that light up the ground below the doors. Capping this special model off, Porsche fixed a special badge with the same logo and track layout to the outer B pillars.
New Hockenheimring Edition built on ultra-quick Taycan GTS underpinnings
The new Taycan GTS Hockenheimring Edition, which is only available as a sedan, makes 590 horsepower and 626 pound-feet of torque, which means that along with its aforementioned 3.7-second run from standstill to 100 km/h, it can manage a terminal velocity of 250 km/h, while GTS trim also provides the longest WLTP-estimated range of any other Taycan trim, at 504 km.
Taycan GTS Hockenheimring Edition. Porsche Exclusive Manufaktur (1:36) (Note: this video is in German):

Story credits: Trevor Hofmann
Photo credits: Porsche