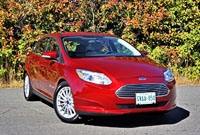 Two things matter most with electric cars: range and price. If it can drive far enough on a single charge to be practical and doesn't cost too much more than a conventionally powered equivalent then some semblance of sales success will follow.
Being that the latter situation hasn't fully materialized I probably should've mentioned a third criteria to electric vehicle success, government support. Everywhere that EVs are relatively plentiful you'll also find well-funded taxpayer programs, first to reduce the cost of initial purchase through rebate programs, and secondly to supply the necessary public charging stations to facilitate life with a plug-in vehicle.
Until recently, the highest EV rebate payout in Canada was Quebec at $8,000 compared to $5,000 in BC and zero anywhere else, other than Ontario that now gives buyers of some electric cars, including Ford's Focus Electric, up to $14,000 back through various programs. We can discuss how fair it is that many hardworking Canadians who can't afford a new car are stuck paying for those who have more, but that's a philosophical and/or political question for another time. Rather, it's probably better to talk about how you can get your hands on some of that "free" money by purchasing one of these electrics, because it might be a lot more within your reach than you may have previously thought.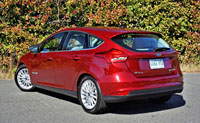 Let's start by doing some elementary math. The 2017 Focus Electric starts at $31,998 plus freight, fees and taxes, but Ford is currently (August 26, 2017) offering $3,595 of no-haggle discounts so you can have it for $30,153 including freight before taxes, or maybe less if you ask nicely or play as if your trade-in is worth more than you know it actually is. This means you can be driving a Focus Electric for a bit over $16,000 and taxes after rebates if you live in Ontario, $22,000 and taxes if you live in Quebec, or $25,000 and taxes if you live in BC.
Factor in that you'll be paying a fraction of what you'd otherwise ante up for fuel, or potentially nothing at all if you coordinate your daily outings so as to plug-in at the many aforementioned charging stations that have yet to start charging users money in most jurisdictions, and you should easily be able to add up exactly how much you'll be saving by chopping 100 percent off your auto fuel budget.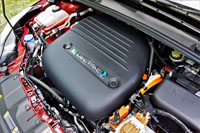 Electric car maintenance is much lower too, especially under the hood where there's so much less to go wrong, and while it's difficult to put a price on using HOV lanes with only a driver in the car, to some people "time is money," as Mr. Franklin once said.
But does the Ford Fusion Electric meet the other key EV objective? Does is supply enough range after a full charge to satisfy practical applications. After a week spent in the original 2013 Focus Electric back in the fall of 2012, I certainly didn't think it was worth my tester's rather steep $42,749 as-tested price, especially with 122 kilometers of best-scenario range in ideal conditions, a maximum of 89 being all that ever showed up on my tester's gauge cluster. I never dared try to find its real-world limit, because it was too difficult to guess and I didn't want to get stranded on a bridge somewhere.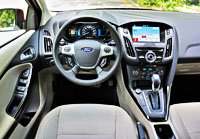 That was then, this is now. Where the old 2013 Focus Electric was better left in the hands of adventurous souls not affected by range anxiety, today's 2017 Focus Electric qualms any such worries thanks to 161 km of EPA-estimated range. That's still 11 km short of the Nissan Leaf, the world's best-selling electric, and eons less capable than the new Chevy Bolt that can manage up to 383 km per charge (believe me, I couldn't drain the Bolt's batteries no matter how hard I flogged it), but the Bolt begins at $43,195 before freight and fees, while the Leaf's price range starts at $33,998 and rises to a lofty $40,848 when fully trimmed out, which makes the Focus Electric appear pretty thrifty even when paying an extra $550 for its fanciest paint job and another $1,000 for leather upholstery.
But still, is the new Focus Electric liveable? Not from an interior ergonomics and passenger/cargo practicality perspective, but with respect to real-world range? I'll delve into both issues when I publish my full review, but for now will focus on standard features that are one of this car's strong suits.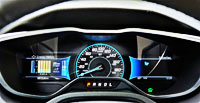 First off, Ford keeps things simple with one trim level and a couple of available options, just noted a moment ago. This means every single 2017 Focus Electric gets a completely unique one-piece grille with chromed with piano black accents that you'll either love for looking like an Aston Martin or loathe for the same reason, plus standard auto on/off headlights with signature LEDs, dedicated DRLs, LED taillights, power-adjustable heated side mirrors with integrated turn signals, approach lighting and special blindspot mirrors, chrome beltline mouldings, a rear rooftop spoiler, 17-inch Sparkle Silver-painted alloys, an SAE J1772 CCS charge port with a new illuminated LED state of charge indicator, and that's only on the outside.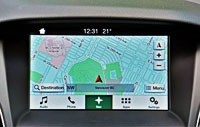 Remote start will get prepare the Focus Electric before you get there via MyFord Mobile with remote cabin preconditioning, while proximity access with pushbutton ignition gets you inside and ready to go. Additional standard features include illuminated entry, ambient lighting, an electromechanical parking brake, a tilt and telescopic leather-wrapped multifunction steering wheel, Ford's SmartGauge with EcoGuide instrument cluster, two driver configurable 4.2-inch colour LCD multi-information displays within the same primary gauge cluster, a message centre with a trip computer, variable intermittent wipers, cruise control, dual-zone auto climate control, Sync 3 infotainment with an 8.0-inch capacitive touchscreen with tap and swipe capability, enhanced voice recognition, navigation, a rearview camera, Apple CarPlay and Android Auto smartphone connectivity, Bluetooth, nine-speaker Sony audio, satellite radio, full-floor centre console with storage, cupholders and two chargeable USB ports, a leather-wrapped shift knob, illuminated vanity mirrors, heatable front seats, rear heat vents, a rear centre armrest with storage, one-touch up/down powered windows front and back, a removable rear package tray, and 60/40 split-folding rear seatbacks.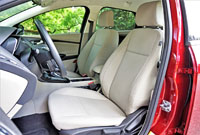 On the safety front, the 2017 Focus Electric includes hill start assist, tire pressure monitoring, traction and stability control, ABS-enhanced four-wheel disc brakes, and all the usual airbags including one for the driver's knees, but so far no advanced driver-assistance systems like forward collision warning, autonomous emergency braking, blindspot alert, lane departure warning, self steering capability, self parking, dynamic cruise control, auto high beams, etcetera.
I doubt those looking for a relatively inexpensive EV will care all that much about such advanced safety systems, which of course would push the Focus Electric's price much higher if standard or available. This car is more about getting environmentally conscious consumers on the road to a brighter, cleaner future.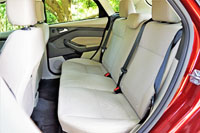 To that end the power unit has been upgraded for 2017, its lithium-ion battery now more "energy dense" than the outgoing model, says Ford. Now it can manage 33.5 kWh instead of 23.0 kWh, which makes it more capable than the Leaf's 30-kWh battery and Kia Soul's 27-kWh power unit. Altogether, the new Focus Electric makes 143 horsepower and 184 lb-ft of torque from a 107 kW electric motor, while using a single-speed direct-drive transmission to power the front wheels.
Also important, the new Focus Electric will recharge faster due to a new standard 50kW-capable DC fast charge port, the result being full depletion to 80 percent in less than half an hour. This will eventually make it easier to charge when traveling long distances, although you'll be hard pressed to find a publicly available DC fast charging port now. Alternatively, you'll need five and a half hours to charge from zero to full via a 240-volt charge station, or 30 hours from a regular household outlet.
Additional 2017 improvements include a new braking coach that trains you to decelerate more effectively so as to recover more energy from the car's regenerative braking system, plus new White Gold exterior paint.
The Focus Electric is underpinned by MacPherson struts and a stabilizer bar up front, and a Control Blade independent rear suspension with a stabilizer bar, while steering comes from an electric power-assisted steering, while torque vectoring control aids handling.
Come back soon to find out how all of this works, and especially how far I'm able to drive on a single charge…