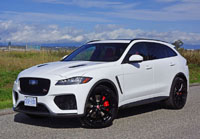 My goodness this thing is insane! The power, the outrageous sound of the supercharged V8's sport exhaust, and the sensation of 550 horsepower and 502 lb-ft of torque thrusting head and backside into the rich red and black diamond-pattern leather-skinned driver's seat upon takeoff while hands grasp at the leather-clad sport steering wheel, there's absolutely nothing quite like it in the compact luxury SUV class.
With a flagship SUV like this you'd think the F-Pace would be number one in its ever-burgeoning segment, and while it's certainly top dog… er cat within Jaguar's model hierarchy it appears premium brand buyers are more interested in easy comfort than scintillating performance. A shame. The F-Pace and most Jaguar models deserve better than they get.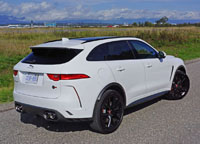 First off, the F-Pace is inarguably good looking no matter which trim is being discussed, with this SVR downright stunning. I can't think of a better looking crossover SUV, unless the origami folds of Lamborghini's Urus are more to your liking, or the Audi Q8 that shares its underpinnings, but the Italian, at least, is in an entirely different price stratosphere, starting at $240,569 in Canada, compared to just $89,900 for the F-Pace SVR.
Certainly a base Q8 can be had for less, but that sporty looking SUV's $82,350 entry trim merely makes 335 horsepower, and while a wonderfully comfortable city and highway cruiser it's not even in the same performance league. The equivalent Audi would be the near 600-horsepower RS Q8, but that upcoming super-CUV will set you back at least $110k (pricing hadn't been announced at the time of writing, and it's a larger mid-size SUV to boot.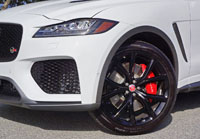 Now that we're talking competitors, Audi offers its 349-horsepower SQ5 in the compact class the F-Pace truly competes in, and while a true bahn-stormer its 5.4-second run from standstill to 100 km/h doesn't measure up to the SVR's 4.3-second blast, and I can knowingly guarantee (by experience) its 3.0-litre turbocharged V6 doesn't sound anywhere near as menacing as the SVR's 5.0-litre supercharged V8.
No, the F-Pace SVR's truest competitor (and no doubt most popular rival due to its three-pointed star) is probably the Mercedes-AMG GLC 63 4Matic+ that makes 503 horsepower and 516 lb-ft of torque from a 4.0-litre twin-turbo V8 resulting in a sprint from zero to 100km/h in just 3.8 seconds. The Mercedes maxes out at 280 km/h (174 mph) compared to the Jaguar's slightly quicker 283 km/h (176 mph), so they almost evenly share two key bragging rights. All you'll need to do if you want the Merc is amortize about five percent or $4,000 into your monthly payment, the German ute starting just above $93k, that is unless you end up buying a 2020 F-Pace SVR that's now priced at $92,000 even (which means there's only a thousand separating these beasts).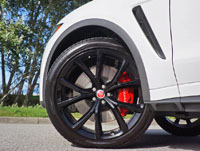 Speaking of popular German compact CUVs, BMW's X3 M should be on this list as well, due to 503 horsepower (in its top-tier Competition trim), 442 lb-ft of torque and 4.1 seconds from zilch to 100 km/h, all thanks to a hyper-tuned turbocharged inline-six. Top-line Competition trim will cost you $93,500 plus fees, whereas the lesser 473-hp base X3 M is only $83,200.
Incidentally, you can find pricing for everything just mentioned, including the 2019 and 2020 F-Pace at CarCostCanada, including trims, packages and standalone options, while you can also learn about valuable manufacturer rebate information, like Jaguar's current factory leasing and financing rates from zero percent (at the time of writing). Additionally, become a member and you can access dealer invoice pricing on the cars you're interested in buying, which means you could save you thousands when it comes time to negotiate. There's up to $3,075 in additional incentives on 2020 models right now.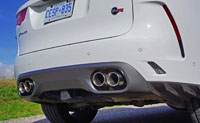 As far as those two German super SUVs go, I have yet to drive either, but I've tested plenty of BMW M models as well as AMG V8s and, while fabulous on their own, none sounds as malevolent as Jaguar's supercharged V8. Sure, their acceleration numbers are better and their prices aren't much higher, but performance enthusiasts can appreciate how important sound is to the overall driving experience. As for deciphering a few milliseconds of sprint time, that's a lot more difficult from the seat of the pants.
Using the Mercedes-AMG for an example, the sportiest versions of the GLC and F-Pace provide nearly identical wheelbases at 2,874 millimetres (113.1 in) for the Jaguar and 2,873 mm (113.1 in) for the Mercedes, while their tracks are almost the same too, the SVR measuring 1,641 mm (64.6 in) up front and 1,654 mm (65.1 in) in the rear and the AMG spanning 1,660 mm (65.3 in) at both axles, but despite the F-Pace being 52 mm (2.0 in) longer at 4,731 mm (186.3 in), 79 mm (3.1 in) wider to the edges of side mirrors at 2,175 mm (85.6 in), and 42 mm (1.6 in) taller at 1,667 mm (65.6 in), plus having 100 litres (3.5 cubic feet) of extra cargo capacity behind the rear seats at 650 litres (22.9 cu ft), it tips the scales 67 kilograms (148 lbs) lighter at just 1,995 kg (4,398 lbs). That's the benefit of its mostly aluminum construction over Mercedes' mixed use of steels and alloys.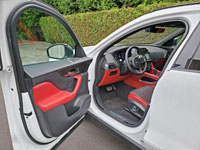 Two additional SUVs worthy of contention in this hyper-powerful compact luxury SUV class are Porsche's Macan Turbo and Alfa Romeo's Stelvio Quadrifoglio, the former good for 400 or 440 horsepower depending on whether buying the old 2019 or new second-generation 2020, or opting for the old model with its Performance Package (which also makes 440 horsepower), its acceleration similar to the F-Pace SVR when choosing one of the more potent options, yet its price reaching into six figures, whereas the hyperactive Italian makes 505 horsepower out of the box and sprints to 100 km/h in only 4.0 seconds, albeit with a price tag starting at $95k. Both of these SUVs are impressive, but once again their turbocharged V6 engines won't ignite the senses like the Jag's big, raspy V8.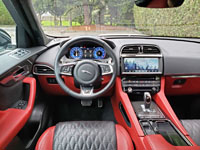 You've really got to hear it to appreciate it. Think about the sound of a chainsaw cutting through metal, without the high-pitched annoyance of the tiny, little two-stroke screamer, and you can kind of get an idea of what I'm talking about, although it's thoroughly pleasing whereas the chainsaw through metal experience probably wouldn't be. Either way it's a raucous affair, especially when the exhaust button gets pressed, which allows for freer flow and thus less backpressure resulting in more snapping, crackling and popping when letting off the throttle. It's obnoxious like an impertinent royal, yes the Prince Harry and Meghan Markle of SUVs.
While no doubt worthy of appointment to Her Royal Highness The Duchess of Sussex, Countess of Dumbarton and Baroness Kilkeel, let alone His Royal Highness The Duke of Sussex, Earl of Dumbarton and Baron Kilkeel, as the SVR's interior is at the level of super-SUVs from the most exotic names in the industry, it's also capable of hauling around little Prince Archie Harrison Mountbatten-Windsor in back, and a couple of his friends along with a picnic basket or two, plus some folding chairs and no doubt a safari tent stowed in the cargo compartment. In other words, the F-Pace, SVR or otherwise, is a capable family hauler with room for more cargo than a number of its compact luxury competitors.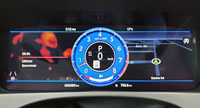 The F-Pace SVR is also capable of light-duty off-roading (with a quick change from its optional 22-inch black-painted rims wrapped in stock 265/40 front and 295/35 rear Pirelli Scorpion Zero all-seasons to something somewhere around 18 inches with a higher sidewall and more tread grip), although it'll be the serpentine stretches of paved highway on the way to the campground that'll get the adrenaline flowing.
As you might suspect it's sensational through curves, its wide track and light weight (for its size, beefy powertrain and luxury accoutrements), plus those just-noted Pirellis (even better performing Jaguar-specific P Zeros are available from tire retailers) and brilliantly tuned (read stiffer) aluminum-intensive front strut and rear multi-link underpinnings get a more buttoned down adaptive suspension setup plus a reworked electric power-steering system, for more of a super sedan feel than anything SUV-like.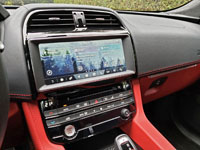 Ribbons of narrow, undulating two-lane tarmac are exactly where this SUV shines, and ironically when I prefer the extra ride height an SUV like this provides over a sports car like the F-Type SVR. Don't get me wrong, as the F-Type remains the cat to beat through twisting backroads and racetracks alike, but when the roadway is lined with trees and sharp declines arrive more quickly than an attentive eye can discern, that extra bit of visibility certainly makes for a bit more comfort at speed, as does the more compliant suspension of the larger, heavier SUV. In such conditions, both SVRs work best when their aforementioned Dynamic driving modes are chosen over their more comforting and economical settings, this more aggressive adaptive suspension setup aiding the body against its innate tendency to pitch and roll.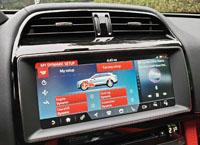 I didn't drive it like this all week, of course, the fuel cost of doing so well beyond my full-time journalists' budget, not to mention the cost of potential points and fines against my driver's license. While I wouldn't want to guess the latter, the former has been given a best-case-scenario estimate by Transport Canada's reasonably accurate five-cycle testing process being 14.5 L/100km in the city, 11.0 on the highway and 12.7 combined, which is actually better than I would've guessed for something this powerful and wonderfully sonorous. Alfa's most potent Stelvio gets a rating of 14.1 L/100km city, 10.4 highway and 12.4 combined, incidentally, and it's smaller overall with a V6 engine displacing just 2.9 litres, whereas the new 2020 Macan Turbo is rated at 14.2 city, 10.1 highway and 12.0 combined. How about the GLC 63? It's pretty thirsty at 15.0 in the city, 10.9 on the highway and 13.2 combined, but then again BMW's X3 M is an absolute glutton at 16.6 city, 12.1 highway and 14.2 combined, that is if anyone buying into this class really cares.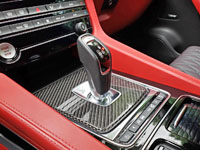 Along with the Dynamic drive mode noted earlier, which I left engaged most of the week, there's also a Comfort mode when traversing rougher roadways or just in the mood to relax, plus an Eco mode, which I probably should've relied on more for the reasons stated above. The latter two driving modes allow the engine to shut off when it would otherwise be idling, saving yet more fuel while further reducing emissions. I found the large Eco screen estimating how much fuel I supposedly saved while using its greenest drive setting somewhat humourous in this hyper-fast SUV, but fortunately it includes a Performance screen is well, which is much more useful in the SVR.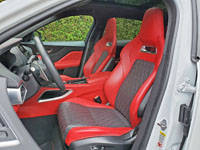 The SVR's infotainment touchscreen is more or less the same as with other F-Pace models, and I have to say a big improvement over earlier examples. It's reasonably large at 10-plus inches across, with an interface divided into three large tiles for navigation, media and phone, or whatever you choose as it can be set up for personal preference. Swipe the display to the left and another panel with nine smaller tiles appears, allowing access to most any function you need to perform. It's simple, straightforward and therefore easy to use, with the just-noted swipe gesture control accompanied by the usual smartphone/tablet-style tap and pinch gestures, the latter most useful while using the navigation system's maps. Apple CarPlay and Android Auto smartphone integration is included, as are myriad other features (although you'll need to pay extra for satellite radio), this system fully up to class standards.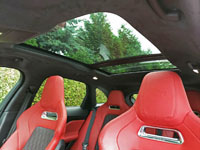 Even better is the 12.3-inch digital instrument cluster that Jaguar dubs its "Interactive Driver Display." If you want it to look like a regular two-dial primary gauge package leave it as is, but if you'd like to transform it to a big map so you can keep tabs on directions as you're rocketing to your destination, go ahead, or alternatively you can place a single driving dial with a numeric speed readout surrounded by a traditional tachometer in the middle, plus the map to one side and something else on the other. Configure it to your heart's content, as there's no shortage of options to make your driving experience as convenient and colourful as possible (you can optionally change the SUV's ambient interior colour scheme via the centre touchscreen, by the way, or project more info onto the windshield via an available head-up display).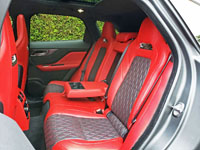 There's good connectivity within the tiny centre bin, including two USB-A ports, a Micro SD card slot, and a 12-volt charger. I can't for the life of me figure out why Jaguar hadn't made the rubberized pad ahead of the shifter, which was ideally size for my Samsung S9, into a standard wireless charging pad, but unfortunately such was the case. You can't even get it as an option for this 2019 model or the new 2020, so those wanting their SUV that has everything to actually have everything might want to ask your local car stereo retailer (or Jaguar dealer) if they can install one and how much it's going to cost.
Digital extremism in mind, super-SUV buyers truly care about over-the-top interior opulence, or so it seems by the five compact luxury crossovers being loosely compared in this review. The one you personally like best will be purely up to you and your individual taste, but all present dramatic cabin designs filled with the best quality materials and state-of-the-art electronics. Having lived with various trims of each of these vehicles for weeks at a time I'll give the overall quality nod to Porsche quickly followed by BMW and Mercedes, with Jaguar having reluctantly conceded the best interiors of its SUVs to Land Rover (the F-Pace's fraternal twin being the Range Rover Velar that's far and away more impressive inside), while my Stelvio tester was the only vehicle in 20 years of testing/reviewing cars that's ever left its hood release lever in my hand after trying to view the engine (which I never saw or photographed due to this malfunction).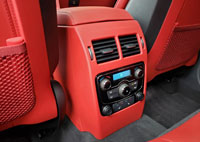 The SVR nevertheless ups interior materials quality and its sense of occasion over its lesser trims, thanks to an available black Suedecloth roofliner and pillars, plus contrast stitch premium leather just about everywhere, the bottom half my tester's dash and centre console, plus its armrests and seat bolsters done out in a deep, rich Pimento red, while Ebony Lozenge hides covered most everything else, including the quilted leather seat inserts that featured a sort of zigzag-diamond, hourglass pattern with a subtle bit of red dye peeking through the leather's perforated holes. It's a captivating look, although I'd probably choose something more subdued. I love the carbon-fibre detailing elsewhere, however (an upgrade over standard textured Weave aluminum), while all the piano black lacquered surfaces are a given these days. So are brushed aluminum accents, the SVR filled with very real bits and pieces for its plentiful interior trim accents, with the cutouts in all four seats' backrests particularly eye-catching.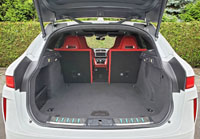 Yes, there's a fifth seat, but it's merely a semi-flat space, or rather a hump in between two ideally carved out window seats, simply left in place to carry an additional small adults or child when you're forced to fit three abreast in back. I'd say the outboard positions of the F-Pace' back seats are a bit more accommodating than in the average compact luxury SUV, which is why some keep referring to its as a mid-size. Passengers in the rear can be treated to as-tested optional quad-zone automatic climate control featuring its own comprehensive panel on the backside of the front console that's also replete with three-way heatable or cooled seat switches, which means there's less need to yell shotgun or sprint to the front passenger's door, depending on how your family deals with seating hierarchy.
There will be no need to force one of those rear passengers onto the centre bump during trips to the ski hill either (which would be a dreadful waste of those rear seat warmers when they're needed most), thanks to 40/20/40-split rear seatbacks (that can be folded via optional cargo wall levers). The 20-percent centre section folds down on its own to allow skis, snowboards, a surfboard, a stack of 2x4s or other long items down the middle while your rear passengers continue to enjoy the more comfortable heated (or cooled) window seats, exactly how it should be done in this class or any other.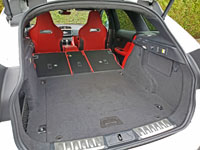 Yes, next time you're heading to the hills, or for that matter merely shuttling the kids to school, think about how much more comfortable, let alone quick it would be in a Jaguar F-Pace SVR. Imagine the time saved, and the look of your kids grinning from ear-to-ear as you show off your action hero driving skills. So what if your significant other is glaring with a slightly different expression, taking control of the sport exhaust button as you enter the school drop-off zone.
This is the most fun I've ever had in a compact luxury SUV (sorry Porsche), yet it can be highly civilized, reasonably economical and highly practical for everyday use. Those who want an SUV with the heart of a supercar need look no further than the Jaguar F-Pace SVR.