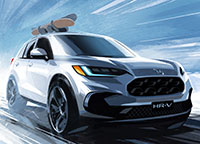 Honda is calling 2022 the "Year of the Crossover," partially due to 2021 being the year of their 11th-generation Civic, but more specifically because of two very important upcoming SUV releases. Top of the list will be a complete redesign of Honda's best-selling CR-V, expected later this year as a 2023 model, but the smaller 2023 HR-V that's teased here in two artist's renderings, is at least as critical for its entry-level gateway position.
The subcompact crossover SUV class has gained a lot of traction in recent years, growing from just eight models in 2010, to a shocking 27 now, and while the current HR-V is no longer the segment's top-seller, it's done very well for a design that's been around for almost a decade with only one mid-cycle refresh.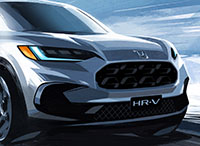 To be clear, the HR-V arrived to the Canadian market in June of 2015, but it was already two years old and in its second-generation. Amazingly, despite arriving halfway through the year, it managed second in sales for the category, only beaten by Kia's Soul, while it narrowly missed the top spot by just 301 units in 2016. Calendar year 2017 saw the HR-V rise right up to the top with 14,149 deliveries, but that triumph was quickly quelled when Nissan's ultra-affordable Qashqai hit the streets in 2018, followed by the current sales-leading Hyundai Kona that sold a whopping 25,817 units in 2019, plus 31,733 in 2020 (despite the health crisis). What's more, even though a microchip shortage caused calamity through last year's auto production, the Kona nearly equaled 2020 results with a total of 31,101 units down Canadian roads in 2021.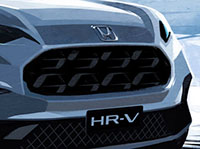 Comparatively, the aging HR-V placed sixth in Canada's subcompact crossover segment last year, with 11,616 deliveries, allowing it to narrowly edge out the smaller Hyundai Venue that found 11,548 buyers, plus the Mazda CX-30 that managed a strong 11,407 unit-sales. Additionally, it fell marginally behind Nissan's Qashqai that overtook its Japanese rival with 11,972 examples sold. The second-place Subaru Crosstrek attracted more subcompact SUV buyers than the HR-V as well, with 23,342 unit-sales, while the third-ranking Nissan Kicks did likewise with 18,750 deliveries. Finally, the Kia Seltos managed fourth thanks to 14,436 new owners in 2021. While it might appear as if HR-V sales are much below average, keep in mind that it still outsold 19 mainstream volume-branded subcompact SUV competitors, which is no small feat.
A much better HR-V story gets told south of our border, mind you, where Honda was able to sell a staggering 137,090 units last year, which is almost 10,000 more than the U.S. subcompact SUV segment's next-best-selling Crosstrek. Exactly how they upped year-over-year sales by more than 63 percent in 2021 is anyone's guess outside of the brand's inner circle, and it wasn't only because the model took a slight dive in 2020. In fact, sales were up more than 38 percent from 2019, but it may have come down to available microchips in a market that made many vehicles hard to get.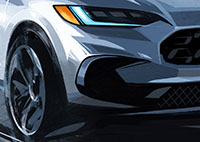 Being that the second-generation HR-V was based on the back of the now discontinued (in North America) entry-level Fit hatchback, it was always much more accommodating than its diminutive dimensions let on. Just like the Fit, the HR-V boasts an extremely low cargo floor, plus an ultra-flexible 60/40-split rear "Magic Seat" that comes with backrests that fold down in the traditional way for carrying larger cargo loads, plus lower cushions that flip upwards, pickup truck style, for stowing taller items on the second-row passenger compartment's floor. The innovative packaging allows it to compete with larger subcompact models like the Qashqai, Crosstrek, Seltos, CX-30 and new Toyota Corolla Cross, despite being externally sized more closely to the Kona, Kicks and Toyota C-HR. This makes it significantly larger than a Venue, incidentally, the smallest crossover currently available in our market.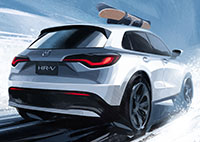 If you happen to follow global automotive news you might already realize Honda debuted the updated Japanese Domestic Market version of the HR-V in 2021. It's named Vezel in Japan, while the same SUV replaced the first-generation HR-V in Europe. That new model features an identical 2,610 mm (102.8 in) wheelbase as the outgoing model and our current HR-V, plus approximately the same overall length of 4,330 mm (170.5 in), the previous generation spanning 4,295 to 4,335 mm (169.1 to 170.7 in) from nose to tail depending on markets and trims. It's just 20 mm (0.8 in) wider too, at 1,790 mm (70.5 in), and slightly lower overall at 1,580 to 1,590 mm (62.2 to 62.6 in) when compared to 1,605 to 1,610 mm (63.2 to 63.4 in) for the previous model, the latter difference likely dependant on tire choices.
This said, our second-generation HR-V (the third-generation globally) will be North American-specific and therefore won't necessarily share the Japanese/European model's platform. Instead, there's a greater chance we'll see it riding on a version of Civic/Insight and CR-V underpinnings, not to mention the new Acura Integra (a.k.a. ILX), which means it should receive a stronger powertrain, plus possibly the option of a sportier and/or fuel-friendly hybrid model too, as well as the continuation of Honda's Real Time all-wheel drive.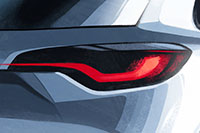 Currently, our 2022 HR-V is available with front- and all-wheel drivetrains, while employing Honda's 1.8-litre inline four-cylinder engine and continuously variable transmission (CVT) across the line. The engine is good for 141 horsepower and 127 lb-ft of torque no matter the trim, and as verified by the HR-V's continued popularity it's been potent enough for most peoples' needs.
Probably more important than performance in this class is efficiency, and to that end today's HR-V gets a claimed five-cycle rating of 8.4 L/100km in the city, 7.0 on the highway and 7.8 combined with FWD, plus 8.8 city, 7.5 highway and 8.2 combined with AWD, and lastly 9.1, 7.7 and 8.5 respectively with the sportier AV7 version of the same transmission, which makes it fairly stingy for the segment.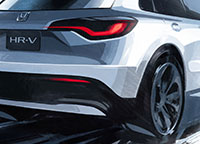 It's difficult to say if Honda will be able to maintain the second-generation's miserly ways with a larger 2.0-litre powertrain if incorporated into the design, especially considering the subcompact SUV will also grow in size and weight, but that 200-cc larger engine is rated at 7.7 L/100km city, 6.0 highway and 6.9 combined in the 2022 Civic Sedan, which also uses a CVT and FWD, so there's no reason to think it will be much thirstier in a slightly taller crossover. That engine also puts out a much more suitable 158 horsepower and 138 lb-ft of torque, which should more than make up for the renewed 2023 HR-V's size and weight gain.
Other possibilities include a hybrid variant, at least in markets where Honda can make a viable business case for selling one. Unfortunately, infinitesimal Insight sales in Canada, due to higher pricing than electrified competitors, plus no CR-V Hybrid availability at all, make it appear that moving large numbers of hybrids hasn't been Honda Canada's priority in recent years, a shame considering how well it once did with the Civic Hybrid.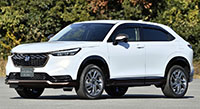 Still, it only makes sense the Japanese brand will eventually want to put forth a serious hybrid or electric challenger North of the 49th (Accord Hybrid aside). After all, despite our relatively small population, Canada remains the 13th largest automotive market globally. If Honda does choose to sell a hybrid variant into North America, they'd have the option of the 129-horsepower electrified drivetrain currently offered to European HR-V customers, or the 151-hp setup provided in our Insight sedan, the latter probably more suitable to buyers in our market.
All said, it's impossible to know if a larger HR-V will return more sales than the current model. Of course, redesigns normally produce an immediate spike in activity, but being that we have so many brands selling multiple models into this class, and the sales results of their smaller and larger models vary dramatically, we need to believe that Honda has based its decision to produce a larger HR-V on extensive market research, because changing up their highly successful subcompact SUV formula poses a significant risk. What's more, if Honda isn't able to integrate its versatile Magic Seat system into the new design, usable cargo space may not increase. Loyal HR-V owners will be collectively hoping they do.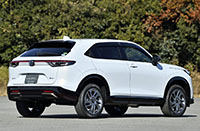 When it comes to styling, what we can gather from the artist's rendering is a vastly more appealing crossover SUV, even discounting the added width, tire/wheel sizes and other visual tricks artists play when rendering prototype vehicles. The upcoming HR-V appears to be a sportier, tougher looking crossover, with an attractive new grille design that seems to frown instead of smile. This more menacing theme has worked well for Toyota trucks and SUVs, while the C-shaped glossy-black corner vents are so similar to the outgoing Acura RDX' (pre-facelift) that one has to assume we'll also be getting a spin-off for Honda's luxury brand. An ADX with the Civic's optional 180-horsepower turbocharged engine, anyone? How about an optional 200-hp Type S? Its powertrain could easily be pulled from the Civic Si. That would give the Lexus UX a run for its money.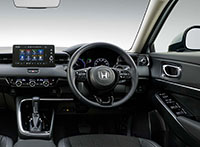 The rendering's rear styling shows enlarged taillight clusters bearing some semblance to the current model's design, not to mention a respectful nod to past Civic models, particularly the eighth-generation sedan. It's also easy to see additional Acura influences on the backside of the new HR-V, so it will be interesting to find out how the finished product looks.
As for the interior, small crossover SUVs are often where automakers let their proverbial hair down in order to have some fun. Just the same, Honda did no such thing with the domestic-market Vezel, which gets a fairly staid, conservative dash design, featuring only the slightest bit of creativity around the centre stack (see the gallery for photos).
In the end, these two renderings only serve to tell us that an "all-new HR-V will launch in North America this year," further promising to be both "sporty and versatile," or so says the two-line press release. Thankfully, we shouldn't have to wait very long to find out.
Story credits: Trevor Hofmann
Photo credits: Honda