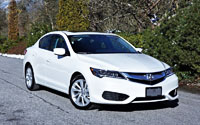 The entry-level luxury car segment is different than most others in the industry. Unlike the larger compact D- and mid-size E-segments that see the Acura TLX and RLX sport-luxury sedans respectively fight it out against similarly sized four-door models (plus the odd wagon), such as BMW's 3 and 5 Series, Mercedes-Benz' C- and E-Class, and Audi's A4 and A6, the Japanese brand's ILX compact sedan goes up against a four-door coupe and five-door hatch from Mercedes, two-door coupe and convertible models from BMW, a (now defunct) five-door hybrid hatch from Lexus, and yes another four-door sedan plus a two-door convertible and five-door plug-in hybrid wagon from Audi. It's an eclectic mix for sure.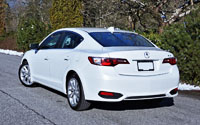 I can't see many luxury buyers cross shopping the ILX against a BMW 2 Series or any of the five-door family haulers in the class, but the Audi A3 Sedan is the ILX' closest rival, followed by Mercedes' CLA. And yes, I can't be the only one still shaking my head that BMW never entered the North American fray with a four-door sedan version of its 1 Series, but I suppose now that compact SUVs have taken over most brands' entry-level duties its previous sin of omission may now be seen as clever foresight.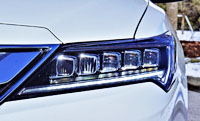 Yes, there's a lot of excitement surrounding SUVs as of late, but BMW aside, which sold more than three times the number of X1 crossovers as 2 Series models last year, Mercedes obliterates GLA sales with its one-two CLA/B punch, Audi handily outsells the Q3 with its A3, and Acura sells 100 percent more ILX sedans than its… CDX? Of course, we're still waiting for Acura to show up with a subcompact SUV of its own, so for now the ILX carries the entire entry-level show.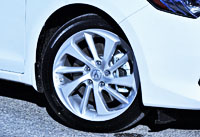 Other than being a bit past its stale date, the ILX carries that mantle well. Styling, while still attractive, gives away the car's age, at least when put beside the aforementioned TLX and RLX sedans that have already been updated with the brand's new trademark "Diamond Pentagon" grille and complementary body augmentation. Instead, the ILX continues to wear the brand's outgoing aluminum-tone "Dynamic Power Plenum" grille, a more attractive adaptation of the earlier "shield" grille that's more commonly and less respectfully known as the "beak".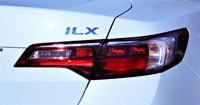 Either way, the ILX wears its front fascia proudly, its centermost portion protruding pointedly, flanking headlamps made up of five "Jewel-Eye" LEDs apiece, and lower apron suitably sporty thanks to a narrow centre air slit and assertive set of corner vents. An upswept shoulder line, shapely waste line, and yet more sculpting along the rocker panels adds depth to its side profile, while an angular set of slim LED taillights has always been an elegant addition to its backside, these topping off a rear bumper cap that nearly mirrors the car's frontal design when it comes to corner vents. It's a smart looking ride, rounded out by silver-painted multi-spoke 17-inch alloys on my Technology trimmed tester.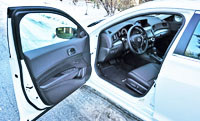 True, 17s seem a bit small for an optioned out premium sport sedan, but their size will be appreciated when it comes time to replace their 215/45R17 Michelins. Smaller diameter rubber can lead to substantial savings, and value continues to be an important element of the ILX' success.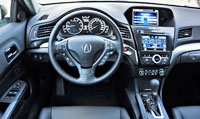 At just $29,990 for a base 2018 ILX, it undercuts the A3 by almost 10 percent or $2,810, and the CLA by nearly 20 percent or $5,710, and even more when including freight and fees, while its impressive load of features makes it an even bigger bargain. Standard with the ILX yet optional on the two Germans in question are full LED headlamps, remote engine start, proximity-sensing keyless access, SMS text message reading capability, adaptive cruise control, lane departure warning, lane keeping assist, road departure mitigation, and more.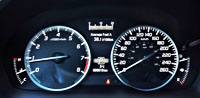 It shares many features with its closest rivals too, including auto on/off headlights, heated power-adjustable side mirrors, ambient interior lighting, pushbutton ignition, a leather-wrapped multifunction steering wheel, a leather-wrapped shift knob, a rearview camera with guidelines, Bluetooth hands-free connectivity with streaming audio, tire pressure monitoring, hill start assist, all the usual active and passive safety features, etcetera.
Of note, both the ILX and CLA include standard shift paddles, forward collision warning, and autonomous collision mitigation braking, whereas the ILX and A3 boast standard dual-zone automatic climate control and glass sunroofs.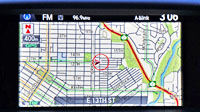 Of course, I'm not going to disrespect the Audi or Merc by neglecting to mention features they include in standard trim that are either extra with the Acura or not available at all, such items being rain sensing wipers, heated front seats, rear seat centre pass-thrus, and auto start/stop that shuts the engine off when it would otherwise be idling to reduce emissions and save fuel, all but the latter two features optional with the ILX, while the CLA also gets standard memory for its powered driver's seat, and both of the A3's front seats are powered while it also includes standard leather upholstery. Additionally, the ILX can't be had with an electromechanical parking brake, standard on both German models, but (call me a luddite) I must admit to preferring the classic leather-clad handbrake more anyway.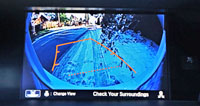 On that note, the ILX doesn't offer all-wheel drive either. To be clear, the three cars in this comparison feature standard front-wheel drive, but both German models offer the low- and high-speed traction benefits of four-wheel power, at a significant cost mind you, Mercedes' 4Matic upping the CLA's price point by $2,200 and Audi's Quattro adding $4,800 to the A3's bottom line. Once again we're back to the ILX value proposition, these all-wheel drive alternatives retailing for $37,900 and $37,600 respectively, while we haven't even passed the $30k threshold with the ILX yet.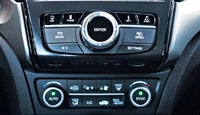 In order to do that, $32,490 Premium trim is still less expensive than either German yet adds perforated Milano leather upholstery, powered heatable front seats with two-way driver-side memory, an auto-dimming rearview mirror, a larger 8.0-inch backlit colour VGA upper infotainment display controlled by a rotating knob and various buttons on the centre stack, plus a second 7.0-inch multi-use colour touchscreen display below that, a higher grade seven-speaker and subwoofer-enhanced audio system with satellite radio, and blindspot monitoring with rear cross-traffic alert.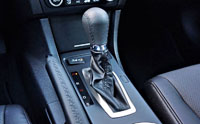 My third-rung $33,990 Technology trimmed test car, priced slightly higher than the base A3 yet still more affordably than the CLA, added rain-sensing wipers, accurate navigation with detailed mapping, voice recognition, an excellent 10-speaker ELS surround sound audio system with Dolby Pro Logic, enhanced AcuraLink smartphone connectivity, and a HomeLink garage door remote.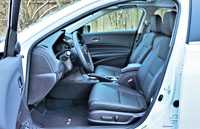 Lastly, if you want to spice up the ILX styling, the $35,390 A-Spec gets everything noted above as well as an aerodynamic body kit featuring side skirts and a rear spoiler, plus fog lamps, sportier machine-finished 18-inch alloys with black painted pockets, metal sport pedals, Lux-Suede upholstery, and a black headliner. I tested this model last year and quite liked its upgraded styling and interior enhancements, while its mere $1,400 bump up from the Tech model is once again easy to budget for.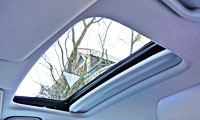 All of this value would be moot if the ILX wasn't a well-built car with the kind of performance expected in the premium sector, and to that end it really does measure up to its European competition. At its heart is a naturally aspirated 2.4-litre four-cylinder that makes wonderful mechanical noises, including some brilliantly raspy highlights when revs near the 6,900 rpm limiter and a suitably sensational exhaust note when pushed hard too. Output is 201 horsepower and 181 lb-ft of torque, making it an engine that likes to be pushed higher into the revs than the lazier 2.0-litre turbos on offer from Mercedes and Audi, the former good for 208 horsepower and 258 lb-ft of torque, and the latter making 186 and 221 respectively.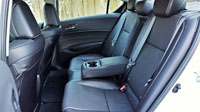 The ILX partially makes up for slightly less go-power by adding an additional forward gear, its eight-speed dual-clutch gearbox wonderfully responsive yet extremely smooth too, while I can't argue against the two seven-speed Teutonic boxes either.
As for fuel economy, it's a dead heat with the ILX achieving a claimed rating of 9.4 L/100km in the city, 6.8 on the highway and 8.2 combined, the CLA near identical at 9.6 city, 6.6 highway and 8.2 combined, and the A3 a fraction better at 9.1 city, 6.8 highway and 8.0 combined.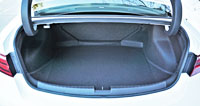 At the limit handling is a toss-up too, although after extensive testing of all three I probably prefer either German due to their slightly firmer suspension tuning and more exacting responsiveness at the limit. Still, all three deliver great handling dynamics, with the ILX really impressing when pushed aggressively. Likewise, all can be driven comfortably all day long, whether in the confines of the city, enjoying the wide openness of the highway, or winding along a tight, twisting seashore drive. Your choice will come down to personal preference in the end, but no one competitor is necessarily better than the other in this respect.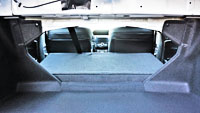 On that note this class isn't only about performance, as most luxury buyers would probably want quiet refinement more often than not. I have to say all of these entry-level sedans do a good job of coddling their occupants, thanks to generous insulation and high-quality soft-touch synthetic surfaces above the waste, not to mention effective electronic noise canceling systems. The more modern cabins of the CLA and A3 might make them more appealing visually, plus some of their switchgear is nicer, but all stand up to this segment's expected quality.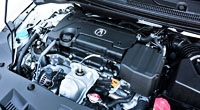 All are roomy and comfortable up front too, while only the CLA lacks rear seat room, it being a four-door coupe and all. As for cargo capacity the CLA's 470 litres and A3's 480 beat the ILX' 350 hands down, the Acura's smaller trunk strange considering its near identical length to the former and longer dimensions when compared to the latter. What's more, its single-piece folding rear seatback makes it the least flexible for loading in long cargo when rear passengers are aboard.
I expect Acura to address most of the current model's shortcomings when the next-generation ILX debuts near the end of this year as a 2019 model, but until then the current model will continue forward as one of the better value propositions in the luxury car market. After all, we can't expect perfection at such an accommodating base MSRP, especially when factoring in its many standard and agreeably priced options.
The ILX really does delivery solidly above its asking price, with sharp styling, a quality interior, best-in-class standard safety, good economy, and excellent driving dynamics, all for a price that's thousands less than key competitors. In fact, its fiercest rival is probably the new Civic in top-tier Touring trim, but unless moving up into Si or Type R trim, which won't allow for an automatic transmission, the ILX delivers much better driving dynamics. In other words, there are still plenty of reasons to choose an ILX over its four-door rivals.