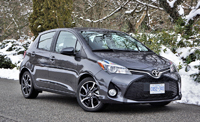 I don't know why I still call this little car the Tercel. I worked for a Toyota dealer way back in '87 and the Tercel was one of the most popular cars we sold at the time.
That was already the third-generation Tercel, which was replaced by the Echo in 1999. This oddly styled yet undeniably practical subcompact was one of my first-ever manufacturer-supplied weeklong test cars (thank you F. David Stone) when I entered the professional journalist fray in 2000, and one I'd still love to get my hands on in five-speed manual Hatchback RS guise. I first drove that little number at a press launch in Niagara, Ontario during the fall of 2003, but it was another such launch program in autumn of 2005 that saw a redesigned version of the same car debut, and with it the odd yet catchy Yaris name.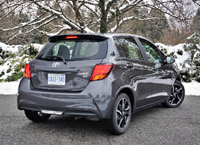 Interestingly, the Echo was actually a rebadged Yaris, but most of us don't pay attention to European nameplates here in North America. I didn't even realize both cars were also shared with the Vitz, Platz and Vios in Asian markets, four-door sedans of which are my regular rides while taxiing around my second home of greater Manila (there are millions of these things throughout the Philippines).
I had already experienced just how much fun the Yaris was to drive with that aforementioned Echo Hatch RS, but it was during the second launch event that I first autocrossed one. The car has only improved over time, although I must say this latest version isn't as capable of sneaking past the constabulary is it once was.
At least this top-line Yaris SE looks a lot subtler in Magnetic Grey Metallic than Absolutely Red, or even more jaw-dropping Ruby Flare Pearl with Black Sand pillars and rooftop, the latter two hues making the car's massive black maw pull eyeballs as if one of Gazoo Racing's WRC rally cars was nonchalantly passing by (ok, that race-only car has a lot more white in its livery, but you get my point).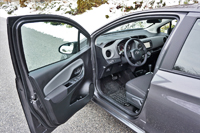 I only wish Toyota had shaved $1,000 off my tester's bottom line by forgoing the rather pedestrian four-speed automatic, the much more engaging standard five-speed manual a lot more in keeping with the Yaris SE's hot hatch styling.
Yes, the Yaris is one of the only cars still sold in North America with a four-speed autobox, most of its peers having gravitated over to a continuously variable transmission or a much more fun to drive dual-clutch sequential gearbox. The Yaris' automatic doesn't even include a sequential manual mode, but rather a gated shifter that lets you manually select all of its lower gears—I suppose that's better than nothing. I love that Toyota raises the excitement bar by calling it a four-speed "Super ECT with Overdrive," as if its SLAM overdrive-equipped Class 0.5 jerry-rigged Isu-Sim SSP05 hyperdrive-enhanced Girodyne SRB42 sublight engines can whisk the little YT-1300 to 1,050 km/h in atmosphere or 3,000 G in space.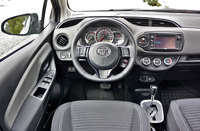 Before you start thinking that I'm ripping too hard on this cheap little hatch (it's less than $20k as tested), appreciate that its four-speed auto drives better than many newer CVTs, but I've already said too much as this is seat-of-the-pants info for my upcoming road test review—stay tuned.
I'll mention a thing or two about the Yaris' sole 106-horsepower 1.5-litre four-cylinder engine with 103 lb-ft of torque in the review as well (which is actually two horsepower and two pound-feet less formidable than the Echo hatch noted earlier), along with the usual comments regarding drivability, overall comfort, interior quality, refinement and equipment usability, but I might as well cover its base and optional features now.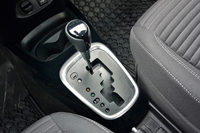 For just $18,510 plus freight and fees, the 2017 Yaris Hatchback SE hits the road running with machine-finished 16-inch alloy wheels on 195/50 all-seasons, signature LED driving lights within the halogen projector headlamp clusters, fog lights, a unique black mesh grille (the base car's is horizontally ribbed), blackened front trim (normally chrome), a body-colour rear rooftop spoiler, powered locks with remote access, powered windows, a contrast stitched leather-wrapped tilt (non-telescopic) multifunctional sport steering wheel, a leather-clad shift knob, a soft-touch synthetic instrument panel, soft door inserts, power-adjustable heated side mirrors, a trip computer, cruise control, air conditioning, a 6.1-inch colour infotainment touchscreen incorporating a backup camera, six-speaker AM/FM/CD/MP3 audio with aux and USB ports, Bluetooth, front sport seats with contrast-stitched ribbed premium cloth upholstery, a 60/40-split folding rear bench seat that expands on the already sizeable 433-litre (15.3 cubic foot) cargo area, and most impressive of all (especially because it's even standard with the $15,475 base Yaris), Toyota's Safety Sense C combo that boasts auto high beams (seriously!), a pre-collision system, and lane departure alert.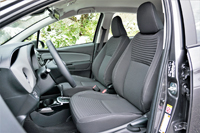 Of course, the Yaris also comes standard with the usual active and passive safety gear like ABS-enhanced four-wheel disc brakes (the SE is upgraded over the usual rear drums) with electronic brake-force distribution and brake assist, traction and stability control, all the usual airbags including one for the driver's knees, etcetera.
People normally buy into this class because they're not required to spend much initially or ongoing, with even this sportier Yaris capable of a claimed 7.8 L/100km city, 6.5 highway and 7.2 combined fuel economy rating. The Yaris is renowned for its reliability, just like the Echo, Tercel, and Starlet before.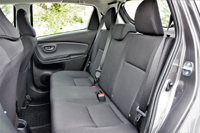 My tester was pretty well loaded, although a person could spend extra for paint, the aforementioned two-tone colours costing an extra $540. The cargo liner in back was an add-on too, this from the accessories catalogue at a mere $90 and change. Ask nicely and your dealer might even throw in all-season floor mats, these only setting them back $165, while a cargo net is just over $130. You can get a block heater for just under $210, and the usual paint protection, hood deflector, and body side mouldings too, but the coolest dealer-added accessories include the $465 Bongiovi Acoustics DPS radio upgrade that really improves audio quality, and the (rather pricey) $1,123 navigation system that adds detailed mapping and real-time routing to the stock display, plus SMS text message/email read and reply, "one shot" voice commands, "Playmore Like This" and Gracenotes apps, plus more.
The Yaris is about to be updated with an even more aggressive look for 2018, so if you like what you see you may want to grab a 2017 while you can. I'll be back soon with my full review and a considerably larger, much more detailed photo gallery, so until then enjoy the small batch of photos supplied…