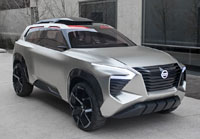 Normally when an automaker launches a rugged looking 4×4 they take photos of it tackling treacherous wilderness terrain, such as the backroads, trails and riverbed crossings that access Waiparous Falls, Alberta, or the vertical sandstone formations of Hell's Revenge in Moab, Utah, not parked on a driveway in front of a slick contemporary modernist home, or posing within an exposed concrete and black glass office complex courtyard, but then again the Xmotion isn't your ordinary off-roader.
While the Xmotion concept might look like a future interpretation of Nissan's now legendary Xterra 4×4 from the outside, or possibly the next-generation Armada done to the extreme, in actuality it's been designed to appeal to a more refined kind of outdoor enthusiast who prefers natural woods and leathers over rugged utility, not to mention digital displays galore.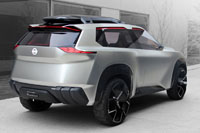 Then again, without any mention of what type of propulsion system moves this sharply angled, origami-inspired SUV, there's no way of knowing whether we're looking at the future of "UN" decaled Nissan Patrols or merely a much cooler way of autonomously arriving at the shopping mall, so let's just consider the design exercise before us without concerning ourselves with how Nissan managed to roll it onto its Detroit auto show stage.
The Xmotion, pronounced "cross motion," made its world debut at the 2018 North American International Auto Show on January 15th. In Nissan's words the concept "fuses Japanese culture and traditional craftsmanship with American-style utility and new-generation Nissan Intelligent Mobility technology," and does so in a most unusual yet welcoming way.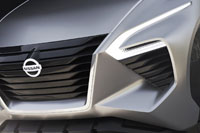 "In the Xmotion concept, we explored the more rugged and powerful side of Nissan Intelligent Mobility," said Alfonso Albaisa, senior vice president of global design at Nissan Motor Co., Ltd. "Bold and powerful forms and proportions are, upon closer inspection, contrasted with aspects of traditional Japanese craftsmanship expressed in a contemporary way."
Nissan claims the Xmotion signals "the future of Nissan design," so we should get ready for a new level of bold, rugged, in-your-face styling from an automaker that has a history of pushing the design envelope with a handful of models (Cube, Juke, Murano, Maxima, Z, GT-R) and otherwise playing it conservatively safe (Micra, Versa, Sentra, Altima, Kicks, Qashqai, Rogue, Pathfinder, Armada, Frontier, Titan, etc).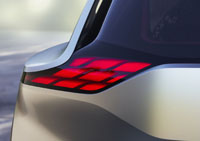 The Xmotion sets a new design tone by utilizing new technologies more creatively, a trend we're starting to see across the entire industry. For instance, where LEDs were initially used to add "signature" elements to conventional headlight and taillight designs, now we're starting to see narrow light strips that follow the outline of a fender or fascia's surrounding shape.
The taillights are integrated subtly, creatively playing off the unique red rooftop spoiler element above, albeit inverted, while that spoiler appears as if it's an extension of yet more red roof panels placed below integrated body-colour roof rails overtop.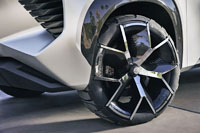 The front grille is an evolution of Nissan's trademark V-motion design, whereas the headlights are simple curving LEDs positioned behind sharp blade-shaped extensions of the front fenders, these appearing to float above cavernous gloss black vents that dive down each corner.
A look down either side presents a stunning set of "mechanical tool-inspired" alloy wheels on all-terrain tires, although unlike a regular wheel and tire combination these are actually a single-piece all-in-one design featuring an interlocked tire that's "physically laminated over the 21-inch aluminum-alloy wheels." These sit below lightweight carbon fibre reinforced plastic (CFRP) fender flares, textured in a traditional Japanese design.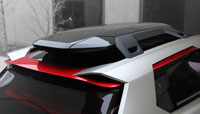 Look higher and what at first appeared to be a centre roof panel is actually an external container attached to integrated roof rack cross members, this dubbed a "rooftop box" by the design team. It's difficult to contemplate what might be narrow enough to fit inside, but the design looks pretty slick so let's not allow practical reasoning to negate the effect.
Compared to the front and profile designs, the Xmotion's rear view almost comes across as conventional, although those tidy taillights noted earlier were actually inspired by Japanese woodwork, a theme that's much more prevalent within the cabin.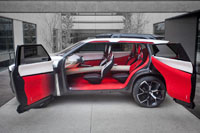 "The exterior's combination of western and eastern concepts continues inside the Xmotion, where advanced connectivity and autonomous technologies mix with modern Japanese digital art and cultural craftsmanship," continued Albaisa. "At a glance, Xmotion may appear to have a minimal design language, but a closer look reveals layers of detail that make this concept exceptional."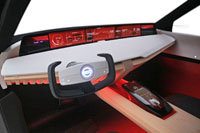 The interior woodwork might look more apropos in a classic boat than a futuristic SUV, but it's nevertheless a breath of fresh fir (albeit the grain appears like natural maple—Nissan didn't say, but then again it looks like BC Douglas Fir in a video showing it being planed from a 2×4) in an automotive world that's seen much too much piano black lacquer in recent years. The lower instrument panel and cabin-length floating console appears to have enough of the stuff to make this SUV buoyant in case of a river crossing gone awry, the Xmotion's creators using "a modern interpretation of traditional kigumi wood joinery" for the beautifully complex construction of the former, while the latter incorporates a "traditional Japanese architectural wood joinery technique, kanawa tsugi, found in the carpentry used to build religious temples and shrines," said Nissan.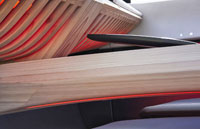 While the wood is beautifully crafted and artistically arrayed, most of today's smartphone addicted consumers will be more immediately drawn to the Xmotion's massive dash-wide digital instrumentation. It's actually comprised of five screens, featuring three large main displays and another two slightly smaller ones at each end, while their control comes via eye movement, hand gestures, and voice activation. Additionally, a "digital room mirror" gets added overhead and one last display is fixed to the centre console, the combined number of digital interfaces totaling seven. In a video, Nissan illustrates their interconnectivity by showing a coy swimming from the lower console touchscreen up to and across the displays on the dash, while a self-levitating magnetic disc spins atop the rear portion of the console for no apparent reason other than providing another sense of awe.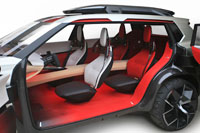 The avionics inspired steering wheel is an interesting addition, making it appear as if it might only be put into used when autonomous capability isn't possible, whereas the white-and-black front and scarlet-and-black second-row mesh pedestal seats seem to float atop the Xmotion's near seamless floor like traditional Japanese "wasen" boats, the lower surfacing actually representing a river, with the aforementioned centre console being the bridge overtop.
"The centre console symbolizes a wooden bridge connecting two cultures, but also bridging timeless traditions with tomorrow's technology," said Albaisa.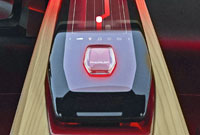 Scarlet represents "sun and energy in Japan," while "white is purity, cleanliness and simplicity" and "black symbolizes contrast and intensity," says interior designer Myung-Eun Lee. The seat upholstery incorporates Japanese latticework patterns, whereas their mesh-like upper backrests have their tradition in "kumiko" woodwork.
It's difficult to tell at first glance, but the Xmotion is a three-row SUV, set up in a unique "4+2" passenger layout. While that might sound like most of today's sport utilities that tout a six- to seven-passenger capacity yet only have room for pre-teens at best in the rearmost seats, the Xmotion differentiates itself by providing a lounge-like, sofa-style wrap-around back row. This said the seats in the very back were designed for even smaller kids or pets, so this SUV follows the pattern set by most three-row family haulers in this respect. Still, despite rolling art interior and exterior styling, this new Nissan could be made into a practical people mover.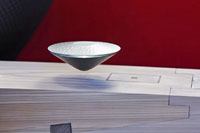 "We envision the Xmotion concept to be a highly functional SUV that can be driven every day, yet can take the owners and friends to a national park or recreation area on a whim," continued Albaisa. "With its combination of style and technology, this concept fulfills Nissan's mission of moving people to a better world."
Whim or whimsical, that's for you to decide, but Nissan has nevertheless created a exterior design that, toned down somewhat, would likely be widely accepted by tomorrow's SUV buyer. Expect future concept SUVs to adopt a similar design language, and hopefully future production utilities as well.
Until then, enjoy three videos Nissan provided at the launch of the new Xmotion:
Quick visual overview (0.52):

Detailed overview with interviews (note: set up closed captioning as much of the video is in Japanese) (3.59):

Full introduction of Xmotion at Detroit auto show (16:39):