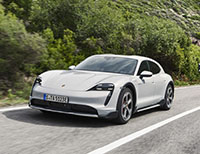 It's been a strong year for Porsche's new Taycan so far, and the German performance brand isn't about to let the all-electric model's momentum ebb anytime soon thanks to new updates for the 2022 version of both its regular four-door coupe body style and the new sport-wagon-like Taycan Cross Turismo.
Number one of the update list is a revision of the sixth-generation Porsche Communications Management (PCM 6.0) infotainment system within the centre stack, which now adds Android Auto to a smartphone integration package that already included Apple CarPlay.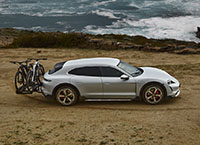 Android Auto permits users of Google Android-based smartphones to completely connect to the centre display for greater ease of use. A 2022 Taycan owner can now simply plug their Android handheld device into the assigned USB-C port and follow the necessary prompts, at which time a modified version of their phone's features, apps and personal info is displayed within the in-car touchscreen.
Porsche has updated the new PCM 6.0 operating system's graphic design as well, with five menu options on the left side of the display rather than merely three, while each icon can now be organized separately.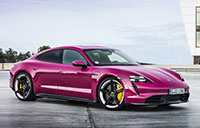 What's more, the 2022 Taycan's Voice Pilot auditory assistant is now capable of better understanding instructions in everyday language, plus the PCM 6.0 satellite navigation system is quicker to respond to inputs, and also displays info with more clarity thanks to the just-noted graphics refresh.
Better yet, owners of 2022 Taycans will also be capable parking and retrieving their car remotely via their smartphones, by downloading Remote Park Assist. Remote Park Assist, which can remotely park perpendicularly and parallelly, will automatically detect a given parking space by first measuring it with ultrasonic sensors and cameras, and if ample space is available will park the Taycan by using the Porsche Connect app's smartphone prompts.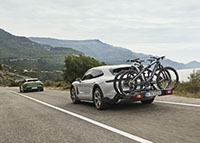 Also important for this higher end premium class, new 2022 Taycan owners can now utilize more personalization options, such as Paint to Sample and Paint to Sample Plus. Along with the 17 standard paint colours already offered, Porsche will provide the choice of 65 Porsche Exclusive Manufaktur colours (so far) when opting for Paint to Sample, the palette including a number of past favourites like Acid Green, Moonlight Blue Metallic, Riviera Blue, Rubystar, and Viola Metallic.
The Paint to Sample Plus option, on the other hand, lets customers provide a unique sample of any colour, after which their Taycan will be doused in a coat of colour-matched paint from the factory.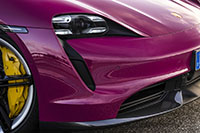 To learn more about the 2022 Taycan, check out CarCostCanada's 2022 Porsche Taycan Canada Prices page, which is currently showing factory leasing and financing rates from zero percent. CarCostCanada members benefit from plenty of money-saving car-buying help, with everybody's favourite being dealer invoice pricing that lets you know exactly what the retailer is paying for the vehicle, before you go into negotiate your best deal. Find out how the CarCostCanada system works now, and remember to download their free app from the Apple Store or Google Play Store now.
Story credits: Trevor Hofmann
Photo credits: Porsche