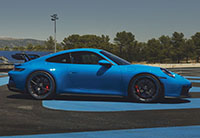 Porsche Canada has just released pricing for the all-new 502-horsepower 2022 911 GT3, which will start at $180,300. The updated model is now ready to configure and order on the automaker's retail website, and at your local Porsche retailer, after which deliveries will arrive this coming fall.
Additionally, you can already configure each and every 911 body style and trim for the 2022 model year on Porsche's retail site, with pricing for the base model increasing from $113,000 for the 2021s to $115,000 for 2022s.
The increase is for good reason, being that Porsche has updated the comfort and communications systems in every new 911 model. Porsche connected services have now been expanded thanks to the adaption of the automaker's newest Porsche Communication Management (PCM), which features a standard 10.9-inch touchscreen integrating a new simplified interface that was inspired by the version initially used in the new Taycan electric. The revised PCM combines entertainment, navigation, comfort and communications systems into one flexible layout boasting numerous personalization options.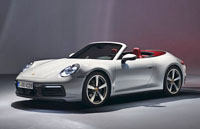 What's more, the PCM system update marks a trial period extension for Porsche's connected services, which has grown to 36 months, from 12 months in previous model year 911s. After the three years are up, connected services is continuable via subscription.
Porsche Connect, which comes as part of the connected services package, integrates a bevy of useful features including Voice Pilot that responds to natural language prompts available by saying, "Hey Porsche."
Also new, the Navigation Plus system now features real-time traffic information, as well as online map updates, plus a calendar and Radio Plus.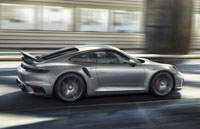 Newly added Android Auto is a first for any new Porsche vehicle, and will be much appreciated by the majority of smartphone users who own Android-powered devices. The new PCM continues to integrate with Apple CarPlay too, via wireless and wired connectivity.
There's good news for lovers of every music genre too, not to mention those who enjoy talk radio on all types of subject matter, and more, because a three-month trial subscription of SiriusXM satellite radio with 360L is now standard.
Additionally, just like with Taycan, all 2022 911 models can feature direct integration of Apple Music and Apple Podcasts when an Apple service subscription is purchased.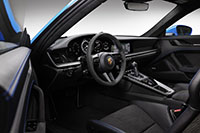 Technology in mind, PDK transmission-equipped 911 Carrera, Targa, and Turbo models can now be upgraded with Remote ParkAssist for 2022, which allows the driver to remotely move the car in or out of a parking space via their smartphone when standing outside.
What's more, Remote ParkAssist is bundled together with Active Parking Support, controlled via the updated PCM. A new 3D Surround View parking camera is optional as well, as is Rear Cross Traffic Alert with Lane Change Assist.
Over and above the new $115,000 base 911 Carrera, the same coupe body style can be upgraded to AWD-equipped Carrera 4 trim from $123,400, or you can get into a Carrera S for $133,100, and Carrera 4S for $141,500.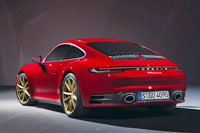 The updated 2022 911 Carrera Cabriolet starts at $129,600, while removing the top in AWD guise results in the $138,000 Carrera 4 Cabriolet, with the Carrera S Cabriolet available from $147,700, and Carrera 4S Cabriolet from $156,100.
Porsche's 911 Targa is a good choice for those wanting the best of both coupe and convertible worlds, with the Targa 4 starting at $138,000, and Targa 4S from $156,100, while a trio of 911 Turbo models have the ability to reach the race car-like levels of performance, with 2022 pricing starting at $198,400 for the Turbo, $213,000 for the Turbo Cabriolet, and $235,600 for the Turbo S.
Lastly, the car Porsche considers "the most focused and agile '992' generation car yet" can only be had in one single trim, but no doubt those lucky enough to get into a new 2022 911 GT3 won't mind spending its relatively reasonable (for what it can do) $180,300.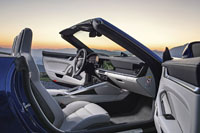 CarCostCanada will no doubt update its 911 coverage to include a 2022 Porsche 911 Canada Prices page soon (the info only dropped today), but for the time being the 2021 Porsche 911 Canada Prices page is showing factory leasing and financing rates from zero percent, plus average member savings of $2,250, if you can find one. Learn how CarCostCanada can save you thousands off your next new car purchase, by informing you about the latest manufacturer leasing and financing deals, factory rebates, and always available dealer invoice pricing. Also, make sure to download the free CarCostCanada app from the Apple Store or Google Play Store, so you can have all of this valuable information at your fingertips when you need it most.
As noted earlier, the 2022 Porsche 911 is available to order now, with deliveries expected this fall.
Story credits: Trevor Hofmann
Photo credits: Porsche