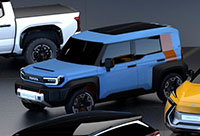 Let's get this right out in the open: Toyota needs to build a production version of the Compact Cruiser EV Concept as soon as possible. This thing would sell like avocado toast, even if it's not capable of wandering off-pavement, but of course, plenty of automakers, such as Rivian with its new R1S SUV and R1T pickup truck, plus GMC with its reborn Hummer EV line (that will soon offer both body styles as well), are proving that electrics are very capable off-road, so there'd be no reason to worry about being relegated to tarmac when behind the wheel of this tiny Toyota.
Dimensions in mind, or at least those visibility apparent being that Toyota has given us very little to go on so far, the Compact Cruiser EV Concept might have more in common with Suzuki's original Samurai or that brand's more recent subcompact Jimny SUV than the near mid-size FJ Cruiser or the original FJ40 it's spiritually emulating. We do know that it doesn't share the FJ Cruiser's body-on-frame chassis or anything else from that go-anywhere utility, other than some styling cues, a version of the original FJ40's (and FJ Cruiser's) Sky Blue exterior paint, and the "TOYOTA" lettering on the similarly narrow grille.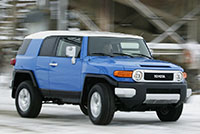 Where the 2006–present (discontinued in North America after 2014) FJ Cruiser may have preceded a number of would-be peers, particularly Ford's reinvented Bronco (and Bronco Sport) and Land Rover's completely reimagined Defender, the Compact Cruiser EV Concept appears destined to electrify its retro off-roading class if produced. Unfortunately, however, we can lump Compact Cruiser EV Concept electric motor and battery specs into our zero-knowledge base.
As far as we can tell, this SUV is more of a design study, but being that today's Toyota rarely misses out on an opportunity to cash in on a good idea (unlike General Motors that sadly chose to apply its legendary Blazer nameplate to a two-row, mid-size grocery getter instead of a retrospective K5-style Blazer that could've easily been built off the back of its full-size Tahoe, the tiny Land Cruiser-like BEV will most certainly get the green light.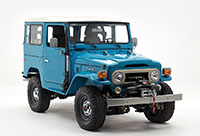 It's part of Toyota's new "Battery EV" strategy, introduced online on December 14, 2021 (see the video below), in which "Toyota wants to prepare as many options as possible for" their "customers around the world," stated the automaker's president, Akio Toyoda during the presentation.
The namesake brand introduced 17 concepts as part of the program, of which most body styles and capabilities currently available with traditional internal combustion power were represented, from crossover-like family haulers to sports cars, SUVs, a pickup truck, and vans, the wide spectrum of potential offerings showing that Toyota isn't about to give up any market share, or brand heritage, in its quest to go electric.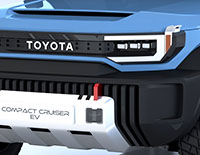 Likewise, the presentation showed off seven Lexus EVs in various shapes and sizes (see the gallery for more), and hinted at six more hidden behind in the shadows. Altogether, the Japanese automaker plans to "offer 30 BEV models across the Toyota and Lexus brands, globally" by 2030, "with more on the way" after that. Due to so many models in the planning stages, and a promise to provide "BEVs in all segments, including sedans, SUVs, K-Cars, commercial vehicles and other segments," there's certainly a place for this Compact Cruiser EV Concept.
The little SUV is all angles and edges, with obvious styling cues pulled from classic FJs and the more recently updated FJ Cruiser, plus a number of design details from other Toyota models, including the current RAV4 TRD Off-Road (available in a similar Cavalry Blue for 2022 and even closer Blue Flame colour in 2021), the 4Runner TRD Pro (available in a cool Voodoo Blue back in 2019), the Tacoma TRD Pro (unfortunately no longer available in Cavalry Blue), and the new 2022 Tundra pickup truck (with a colour palette that offers nothing even remotely similar, but the old one did).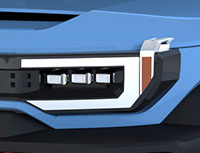 While the hood scoop appears inspired by similar ones on the FJ Cruiser or recent Tacoma/Tundra TRD Pro models, the rectangular LED headlamps are closer to the new 2022 Tundra, whereas the chunky C-shaped driving lights are more distinctive still, at least to Toyota. The tiny concept also takes everything that previously made the FJ Cruiser look rugged up a notch, with a beefier front skid plate embellished by blazing red tow hooks, plus four of the most aggressive matte-black fender flares ever imagined for this size of 4×4. Toyota's FT-4X Concept was a recent example of similar styling, and was no doubt inspiration for this new BEV as well.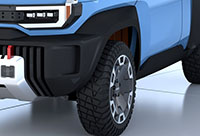 Fortunately, the Compact Cruiser EV Concept's designers were more practical with its body style than those behind the FJ Cruiser, with full-size, traditionally front-hinged rear doors for easier to the back seat, while the cargo area appears to be nice and upright, which is ideal for loading in as much gear as possible.
As it is, Toyota hasn't revealed a single rear exterior image or any photos of the interior either, so therefore details about the powertrain, and the platform underpinning this new SUV, are unknown as well.
Media Briefing on Battery EV Strategies (Presentation / with subtitles) (25:51):

Story credit: Trevor Hofmann
Photo credits: Toyota / Lexus