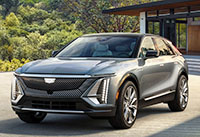 When the 2023 Cadillac Lyriq arrives this fall, it will be price below $70k, including destination fees, which will make it a serious competitor to other mid-size premium electric crossover SUVs, particularly Audi's fractionally smaller $86,900 E-Tron and BMW's similarly sized $79,990 iX, plus whatever pricing Mercedes eventually announces for its upcoming EQE SUV.
In fact, there will only be a $10k or so spread between Hyundai' new Ioniq 5 (that also gets creative with the "q") and Kia's even fresher EV6 when either of the two Korean's are fully loaded, which could cause some to move upmarket to a more luxuriously appointed alternative, although Hyundai's Genesis brand appears to have that covered with its soon-to-arrive GV60, despite these Asian models being shorter and narrower than their European and American counterparts.
Lyriq to undercut most competitors when it arrives this fall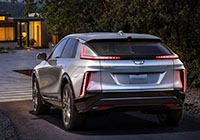 Of course, there are some additional all-electric mid-size SUVs either currently for sale or shortly on the way, supply chain bottlenecks and battery components permitting. Those already selling up a storm include Ford's Mustang Mach-E and Tesla's Model X, albeit the latter has seen deliveries wane somewhat after the smaller and much more affordable Model Y debuted, whereas Jaguar's I-Pace suffers from the same difficult-to-understand malady all Jaguars do, lack of interest. The more compact SUV's $99,800 base price might have something to do with the tepid market response it's received, however, especially challenging when factoring in the $81,700 base price of the aforementioned Model Y.
Speaking of Tesla, the new Lyriq won't only be more affordable than the compact Model Y, but it will undercut the cheapest version of Tesla's larger mid-size Model X by $40k, while there's also a $30k difference between the significantly roomier Cadillac and the just-noted near-compact Jaguar.
Size matters to families looking for the most accommodating luxury SUV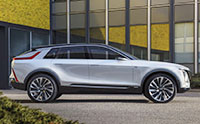 How much larger is the Lyriq than its competitors? From the outside it measures 4,996 mm (196.7 in) long with a 3,094-mm (121.8-in) wheelbase, while its width spans 1,976 mm (77.8 in) and its height reaches 1,623 mm (63.9 in). This makes it 95 mm (3.7 in) longer than the E-Tron, albeit with a 166-mm (6.5-in) greater wheelbase, plus it's 41 mm (1.6 in) wider and 7 mm (0.3 in) taller.
Similarly, the Lyriq is 43 mm (1.7 in) longer than BMW's iX, with a 97-mm (3.8-in) longer wheelbase, plus it's 9 mm (0.4 in) wider and 73 mm (2.9 in) shorter, whereas the as-noted I-Pace is dwarfed by Cadillac's new offering, due to 314 mm (12.4 in) less length and a 104-mm (4.1-in) shorter wheelbase, plus 81 fewer mm (-3.2 in) of width, and 58 mm (2.3 in) less height. The upcoming GV60 will be smaller than the I-Pace and Ioniq 5/EV6, incidentally, so probably no direct competition to families looking for the most accommodating luxury EV.
Of course, usable space matters more, with the Lyriq providing up to 2,973 litres (105.0 cu ft) of total passenger volume in the cabin, along with 793 litres (28.0 cu ft) of dedicated cargo space behind its second row, plus 1,722 litres (60.8 cu ft) when the split-folding rear compartment is stowed away. When compared to the E-Tron, the Lyriq's exterior size appears to benefit with 85 litres (3.0 cu ft) more passenger volume and 122 litres (4.3 cu ft) more total cargo space, but the electrified Audi does beat the Caddy EV in dedicated luggage capacity behind the rear seats, albeit just by 14 litres (0.5 cu ft).
Cadillac's low roof height looks sleek yet cuts into interior space
As for BMW's iX, its greater height provides 198 litres (7.0 cu ft) of added passenger volume, while the Bavarian model's dedicated cargo space increases by 212 litres (7.5 cu ft) and maximum gear-toting capability goes up by 484 litres (17.1 cu ft), or about the size of a compact car's trunk.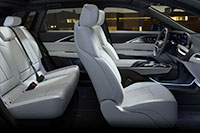 Comparatively, the I-Pace does pretty well for its exterior dimensions with 716 litres (25.3 cu ft) of cargo space behind the second-row seats and 1,444 litres (51 cu ft) with its rear seats folded, while Genesis had yet to publish interior specifications for its GV60 at the time of writing, but being that its 2,900-mm (114.2-in) wheelbase is 100 mm (3.9 in) shorter than the Ioniq 5's, we shouldn't expect the same level of interior roominess either.
Still, the Ioniq 5 provides 42.5 litres (1.5 cu ft) more passenger volume than the Lyriq, plus only 22.5 litres (0.8 cu ft) less dedicated cargo space and just 42.5 litres (1.5 cu ft) less luggage capacity with its rear seats folded, so the GV60 could measure up fairly well.
Of course, the Genesis SUV destined to ride on the back of Hyundai's upcoming Ioniq 7 will be much larger, so let's wait and see how this luxury crossover EV sector grows out in the near future before judging.
All said, there's always more to purchasing within the premium sector than mere practicalities, and nothing about the Lyriq's interior dimensions should turn off would-be buyers.
Performance should live up to Cadillac's "V" legacy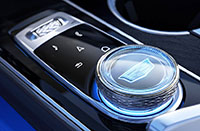 Blisteringly quick off-the-line acceleration will be nothing new to EV buyers, but the all-wheel drive-equipped Lyriq's 500-horsepower total output might even cause a few V8-powered Caddy diehards to requestion their dedication to high-octane gasoline power.
The AWD model will receive a dual-motor setup with one driving the front wheels and the other powering the rears, nothing new here, but more importantly this power unit puts the crested-wreath brand in the same ballpark as competitors like Ford's 480-horsepower Mach-E GT and BMW's 516-horsepower iX xDrive50. While no torque numbers have surfaced for AWD trim, it should be more than the 340-hp two-wheel drive Lyriq's twist, which puts 325 lb-ft down to the rear wheels, while the four-wheel drive model will reportedly be capable of up to 3,500 lbs (1,588 kg) of towing capacity.
EV range capable of matching and beating industry leaders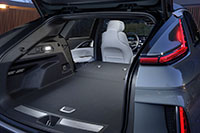 As for the Lyriq's maximum driving range on a single charge, Cadillac is claiming an EPA estimate of up to of 312 miles (502 km) on a full battery in the lesser RWD variant, which might not be in top-line Tesla Model X territory, but it will beat the I-Pace's 470-km (292-mile) maximum, and will likely do the same to the GV60 (the Ioniq 5's top range is about 400 km). Audi is promising range of 350-plus miles (563+ km) for its improved 2023 E-Tron, while the BMW iX already has a 324-mile (521-km) claimed EPA rating. The Lyriq AWD should do better, however, possibly even getting close to the Model X' best 360-mile (579-km) rating, while it will certainly slaughter the pricey California-built competitor when it comes to bang for the buck.
We can expect more info on the new Lyriq as it nears availability, so stay tuned.
The All-Electric Cadillac LYRIQ | Lead The Charge | Cadillac (0:30):

2023 All-Electric Cadillac LYRIQ Walkaround | Cadillac LIVE (6:29):

LYRIQ – Women's History Month- feat. Goyo | Cadillac (0:30):

The All-Electric Cadillac LYRIQ | Fortune Favors the Fearless | Cadillac (0:30):

Testing of the All-New Cadillac LYRIQ | Cadillac (1:31):

The All-Electric Cadillac LYRIQ | AKG | Cadillac (0:15):

The All-Electric Cadillac LYRIQ | Flip The Script | Cadillac (0:30):

The All-Electric Cadillac LYRIQ | Super Cruise | Cadillac (0:15):

Our All-Electric Future Starts Now | Cadillac LYRIQ (2:14):

All-Electric 2023 Cadillac LYRIQ | Cadillac (1:33:45):

LYRIQ Electriq Kitchen ft. Chef Jordan Kahn & Niki Nakayama | Cadillac (6:18):

Chef Jordan Kahn shares inspiration for the LYRIQ Electriq Kitchen | Cadillac (1:00):

Chef Niki Nakayama shares inspiration for LYRIQ Electriq Kitchen | Cadillac LYRIQ (1:00):

Introducing the All-Electric Cadillac LYRIQ | Cadillac estimated 300+ Mile Range | Cadillac (0:15):

The All-Electric Cadillac LYRIQ | Lighting the Way | Cadillac (0:30):

The All-Electric Cadillac LYRIQ | Lighting the Way | Cadillac (1:00):

Reserve the All-Electric Cadillac LYRIQ | Cadillac (0:15):

Story credits: Trevor Hofmann
Photo credits: Cadillac