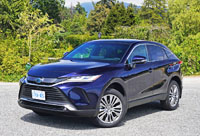 It's been about a year since I got back behind the wheel of Toyota's completely rethought Venza, and I have to say its styling has grown on me. From seeming to pull inspiration from the previous-generation RAV4, at least to my mind's eye, I now see it has having a unique, modern, advanced look all of its own. Funny how taste's change with familiarity, as there are now plenty more on the road than when initially driven.
It should be said that I normally prefer more truck-like crossover SUV designs, such as Toyota's current RAV4 and Highlander. These pull a number of heritage design cues from Toyota's storied 4×4 past, as well as styling influences from the Japanese brand's more rugged, off-road-ready present-day SUV and pickup truck models, with the current RAV4's overall look paying homage to the fabulous FJ Cruiser that itself was inspired by the brand's original Willys/Jeep Wrangler-competitive FJ40, while both the RAV4 and Highlander share the basic shape of their grille designs with the current-generation Tacoma, which most truck fans will agree is one of the best-looking mid-size pickups ever.
Smooth, refined, sophisticated shape and execution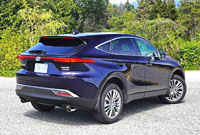 By comparison, the Venza's smooth, wind-cheating shape seems designed for an altogether different purpose, even though it targets a similar audience to the Highlander, albeit one that doesn't need as much passenger and cargo space. To be crystal clear, the Venza seats five comfortably in two rows, while the Highlander is good for seven over three rows; the third-most twosome best dedicated to children.
As for the Venza's cargo capacity, it's not only considerably less commodious than the Highlander's, it's surprisingly down on the RAV4's too, by a significant 211 litres (7.4 cu ft) with its second row upright, and 417 litres (14.7 cu ft) when laid flat. Specifically, the Venza measures just 816 litres (28.8 cu ft) behind the rear seats and 1,560 litres (55.1 cu ft) when its 60/40-split back row is tumbled forward (and fractionally less¬–0.2 litres (0.007 cu ft)–when its optional Star Gaze roof is included). And yes, Toyota doesn't offer a centre pass-through either, so rear row/cargo flexibility is limited.
Stacking up against siblings and competitors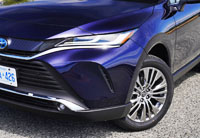 So why move up from a RAV4? Sales will indicate not many Canadians do, with Toyota Canada having sold a whopping 67,977 RAV4s last year (resulting in the number one spot in light vehicle deliveries overall, let alone within its own segment; number-two was Honda's CR-V with just 50,135 deliveries). This compares to a mere 6,249 Venzas, or less than 10 percent. Of note, 19,885 Highlanders were sold in Canada throughout 2021, making it number-one in the entire mid-size SUV segment. Despite being a new model for 2021, the Venza also had the entire year to make its mark, having been introduced in the latter part of 2020, so while sort of holding its own, it didn't exactly burn up the sales charts.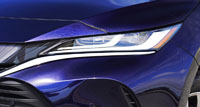 After all, Nissan's very long-in-tooth and comparatively gluttonous V6-powered Murano outsold it, as did a few other five-passenger rivals, such as the Subaru Outback, Ford Edge, and the two-row segment's top-selling Hyundai Santa Fe (not to mention the mid-size class' second-most popular Jeep Grand Cherokee, if you want to include 4×4-capable offerings). A few models that offer both five- and seven-passenger variants did better than the Venza too, namely Toyota's own 4Runner (which, of course, is also 4×4-capable), Kia's Sorento, and Volkswagen's Atlas (the Atlas Cross Sport is the five-passenger variant, but VW combines the two SUVs' sales numbers).
On the positive, the Venza outsold the relatively new Chevrolet Blazer and Honda Passport last year, while three-row SUVs that saw the new Toyota crossover's slim taillights pass them by include the Dodge Durango, Chevrolet Traverse, Mazda CX-9, Kia Telluride, GMC Acadia, Subaru Ascent, Nissan Pathfinder, and the very new Jeep Grand Wagoneer, albeit the Ram truck-based utility didn't have much time to pull in new customers, whereas the Dodge Journey was already well on its way out (being a 2020 model) and therefore came last in this category. A notable mention is the Ford Mustang Mach-E, which while outsold by the Venza, did well for an all-electric offering.
Pricey, yet affordable for a hybrid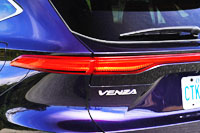 It's not too difficult to figure out why Toyota's mid-size, two-row crossover SUV entry lags behind many competitors, pricing. A base 2022 Venza LE starts at $39,150, which incidentally is up $660 from last year's starting point. That makes it more expensive than a $33,699 base 2022 Hyundai Santa Fe Essential AWD, a non-hybrid model that doesn't manage fuel as thriftily as this miserly Japanese contender, but you can buy a lot of gas for almost $5,500, plus the more affordable Korean simply fits within more peoples' budgetary and therefore lending restraints.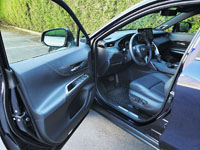 On the positive for Toyota, last year's Santa Fe to Venza price gap was a whopping $7,091, so the step up to this hybrid is no longer as steep. It should be noted that Hyundai offers a Santa Fe Hybrid in this class too, but it starts $2,549 higher at $41,699 than the base Venza, while those wanting a Santa Fe Plug-in Hybrid (Toyota doesn't offer one in this class) can ante up $49,699 for a bit more fuel savings and the benefit of traveling in the HOV lane, depending on local regulations.
Of note, additional electrified models in the two-row, mid-size SUV class include the new Jeep Grand Cherokee 4xe Plug-In Hybrid, but at $71,005, and sporting serious off-road credentials it's really targeting the luxury 4×4 crowd, while the electrified mid-size crossover SUV segment's most affordable $36,695 Kia Sorento Hybrid, as well as the $44,995 Sorento Plug-in Hybrid, which is priced best as far as plug-ins go, come with seating for six via three-rows including second-row captain's chairs, but deserve a mention due to their value proposition. If you feel the pull to a full-electric EV you may want to consider the competitively priced $51,495 Ford Mustang Mach-E and potentially Chevy's even better looking (in this author's humble opinion) and equally nameplate-offending (to classic 4×4 fans) upcoming 2024 Blazer EV.
Dedicated to aerodynamics and hybrid efficiency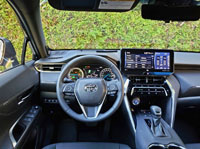 Of course, Toyota has its own long-awaited all-electric model coming out too, the 2023 BZ4X. It's a largish compact crossover, being 94 mm (3.7 in) longer and 5 mm (0.2 in) wider than a RAV4. While we can expect more EVs to come, nobody offers more hybrids than the originator of the species (as far as practical four-door models go). Toyota currently offers no less than nine hybridized models, which is pretty amazing. And that's only in North America. Toyota makes other hybrid models in other markets, particularly Japan, where this Venza is sold under the Harrier nameplate.
That last point may be why this new mid-size crossover SUV appears so different from its more rugged-looking stable mates. Rather than give the Harrier a makeover for its new Venza role, it was merely rebadged for our market, and does what it needs to do for the most part. Still, I can only imagine it would appeal to even more buyers if it pulled more of the brand's North American styling influence onto its front fascia, at least. Sure, the RAV4 is more or less the same in Japan as it is here, but Toyota's domestic market doesn't get our Highlander, 4Runner, Sequoia, Tacoma or Tundra. Alternatively, their Fortuner (GR) and Land Cruiser series (including the 4Runner-sized Prado) take care of mid- and full-size SUV duties in Asia, while the Tacoma-sized Hilux oversees all truck responsibilities. These are looking a lot bolder than they did in the past, but still not as aggressive as their North American counterparts (new LC aside).
Refined style and luxe interior appeal to plenty of new buyers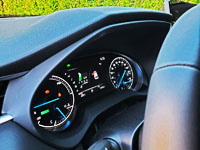 To this latest Venza's credit, it had plenty of admirers throughout my test week. Whether viewed from up front, where its wind-cheating design once again reminds me of the old RAV4, or taken in at the rear, which I particularly like thanks to its sliver-thin taillight clusters and connecting centre reflector, the latter giving it a unique character when put side-by-side to its myriad mid-size competitors, the new Venza is an attractive mid-size crossover. If the overall design had sharper edges, those taillights could even be mistaken for Lexus' latest tail lamp designs, but the Venza's are more organically shaped like the rest of the SUV, so its rear styling is more visually comparable to luxury utilities from Lincoln, Infiniti and even Porsche, albeit once again it provides enough uniqueness to stand out on its own.
Step inside and that premium-brand cache continues. Yes, this new iteration is much more luxurious than the first-generation Venza, which is important in a segment that's steadily refining new model after new model. Likewise, for the Highlander, which provides similar levels of luxury as you go up through the trim lines, such as more soft-touch surface areas, fabric-wrapped roof pillars, and the list goes on, resulting in a very pleasing cabin.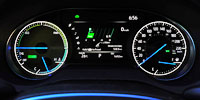 Interestingly, there are no simulated or genuine wood inserts, but instead Toyota covers much of the instrument panel in a soft-touch padded leatherette, featuring a thin grey corded strip with attractive metal ends. This can be found to the left of the driver and ahead of the front passenger, plus across the front two-thirds of each door upper. Following this pampering theme, an angled piece of padded leatherette folds down into comfortable armrests just behind, at which point some decorative trim might possibly be mistaken for the just-noted missing wood inlays when glanced at quickly. This trim piece supports the window switches, power locking buttons, and on the driver's side, power mirror controls.
Easy to navigate digital interfaces set the Venza apart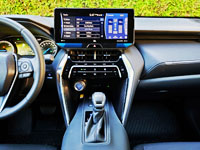 Framed by a comfortably padded leather steering wheel is a semi-digital gauge cluster complete with two analogue dials. The left side is for hybrid info, including Eco, Power and Charging gauges, plus one for the engine temperature, while the right side is filled with a speedometer with a fuel gauge. At centre is a large 7.0-inch multi-information display that includes hybrid info as well as most other features found on the infotainment system.
Speaking of that large centre touchscreen, the high-resolution display measures a significant 12.3 inches. In default mode, it's split into a larger two-thirds section on the left and a smaller one-third section to the right, but you can push a set of double arrows on the far right to reverse the layout if desired. The system comes stock full of features too, with the default main page incorporating climate control, audio functions, and quick calling pre-sets to the left, these divided in half so they look like three separate tiles, while the rightmost third displayed the navigation map as a default. Again, this section can be reconfigured depending on what you need or prefer, with a long list of variables.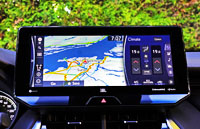 You can access Home, a menu page, an audio page, or the map with navigation controls via touch-sensitive quick-access buttons just below the screen on a separate section of the centre stack. This interface also incorporates a touch-sensitive audio volume controller and a similar tool for tuning radio stations or tracks. A separate panel is dedicated to the dual-zone automatic climate control system, and was as easy to operate as it was attractive to look at.
Well-organized centre stack and console aid in driving experience
All of the above features hover over a carved-out section of the lower console, which integrates a sideways-mounted wireless phone charger, separate USB-A ports, and an auxiliary port for powering devices. Additionally, Toyota hangs its ignition button just below the upper centre stack. Being this is in a different place than usual, I kept pressing the odometer trip reset button instead, which is where most vehicles have their ignition switch, although it's completely hidden by the right side of the steering wheel spoke, so it makes sense why Toyota would place the start/stop button within eyesight on the centre stack. I eventually familiarized myself to the new location.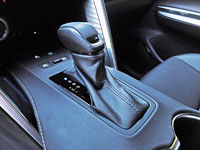 Moving downward, the lower centre console gets a traditional shift lever with manual mode, but that comes after an electronic parking brake with a hold function, plus an EV mode switch for driving under pure-electric power over short distances at low speeds, and lastly a drive mode selector that can be swapped between Eco, Normal and Sport settings.
I quickly learned that I didn't need Sport mode to get it off the line quickly. When wanting to accelerate fast out of my local side street, due to a near constant four-lane stream of traffic, the Venza jumped forward with an immediacy I didn't expect when in set an Eco mode. This said, Sport makes it all that much more energetic when taking off or passing, giving the SUV more zip all-round. More often than not I drive vehicles like the Venza in a calm and relaxed fashion, so I kept it in Eco or Normal mode throughout the week. This still allowed for all the performance I needed when called upon, plus all the fuel-efficiency I could want. Comfort for five aside, that's really what the Venza is all about.
Hybrids are still the value leaders initially and over the long haul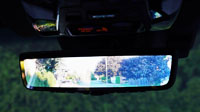 In fact, at $1.82.9 per litre when needing to fill it up, a busier than average week behind the wheel only cost me $55. This is a great deal less than in any other vehicle I've driven recently, even including compact four-cylinder economy cars. Toyota claims a fuel economy rating of 5.9 L/100km in the city, 6.4 on the highway and 6.1 combined, which is mind-blowingly good for the Venza's size and weight, so this SUV makes sense for those wanting to save money on fuel, even if they're considering an all-electric SUV like Tesla's smaller Model Y or similarly sized (to the Venza) Model X.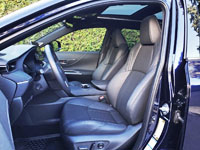 After all, you can drive a long way with savings of about $46k and $117k respectively when compared to the Venza's base starting price of $39,150 (plus freight and fees). Even fully loaded in Limited trim with a window sticker showing $48,550 like my tester, it's a relative bargain. Of course, Hyundai and Kia offer similar sized electrics in the $45k to $60k range, while Cadillac's upcoming Lyriq will provide luxury SUV duds for not much more at a base of less than $67k, but once again the overall frugality price would go to Toyota's Venza.
Fortunately, along with its forward thrust, which granted, isn't anywhere near as jaw-dropping as those just-noted all-electric crossovers, the Venza is a commendable handler, but as capable as it is through a curving canyon road, it's primarily been set up for comfort and ride quality. Smooth is the name of the Venza's game, to the point that I'm willing to bet that its ride is one of the best in its class.
Venza Limited makes it easy to get comfortable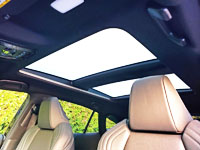 It helps that the driver's seat is comfortable too, with plenty of adjustment. I found it pleasantly surprising that this top-line Venza Limited provides four-way lumbar support, plus the three-way heatable and cooling seats worked as needed. The single-temperature heated steering wheel didn't warm all the way around like some others, but it kept hands toasty from the two o'clock to four o'clock positions on the right side, and the eight to 10 o'clock positions on the left, with some heat bleeding off towards the centres to eliminate any early morning icy chill. Good enough.
The just-mentioned seat ventilation gets forced through perforated SofTex pleather centre front seat panels, incidentally, while solid SofTex covers each bolster and headrest. SofTex is Toyota-speak for breathable man-made leatherette, by the way, looking and feeling so much like the real deal that I needed to verify whether or not it was genuine leather on the automaker's website.
The three rear seating positions are very accommodating as well, especially the two outboard window seats, which also boast heatable cushions. Additional rear passenger equipment includes air vents on the backside of the front console, plus two USB-A ports for connecting devices. A large centre armrest folds down in the middle, revealing two integrated cupholders.
Cargo flexibility isn't the Venza's strongest suit
A powered rear liftgate opens up to a large cargo area, including a sizeable spot to stow items below the cargo floor, next to the compact spare tire. As noted earlier, the rear seatbacks fold down in the usual 60/40 configuration, which once again is my only complaint, being that I prefer a 40/20/40 split so that skis can be laid down the middle and rear passengers more comfortably placed by the window seats, an important issue if you're a parent and have to coax one less comfortable child into the centre position without heat on the way home from the slopes.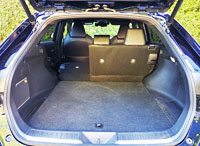 A good way to deal with any backseat complaints is to crank the excellent JBL audio system, something I did regularly despite mostly driving alone, albeit the interior's pièce de résistance is the fabulously large, slightly opaque powered panoramic sunroof overhead, which features a nifty powered cloth sunshade. Then again, the digital rearview mirror is pretty trick too. I'm seeing more and more of these handy devices on upscale Toyotas, plus with some other brands. It allows you to see past any heads popping up from the rear seating area, not to mention cargo piled behind, resulting in a much clearer view of the rearward road. Just be careful to also use the regular rearview camera in the infotainment system when backing up, as objects in the digital mirror appear closer than they really are, plus low sports cars can disappear altogether. Also, the digital mirror can get overwhelmed by headlights at night, so I switched back to its conventional auto-dimming function when the sun went down.
As you can probably tell, I couldn't find much fault with the latest 2022 Venza, and like last year's version, I highly recommend it for those that prioritize comfort, refinement, reliability and fuel economy. That Toyota's digital interfaces are well designed and easy to use is just another bonus. The Japanese automaker should truly be selling more of these than they do.
Review and photos by Trevor Hofmann