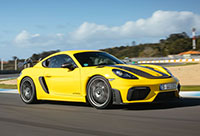 Like it or lump it, both 718 models' horizontally opposed "lumps" are getting tossed when the two sports cars' fifth generation debuts in three years.
According to Porsche CEO Oliver Blume, the mid-engine 718 Cayman coupe and 718 Boxster convertible, plus the Spyder if offered, will say goodbye to their flat-four and flat-six engines by 2025, replaced by fully electric power.
No announcements about powertrain specifics are available, but Porsche's entry-level sports cars are being designed to keep their lightweight DNA intact, while plenty of lessons learned from building the all-electric Porsche Taycan, as well as the upcoming 2024 Macan EV (that we covered previously), should aid development of the two-place performance duet.
Tech from LMP1 Le Mans racer and 919 hypercar expected for 911 hybrid power unit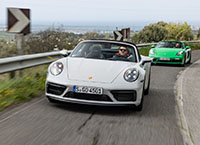 Additionally, Porsche's 911 will continue forward with a lineup of internal combustion engines for the unforeseen future, but take note that its powertrain choices will expand to include a hybrid-electric option for 2025. Blume stated this electrified 911 will even source its tech from the brand's multi-championship-winning motorsports division, with a nod to the LMP1 Le Mans race-spec power unit, which was also used in the phenomenal 919 hybrid supercar. Blume went further to suggest that a future 911 GT3 would receive a version of new hybrid powerplant.
Hybrids in mind, could F1 be in Porsche's future? While we wouldn't want to guess, Blume did tease that more surprises could be expected in the near future.
Story credits: Trevor Hofmann
Photo credits: Porsche