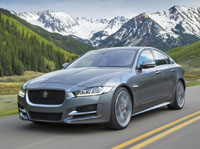 Jaguar made news last year by introducing its formidable and efficient new gasoline-powered Ingenium turbocharged and direct-injected 2.0-litre four-cylinder engine to its gorgeous 2018 F-Type sports car, which allowed for significantly reduced base pricing of $68,500, a $10k advantage. Now two versions of that new engine are available in the 2018 XE and 2018 F-Pace, which has also allowed reduced pricing that targets a much broader range of luxury consumers.
The 2018 Jaguar XE comes to market with a new base price of $43,900 (plus freight and fees) compared to $45,000 for last year's base 20d turbo-diesel version, saving entry-level buyers $1,100 off the top, albeit the XE 20d now moves up in price by $900 to $45,900. Likewise, the popular F-Pace compact SUV gets a $650 price drop from $50,900 last year to $50,250 this year, while the 20d turbo-diesel's MSRP increases slightly by $350 to $51,250.
Along with the reduced pricing comes dramatically improved performance in base trim, the 20d highly efficient yet not as quick as the new gasoline-powered turbo four. The zero to 100km/h sprint time in the base XE 25t AWD drops to just 6.2 seconds from 7.9 seconds for the XE 20d AWD, whereas both are limited to a top speed of 195 km/h, but top speed increases to 217 km/h with the F-Pace 25t AWD compared to 208 km/h in the F-Pace 20d AWD, while sprinting from standstill to 100km/h is reduced from 8.7 seconds to 6.8.
This newfound energy is due to differences in the way gasoline and diesel engines make their power and torque, in this case the 25t good for 247 horsepower at 5,500 rpm and 269 lb-ft of torque from 1,200 to 4,500 rpm, while the 20d makes 180 horsepower at 4,000 rpm and 318 lb-ft of torque from 1,750 to 2,500 rpm, in both the XE and F-Pace.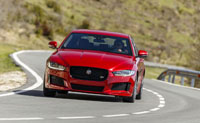 The tradeoff is fuel-efficiency, with the XE 25t AWD estimated to achieve a Transport Canada five-cycle fuel economy rating of 9.8 L/100km in the city, 6.9 on the highway and 8.5 combined, and the XE 20d AWD good for a claimed 7.8 city, 5.8 highway and 6.9 combined. Similarly, the larger and heavier F-Pace 25t AWD is rated at 10.7 L/100km city, 8.8 highway and 9.9 combined, whereas the F-Pace 20d AWD gets an estimated 8.9 city, 7.2 highway and 8.1 combined.
As part of Jaguar's value proposition, both the XE and F-Pace receive standard all-wheel drive in Canada, while this all-weather advantage is also joined up to a highly efficient, quick-shifting eight-speed ZF automatic that includes the brand's unique rotating dial gear selector and shift paddles on the steering wheel.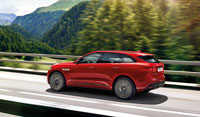 A further scan of both models' standard equipment lists adds to the value equation, with base Premium trim including dual tailpipes with chromed finishers, metal treadplates with Jaguar script, an electromechanical parking brake, a HomeLink garage door opener, JaguarDrive Control that adjusts steering and throttle mapping for Normal, Eco, Dynamic or Rain Ice Snow modes, rain-sensing wipers, touch-sensitive JaguarSense switchgear for the LED overhead lights, an auto-dimming rearview mirror, auto-dimming and power-folding heatable side mirrors with approach lights, driver's memory for the powered seats and side mirrors, dual-zone auto climate control, a large 8.0-inch infotainment touchscreen, a backup camera, 11-speaker 380-watt Meridian audio, Bluetooth phone connectivity with audio streaming, more convenient 40/20/40 split-folding rear seatbacks, hill launch assist, All Surface Progress Control for greater control in slippery conditions, brake-system applied torque vectoring to improve handling and stability, tire pressure monitoring, and much more.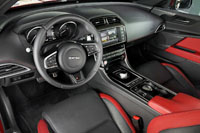 In addition, the base Jaguar F-Pace Premium includes 19-inch alloys instead of 18s for the XE, standard proximity-sensing keyless entry and ignition, a powered liftgate, satellite instead of HD radio, a reversible load floor that switches from luxury carpeting to a rubberized surface, and more.
Both new engines are available with Jaguar's base Premium, mid-range Prestige and performance-oriented R-Sport trims, with features included in these upper trims including full LED headlights, leather upholstery, a heatable powered steering wheel, heated seats, a head-up display, navigation, advanced driver assistance systems, and much more.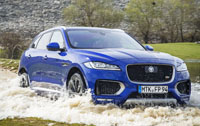 An even more potent version of the 2.0-litre Ingenium turbo-four can be had in all of the above trims as well as with the top-line Portfolio model, this engine putting out 296 horsepower and 295 lb-ft of torque for a 5.5-second sprint from zero to 100km/h and top speed once again capped off at 195 km/h in the XE 30t AWD, plus a charge from standstill to 100km/h of 6.0 seconds and top speed of 233 km/h in the F-Pace 30t AWD. Despite the much-improved performance fuel economy is minimally affected, with the XE 30t AWD estimated to consume 11.8 L/100km in the city, 8.2 on the highway and 10.2 combined, and the F-Pace 30t AWD rated at 10.9 city, 8.7 city and 9.9 combined.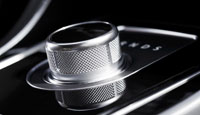 Of note, both XE and F-Pace can also be had with a 3.0-litre supercharged V6 that's good for 380 horsepower and 332 lb-ft of torque, making the so-named XE S AWD a noticeable 0.3-seconds quicker from zero to 100km/h than the XE 30t AWD, with a quickest time of 5.2 seconds albeit no faster in its overall top speed, while the F-Pace S AWD takes a full half-second off of its zero to 100km/h launch time at just 5.5 seconds, before arriving at a higher terminal velocity of 250 km/h.
Like all Jaguars, the XE and F-Pace are built using lightweight, recyclable aluminum body panels, internal framework and chassis components, setting them apart from the majority of their competitors.
The XE is Jaguar's entry-level sport-luxury sedan, positioned below the mid-size XF, which also gets both base and high-output versions of the new four-cylinder engine, and full-size XJ flagship model, whereas the F-Pace sits above the all-new 2018 E-Pace subcompact SUV, which is now Jaguar's entry-level model at just $42,700, and also incorporates the two new turbo-four engines.