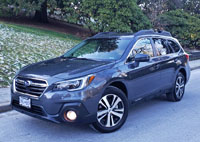 The Outback has long been my favourite family-oriented Subaru, unless you consider the four-door WRX STI a family car. I know my son would've tried to convince me of its practicality, but he would have done the same for a BRZ back in the day. Now he's a man and while I'm still his old man, I'm also an aging man, so not surprisingly comfort is starting to matter a lot more than performance, while having somewhere to haul my stuff around is important too.
A quick glance at this mid-size crossover wagon might cause you to question whether or not it's as roomy inside as one of its slightly taller five-seat crossover SUV competitors, such as Ford's Edge, Hyundai's Santa Fe, Chevy's new Blazer or Nissan's Murano, or even Jeep's more 4×4-capable Grand Cherokee, but not so. While the Outback sits lower than any of the just-noted utilities, its cargo capacity, which measures 1,005 litres (35.5 cubic feet) when all seats are in use or 2,075 litres (73.3 cubic feet) when the second row is lowered, is nearly identical to the Edge, Santa Fe and Grand Cherokee, and considerably more spacious than Murano and Blazer, so there's no practical reason to choose an alternative SUV over the Outback.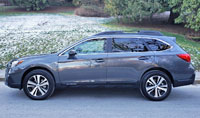 In fact, while I'd like to see a centre pass-through or an even more versatile 40/20/40-split second row in the Outback or any of its aforementioned rivals, the Outlook provides handy cargo wall-mounted levers to lower its 60/40 split-folding seatbacks down automatically, plus a nice retractable cargo cover and rugged available cargo mat, making it ideal for all types of hauling duties including winter sports.
Of course, the Outback's standard all-wheel drive is probably its best all-season asset, its Symmetrical layout renowned for providing an even distribution of torque to each wheel and better weight distribution overall, including a lower centre of gravity thanks in part to its volume brand-exclusive horizontally-opposed "boxer" engine design. I've tested Outbacks since I initiated my writing career 20 years ago, and even drove the exact same one as this in white last year, and thanks in part to standard electronic traction and stability control its all-wheel drivetrain provides impressive capability no matter the road conditions, even when the white fluffy stuff surrounding my test car in the photos is on the road. It'll climb out of much deeper snow than that, of course, something I experienced numerous times in ski hill parking lots and in winter conditions elsewhere, while its flat-four and -six engines maximize torque, which is optimal when dealing with off-road-like conditions.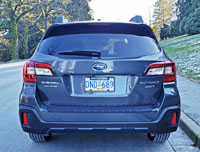 Incidentally, Subaru refreshed the Outback for 2018 and is currently launching its redesigned 2020 Outback, so if you head down to your local dealer you'll likely see the new one sitting in the showroom and some 2019s (which are identical to the 2018s) still on the lot, the latter models still needing homes and therefore reduced in price to sell quickly. At the time of writing CarCostCanada is reporting up to $3,000 in additional incentives for 2019 Outbacks, while you can also check this website for trim, package and option prices, plus rebate information and even dealer invoice pricing that could save you thousands when it comes time to negotiate, so for this reason alone it's a good idea to consider a 2019.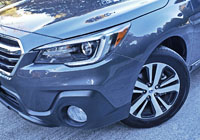 Of course, the decision to choose a redesigned or outgoing model shouldn't only be based on finances unless one's limited budget demands, yet I still can't see 2020 Outback buyers being wooed solely by styling as the new version hardly looks much different than the old one from the outside, despite subtle changes from front to back. See next to each other, the new one looks more refined and sleeker, but I understand why the old model's chunkier, more rugged design would have more appeal to plenty of buyers.
Open either model's front door and you'll see an interior delivering more plush luxury than their exteriors let on, the new version receiving the mainstream volume sector's biggest centre display at 11.6 inches, while it's now positioned vertically instead of horizontally, as is done with this 2019 Outback's generously sized 8.0-inch touchscreen. I'm not about to detail out the 2020 version right now, being that I haven't even sat inside one yet, but I can appreciate why some would-be buyers will be anteing up just for that mammoth monitor.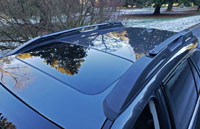 This said I wouldn't be at all surprised if someone chose the 2019 Outback in order to get my tester's fabulous 3.6-litre six-cylinder engine, which is being discontinued ahead of the 2020 model. Most recently it's been optional in top-tier Outbacks and loaded up versions of Subaru's Legacy mid-size sedan, but as soon as I learned that the brand's newest Ascent mid-size three-row crossover SUV wouldn't be offering the six-cylinder variant I knew its days were numbered.
For a quick history, the flat six arrived as an option for Subaru's 1988–1991 XT two-door sports coupe. It was based on the brand's four-cylinder of the time, and was soon upgraded for that model's successor, the much more appealing 1991–1996 SVX, a model that I tested and totally blew me away back in 1994. This engine was replaced by the EZ30, a ground-up redesign that was notably almost as compact as the EJ25 four-cylinder of the time, the smaller 3.0-litre version being optional in Legacy/Outback models from 2002/2001-2008/2009, and the almost identically sized yet more potent 3.6-litre EZ36 iteration added as an option for the 2009 and 2010 model years respectively. As a side note, both versions of the EZ engine were used in the new Ascent's three-row crossover SUV predecessor, dubbed Tribeca, with the 2006-2007 variant getting the smaller variant and 2008-2014 models using the larger.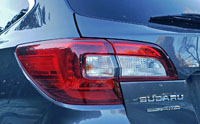 Enough history? I don't normally deep dive so far into the past when it comes to engines, but when a relatively small brand makes such a big move, it seems relevant to go over some of the details. It's also a bit of a shame. Most of us feel a need to help green our planet in some way or another, and altering the way we drive is certainly a less intrusive way than going vegetarian (not that there's anything wrong with that), but even though 2019 to 2020 fuel economy figures show night and day savings, these don't fully reflect real-world driving that might have a heavier right foot applied more often than not, causing a smaller four-cylinder engine to rev higher in order to extract the same performance that a larger displacement six-cylinder engine would need to for the same result.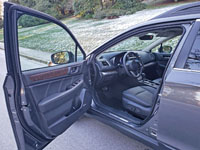 Before comparing consumption, 2019 model year engines include an entry-level 2.5-litre four-cylinder making 175 horsepower and 174 lb-ft of torque, plus the 3.6-litre H6 I've already covered a length except for output numbers that equal 256 horsepower and 247 lb-ft of torque. For 2020, the base 2.5i receives a complete overhaul resulting in 90 percent of its components replaced for 6 more horsepower and 2 lb-ft of additional torque, which combine for a new total of 182 horsepower and 176 lb-ft of torque, while a new optional turbocharged four-cylinder engine displaces 2.4 litres and makes an even more abundant 260 horsepower and 277 lb-ft of torque, which is a nominal increase of 4 horsepower yet a very generous 30 lb-ft of extra torque when compared to the outgoing six.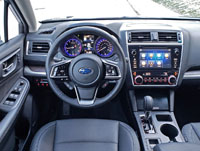 How about efficiency? The 2019 Outback 2.5i achieves a claimed 9.4 L/100km in the city, 7.3 on the highway and 8.5 combined compared to 9.0 city, 7.1 highway and 8.0 combined for the new 2020 base engine, which is certainly an improvement. Comparing 2019 Outback 3.6R fuel economy to the new 2020 2.4i is even more dramatic, with the outgoing engine managing an estimated 12.0 L/100km city, 8.7 highway and 10.5 combined rating and the new version achieving 10.1 city, 7.9 highway and 9.0 combined.
To Subaru's credit there doesn't seem to be any downside with the Outback's optional move from a six to a turbo-four, and few brands have had more experience building boosted four-cylinder engines, its WRX legendary for multiple world rally championships as well as dependability (those two normally going hand in hand), but I will miss the six-cylinder engine's smooth, refined operation and throaty growl at takeoff.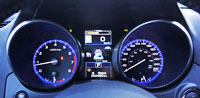 Shifts occur via continuously variable transmission, so while it feels much like a conventional automatic swapping its cogs as required, it's actually Subaru's High-Torque Lineartronic CVT with an eight-speed manual mode that mimics gear changes very well, unless pushed higher up into the engine's rev range where it doesn't pull off the process quite as well. Subaru includes paddle shifters for more hands-on engagement, but after playing with them for testing purposes I never found the need for them again.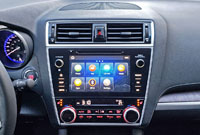 While quite quick off the line and plenty capable for passing slower moving vehicles on the highway, plus reasonably agile through fast-paced corners when pushed hard, the Outback hasn't really been designed for performance buyers. No, this tall wagon is all about comfort, and to that end it's best just to leave this ultra-smooth transmission in default mode and enjoy the ride, which is, by the way, superb. In fact, it has one of the most compliant suspensions in the industry, making it ideal for bumpy cottage roads and trips to the ski chalet, let alone tooling around town while running errands.
I've long found Subaru's standard full-time symmetrical all-wheel drive system superior to other AWD systems I've tested, one of its advantages being an "X-MODE" button on the lower console that when activated controls the engine's output, transmission shift points, the AWD system's torque-split, plus the braking and hill descent control systems in order to overcome more challenging off-road conditions than most rivals should ever attempt. I wouldn't go so far to say the Outback could replace a true four-wheel drive utility, but its advanced AWD and impressive 220 mm (8.7 inches) of ground clearance certainly make it more capable than most car-based crossover rivals.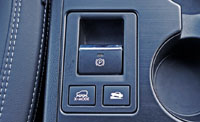 As you might imagine, I'm looking forward to getting into the 2020 Outback (next week in fact) just to see how it improves on this 2019. Obviously the larger centre touchscreen mentioned earlier in this review will be a night and day upgrade, which I'll report on at length in a future review, but it'll be just as interesting to see how Subaru updates the rest of the cabin. I'll need to be especially good to beat the current Outback's near premium levels of interior refinement, as it already boasts such niceties as fabric-wrapped A pillars, a soft-touch dash-top and instrument panel that's contrast stitched and wraps all the way down the sides of the centre stack, padded door uppers, inserts and armrests front to back, and leather upholstery with contrast stitching in my almost top-line Limited model.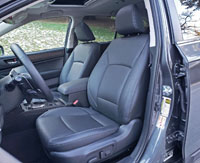 The leather-wrapped steering wheel looks good and feels great in the palms and fingers, its nicely carved out thumb indents adding a sportier touch. The buttons and rocker controls on the steering wheel spokes are high in quality and function well, while all of the cabin switchgear is up to snuff, particularly the audio and dual-zone automatic climate control knobs on the centre stack.
It wasn't long ago that Subaru trailed the segment in electronic interfaces, but the brand has been taking such sizeable strides forward in this respect that as noted earlier it's now a segment leader, and while the 2019 Outback won't wow your neighbours like the new 2020 will, it's still competes well next to its peers. Both models use fairly traditional primary instrument clusters featuring analogue dials to both sides and a tall, vertical multi-information display (MID) at centre, but the 2020 says sayonara to the sportier double-hooded motorcycle-style gauge design currently being used for a more conventional look that's actually a letdown at first glance, but that said its 5.0-inch MID can now be upgraded to a full 12.3-inch digital instrument cluster.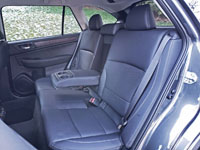 That means 2019 Outback Limited and Premier trims aren't much more intriguing ahead of the driver than base 2.5i, Convenience and Touring models, other than the base 3.5-inch MID being replaced by a much nicer colour 5.0-inch version when EyeSight gets added (more on this in a moment), but over on the centre stack it's a different story altogether.
The 2020 base Outback comes with a 7.0-inch touchscreen, by the way, an upgrade from the 2019's 6.5-inch centre display, while the top-line 2019 model gets a reasonably large 8.0-inch touchscreen, as mentioned earlier in this review. Unless you just stepped out of the updated car or something premium from Germany, my tester's infotainment system looks fairly state of the art, thanks to lots of gloss black surfacing around the monitor so that it all just blends together as if it's a giant screen, while the digital interface graphics simulate a deep blue night sky with twinkling stars for a background and colourful smartphone/tablet-like tiles for selecting functions.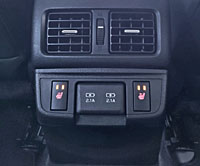 The reverse camera system is very good, aided by dynamic guidelines, while infotainment highlights include Apple CarPlay, Android Auto and Subaru's proprietary StarLink smartphone integration, plus the usual AM/FM/CD/MP3/WMA audio sources, as well as satellite and Aha radio, USB and aux ports, SiriusXM advanced audio services, SiriusXM Travel Link, and Bluetooth with audio streaming, all played through four speakers, while Touring trims and above include the 1.5-inch larger touchscreen along with a second USB port and two additional speakers.
I'm tempted to go into detail about trims, packages and standalone options, but it's not like you'll be able to order a 2019 Outback anyway. What you see will be what you get, and you'll probably need to be quick to snag a 2019 anyway, especially one with the inline-six. This said I'd like to cover some as yet unmentioned features found in my Limited trimmed test model, which include 18-inch alloys, auto on/off steering-responsive LED headlights, fog lamps, welcome and approach lighting, proximity-sensing keyless entry, pushbutton start/stop, brushed aluminum front doorsill protectors, genuine looking matte woodgrain and silver metallic interior accents, an auto-dimming rearview mirror, auto-dimming side mirrors, a heatable steering wheel, three-way heated front seats, navigation, adaptive cruise control, a 10-way power-adjustable driver's seat with powered lumbar support, two-way driver's seat memory, a four-way powered front passenger seat, a Homelink garage door opener, an excellent sounding 576-watt, 12-speaker Harman/Kardon audio system, a powered moonroof, two-way heatable rear outboard seats, a powered rear liftgate, and more.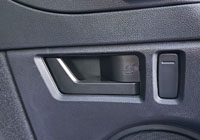 Additionally, those EyeSight advanced driver assistive systems noted earlier include pre-collision braking, pre-collision brake assist, pre-collision throttle management, lane departure warning, lane sway warning, lane keeping assist, lead vehicle start alert, reverse automatic braking, adaptive cruise control, and high beam assist.
The Limited 3.6R with the EyeSight package starts at $41,395, which is $1,500 more than the Limited 3.6R without EyeSight, while that model is $3,000 more than the Limited with the four-cylinder engine. The base Outback 2.5i starts at only $29,295 by the way, while other 2019 trims include the $32,795 Touring 2.5i, and the $39,295 Premier 2.5i that comes standard with EyeSight. You can add the Eyesight package and engine upgrade to Touring trim, although the six-cylinder is the only option available to Premier customers, other than colour choices of course, but exterior paints won't cost you any more no matter the trim.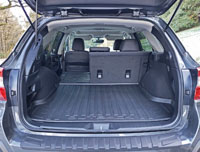 While the 2019 Outback might range in retail price from $29,295 to $42,295, remember that CarCostCanada was claiming up to $3,000 in additional incentives at the time of writing, so be sure to check out their 2019 Subaru Outback page for more info, which also provides detailed pricing, info on the latest rebates, plus otherwise hard to get dealer invoice pricing that could save you thousands. 
As mentioned at the beginning of this review, the Outback provides mid-size SUV-levels of cargo carrying capacity, so it only makes sense there'd be no shortage of room for full-size adults up front and in back too. It's comfortable as well, the front seats nicely shaped to provide support in all the right places, particularly at the lower back, while side-to-side bolster support is also good for this comfort-first segment. Rear seat spaciousness is generous too, especially when it comes to headroom.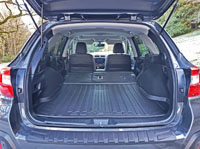 Another bonus in back is refinement, with its surfaces and details finished just as nicely as those in the front compartment. A big, wide centre armrest folds down to an ideal height for average-sized adults, and better yet it features large cupholders with grippy rubber clasps to keep drinks secured in place. What's more, a covered compartment on the backside of the front centre console incorporates a duo of USB charging ports as well as an auxiliary plug, while rocker switches for the aforementioned rear seat warmers sit right beside, and rear vents are housed just above. Back seat readers will appreciate the spot lamps overhead, while the door panels get nice big bottle holders.
It feels right to wrap up a Subaru Outback review on a practical note, despite how upscale its interior looks and feels, and how luxurious its smooth six-cylinder power and even smoother ride is. It's a car that's even better than advertised, and that's something truly special in today's sensationalized world. Whether you choose to go with this superb 2019 Outback or choose the updated 2020 model, I believe you'll be fully satisfied.