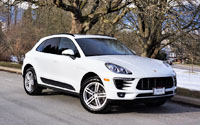 What would you do? Despite having long since closed off my 2018 model year reviews thanks to most manufacturers' 2019 models having been available since fall of last year, I was staring at the keys of a nicely outfitted 2018 Porsche Macan, and it only made sense to drive it. Then again, if I drove it I'd need to review it, and here we are. 
Fortunately for me the refreshed 2019 version is a late arrival, starting to show up at Porsche Canada dealers as I stare at another set of keys while hammering out this last-minute review. It's also good the Stuttgart-based brand made sure that its retailers were well stocked with 2018 Macans, a fact that still makes this somewhat late arrival of a road test review relevant. I'm ok with that if you are, and besides, it's not like the 2019 model is a radical departure from this 2018 version anyway.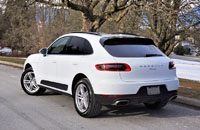 That said, toward the end of this 2018 Macan review I'll make sure to point out a few notable changes made to the new 2019, so you can decide what matters most when choosing your new Porsche SUV, because it's probably safe to say you'll be able to get a better deal on the outgoing model than the refreshed version, not to mention that it's even more ok than usual to purchase a one model-year older vehicle when factoring in Porsche's much better than average resale values.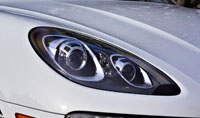 First off, both 2018 and 2019 Macans qualify for sportiest compact luxury SUV status, and saying that I'm not forgetting about some pretty impressive iron currently available, or should I say aluminum when referring to some of its challengers, particularly the Jaguar F-Pace and Range Rover Velar (the Macan utilizes an aluminum hood and liftgate, plus elsewhere it uses an assortment of high-strength micro-alloyed steel, multi-phase steel, deep-drawn steel, and boron-alloyed steel).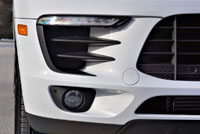 Yet there's also the new steel-bodied Alfa Romeo Stelvio (I drove the Ti Sport AWD and it was loads of fun, and on that note the 505-horsepower Quadrifoglio might even impress more than the Macan Turbo, but I'll reserve judgment until after I've spent time behind the wheel), plus the recently renewed Audi SQ5, BMW's X3 M, and Mercedes-AMG's dynamic duo, the GLC 43 and 63 S, while I should also give honourable mentions to the new Acura RDX and Infiniti QX50 that do an admirable job of performing off the line and through the curves when sidled up beside the base Macan I'm reviewing here.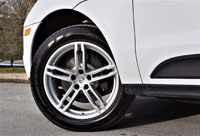 Still, even this entry-level Macan delivers a higher level of performance feel than these very worthy rivals, the sound of rasping exhaust and the quick-shifting response of its seven-speed dual-clutch automated PDK transmission, which comes complete with steering wheel-mounted paddle shifters, a far cry more engaging than most anything it's put up against.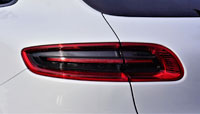 This most basic of Macans receives a direct-injected and turbocharged 2.0-litre four-cylinder engine endowed with VarioCam technology and kinetic energy recovery that's capable of 252 horsepower and 273 lb-ft of torque, the former number about average for the class yet the latter more than most rivals provide. This results in a spirited 6.7-second sprint from standstill to 100km/h, or 6.5 seconds when upgraded with the $1,500 Sport Chrono Package that incorporates a set of Sport and Off-Road buttons within the drive mode selector, plus launch control and a special performance display within the infotainment touchscreen. The Macan's standard Active all-wheel drive made the most of the road surface below, feeling especially controlled when accelerating around corners.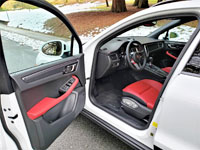 My tester wasn't upgraded with the Sport Chrono Package, however, nor did it have the $1,560 Porsche Active Suspension Management (PASM) system that boasts an electronically variable active damping system with Comfort, Sport and Sport Plus modes, or the even more advanced $3,140 Air Suspension that also includes PASM, or a number of other performance upgrades, but nevertheless it drove brilliantly, with good jump off the line and superb stability when flung through corners, its standard aluminum double-wishbone front suspension and multi-link rear setup fully living up to the legendary crest on its hood and scripted name on its backside.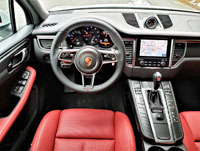 My test model did include $790 Lane Change Assist, however, one of many advanced driver assistance systems that are less about hands-on performance and point more toward a future of hands-off relaxation, albeit this one merely provides warning if the Macan wanders from a chosen lane, veers off the road, or if a vehicle comes up to its side when a turn signal is engaged. Another $790 buys Lane Keeping Assist, which momentarily takes control at speeds of 65 km/h and higher when such circumstances occur, while my tester also included $1,650 adaptive cruise control, a must for those who travel long distances.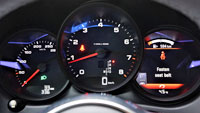 Other extras included a $2,230 Garnet Red leather package that also adds $1,960 14-way powered front seats with memory, although it should be noted those upgraded buckets (sans the rosy colour treatment) are included with the $7,250 Premium Package Plus (and can be further upgraded to 18-way Adaptive Sport Seats for just $430) that also adds proximity-sensing access with pushbutton ignition, auto-dimming side mirrors, a panoramic glass sunroof, three-way ventilated front seats, three-way heatable rear outboard seats, terrific sounding Bose surround audio (or you can spend $5,370 more for the same package with the sensational 1,000-watt 16-speaker Burmester surround upgrade), Bi-Xenon headlights with the corner-bending Porsche Dynamic Light System (PDLS) (alternatively you can spend $1,340 more for the same package with full LED headlamps), while some standalone items included $1,890 worth of 19-inch Macan Turbo wheels wrapped in 235/55R19 Pirelli tires, and lastly a set of black roof rails for $440, with all the additions totaling $14,250 for a final price of $68,350, not including one of the least expensive freight charges in the industry at $1,250.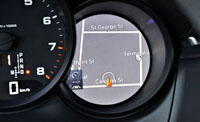 I haven't even scratched the surface as to all you can get with the Macan if you'd like to load one up, nor for that matter all that comes standard for its base $54,100 entry price, this number making it the most affordable Porsche model in Canada, but suffice to say it's nicely outfitted with 18-inch alloy rims, fog lights, LED tail lamps with adaptive brake lights, an electromechanical parking brake, one of the nicest heatable leather-wrapped multifunction steering wheels in the industry (I love the thin spokes and superb switchgear), a colour multi-information display that shows a map when set to navigation plus plenty of other functions, rain-sensing wipers, a HomeLink garage door opener, power-adjustable and three-way heated front seats, tri-zone automatic climate control with active carbon and pollen filtration, a 7.2-inch Porsche Communication Management (PCM) infotainment touchscreen featuring standard navigation and a backup camera with active guidelines (the latter even including an overhead graphic of the Macan showing how close you're getting to objects when parking via standard front and rear parking sensors), HD and satellite radio, and much more.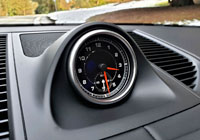 The standard Macan's liftgate powers open automatically too, with the spacious cargo area good for 500 litres (17.6 cubic feet) of gear behind its ultimately utile 40/20/40-split rear seatbacks. I love this configuration compared to the more common 60/40 divide, even if the asymmetrical arrangement includes a centre pass-through, because you can load more skis and/or other long cargo down the middle when four are aboard. Porsche also includes a sturdy standard cargo cover to hide valuables, which can be removed when laying the rear seats flat, a process that opens up 1,500 litres (53.0 cubic feet) for serious cargo hauling capability. I know I'm getting all practical while talking about a Porsche, but while it's true the Macan is amongst the sportiest in its class, at least in its highest trims, it's also a perfectly useful tool for hauling family and gear.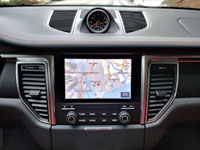 Then again, calling something a tool that's finished so impeccably inside doesn't seem right either. The dash top was covered in red contrast-stitched leather, while a high-grade soft-touch composite material surfaces the bottom half of the instrument panel plus everything below the dash including the glove box lid and lower console sides. Likewise, the door panels are a mix of leather and pliable synthetic from top to bottom, while interior accents are mostly detailed out in satin-silver metal. Such hard trim elements aside, you'll have a hard time finding any insubstantial plastic in this luxury SUV.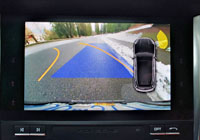 Of course, it's wonderfully comfortable too. My tester's 14-way seats provided plenty of power adjustments including four-way lumbar and extendable seat squabs. Porsche offers a lot of steering wheel reach and rake too, allowing me to get completely comfortable with the driver setup, which instilled a sense of controlled confidence even before setting out. 
Likewise rear seating is roomy and accommodating, with the outboard positions both fully supportive to provide the comfort needed on long trips, and carved out nicely for holding backside in place when the driver lets off a little steam.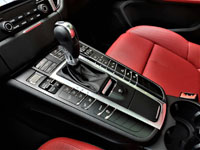 Speaking of going quickly, those wanting more straight-line speed can choose the Macan S that stuffs a twin-turbocharged 3.0-litre V6 under its hood good for 340 horsepower and 339 lb-ft of torque, which results in zero to 100km/h in only 5.4 seconds, or 5.2 seconds with the Sport Chrono Package, plus a new terminal velocity of 254 km/h compared to the base model's already lofty 229 km/h. Alternatively the Macan GTS adds an extra 20 horsepower and 30 lb-ft of torque for a total of 360 and 369 respectively, plus sprint time of 5.2 seconds to 100km/h, or 5.0 seconds with the Sport Chrono Package, and a higher top speed of 256 km/h.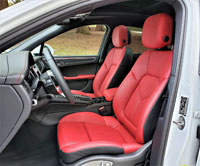 The Turbo (Turbo referring to a model name despite all Macan trims using turbocharged engines) is top of the Macan heap thanks to a 3.6-litre twin-turbo V6 that makes 400 horsepower and 406 lb-ft of torque, plus standstill to 100km/h achieved in just 4.8 seconds, or 4.6 seconds with the Sport Chrono Package, and an even faster final speed of 266 km/h. If you still crave more, a Performance Edition, which makes the Sport Chrono Package standard, adds 40 horsepower and 36 lb-ft of torque for 440 of the former and 442 lb-ft of the latter, resulting in a 4.4-second sprint to 100km/h.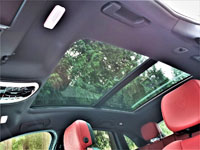 It's likely that fuel economy will matter to those in the more conservative trims, especially now that a new carbon tax is upping pump prices in four Canadian provinces, and others, such as BC, are reeling from an even bigger carbon tax bump, so be satisfied that a fuel-saving and emissions reducing auto start/stop system, with coasting capability, shuts the engine off when it would otherwise be idling, helping the Macan to deliver a claimed rating of 11.6 L/100km in the city, 9.3 on the highway and 10.5 combined. I certainly could live with this, especially considering how sporty it feels when pushed, and how responsive it is even when lightly applying the throttle.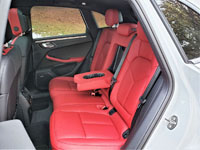 If you opt for a 2019 Macan fuel economy shouldn't change noticeably, but take note the base powertrain is down some 4 ponies while the next-in-line Macan S gains 8 horsepower. Neither issue should sway Macan buyers either way, but Porsche promises an improved ride and with better handling, the latter hard to believe considering how deft the current model is, so I'll reserve judgment until I get behind the wheel.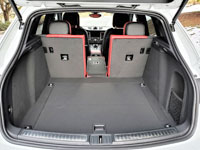 A greater draw is the new SUV's styling that's highlighted by standard LED headlamps on a slightly revised front end design, plus a more dramatic statement made from behind thanks to a single three-dimensional LED taillight that spans the entire width of its backside. I think the 2019 Macan's biggest draw is inside, thanks to a new standard 10.9-inch high-resolution centre touchscreen, which receives most of the same standard features as with the current version, but gets more up-to-date graphics on a larger display, a quicker operating speed, and Porsche Connect Plus, an app suite filled with functions, like a Wi-Fi hotspot, and services. 
Additionally, the 2019 Macan will offer a driver assist system that, via the adaptive cruise control, provides semi-autonomous driving for acceleration, braking and lane keeping assist at speeds of 60 km/h and below during congested traffic conditions. 
So the choice is yours. Work your best deal on an already discounted 2018 Macan now or choose the updated 2019 version as it starts arriving this month, knowing either option results in a premium crossover SUV that delivers a higher level of style, performance, refinement and luxury than the majority of challengers, while fulfilling all the practical concerns of a life well lived.