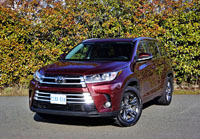 Do you remember that zany TV ad that saw a family pulling up to a national park gatekeeper's booth in their 2014 Toyota Highlander, only to have him say to the father and driver, "Is this the new Toyota Highlander?" followed by, "Ever look at the stars through your moonroof? Ever wish upon them?" And then, "It has a V6 engine right? Is it powerful? Do you think I'm powerful?" (If you don't remember it, or how the 2014-2016 Highlander looks, I've included it at the bottom of this page). There were other humourously uncomfortable questions asked too, but when all was said and done the ad did a great job of creating interest in the new Highlander and this family's "own little world" within, while giving most of us a good chuckle too.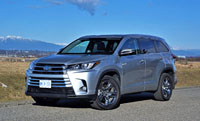 Fortunately for Toyota the money wasn't wasted, as those who owned Highlanders, and newcomers alike, went back to their local retailer to satisfy their curiosity and the SUV they found more than measured up. In fact, the Toyota's mid-size crossover SUV has been on a steady growth trajectory since 2013 when that third-generation Highlander was introduced in Canada, growing 11.6 percent that calendar year, 27.5 percent in 2014, 6.8 percent the year after, 24.5 percent last year, and with sales that were nudging up against last year's record total by the close of September this year, it's already on target for another new high. 
Almost as important to Toyota, during this growth cycle the Highlander has gone from eighth most popular in its mid-size SUV segment in 2012 to fifth so far this year, while it's now actually third when compared to dedicated three-row competitors, only outsold by the Kia Sorento and Ford Explorer.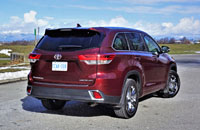 I certainly can understand why it's grown in numbers and popularity. Since day one I've been impressed, and while it's seen steady improvements when it comes to features and technology advancements over the past five model years, plus a significant refresh that replaced its sportier Toyota truck-inspired grille with a classier chrome clad design that now extends deeper and wider into the front fascia in near Lexus-like grandeur, its core goodness remains. 
What do I like? I must admit the more truckish grille worked better for me, but the mid-cycle makeover is hardly a turnoff and its side profile and rear quarters remain mostly unchanged and therefore amongst the best looking in this category to my eyes, but it's the Highlander's interior that woos me most ardently, especially in as-tested Limited trim.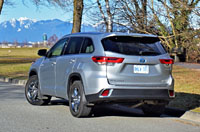 To be clear, I spent my first week with the conventionally powered 2018 Highlander V6 AWD Limited and another seven days in the Highlander Hybrid Limited, both top-line versions of basically the same SUV with different drivetrains. 
These high-style models continue to offer a more premium experience than most mid-size crossover SUVs in the mainstream volume sector, with upscale touches like a full soft-touch dash top that not only wraps down to the halfway point of the instrument panel, but gets followed up with a nicely finished padded leatherette what-have-you tray that spans from the left side of the centre stack all the way across to the passenger's door panel. Toyota even finishes off the eight roof pillars with fabric, uncommon but certainly welcome in this class.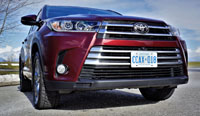 Additional appreciated details include satin-silver trim in key areas, nice grey woodgrain inlays across the dash and door panels, some attractive chocolate brown detailing on the dash and door plastics, as well as the same tasty hue used for the seat upholstery's contrast stitching. 
Those seats are perforated leather and very comfortable, the Highlander being one of my favourite Toyotas as far as ergonomics go. The power-adjustable lower seat squab extends further than some others, tucking nicely below the knees, and while its two-way powered lumbar support doesn't quite find the ideal position in the small of my back, it was closer than the Lexus NX I drove the week before. I also appreciated that the telescopic steering wheel has more forward travel than some other Toyota models, which allowed me to set up the steering for better comfort, control and safety, the rim nicely finished in stitched leather and ideally shaped for performance driving, which was oddly appreciated and totally unexpected.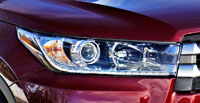 What a perfect segue into driving dynamics, but before I start talking about power delivery, handling and ride quality I wanted to mention a few other interior points. For starters, the Highlander's switchgear is on par with others in the class, meaning it fits together tightly and is well damped for a premium feel, with only the hollowness of the composites used a bit on the low rent side. 
Then again much of the infotainment system's buttons are touch-sensitive, while the display itself is large and high in resolution. This said it pales in comparison to the new Camry's Entune interface, visually because of the latter car's glossy display finish and upgraded graphics, and functionally due to its impressive new proprietary smartphone connectivity that blows away Android Auto, in my opinion. Back to the Highlander Limited, the touchscreen is matte in finish and its depth of contrast not all that good. In fact, it was completely illegible due to glare at certain angles on bright sunny days, but to be honest it even looked quite faded in the shade. Also, the display almost completely disappeared when wearing polarized sunglasses, something touchscreens with richer colour quality and greater depth of contrast don't do.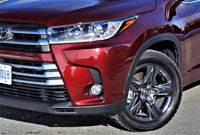 The Highlander Limited gets a narrow strip of tri-zone automatic climate controls just below the centre touchscreen, and while they were easy enough to use I found it difficult to find the right temperature for comfort in cold weather. As it was, 23 degrees Celsius was much too hot and 21 just right. The problem? Most competitors' vehicles need to be set to 23 or 24 degrees in order to maintain a normal 20 to 21, so kudos to Toyota for being so annoyingly accurate. 
Improving on the Highlander Limited's HVAC system is a heated steering wheel rim, multi-temperature heatable and ventilated front seats with separate scrolling controllers on the lower console, and two-way heated outboard second-row seats, while yet more exclusive Limited trim features not yet mentioned include 19-inch dark chrome-clad alloy wheels, smoked headlamp surrounds, puddle lamps under the side mirrors, chrome trimmed roof rails, scripted aluminum front treadplates, LED ambient interior lighting, auto up/down for all the powered windows, rain-sensing wipers, front and rear parking sensors, a dynamic surround parking camera with a bird's eye overhead view, a great sounding 12-speaker JBL Synthesis audio system, memory for the driver's seat and side mirrors, second-row captain's chairs with a folding centre console, a household-style 120-volt power outlet, a powered panoramic glass sunroof with a powered sunshade, and blindspot monitoring with rear cross-traffic alert.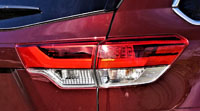 While that's a lot of gear, Limited trim also features items pulled up from lesser mid-range XLE trim, including LED daytime running lights, fog lamps, proximity-sensing keyless access with pushbutton ignition, an auto-dimming rearview mirror, a universal garage door opener, a leather-wrapped steering wheel and shift knob, a higher grade of simulated leatherette door trim, a 4.2-inch colour TFT colour multi-information display, a larger 8.0-inch touchscreen with navigation (the base model gets a 6.0-inch display audio system), Driver EasySpeak, advanced voice recognition, SMS text-to-speech and email-to-speech, satellite radio, an eight-way power-adjustable driver's seat with the aforementioned power-extendable lower cushion and powered lumbar, a four-way powered front passenger's seat, second-row side window sunshades, a flip-up rear hatch window, a powered rear liftgate, a retractable cargo cover that smartly locks into place under the cargo floor when not in use, and auto start/stop that shuts off the engine to save fuel when it would otherwise be idling (standard with the Hybrid).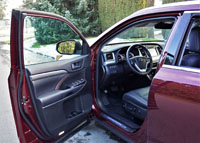 Additionally, key standard features pulled up from base LE trim to the Limited include multifunctional steering wheel controls, illuminated vanity mirrors, Siri Eyes Free, a massive centre console bin with a nice simulated leather sliding lid, cargo area tie-down rings, underfloor storage in the cargo area, and all the expected active and passive safety features including a driver's knee airbag. 
Adding to your family's security and your convenience, even the most basic Highlander LE with front-wheel drive comes with a wide assortment of advanced driver assistive systems as part of Toyota's standard Safety Sense P package, featuring a front pre-collision system with autonomous emergency braking including pedestrian detection, lane departure alert with steering assist, full speed dynamic cruise control, and automatic high beams, the latter items capable enough for a Top Safety Pick rating from the U.S. Insurance Institute for Highway Safety (IIHS), while it also gets a five-star overall safety rating from the U.S. National Highway Traffic Safety Administration (NHTSA). Still, a sobering thought shows its five stars are only achieved in one category when it comes to crash tests, notably the front passenger side test, with the front driver side and overall front crash tests managing just four stars apiece.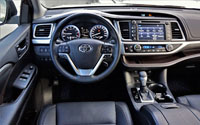 The regular Highlander and Hybrid models differ when it comes to some of the just noted trims as well as the features within each, specifically by the omission of an LE trim with the Hybrid and this electrified model's elimination of Safety Sense P in its most basic XLE trim. The Hybrid XLE is also missing rain-sensing wipers and a USB audio port, although both include four USB charge points. 
Of note, the driver's seat isn't the only comfortable chair in the Highlander's cabin thanks to my Limited trim tester's standard second-row captain's chairs that provide good lower back and thigh support, individual fore and aft manual adjustment, reclining capability, and separate inside folding armrests. With the driver's seat set to my five-foot-eight height I had at least 10 inches ahead of my knees when seated in the second-row bucket after it was moved all the way rearward, plus more than enough for my feet and another four to five inches above my head, as well as loads of side to side space. Alternatively, when pushing my second-row seat all the way forward so that it clicked into its last notch I had about three inches in front of my knees and still reasonable space for my feet, this position best for maximizing third-row roominess.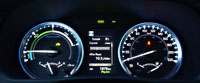 When equipped with its optional second second-row captain's chairs there are two ways to get into the Highlander's third row. First, between those two seats is a foldable console filled with two cupholders and a small tray, useful for life on the road and conveniently foldable. Dropping this to one side, an easy process, allows for a narrow walkway between the seats that makes it easier for smaller kids to climb in and out of very back. Otherwise you'll need to push those second-row seats forward via levers on each side of the lower cushions, which allows them to tilt and slide forward before providing ample access for larger kids and adults.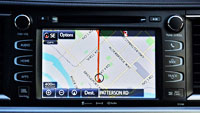 The third row was sizeable enough for my five-foot-eight medium-build frame, leaving about three inches over my head, plenty of elbowroom, and enough space below the second-row seats that my winter boots fit underneath without a problem. This said my knees were forced quite high as the rear floor is raised somewhat, but the seating position was livable and the cushioning quite comfortable. Toyota provides a couple of cupholders to each side, plus vents and reading lights overhead, making it a better than average third row for two larger kids or three on the smaller side.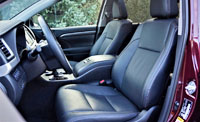 As you might expect in a mid-size SUV with three rows, cargo space is generous when the final row is laid flat. With the 50/50-split rearmost seatbacks upright there's only 391 litres (13.8 cubic feet) available, plus the underfloor stowage mentioned a moment ago, but drop these down and the Highlander's usability grows to a very usable 1,198 litres (42.3 cubic feet), while walking around to the side doors to lower the second row allows a total of 2,356 litres (83.2 cubic feet). Capacities are identical in both regular and electrified models, with only the base Highlander LE gaining 14 litres (0.5 cubic feet) more when all the seats are lowered, while that trim and the XLE without its SE upgrade package get a more accommodative second-row bench seat resulting in an eight-occupant layout compared to seven passengers max in the other trims. 
If you have plans to tow a camp trailer or small boat during your summer vacation or use a utility trailer for maintenance and gardening at home or for work, the regular Highlander can pull up to 2,268 kilograms (5,000 lbs) when equipped with a hitch, and the Hybrid is good for 1,588 kilos (3,500 lbs).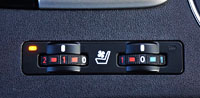 I must admit to never having the opportunity to tow a modern-day Highlander, but I can attest to its impressive driving dynamics. First and foremost, both Limited models delivered the smoothest of rides, completely absorbing otherwise intrusive bumps and seeming to float over deep holes and ruts in the city and on the highway. While traveling at higher freeway speeds both were once again wonderfully smooth and totally stable, while braking is strong and progressive, even with the Hybrid's regenerative system in play.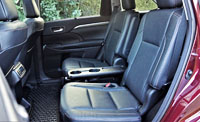 This came in especially useful when four lanes become two, the highway started wind and I didn't feel like slowing down. Such moments show the strong and week points of any vehicle, and while I wouldn't go so far as to call either Highlander a canyon carver, both were quite capable of keeping quick pace through curving mountain roads, and never had me feeling concerned for loss of control. 
The two powertrains also provide strong straight-line performance thanks to a direct-injected 3.5-litre V6 engine with variable valve timing, with the conventional design making 295-horsepower and 263 lb-ft of torque and the Hybrid's slightly less responsive Atkinson-cycle version sporting 306 net horsepower and undisclosed twist that's likely greater than the latter the conventional setup, as it feels noticeably quicker off the line.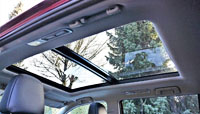 On that note I like the feel of the regular Highlander's more traditional eight-speed automatic more than the Hybrid's continuously variable transmission, although the CVT features stepped ratios for a normal feel when not pushing too hard. This meant that 99 percent of the time I couldn't tell much of a difference, as they're both as smooth in operation as this model's suspension, but on the occasion I chose to pick up the throttle and get moving the eight-speed auto provided a more sporting experience, aided by an SUV that's 130 kilos (286 lbs) lighter at 2,100 kilograms (4,630 lbs) compared to 2,230 kg (4,916 lbs) for the Hybrid. Still, that's not much extra baggage for a hybrid powertrain, batteries and electric motors often weighing considerably more than that.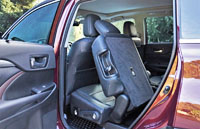 The Highlander Hybrid's V6 is actually tuned to maximize efficiency, with its extra motive thrust coming from a pair of permanent magnet synchronous electric motors, one for pulling with the front wheels and another for pushing with those in the rear, their energy derived from a sealed Nickel-Metal Hydride (Ni-MH) traction battery. It doesn't need to be plugged in, but then again it won't drive very far on electric power alone, and certainly not quickly when it does. 
Both Highlander all-wheel drive systems do a good job of managing slippery road surfaces, even when faced with snow and icy conditions. Of course, all the usual active safety systems like ABS with brake force distribution and brake assist, traction and stability control and more come in to help both base front-wheel and optional all-wheel drive systems, making either Highlander an excellent choice for trekking up the mountain to find snow mid-winter or heading to the cottage for summer vacation.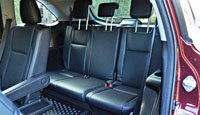 The biggest differentiator between the two SUVs will be during just such occasions, or particularly when filling up their tanks along the way. The regular Highlander is rated at a very reasonable 11.8 L/100km in the city, 8.7 on the highway and 10.3 combined with its standard front-wheel drivetrain, or 12.1 city, 9.0 highway and 10.6 combined with AWD, whereas the ultra-thrifty Highlander Hybrid gets a claimed 8.1 L/100km city, 8.5 highway and 8.3 combined for the best fuel efficiency in the mainstream mid-size SUV segment. 
The only question left to ask is whether the significant fuel savings are worth the extra $6,000 for the less-equipped $50,950 Highlander Hybrid XLE. If you want electrification and your budget isn't compromised I'd recommend moving one step upward to the as-tested $56,955 Hybrid Limited, being that you'll be spending the same $6k extra and you'll be getting all of the same features found on the regular Highlander Limited, which incidentally starts at $50,945. Either way you'll be enjoying a lot of SUV for the money, with refinement venturing closer to the premium sector than any previous Highlander. 
I should also point out the conventionally powered Highlander XLE AWD starts at $44,945, while the base LE FWD and LE AWD models spoken of previously are available from just $36,450 and $38,945 respectively (you can find all 2018 Highlander pricing at CarCostCanada here and pricing for the 2019 Highlander here, plus check out their money saving rebate info and dealer info pricing). You can likely get a pretty sweet deal on a 2018 this time of year, and changes to the 2019 model are minimal, with the LE getting a revised black rocker panel down each side, the XLE's SE upgrade package becoming its own standalone trim line with new LED fog lamps and a black SE grille, darkened headlight surrounds, plus black SE badges, and lastly the Highlander Hybrid Limited also upgraded with LED fog lamps. 
If you can live without some of these improvements and still find the 2018 Highlander you want, go for it. You'll get an excellent SUV for a decent discount and in three, four or five years time enjoy a better than average resale value. It's hard to argue against that. 
And it's hard to argue against a good laugh too, so click on the video below to enjoy that crazy TV ad for the 2014 Toyota Highlander I told you about before: