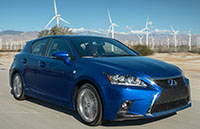 Small luxury sedans and hatchbacks aren't selling as well as they once did, but some brands are succeeding where others are either floundering or have completely given up.
Take Lexus for example, or for that matter Volvo. The former was selling its Prius-based CT 200h hybrid compact hatchback into North American markets as recently as 2017 (check out our road test), but after seven years of production, plus a couple of down years with nothing in an entry-level segment at all, it was effectively replaced with the UX subcompact crossover SUV. As for Volvo, we need to go all the back to 2013 for the final 300-plus (new) C30s that found Canadian buyers, and then had to wait five additional years for its XC40 subcompact SUV replacement. Likewise, a new C40 electric crossover is expected from the Chinese-owned Swedish brand later this year or early 2022.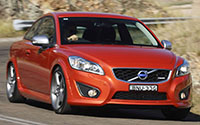 See the trend? It wasn't like the compact B-segment (subcompact luxury) was ever a big deal here in Canada, at least not like it's been in Europe where Audi's A1 has been pulling in premium buyers for almost a dozen years, plus its similarly sized A2 before that, and larger A3 even longer, as have BMW's 1 and 2 Series, not to mention Mercedes' A-Class, but amongst the few small luxury-branded cars we've enjoyed, some are leaving for good, never likely to return.
Still, premium brands need gateway products to entice new customers into the fold, and while small sedans and hatchbacks still attract such buyers to well-established German automakers, luxury buyers are more likely to opt for a subcompact crossover SUV instead. So therefore, while the entry luxury car category won't likely grow much larger in the coming years, it still has a faithful following that's passionate about their stylish, low-slung little rides, so let's see which models are pulling in the most Canadian customers.
Mini Cooper dominates the small luxury car sector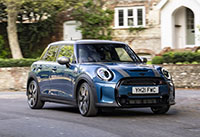 When the words "luxury" and "car" get combined, most probably don't immediately conjure up images of the cute little Mini hatchback. After all, it was initially Britain's answer to Germany's peoples' car (and the "Suez Crisis" fuel shortage) way back in 1959, a micro hatchback that was as inexpensive to buy as it was efficient to operate. BMW purchased the Mini nameplate as part of its Rover group takeover from British Aerospace and Honda (20-percent) in 1994, and since 2001 has sold a variety of body styles and models, including a compact luxury SUV, dubbed Countryman.
Clubman aside, Mini's car model line gets a refresh for 2022, with notable changes made to the front fascia and important updates inside (see our full 2022 Mini Cooper overview here). Body styles include the 3 Door, 5 Door, Clubman, and Convertible, while its trims range from the base Cooper with 134 horsepower and 162 lb-ft of torque, to the fully-loaded John Cooper Works (JCW) Convertible with 228 horsepower and 235 lb-ft of torque (the 231-horsepower John Cooper Works GP is no longer available), the latter a super-mini drop-top that's one of the most enjoyable performance cars in the entire class.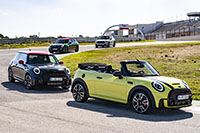 And just in case you don't understand the logic behind including a brand with pricing that begins where a fully-loaded Kia Rio ends, at $23,490 for a base Cooper 3-Door, consider that most Mini owners don't purchase stripped-down examples. To that end, a JCW Convertible will set you back more than $60k after all of its extras are tallied up. So, if 60-grand for a subcompact hatchback doesn't qualify Mini's Cooper for luxury car status, not to mention sharing underpinnings with some of BMW's smaller models, it's difficult to surmise what will.
Mini's car lineup is powered by three-cylinder and four-cylinder turbocharged engines displacing 1.5 and 2.0 litres respectively. As noted, the 1.5 makes 134 horsepower and 162 lb-ft of torque, and when installed in the base Cooper 3-Door, hits 100 km/h from standstill in 8.1 seconds with either the six-speed manual or seven-speed dual-clutch automatic transmission, and manages 8.8 L/100km city, 6.4 highway and 7.7 combined with the former if driven more modestly, or 8.4, 6.5 and 7.5 with the latter. Obviously, performance and fuel economy won't be quite as good in either the 5 Door, Clubman, or Convertible due to weight gains, a reality that affects the other engines in the lineup too.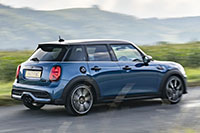 On that note, the 2.0-litre turbo-four puts out 189 horsepower and 207 lb-ft of torque in the second-tier Cooper S, and once again comes with both six- and seven-speed transmissions, while the quickest and thriftiest Cooper S 3-Door manages a standing start to 100 km/h in just 7.2 seconds with either gearbox, plus fuel economy ratings of 10.2 L/100km in the city, 7.1 on the highway and 8.8 combined with the manual, or a respective 8.9, 6.6 and 7.9 with the auto.
The best fuel economy of all, however, comes from Mini's Cooper SE, which uses a 181 horsepower electric motor (with 199 lb-ft of torque) and 32.6-kWh lithium-ion battery to drive the front wheels, resulting in "fuel economy" of about 16.9 to 14.9 kWh/ 100 km (according to NEDC). Its 177-km range, makes it only suitable for urban use, however, which means you'll need to leave it at home for longer road trips… a shame.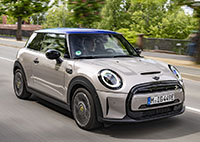 The Mini Cooper 3 Door and Convertible only have four seatbelts, which is probably all you'd ever want to try and fit in anyway (especially in the latter), while 5 Door and Clubman models feature seating for five, the latter housing five adults (kind of) being that it's not only 454 mm (17.9 in) lengthier than the 3 Door and 293 mm (11.5 in) longer than the 5 Door, with a wheelbase that spans an extra 175 mm (6.9 in) and 103 mm (4.0 in) respectively, but also 74 mm (2.9 in) wider, which of course matters even more when stuffing three abreast. At 1,801 mm (70.9 in), the Clubman is also wider than anything in this class save Audi's A3, while its wheelbase is identical to Acura's ILX and BMW's 2 Series Gran Coupe, plus longer than the A3's and BMW's diminutive i3, the latter of which is still longer than both 3 and 5 Door Minis.
As you might have imagined, dedicated cargo capacity is most generous in the Clubman too, growing from just 160 litres (6.0 cubic feet) in the Convertible, 211 litres (7.0 cu ft) in the 3 Door, and 278 litres (10 cu ft) in the 5 Door, to 495 litres (17.5 cu ft) in the Clubman, which, in fact, is the same as the Countryman SUV.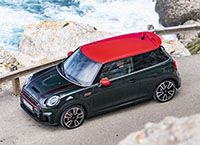 As far as sales go, Mini delivered 2,739 examples of its four-model car lineup to Canadians in 2020 (not including the Countryman crossover), and also saw another 2,111 low-slung units leave its dealerships over the first nine months of this year, which makes it look like the brand will surpass last year's rather poor showing when 2021 comes to an end, but it probably won't realize as many car sales as in decades past. Prior to 2020, Mini's worst calendar year on record for car deliveries was 2004 when it only sold 2,800 Cooper hatchbacks, but most other years the brand's cars ranged between 3,500 and 5,500 Canadian sales.
So far, there's no serious challenger to Mini's collective Cooper car line when it comes to sales success in this class, but as mentioned earlier in this report, the real growth in the entry-level luxury sector is happening in the subcompact luxury crossover SUV category, in which Mini's Countryman sits ninth out of 12 competitors (see the "Top 5 Subcompact Luxury Crossover SUVs: Audi's Q3 still in the lead… for now" story). Mini will likely need to achieve much greater success in that burgeoning category in order to keep funding the niche models in its car lineup, so as not to continue eroding what is currently a diverse offering.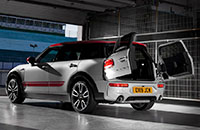 Notably, Mini both expanded and contracted this car line dramatically from 2012 through 2017, with the introductions and then cancellations of the 2012–2015 Cooper Coupe and Cooper Roadster models. The 2013–2016 Cooper Paceman (a three-door crossover coupe based on the Countryman) was its attempt to widen its small SUV offering, a la BMW X2, but slow take-rates for all of these creative offerings have now turned them into modern-day collectables. To be clear, like all Minis these were brilliantly fun niche models that we were admittedly excited about initially, and while all three might now be seen as mistakes that negatively impacted the brand's bottom line, having eaten up significant R&D money that could've gone elsewhere, it's hard to criticize the brand for thinking outside of the box, or rather two-box design layout, and trying something completely different.
Still, it's hard to keep a brand that's as enjoyable to drive as Mini down (even its perennially low Consumer Reports reliability rating can't do that), and while parent company BMW's 2 Series is on a roll that could possibly see it pass by the Cooper for overall sales leadership in Canada (read about that below), diehard Mini enthusiasts (and there are many) continue to love what makes these little sprites segment best-sellers.
Mercedes' A-Class leads sales of traditionally desirable subcompact luxury cars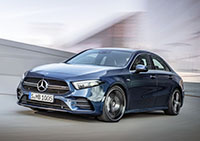 Mercedes-Benz is arguably the most premium of luxury brands overall, this side of Rolls-Royce, Bentley, the Stuttgart-based automaker's own Maybach marque, and a bunch of supercar makes like Aston Martin, Lamborghini, McLaren, and of course Ferrari, so therefore, acquiring a sleek sport sedan or hot hatch bearing the famed three-pointed star will be seen by many as quite the accomplishment. This said, the most affordable way to do so comes by way of the A-Class, made available to Canadian new car buyers as of the 2019 model year.
The A-Class, available in both A 220 4Matic four-door sedan (see our review of the A 220 4Matic here) and A 250 4Matic five-door hatchback (see our review of the A 250 4Matic Hatch here) trims and body styles, plus sportier AMG A 35 versions of each, quickly earned the top-spot in the compact B-segment amongst traditionally desirable brands, thanks to managing 2,355 deliveries amidst a difficult 2020, which saw sales of most models in this category slide south, although 2021 already looks stronger for the entry-level Mercedes model thanks to 1,517 units sold throughout the first three quarters of the year, even though this positive growth now leaves it in the negative when compared to BMW's increasingly popular 2 Series, which was made available with four doors as of model year 2020 (more on that in a minute).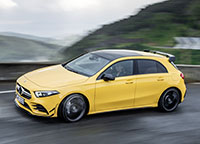 To be totally fair, CLA-Class numbers should really be included in Mercedes' overall segment sales, because it's really the same car as the A-Class under its sleeker, more coupe-like skin, while most three-pointed star competitors, such as the just-covered Mini Cooper and BMW's 2 Series, lump all of their subcompact body styles under one model name. This said, combining all the 2020 A-Class deliveries with the 1,085 CLAs sold in the same year results in a total of 3,440 B-segment sales for Mercedes, along the number-one position overall. Then again, if we're looking at total automaker sales, BMW AG's namesake brand and Mini combined for 3,881 deliveries in 2020 (including 168 i3 EVs), which puts the Bavarian marque on top. Likewise, the German and British brands' combined Q3 sales of 4,033 units give it an even stronger lead so far in 2021, so Mercedes has some catching up to do.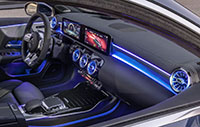 This shouldn't be a problem, thanks to a diverse A-Class engine lineup. The base A 220 sedan comes with a 2.0-litre turbocharged four-cylinder good for 188 horsepower and 221 lb-ft of torque, while the same engine in the A 250 hatch makes 221 horsepower and 258 lb-ft of torque. Move up to the A 35 in either model, and the little 2.0-litre powerplant puts out an impressive 302 horsepower and 295 lb-ft of torque, making them two of the most exciting cars in their class to drive. What's more, all A-Class models are some of the easiest to keep in their respective lanes, no matter the weather condition, due to standard 4Matic all-wheel drive.
Paddle-shifters enhance control of a standard 7G-DCT seven-speed dual-clutch automatic transmission, which also includes a standard ECO Start/Stop system to save on fuel, resulting in a 9.6 L/100km city, 6.9 highway and 8.4 combined rating for the A 220 sedan; a 9.4 city, 6.8 highway and 8.2 combined rating for the A 250 hatch; or a respective 10.7, 8.2 and 9.5 for both AMG A 35 models.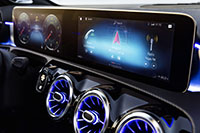 The A-Class' near-longest 2,729 mm (107.4 in) wheelbase means both front and rear seating is comfortable for this small car category, while its fractionally narrower than average 1,796 mm (70.5 in) width (not including mirrors) shouldn't make much of a difference from side-to-side.
At 243 litres (8.6 cu-ft), the sedan's trunk is the smallest in the class, however, other than the two aforementioned Mini 3 Door models, but the hatchback's cargo compartment is larger than average at 370 litres (13.0 cu ft), plus both provide more space when the rear seat is folded forward, made even more convenient with a 40/20/40-divided split.
Due to very few negatives, most A-Class customers are very satisfied with their purchases, as evidenced by the model's top ranking in the "Compact Luxury Car" category in AutoPacific's 2021 Vehicle Satisfaction Awards, while J.D. Power named it runner-up in the "Small Premium Car" segment of its latest 2021 U.S. Automotive Performance, Execution and Layout (APEAL) Study (the sportier CLA-Class earned the top position). Last but hardly least, Vincentric placed it on top of the "Luxury Compact" class of its Best Fleet Value in Canada Awards, something it also achieved in the U.S.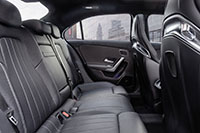 Interestingly, none of the cars in this top five list even rated in the "Entry-Luxury-Car" category's top three for Canadian Black Book's latest 2020 Best Retained Value Awards, but this is (at least partially) because CBB includes pricier C-segment models, such as Mercedes' own C-Class that claimed the highest accolades, as entry-level models. Likewise, Lexus' mid-size ES, which was one of the runners-up, is considered entry-level by CBB too.
Ironically, being that residual values are all about pre-owned cars, with CBB's awards going to three-year old vehicles, the ES was tied with Lexus' now discontinued CT 200h. Obviously, Lexus models hold their value very well amongst small luxury cars, but then again, Mercedes does too, so it's possible we'll see the A-Class replace the CT for top-three residual value leadership when it's been on the market long enough to qualify.
Notably, Mercedes is currently offering up to $1,000 in additional incentives, while CarCostCanada members are saving an average of $3,350 on the purchase of a new A-Class.
Expect major upsurge in Audi A3 sales when redesigned model arrives for 2022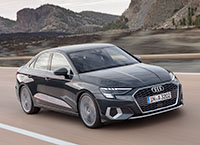 Audi deserves credit for being the first German luxury carmaker to offer a four-door sedan in this compact B-Segment, with the advent of the redesigned 2015 A3 that was also available in higher performance S3 tune, plus as an A3 Cabriolet (Acura's EL was the first entry-luxury sedan when it arrived in 1997, while the A3 was a five-door hatch from model years 2006 to 2014). An even more potent RS 3 sedan made this class of subcompacts shine in 2018, and the rest, as they say, is history.
Moving into the 2022 model year after technically not providing a 2021 car, the Cabriolet has been discontinued and all-new redesigned A3, S3 and RS 3 sedans are on the way. These should help boost the Ingolstadt-based brand's future prospects in this waning segment, thanks to sharper styling, a modernized interior, and upgraded performance.
Now in its fourth generation, the new A3 rides on the same MQB platform used for the eighth-generation 2022 Volkswagen Golf (which kind of qualifies for entry-level luxury status on its own, at least in GTI and R trims), making it slightly longer, a bit wider and fractionally taller than the outgoing model, but the sedan's 2,636 mm (103.8 in) wheelbase doesn't change, so the extra 40 mm (1.6 in) of length has mostly gone to cargo capacity that's up 64 litres (2.2 cu ft) to 348 litres (12.3 cu ft), from just 284 litres (10.0 cu ft) in previous years.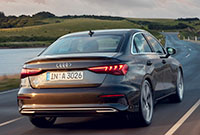 Just like its predecessor, the Canadian-spec A4 and S4 will receive one S Tronic seven-speed dual-clutch automated gearbox shared between them, plus two different versions of the same 2.0-litre turbocharged four-cylinder engine, although staying true with the times means that a 48-volt mild hybrid system has been added to the mix. While fuel economy will no doubt improve, aided further by coasting capability the shuts the internal combustion portion of the drivetrain off when not needed to maintain speed (i.e. going downhill), the hybrid system will also boost base performance from 184 horsepower to 201, although torque actually inches downward from 222 lb-ft to 221. This should result in a quicker zero to 100 km/h sprint time than the current car, which is rated at 6.2 seconds, but so far Audi hasn't announced such numbers for the new model.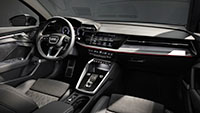 The 2022 S3, on the other hand, can dash from standstill to 100 km/h in 4.8 seconds, shaving a tenth from the old car's sprint time thanks to a move up from 288 horsepower to 306, whereas its electronically-limited top track speed of 250 km/h is identical to the outgoing model.
Lastly, a new RS 3 is on the way, with a reported 401 horsepower and 369 lb-ft of torque from a turbocharged 2.5-litre five-cylinder engine. It catapults from a standing start to 100 km/h in just 3.8 seconds before topping out at 290 km/h (180 mph), while the new car's handling will be improved with a torque-vectoring rear axle dubbed Torque Splitter, which was designed to reduce understeer while maintaining the Quattro AWD system's legendary high-speed grip.
Identically to the outgoing A3, 2022 Canadian-spec trim levels include Komfort, Progressiv and Technik, but the new car now comes standard with Quattro AWD, which has caused base pricing to increase substantially from $34,500 in 2020, to $38,900 (plus freight and fees) this coming year. The S3, which already included Quattro as standard, will now start $47,900. This is actually a decrease of $500 due to base Komfort trim now becoming available (Progressiv was the S3's previous base trim). Of note, Audi is currently offering up to $1,000 in additional incentives when purchasing a new 2022 A3.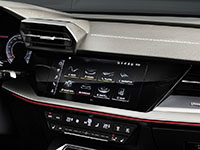 Improvements inside the 2022 A3 include a 10.3-inch version of Audi's superb Virtual Cockpit digital gauge cluster as standard equipment, plus a new 10.1-inch fixed infotainment display at centre, or a 12.3-inch upgrade, instead of the old pop-up unit that, while kind of awesome in its own way, is about as useful as pop-up headlights now that most jurisdictions require us to run with our front lamps on during the day. Therefore, as much as we might miss the main monitor powering up out of the dash during startup, or better yet, disappearing altogether on a night drive, the new larger display is more in keeping with today's technology-first world, while it also integrates much more advanced high-definition capability along with updated graphics.
AS far as awards go, the outgoing A3 earned runner-up in the "Small Premium Car" category of J.D. Power's 2021 U.S. Vehicle Dependability Study (VDS), which was won by BMW's 2 Series.
Gran Coupe has given BMW's 2 Series line the shot in the arm it's always needed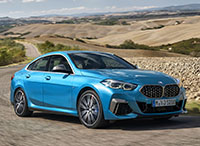 BMW's 2 Series made the greatest B-segment gains in sales over the past year, mostly due to the aforementioned Gran Coupe. While year-over-year 2 Series deliveries only grew by 13 percent in 2020, up from 1,202 to 1,358 units, sales have already increased by more than 33 percent over the first nine months of 2021, now totaling 1,811 units for a current ranking of third in class. Of course, we need to factor Audi's lack of 2021 A3, S3 and RS 3 models into any future prognostications, which, as noted earlier, caused their deliveries to almost completely disappear, thus we'll need to see how well the new A3, and the completely redesigned 2 Series Coupe, fare in the coming year.
Yes, while the four-door variant of this model only gets minor package and standalone options changes for 2022, the two-door coupe has undergone a ground-up redesign, and most should like what they see. For starters, BMW chose a more conventional twin-kidney frontal grille compared to its larger 4 Series counterpart, which can best be described (in the kindest way possible) as controversial.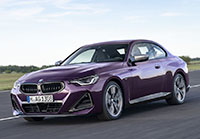 The "G42", as it's known internally, will once again feature rear- and all-wheel drive layouts in the U.S. and other markets, albeit so far only the latter has been announced for Canada. Additionally, no 255-horsepower 230i variant is expected in the land of the almost free either, but instead we'll only get the 382-horsepower inline-six engine mated to a standard paddle shifter-controlled eight-speed automatic transmission—yes, no six-speed manual is available in either market, at least until we see a new M2 (which, fingers crossed, will hopefully have a DIY gearbox). That's 47 additional horsepower than the outgoing M240i, incidentally, so despite its torque figure dropping down to 369 lb-ft, it still manages a quicker zero to 100 km/h sprint time of 4.1 seconds, while its top track speed remains limited to 250 km/h (155 mph).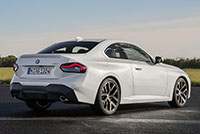 An available adaptive M suspension will make the most of a 51-mm (2-in) longer wheelbase, its track also growing by 54 mm (2.1 in) up front and 31 mm (1.2 in) at the back, with near 50:50 weight distribution for almost ideal balance, so handling should be just as crisp. Overall, the 19-kg (42-lb) heavier, 1,755-kg (3,869-lb) 2 Series coupe grows 88 mm (3.4 in) longer and 66 mm (2.6 in) wider than its predecessor, although its 2.5-mm (1.0-in) height reduction makes for slipperier styling.
The longer wheelbase should aid cabin comfort, particularly in the rear, while those up front will benefit from deeper bolsters when upgrading the seats. Some standard niceties include three-zone automatic climate control, showing BMW really does have plans to market this 2 Series to folks with more than one friend, while an upgraded iDrive infotainment system boasts up to 10.3 inches of screen space, with new functions including an upgraded voice control system that can distinguish between driver and passenger commands, plus Connected Parking that notifies the driver of a given destination's parking issues.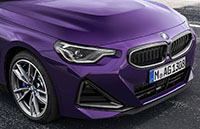 Wireless Apple CarPlay and Android Auto smartphone integration is also standard, with the latter providing full Google Maps integration, but iPhone users shouldn't feel left out, because they can use NFC connectivity for up to five devices. Additionally, a mobile app makes the new 2's LTE wi-fi function available from further away, providing the ability to check the car's location or status, lock or unlock its doors as needed, and even access its external cameras for security's sake.
The 2 Coupe's new standard audio system provides 10 speakers and 205 watts of power, but audiophiles will want to upgrade to the Harman Kardon Surround Sound system thanks to its 14-speaker, 464-watt output. Additionally, a colour head-up display system has been added to the options list, projecting current speed, speed limit, and even passing restrictions onto the windshield ahead of the driver.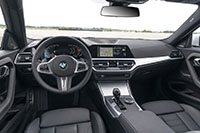 The new 2022 M240i xDrive is expected to show up at Canadian dealers in November, with pricing starting at $56,950, but as noted earlier there hasn't been any announcement about the rear-wheel drive 230i. In fact, only the all-wheel version is currently offered on BMW Canada's retail website, and CarCostCanada's 2022 BMW 2 Series Canada Prices page isn't showing a RWD version for 2022 either. This may mean the much-loved and considerably more affordable rear-wheel drive 2 Series coupe won't be coming north of the 49th.
Likewise, only the M235i xDrive version of the four-door Gran Coupe can currently be seen at CarCostCanada, while the 2022 version of this car isn't showing up at BMW's website at all. Instead, the automaker's new car configurator just allows the 2021 model to be built, with two engine options, the other being the lesser 228i Gran Coupe, which at $38,990 remains the most affordable car in BMW's Canadian lineup for the time being. If BMW has chosen not to bring its least expensive sedan to Canada, and instead price the most affordable 2 Series at $51,400, expect to see 2 Series sales drop off dramatically moving into the new year.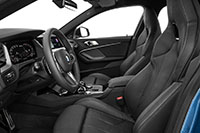 At least the 2021 2 Series represents good initial value, while all 2 Series trims do well when it comes time to trade in. As noted earlier, it earned the top spot in the "Premium Compact Car" category of J.D. Power's 2021 Canada ALG Residual Value Awards, and making it an even better bet, the 2 Series took best-in-class honours in the same third-part analytical firm's 2021 U.S. Initial Quality Study (IQS), within its "Small Premium Car" segment. Additionally, it earned a best-in-class score in the same category of the coveted 2021 U.S. Vehicle Dependability Study (VDS) too. That's a lot of metal in the trophy cabinet, and reason enough to consider a new 2 Series if your budget allows, or a 2021 model while new ones remain available.
Of importance, BMW is currently offering up to $1,000 in additional incentives when purchasing a new 2022 2 Series, while CarCostCanada members are saving an average of $2,000 thanks to dealer invoice pricing and other membership privileges.
Mercedes takes fifth in sales with its sporty CLA four-door coupe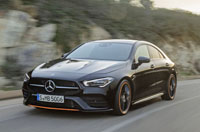 The previously mentioned Mercedes CLA-Class earned a solid fifth place in the compact B-segment, with 1,085 deliveries last year and 1,031 more over three quarters of 2021. Longer, wider and lower than the A-Class sedan, the CLA makes up for its size increase by being powered by the 221-horsepower version of the 2.0-litre four-cylinder turbocharged engine, which is also used in the A 250 Hatch. It boasts an identical 258 lb-ft of torque too, but its 75 kg (165lbs) of extra mass means that it's slightly slower off the line than the hatchback, but its wider track should make up time in the corners.
The gap in off-the-line acceleration narrows to an unnoticeable 0.1 seconds in AMG CLA 35 trim, however, this model using the same 302 horsepower 2.0-litre turbo four as found in both AMG-tuned A-Class models, but the even more formidable AMG CLA 45 leaves all of its lesser siblings far behind with a sprint from zero to 100 km/h of only 4.1 seconds, thanks to 382 horsepower and 354 lb-ft of torque from a heavily massaged version of the same 2.0-litre engine. The CLA 45 gets another cog in its dual-clutch gearbox too, totaling eight, aiding its higher top speed of 270 km/h (168 mph), while 4Matic all-wheel drive is once again standard.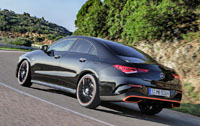 Otherwise, the CLA-Class is very similar in look and feel to the A-Class, particularly inside where it's dash design and MBUX digital driving display and infotainment interface combination is identical. The current model is moving into the third year of its second generation (see the "Mercedes improves 2020 CLA in every way" news story for more details).
For 2022, the CLA 250 4Matic starts at $43,600, while the AMG CLA 35 4Matic can be had from $52,100, and AMG CLA 45 4Matic from $62,900. Mercedes is currently offering up to $1,000 in additional incentives on 2022 CLA models, while CarCostCanada members are saving an average of $3,000.
How the rest of the subcompact luxury car field stacks up
Acura's ILX remains a very competent offering in this class, despite its age (see a recent review of the ILX here). It received the brand's new "Diamond Pentagon" grille as part of a refresh for 2019, and received a boost in sales that year because of it. Deliveries dropped by 58.6 percent in calendar year 2020, with just 774 new buyers compared to 1,871 the year before, but 2021 has seen some strength with 729 down the road as of September 30th, and now with a new 2023 Integra expected to debut soon, Acura's future in this class is brightening, as is the future of the entire segment that's soon bolstering its ranks with another new entry. Moving into 2022 it will be last in the class, however, being that BMW's i3 EV is being discontinued.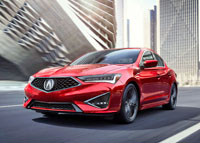 On the positive, the ILX achieved runner-up status in the "Small Premium Car" category of J.D. Power's 2021 U.S. Initial Quality Study (IQS), which means the new 2022 ILX, which moves into the new model year without any notable changes, should be just as well built. It continues forward with one, single, high-revving, naturally aspirated 201-horsepower 2.4-litre four-cylinder engine, a quick-shifting eight-speed dual-clutch automatic transmission with standard paddle-shifters, front-wheel drive, standard Jewel-Eye LED headlamps, a twin-display infotainment system inside, and a full assortment of AcuraWatch safety and convenience features including Forward Collision Warning, Collision Mitigation Braking, Lane Departure Warning, Lane Keeping Assist, and Road Departure Mitigation, much like the rest of the cars in this class.
ILX prices start at $31,400 in base trim for 2022, and move up to $33,900 for the Premium model, plus $35,400 for the Premium A-Spec, and finally $36,800 for the top-line Tech A-Spec. All ILX trims represent very good value in this segment, especially considering the model's size and performance, while 2021 models are an even better deal, not only because they're priced slightly lower, but also due to Acura currently offering up to $1,000 in additional incentives, while CarCostCanada members are averaging big savings of $6,375.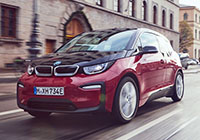 Finally, a special mention should be given to BMW's all-electric, or optionally range-extender-enhanced (REx) i3, which despite being an elder statesman in this class, and on its way to pasture, provides one of the most inviting interiors in any class, plus supercar-like carbon-fibre composite construction, all for a 2021 base price of $44,950, or $53,600 with the REx. BMW is also offering up to $1,000 in additional incentives, while CarCostCanada members are saving an average of $2,000 from that list price, plus government rebates are available due to its battery plug-in powertrain. As noted previously in this article, the little Bimmer only sold 168 units last year, while just 111 examples have found home in 2021 so far.
There probably won't be many if any new compact B-segment cars added to this category in the near future, unless Tesla or one of its EV rivals decides to offer an even smaller four-door sedan than the Model 3, or if Mazda's 3 sedan and hatch move even further upmarket than their near-luxury top-tier GT has already gone, with higher pricing to match, but we may see alternative body styles of current models remerge, such as an A3 Sportback to counter Mercedes' A-Class Hatch (see our review of the A 250 4Matic here), being that such layouts very popular in Quebec where European tastes remain dominant. Audi may also want to consider its A1 Sportback, especially if fuel costs keep rising and target entry customers' expendable incomes are impacted by market instability, while BMW might be wise to consider its five-door 1 Series for the same reasons.
Be sure to check out the gallery (above) for photos of each and every subcompact luxury car mentioned in this Top 5 overview, plus use all the linked model names throughout the article to find out more about each car. Also, be sure to find out how CarCostCanada can save you thousands off your next new vehicle purchase, and remember to download their free app from the Google Play Store or Apple Store.
Story credits: Trevor Hofmann
Photo credits: Manufacturer supplied photos