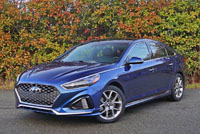 The Sonata has been with us for a long time, 31 years in fact. During those three-plus decades we've seen truly expressive designs offset by comparatively safe styling exercises, and it seems to have done better with the latter. 
Looking back, the 1998–2004 fourth and 2009–2014 sixth generations were especially daring, while the comparatively conservative 2004–2009 fifth-gen model was nevertheless so modestly attractive it sold well too. I tested all of the above and was impressed with each, plus I had the latter car in V6-powered top-line trim as a long-term tester for more than a year, experiencing zero problems and thoroughly enjoying its comfort and performance, as my weekly blog-style updates attested. It's no wonder I've been a proponent of the car ever since.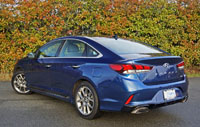 The current 2014–2019 seventh-generation Sonata is, of course, the best one yet, but up until a rather thorough 2018 mid-cycle refresh it was one of the least inspiring visually. Don't get me wrong, the 2014–2017 version was still a reasonably attractive mid-size four-door family sedan, but calling its update a facelift doesn't do the level of cosmetic reconstruction justice. 
The identical 2018 and 2019 Sonata models featured a completely modified grille that left the previous sharply edged six-sided design behind, replaced by a much more fluid shape that has helped move Hyundai away from the new Genesis luxury brand, the latter having kept much of the old grille design up until the new 2020 G90's diamond-shaped look. The Sonata's stylish new grille gets flanked by attractive headlights filled with ovoid projector beams (or as-tested LEDs) and LED daytime running lights, all of which hover over an eye-catching six-pack of vertical LED fog lights.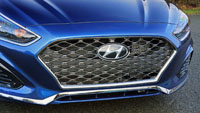 The Sonata's sportiest Ultimate trim (shown here in the photos) boasts cool dark chrome edging around an otherwise black gloss mesh grille insert, plus more darkened chrome on the lower fascia and the headlamp bezels, which uniquely flow rearward along the front fenders and the car's entire shoulder line before curving up and around the rear quarter windows ahead of meeting up at the base of the A pillars. This signature detail was first used with the sixth-generation Sonata back in 2009, and will once again help make the upcoming 2020 model look special. That 2020 Sonata incorporates many of the design elements shown on this attractive 2019 model, but adds drama and size, while its rear styling is completely reworked.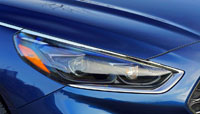 Hyundai continues with the darkened chrome trim while adding its fair share of gloss-black accents to this Sonata Ultimate, its front fog lamp surrounds ideally matching the sporty diffuser-style rear bumper, all topped off by the panoramic sunroof's deep, inky glass and the high-gloss black roof that combine into one all-black mass. I must admit, the 2018 refresh turned a rather boring Sonata into a superb looking mid-size family hauler. 
It needs to be good looking in order to survive, of course. It's up against some very strong competitors such as the new Toyota Camry, a car that could even be called seductive in its edgiest XSE trim, not to mention the newest Honda Accord that antes up with its most premium-level design yet, plus the new Nissan Altima improves styling while providing standard all-wheel drive, as well as a whole host of other brands trying to lure in mid-size sedan buyers with performance models and/or economical hybrid/plug-in alternatives, while Hyundai's sister-brand Kia and Germany's Volkswagen are complementing their more traditional Optima (the Sonata's platform-mate) and Passat offerings with sportier four-door coupe variants called Stinger and Arteon respectively, and despite all these interesting and impressive choices most new car consumers are looking to the crossover SUV segment for their next ride.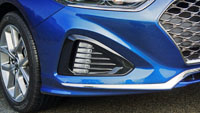 How is this SUV enthusiasm affecting mid-size sedan sales? Of the 14 currently available in Canada, just four found more year-over-year buyers through the first nine months of 2019, and this Sonata wasn't amongst them. The category-leading Camry's 11,579 unit sales were up 4.18 percent since the third quarter of 2019 ended, but this market growth is hardly notable next to the third-place Ford Fusion's 33.43-percent increase, but it only managed 7,280 total deliveries. The other two bright lights are actually nominal players when it comes to overall numbers, with Honda's Clarity plug-in hybrid showing a 12.37-percent gain to 890 sales, and Buick's Regal experiencing an amazing 48.71-percent uptick to 635 units down the road.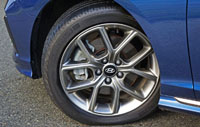 Ultimate losers include VW's aforementioned Passat that's decreased its year-over-year unit sales by 78.24 percent, resulting in only 570 sold, while Kia's Optima didn't do much better thanks to delivering just 1,363 examples for a 52.09-percent decline. Others, such as the Altima, fell 43.34 percent for a 2,568-unit downturn, and that's despite its all-new design, while the Mazda6 plunged 42.76 percent to 1,130 units. Comparing some of these numbers shouldn't leave Hyundai feeling too bad about its Sonata that only managed 3,346 deliveries for a 14.18-percent reversal, this actually leaving the car in fifth place behind the Camry, Accord, Fusion and Malibu, albeit still more popular than the Altima, Optima, Subaru Legacy, Stinger, Mazda6, Clarity, Regal, Passat, and Arteon. Some brands might've let out a collective sigh of relief upon Ford's announcement that its Fusion would soon be discontinued without replacement, but the thought of why they're ditching the segment altogether may be too sobering to provide any hope of market gains.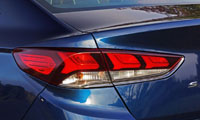 Everything said so far in mind, this road test review is more of an adieu to the outgoing 2019 Sonata ahead of the entirely new 2020 model arriving, which will allow some of us to pay tribute to the car that helped define Hyundai's new design direction, while more serious folk decide whether or not they'll take one home. I've got a great deal of good to say about this specific Sonata Ultimate, with the styling and sales portion of my review now moving inside, where this particular four-door gets an impressive cabin filled up with premium-like finishings and more standard features than you'll likely find in the majority of rivals noted above.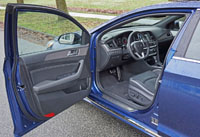 No shortage of premium-quality, soft-touch synthetics can be found throughout the interior, joined by beautifully textured metallic inlays and brushed aluminized accents, not to mention glossy piano black detailing to match all the exterior trim mentioned earlier. A medium-grey cabin motif boasts stylish perforated leather seat upholstery in an identical medium-grey shade, with light-grey piping highlighting each bolster to match the same colour of contrast stitching found along those bolsters as well as the door panel inserts, shifter boot, and baseball-stitched, black leather-wrapped, flat-bottom sport steering wheel. 
The steering wheel looks sporty enough, and thanks to a thick padded rim, ergonomically shaped thumb spats, and an overall substantive weightiness makes its driver feel as if piloting a now classic Genesis Coupe than anything family oriented, not that you couldn't stuff a fairly sizeable kid or two into the back of that four-seat liftback. The placement of the shift paddles is near perfect, truly enhancing the driving experience overall. It's all combined with more than enough steering column rake and reach to, together with the eight-way power-adjustable driver's seat (with two-way powered lumbar), provide my long-legged and short-torso five-foot-eight body with complete comfortable and total control, unlike some in this class that don't fit me in as ideally.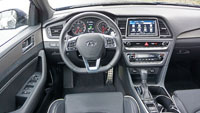 This in mind, Toyota's new Camry XSE was sharing commuting and errand duties with the Sonata Ultimate during the same week, which by looks alone seems to be the sportiest mid-size four-door on today's market. It's a big improvement over the outgoing Camry in every way, including steering column reach, but nevertheless it doesn't fit my frame as well. Additionally, the Camry XSE's steering wheel doesn't look or feel as sporty, or allow as much control as this Sonata Ultimate. I'm not griping, because Toyota has done a very good job with the new Camry's cabin, with finishing that's more refined and an overall design that's slightly more premium-like than this top-line Sonata, but when talking real performance, the Japanese brand's mid-sizer couldn't hold a candle to this Korean. What's more, the steering wheel in the Sonata is heated from the mid-range trim upward, while the Camry doesn't even make a heatable steering wheel available.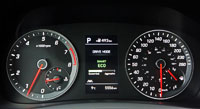 One of the most notable differences between the Camry XSE and Sonata Ultimate are the front seats. The latter model offers up two of the best sport seats in the mid-size sedan class, that aren't only embossed with slick "Turbo" lettering on their backrests and finished with all the attractive upgrades noted earlier, but were designed with deep side bolstering that holds buttocks and backside firmly in place during aggressive manoeuvring. If you want to stay planted in the Camry's driver's seat while attempting the same lateral Gs you'll need to hang onto something other than the steering wheel, as Toyota's driver's seat leaves you perched on top rather than within. The Camry's seats weren't very comfortable either, not even in the luxuriously appointed XLE model, but the Sonata Ultimate's seats are fabulously supportive. The Sonata's three-temperature front seat warmers heat up faster and more potently than the Camry's too, plus Hyundai provides three-position front seat ventilation as well, this not available in any 2019 Camry (Toyota will add optional ventilated front seats for 2020).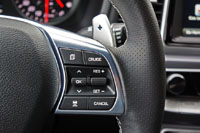 The Sonata's rear outboard seats offer two-way seat heaters too, in mid-range Preferred trim and above, plus their seatbacks are similarly carved for comfort and support, but not so much as to render the centre position unfit for a third passenger. My tester's retractable side window sunshades, standard in Luxury and Ultimate trims, are also not available with the Camry, while the Sonata's rear occupants benefit from a bevy of additional features such as LED overhead reading lights, dual air vents, a big folding centre armrest with integrated cupholders, large bottle holders in the door pockets, plus more. A panoramic sunroof, standard on Luxury and Ultimate trims, adds more light to the rear passenger compartment too, although even less equipped trims are hardly dark inside thanks to good side window visibility.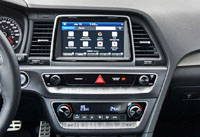 Rear seat roominess is a Sonata strongpoint too, thanks to a lot of knee space, ample legroom that allowed me to stretch my legs out almost completely while shod in winter boots, and about four to five inches from hips and shoulders to the door panels, while approximately three and a half inches remained over my head, so therefore taller passengers should fit in back without issue. 
The trunk is quite big at 462 litres (16.3 cubic feet), while you can open its lid by pressing a button on the dash or automatically by standing aft of the Sonata with the ignition off and proximity-sensing key in pocket. The trunk is nicely detailed out with carpeting all the way up each sidewall, including the inner lid, plus each side of the 60/40-split seatbacks fold down via pull-tabs.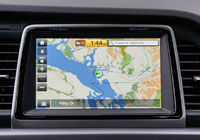 All of the items noted thus far came standard in my top-tier Ultimate tester, including its sporty looking 18-inch double-five-spoke alloys encircled by 235/45R18 Michelin all-season rubber (replacing 16- or 17-inch Kumho tires), the front two directed by a special rack-mounted motor-driven power steering (R-MDPS) system featuring a dual-pinion steering rack, while a trim-exclusive twin-scroll turbocharged and direct-injected 2.0-litre four-cylinder engine with dual continuously variable valve timing and two-stage variable induction produces 245 horsepower and 260 lb-ft of torque (this engine replaces the base 2.4-litre four-cylinder with 185 hp and 178 lb-ft of torque), and an eight-speed automatic transmission with manual mode and steering wheel-mounted shift paddles (instead of a six-speed automatic with no paddles on lesser trims) enhance performance. Additionally, Ultimate trim includes the upgraded leather sport seats mentioned before, and the eye-catching textured metallic inlays, the construction of which Hyundai refers to as the 3D Three-dimensional Overlay Method (T.O.M).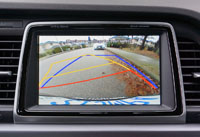 I decided to make a more detailed list of key features than usual because Hyundai's value proposition has always been a good way to judge its cars against rivals, and when factoring in that the 2019 Sonata Ultimate retails for only $37,199 (plus destination and fees), it becomes hard to argue against. A similarly powered Camry with less features, incidentally, tops $41,000, about $4,000 or 10 percent more than this top-line Sonata, while its base price is also a couple of thousand higher. The base Sonata Essential starts at $24,899, while Hyundai has up to $2,000 in additional incentives available at the time of writing, according to CarCostCanada, where you can also find pricing details for almost every car sold in Canada, including trims, packages and individual features, as well as rebate info and dealer invoice pricing that could save you thousands.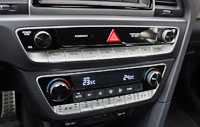 Additional features pulled up to Ultimate trim from the $34,899 Luxury model include the previously noted LED headlights with adaptive cornering and automatic high beams, ventilated front seats, rear sunshades and powered panoramic sunroof, plus aluminum scuff plates, chrome inner door handles, an electromechanical parking brake, an auto-dimming rearview mirror, a HomeLink garage door opener, a six-way powered front passenger seat, driver's seat and side mirror memory, an 8.0-inch high-resolution centre touchscreen with navigation, great sounding 400-watt nine-speaker Infinity audio, always appreciated wireless charging, rear seat HVAC ducts, reverse park distance warning, driver attention warning, adaptive cruise control with stop-and-go, forward collision warning with pedestrian detection, and lane departure warning with lane keeping assist.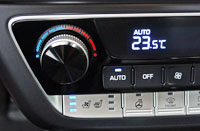 Items pulled up to Unlimited trim from the mid-range $28,799 Preferred model include the stitched pleather door inserts, heatable steering wheel, rear seat warmers, and proximity-sensing trunk release noted earlier, plus dual-zone automatic climate control, satellite radio (including the rooftop shark antenna), remote engine start, and BlueLink connectivity, while the second-rung $27,699 Essential Sport donates its sport grille, dark chrome and sportier exterior trim, sport suspension, LED taillights, front door handle welcome lighting, proximity keyless entry, sport-type Supervision instrument cluster with a 4.2-inch TFT LCD multi-function display (within the otherwise analogue primary gauge cluster), paddle shifters, eight-way powered driver's seat, and aluminum pedals.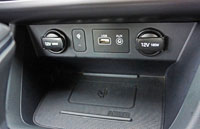 Finally, standard items pulled up to Ultimate trim from the base Essential model include auto on/off headlights, LED daytime running lights, power-adjustable heated side mirrors with integrated LED turn signals, a leather-wrapped multifunction steering wheel, speed-sensitive variable intermittent wipers, heated front seats, Apple CarPlay and Android Auto smartphone integration, Bluetooth with audio streaming, filtered air conditioning, blind spot monitoring with rear cross-traffic alert, the usual active and passive safety features, and much more. It really is a lot of car for thousands less than most competitors.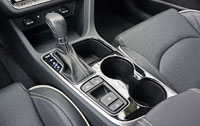 Being that I've been comparing to the Sonata to Toyota's Camry, the Japanese mid-sizer offers up a more advanced gauge cluster-mounted multi-information display, featuring a larger, more organically shaped screen that wraps around the outside of each analogue dial, plus it's filled with more features. Nevertheless, the Sonata's is bright, clear and not short on many functions. The Sonata's centre stack comes across a bit more vertical and therefore more traditional than the Camry's as well, but this has more to do with end of lifecycle issues than any lack of technical prowess at Hyundai (the 2020 Sonata's 12.3-inch display will be a big step above the Camry's, by the way, plus my upcoming Nexo and Palisade stories will provide even more proof of Hyundai's infotainment leadership). The Sonata's touchscreen sits high on the centre stack between two vents, and it's a very clear, high-resolution display with excellent depth of colour and good graphics. It boasts a quick operating system too, and it's generally easy to figure out, no matter the function.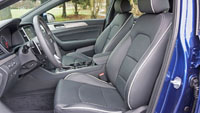 The quality of Sonata switchgear is also excellent, especially those on the steering wheel and centre stack, the latter finished with a nice aluminized treatment on two tiers of interfaces. The top tier is for audio and infotainment systems, whereas the bottom one is for the HVAC system and its various functions, plus the heated/cooled seats and heatable steering wheel. Below this is a rubberized tray for your phone that doubles as a wireless charger, while additional connectivity can be found just above on a panel featuring two 12-volt chargers, a USB port and aux plug (expect more USBs and less of the others in the 2020 redesign).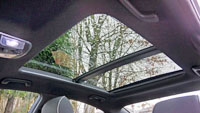 Back to the thick paddle-infused flat-bottom steering wheel and well-bolstered driver's seat, the Sonata Ultimate feels a lot sportier than the Camry XSE I tested, even without having a V6 under the hood. The top-line Camry is about a second and a half quicker off the line (the 6.0 seconds compared to 7.3, give or take a tenth or two), as long as you can stop the front wheels from spinning, but straight-line acceleration is hardly the only performance criterion, or for that matter the most important one in my books. The 2.0-litre turbo moved the Sonata off the line quickly enough, while its eight-speed auto shifted with much snappier increments than the Camry's eight-speed, especially when its Drive Mode Select system was switched from Comfort, past Eco, into Sport mode, these adjusting steering, engine, and transmission responses. The free-revving top-line Sonata powertrain is a lot more fun when pushed hard, and its lighter weight over the front wheels results in easier, quicker turn-in with less understeer.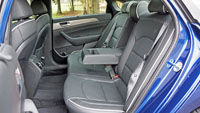 This is probably why the Sonata Ultimate takes to corners more aggressively than the Camry XSE. Truly, Sonata Ultimate handling is a black and white differentiator, the Hyundai feeling crisp and reacting sharply, with the Toyota pushing its front end past the edge of its lane when driven at similar high speeds through the same stretch of tarmac, not to mention becoming much more unsettled at its back end. The one felt confidence inspiring and the other out of its league, and this was despite having one-inch larger 19-inch alloys on 235/40 all seasons on the Camry. Mix in driver's seat superiority and it's really no contest, the Sonata Ultimate so much more engaging we might as well be comparing a BMW 5 Series to a Lexus ES 350.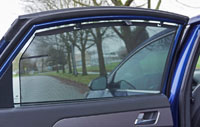 The Sonata Ultimate also gets high marks for fuel economy thanks to a claimed rating of 10.4 L/100 km in the city, 7.4 on the highway and 9.1 combined compared to the Camry XSE's 10.7 city, 7.4 highway and 9.2 combined rating, but to be fair I need to point out that Toyota's use of an eight-speed automatic throughout the range helps its less potent four-cylinder models eke out as little as 8.1 city, 5.7 highway and 6.9 combined, compared to the Sonata 2.4's best rating of 9.2, 6.8 and 8.1 respectively.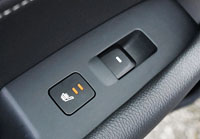 More negatives? It wanting to use the auto trunk opening function when the Sonata is already unlocked it won't open, and being that there's no button in back you'll need to walk around to the driver's door, open it, and push the button on the dash. The Camry provides a button on the trunk that works by proximity sensing whether the doors are unlocked or not. Another Camry bonus includes heated front seats that come on automatically upon startup, or not, depending on how you left them. You'll need to set the Sonata's heated seats each time you restart.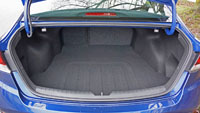 Plenty of other qualities help keep the Camry atop the mid-size sedan segment's hierarchy, and I'll cover these in an upcoming full-line road test review, while there are a number of other credible contenders in this class, as noted earlier, but you shouldn't buy any of the Sonata's competitors without spending time behind its wheel, especially if performance is high on your list of new car attributes.