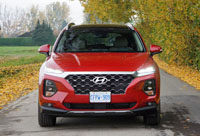 Now that the upstart Genesis brand is finding its footing in the luxury sector, having initially taken two of Hyundai's most premium models (the G80 and G90) with it before adding one of its own (the new G70), the namesake South Korean giant is in the midst of a rebranding exercise that not only needs to differentiate itself from Genesis, but also keep it separate from Kia, which is arguably fighting over the same mainstream volume customer base. 
I think they've done an excellent job so far. Just compare the two brands' mid-size SUV entries, the third-generation Hyundai Santa Fe and Kia's current Sorento. They don't look at all alike from the exterior styling to the interior design and execution, but the two companies benefit from a lot of development and component cost sharing that no doubt boosts the bottom line.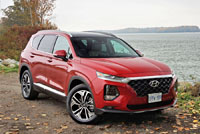 Of note, that third-generation Santa Fe is now history, replaced by this much more dramatically penned fourth-generation model for 2019, complete with the new design language I mentioned at the beginning of this review. Its grille is large, deep and certainly distinctive, and its innovative use of frontal lighting, featuring narrow strips of LEDs up top and tightly grouped clusters of secondary driving lights down below, is starting to permeate the brand, showing up on the new Kona at the lower end, as well as the even newer Palisade at the upper end.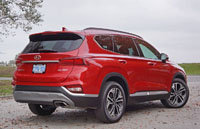 Speaking of sizes, not everyone seems to agree on where the Santa Fe fits into the SUV scheme of things. It started life as more of a compact utility than anything truly mid-size, but like so many other vehicles it's grown over the generations to the point that now it leans more toward mid-size than compact. Despite coming close to matching the length, width and height of five-passenger mainstays like the Ford Edge, some industry insiders still clump it into the compact SUV segment and therefore muddle the marketplace, so I'm here setting the record straight.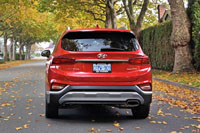 To be specific, at 4,770 millimetres (187.8 inches) long and 1,890 mm (74.4 in) wide the 2019 Santa Fe we're testing here is a considerable 246 mm (9.7 in) longer than the current Ford Escape compact SUV yet only a fractional 9 mm (0.3 in) shorter than the Edge, while it's 52 mm (2.0 in) wider than the former and only 38 mm (1.5 in) narrower than the latter. To be fair, the new Santa Fe is actually a full 70 mm (2.7 in) longer and 10 mm (0.4 in) wider than the outgoing model, this improving interior roominess. So while I've long considered the Santa Fe a mid-size crossover SUV, now we can all safely categorize it as such.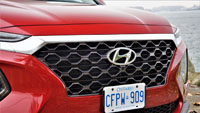 As for the three-row Santa Fe XL, it currently remains available with last year's design and a 2019 model year designation, but as you've probably already guessed it's currently being replaced by the much more appealing (to me at least) 2020 Palisade noted a moment ago, which just happens to be in my garage this week. Between the smallest (so far) Kona/Kona EV and this Santa Fe is Hyundai's Tucson, a model that's still nice but starting to look a bit dated (expect an update next year for the 2021 model year), while an entirely new city car-sized crossover SUV dubbed Venue will slot in under the Kona for the 2020 model year, arriving this fall.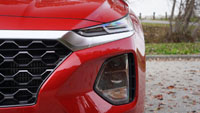 Lastly, I recently spent a week with the new 2019 Nexo (review forthcoming), a crossover SUV that's only slightly smaller than the Santa Fe (albeit with a longer wheelbase), and unlike its spiritual predecessor the Tucson FCEV (fuel cell electric vehicle) that shared underpinnings with the second-generation Tucson, the Nexo only exists because of Hyundai's desire to create a dedicated platform to further its hydrogen fuel cell and electric powertrain program. At $73k it won't find many buyers, a problem made worse by a lack of hydrogen refueling stations (only three in Canada, one of which is in Ontario and the other two in BC — one being a Shell station luckily located a few kilometres from my home.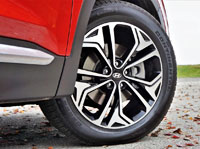 Unlike the future-think Nexo, the near two-decade strong Santa Fe has always been a really strong seller for Hyundai, especially here in Canada. In fact, last year it was once again number one in the mid-size SUV segment with 24,040 units sold, well ahead of the second-place Ford Edge that only managed to pull in 19,156 new buyers in 2018. The Santa Fe has actually held first place in this category for more than a decade, an impressive feat considering how fierce the competition is. 
One thing you may notice missing from this redesigned 2019 Santa Fe is a "Sport" model designation. The outgoing two-row SUV was named Santa Fe Sport in order to differentiate it from the larger three-row Santa Fe XL, but the brand's product planners (et al) skipped the Sport nameplate when introducing the ironically sportier 2019 Santa Fe, because at the time they knew what we didn't, the much grander three-row Palisade was on the way.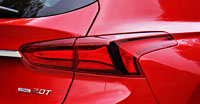 I'm not going to go into much detail about the new Santa Fe's exterior styling, only to say this fourth-gen model had a tough act to follow, and to add that I like the new design. As for the Santa Fe's interior styling, quality, fit, finish, etcetera, I'm pretty sure it will impress you. It's one of the most luxurious crossover SUVs in its class, with more soft-touch surfaces than the majority of rivals, the entire middle portion of the dash-top comprised of a stitched and padded composite material that looks like rich leather, this followed up with a similar surfacing on the sides of the lower console, the door panel armrests, and the door inserts.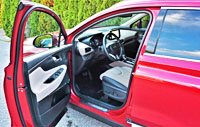 The door uppers get a nice high-quality pliable treatment front and back too, with the Santa Fe's only hard plastic being the most forward portion of the dash top, including the instrument shroud below the otherwise soft-touch hood, plus a small portion of each upper door panel, the entire lower section, and the lower half of the instrument panel. These areas don't get touched a lot anyway, which is why most mainstream automakers follow suit, and being how nice Hyundai finished off the meshed metal-look inlays that wrap around the upper edge of the instrument panel into the doors front to back, plus the lovely variation on that metallic theme lower down on each door panel, which are actually speaker grills for the upgraded Infinity audio system, it's okay that they didn't go all the way with the soft-touch composites.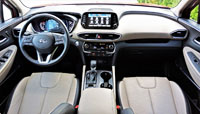 Along with that high-grade metal there's a lot of nice satin-finish metallic detailing throughout the rest of the cabin too. Hyundai encircled the gauge cluster in metal brightwork, plus tastefully applied it to the steering wheel's lower spoke switchgear, the tablet-style infotainment touchscreen, the dash vents, the dual-zone automatic climate control interface, the gear selector, the door pulls, the beautifully finished power window switches and side mirror controller, plus more.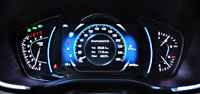 While all this impresses, the first thing I noticed when entering my top-line Santa Fe was its luxurious and totally unique headliner. It's similar to denim, although not blue jeans, but rather a light beige khaki-coloured material with slightly browner flecks within. It looks rich, plus it wraps all the way down each roof pillar front to back, which is unheard of in this class, while it also opens up overhead thanks to a wonderfully large panoramic sunroof. It's power-actuated by a double-purpose slider button that opens the sunscreen (made from the same beige denim material) with a light tap, and the glass itself after a slightly harder pull rearward. The overhead console surrounding the powered sunroof button also integrates switchgear for four LED reading lamps, plus it houses one of the softest padded sunglass holders I've ever felt.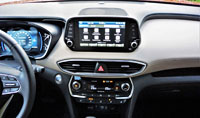 Of note, the redesigned 2019 Santa Fe includes some new trim lines, starting with the base Essential, which can be upgraded to Preferred, Preferred Turbo, Luxury, and finally this as-tested Ultimate trim. Before I get into the details of each, let me once again praise Hyundai for saying goodbye to the "Limited" trim designation, not only because it's way overused, but also because no one ever limits the sale of anything that wears a Limited trim badge. I'm also personally grateful they didn't swap it out for "Platinum" instead, as that precious metal is becoming ubiquitous too.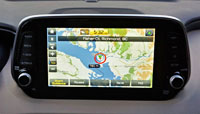 I like the name Essential for a base model, especially one that includes standard heatable front seats plus a standard heated steering wheel, not to mention a 7.0-inch touchscreen infotainment system with Apple CarPlay and Android Auto smartphone integration, a backup camera with active guidelines, dual USB charge ports, Bluetooth, auto on/off projector headlights with LED accents, fog lamps, 17-inch alloys, chrome and body-colour exterior detailing, a leather-wrapped steering wheel and shift knob, two-way powered driver's lumbar support, 60/40 split folding rear seatbacks with recline, an electromechanical parking brake with auto hold, Drive Mode Select with Comfort, Smart, and Sport modes, and much more for just $28,999 plus freight and fees (make sure to go to CarCostCanada for all the pricing details, plus rebate info and dealer invoice pricing that could save you thousands).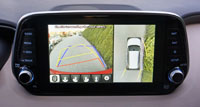 Pay just $30,199 and you'll get Hyundai's suite of SmartSense advanced driver assistive systems including auto high beam assist, adaptive cruise control with stop-and-go, forward collision alert and mitigation with pedestrian detection, lane keeping assist, and Driver Attention Warning. 
Adding all-wheel drive will set you back another $2,000 in Essential trim, or it comes standard with the $35,099 Preferred model that also makes the just-noted SmartSense package standard, while including even more safety features such as blindspot detection, rear cross-traffic alert with collision avoidance, a rear occupant alert system that remembers if you opened a rear door prior to driving and then reminds you that someone or something may still be in back when exiting, and finally safe exit assist that warns of traffic at your side when opening your door.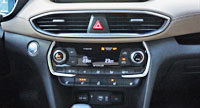 Plenty of additional features are included in Preferred trim too, such as 18-inch alloys, turn signals integrated within the side mirror housings, proximity keyless access with pushbutton ignition, an auto-dimming rearview mirror, rear parking sensors, a Homelink garage door opener, dual-zone automatic climate control (with a CleanAir Ionizer, Predictive Logic and auto defog), BlueLink smartphone telematics, satellite radio, an eight-way powered driver's seat, fore and aft sliding rear seats, plus more. Of note, the Santa Fe's 2.4-litre base engine is still standard in Preferred trim, but you can now opt for a turbocharged 2.0-litre engine for $2,000 extra.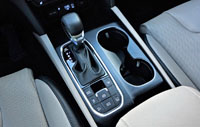 Heading up to $41,899 Luxury trim adds the turbo engine and AWD as standard equipment, plus dark chrome exterior door handles, door scuff plates, LED interior lighting, a 7.0-inch TFT LCD multi-information display within the primary instrument cluster, the aforementioned powered panoramic sunroof, a 360-degree Surround View parking camera, a deluxe cloth roofliner, leather console moulding, memory, four-way powered lumbar support and an extendable lower cushion for the driver's seat, an eight-way powered front passenger's seat, perforated leather upholstery, ventilated front seats, heatable rear outboard seats, rear side window sunshades, a proximity actuated smart liftgate, and more.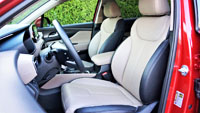 Lastly, my $44,999 Ultimate trimmed tester included most everything from Luxury trim plus 19-inch alloys, satin exterior trim and door handles, LED headlights, LED fog lamps, LED taillights, rain-sensing wipers, a head-up display that projects key info onto the windscreen ahead of the driver, a larger 8.0-inch touchscreen infotainment system with navigation and traffic flow info including incident data via HD radio, plus a 12-speaker 630-watt Infinity audio system with QuantumLogic Surround sound and Clari-Fi music restoration technology, a wireless charging pad, and more.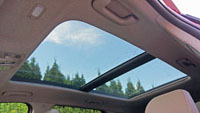 The two engines just mentioned are carryover, although both receive new variable valve timing for quicker response and better fuel economy. The base 2.4-litre four-cylinder continues to make 185 horsepower and 178 lb-ft of torque, while the top-line turbo 2.0-litre four increases power to 235 and torque to 260 lb-ft. Santa Fe fans will immediately notice that the upgraded engine is down 5 horsepower, but I can promise you it's not at all noticeable. In fact, the new Santa Fe feels quicker than the outgoing one thanks to a much more advanced eight-speed automatic replacing the old six-speed unit, the new one also receiving standard auto start/stop that shuts the engine off when it would otherwise be idling in order to reduce emissions and save fuel.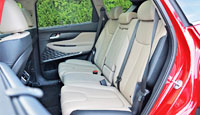 Fuel economy is therefore improved over the outgoing model, with the 2.4 FWD base model now rated at 10.8 L/100km in the city, 8.0 on the highway and 9.6 combined compared to the old model's respective 11.1 city, 8.6 highway and 10.0 combined; the same engine with AWD now capable of a claimed 11.2 city, 8.7 highway and 10.1 combined compared to 12.0, 9.1 and 10.7 respectively with last year's Santa Fe 2.4 AWD; and finally 12.3 city, 9.8 highway and 11.2 combined for the 2.0-litre turbo instead of 12.5, 9.6 and 11.2 when compared to the same engine in the previous generation. Yes, a bit surprising the new eight-speed auto and auto start/stop system resulted in zero combined fuel economy improvement with the turbo, but when factoring in that most mileage is done in the city then it's a positive.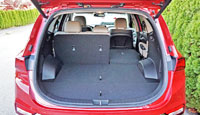 The Santa Fe's HTRAC All-Wheel Drive (AWD) system sends most of the powertrain's torque to the front wheels in order to save fuel unless slippery conditions require additional traction at back, but choosing one of the available driving modes intelligently apportions motive power where it can most effectively improve efficiency or performance, based on need. For instance, Comfort mode splits front/rear torque approximately 70/30 for all-weather stability, while Eco mode pulls more to the front wheels, Sport mode pushes up to 50 percent to the rear wheels, and Smart mode varies all of the above as needed.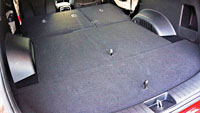 Just like the outgoing third-generation Santa Fe, the new model incorporates a fully independent suspension with MacPherson struts in front and a multi-link setup at the rear, plus a stabilizer bar at each end for improved handling. The steering is motor-driven powered rack and pinion, and felt even more responsive than the setup in its regular-wheelbase Sport predecessor, while the suspension setup impressed even more. In fact, I'm not sure how Hyundai made its ride so compliant and easy on the backside, yet didn't these seemingly soft underpinnings didn't impact the Santa Fe's handling one iota. The new Santa Fe manages corners better than the previous one, my tester's upgraded 19-inch alloys and lower-profile 235/55 all-season tires no doubt assisting in this respect, but then again this should negatively affect ride quality and it certainly didn't.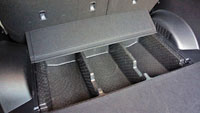 As mentioned earlier, the revised turbocharged engine makes a bit less power than the outgoing one, but it certainly doesn't feel any less energetic off the line. The eight-speed automatic is ultra-smooth and quite quick through the cogs as well, while the Santa Fe's Drive Mode Integrated Control System can be set up for Sport mode that lets revs go higher between shifts, provides snappier engagement, improves throttle response, stiffens the steering, and as noted earlier apportions up to 50 percent of the AWD system's torque to the rear, although I mostly left it in Smart mode as it combines the fuel savings of Eco mode, the smoother drivability of Comfort mode, and the driver engagement of Sport mode, depending on the way the it's being driven.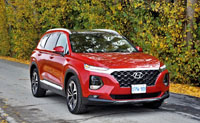 Of course, family vehicles always compromise performance for comfort, which is as it should be because that's what most buyers in this category want. The 10-way powered driver's seat was wonderfully comfortable all week, its powered lumbar adjustment finding the small of my back easily thanks to its optimal four-way design. Forced air can blow through the perforations in the upholstery to keep things cool in summer, a relieving feature, and there's plenty of space up front to move around in. It's roomy behind too, made even better by seat recliners that go way back, and the second row's fore and aft sliding feature that provides more space for luggage when necessary.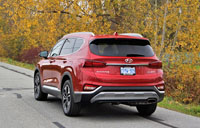 The five-seat Santa Fe's interior volume measures 4,151 litres (146.6 cubic feet), while its maximum cargo capacity is 1,016 litres (35.9 cubic feet) behind the second row and 2,019 litres (71.3 cubic feet) with its 60/40-split rear seatbacks lowered, a process that is made easier via powered release buttons on the cargo wall. Being a skier I would have appreciated 40/20/40 spit-folding rear seatbacks or a centre pass-through, especially considering how much nicer trips to the mountain would be for those in back if they could take advantage of the outboard seat heaters, so maybe Hyundai could consider this for a mid-cycle update in a couple of years. 
Just the same, the new 2019 Santa Fe is easily one of the better five-occupant crossover SUVs available, and should be considered if you're in the market.