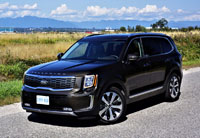 Comparisons between Kia's Telluride and Hyundai's Palisade are starting to sound a lot like folks my age bantering about Chevy Blazer and GMC Jimmy preferences back in the '70s, with some liking Chevy's subtler grille design more than GMC's bolder iteration, or vice versa. I hear this type of talk a lot in chats about the two South Korean SUVs, and more often than not the Telluride gets two thumbs up when it comes to styling.
To be clear, I talk more often to gents about such things than ladies, and we should all know by now how important a women's decision is in the buying process, especially in the family-friendly three-row crossover category. This might have something to do with the Palisade outselling the Telluride by more than two to one in Canada last year, Hyundai's numbers reaching 7,279 units compared to just 3,474 deliveries for Kia. The divide is narrowing for 2021, with Hyundai growing Palisade sales to 4,037 examples during the first two quarters, and Kia stepping up with 2,531 Telluride deliveries.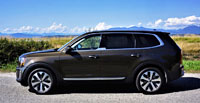 Looking at these numbers, we can't underestimate the power of the Hyundai brand in Canada, compared to Kia which got a much later start. While Hyundai arrived here in 1984, it only took two years to enter the U.S. market. Kia, on the other hand, didn't travel north of the 49th until 1999, a full six years after a solid head start in the U.S. Kia has certainly been gaining ground over the past 20 years, but it's always been a case of playing catchup in both markets.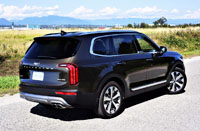 Interestingly, despite only being on the market for a bit over two years, the Telluride is already outselling the Acadia, its three-row competitor from aforementioned GMC. To clarify how significant this is, the Acadia has been on the market since 2006, giving it a 13-year advantage, while 2021 saw a bolder new face thanks to a mid-cycle refresh. To be fair to the General, the second-generation Acadia is now in its fifth year of availability, although it should also be noted that the Telluride is currently on track to beat the newest Acadia's best year of sales. As it is right now, Kia's largest offering is outselling a whole host of similarly sized three-row rivals, from Nissan's Pathfinder to Subaru's Ascent.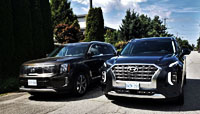 Like the two classic General Motors SUVs, the Telluride and Palisade are basically the same crossover with different styling details. Clearly this is nothing new in the industry, continuing today with the just-noted Acadia plus its Chevy Traverse, Buick Enclave and Cadillac XT6 cousins, as well as Ford's Explorer and its Lincoln Aviator partner, plus the previously mentioned Pathfinder and Infiniti's QX60.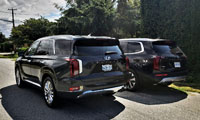 This said, the two Korean automakers took a different styling direction with the Telluride and Palisade than those just mentioned. They're designs are more upright and squared off, making them appear more like traditional body-on-frame SUVs than sleek, car-like crossovers. This is even truer for the Telluride, which completes its chunky design with a rectangular front grille, squarish stacked LED headlamps, and a sharply angled lower front fascia, while its blocky side profile culminates in a similarly rectangular-shaped liftgate that's bookended by two vertical taillights curving inward elegantly as they rise up from the rear bumper. It's at once rugged and refined, providing a best of both worlds image that's not unlike something from Range Rover, and just like that British icon the Telluride only gets better upon closer inspection.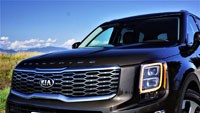 Its side window trim, for instance, feels as if it's made from highly polished billet nickel, similar in fact to Lexus' application of its bright metal window dressing. Kia just calls it "satin chrome," so it's probably not made from nickel, but either way these are some of the nicest window surrounds in the industry.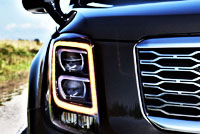 Inside, the A and B pillars are fabric-wrapped with the same high-quality woven material used for my SX Limited trim's headliner, which itself is hollowed out from dual glass sunroofs, these including a regular moonroof up front and a large panoramic one in back. The look and feel of everything above the shoulders is premium, including the overhead console that houses switchgear to open the just-noted sunroofs and their powered fabric shades, plus the LED reading lights and buttons for activating the standard UVO Intelligence connected car services and emergency assistance system. A second overhead console can be found in between the two sunroofs, this one housing larger LED dome lights as well as controls for the automatic climate system's third zone.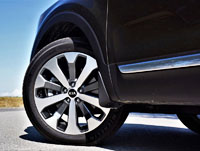 Moving downward, the dash top is finished in a nice rubberized soft-touch synthetic, with what feels like real stitching, while the same pliable composite is used for the front and rear door uppers. Below these is the closest reproduction of matte finish hardwood I've ever seen, with a substantive density that really had me questioning whether it was real or not (I checked, it isn't).
No shortage of satin silver trim brightens up much of the rest of the cabin, plus a reasonable amount of piano black lacquered plastic, although this inky surface treatment was only kept to the lower console. This, however, is strange, because the lower console is the most likely place to get scratched, so it would be much better for Kia to come up with a less scratch-prone surface treatment for this high-use area.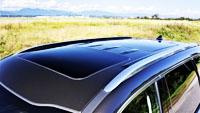 At least this central divider is bordered by stitched leatherette-wrapped grab handles for the driver and front passenger, these also housing switchgear for the three-way heated and ventilated front seats. The console itself is filled with a wireless charging pad, two USB-A ports and a 12-volt charger hidden below a pop-up door, while a leather-wrapped and skirted shift lever rests ahead of a purposeful looking metal-edged rotating Drive/Terrain mode selector, complete with Comfort, Eco, Sport, Smart, Snow, Mud and Sand modes that are capable of tackling all sorts of driving situations, while a bunch of quick-access driving function buttons surround the electromechanical parking brake lever just behind.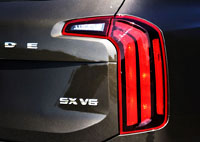 The rest of the Telluride's instruments are well organized, with my SX Limited tester's primary gauge cluster comprised of two conventional analogue dials surrounding temperature and fuel sub-dials, centered by a large comprehensive multi-information display in full colour. This MID's most unique feature is the live projection of two rear-facing cameras that completely eliminate blind spots upon applying the turn signals. Honda and Acura have long offered a right-side camera that displays on the larger centre infotainment screen, but only in models that don't include their lane-change warning system. Kia, on the other hand, provides both technologies simultaneously to make double sure the adjacent lane is clear from traffic. On top of this, literally, is a head-up display, exclusive to SX Limited trim.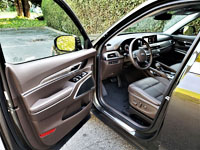 The Telluride's centre infotainment display is a touch-sensitive widescreen that's wonderfully easy to use and filled with attractive graphics in a tile-style layout. You can swipe it back and forth for additional features, plus use smartphone and tablet-style pinch gestures for specific functions including the navigation map, which just happens to be the default selection on the menu's left-side tile. Audio system info can be found on the menu's centre tile, while Hyundai's proprietary "Driver Talk" rear passenger communication system is set to the right, while owners can customize the tiles in system setup if this default assortment doesn't suit their personal requirements, and believe me there's a lot of options to choose from.
Infotainment features not yet mentioned include Android Auto and Apple CarPlay smartphone integration, a voice memo, driving info, media, and more, while just below the touchscreen is a row of satin-metallic finished quick access buttons for the navigation system's map, route guidance setup, the radio, media functions like satellite radio and Bluetooth audio, seek and track functions, favourites, and vehicle setup. Just under this is a dual-zone automatic HVAC interface that includes some switchgear for the third rear zone, plus a button for the heatable steering wheel that would no doubt keep its leather-wrapped rim toasty warm in winter, but being that I tested this SUV mid-summer, the top of the wheel already felt as if it was on fire after being parked.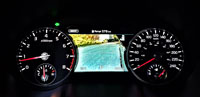 That steering wheel spokes are filled with high-quality satin-finish metal and piano black switchgear, some of which include knurled-metal rocker switches for performing functions like adjusting the audio volume to answering the phone, or applying the adaptive cruise control and using the multi-information display. Likewise, the door panel-mounted power window and mirror controls are made from high-quality materials, with good fitment and nice damping, a theme that carries through the entire cabin. The doors' lower panels, which are made from a harder composite, feature attractive metal-rimmed Harman Kardon speaker grilles, while the sound emanating from within is even more impressive.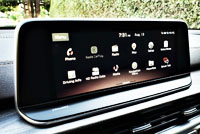 My SX Limited's six-way powered driver's seat was comfortable and its positioning superb, with plenty of rake and reach from the tilt and telescopic steering wheel, which oddly is not powered despite Kia having provided memory in this near top-tier trim (only an all-black Nightsky edition costs more, and includes all of the same features as the SX Limited). I thought maybe the top-line Hyundai Palisade would provide a powered steering column, but not so for that SUV either.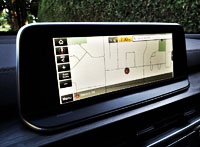 Nevertheless, the driver's seat includes a powered lower cushion extension for comfortably cupping under the knees, plus two-way powered lumbar support that met the small of my back nicely, while the driving position is excellent as noted, this not always the case for my long-legged, short-torso frame, but I felt comfortable and fully in control at all times. The seats provide excellent lower back support and plenty of comforting padding all-round, with reasonable side bolstering too. I believe they'll be good for most body types, plus the Telluride should be roomy enough for almost anyone.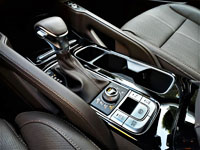 Like most Kia models, the Telluride's rear passengers are treated just as nicely as those up front. The finishings are much the same, with near identical door panels, other than manual window shades in back, plus other niceties are added such as leather and mesh pockets in the backsides of the front seats, hooks for a garbage bag or what-have-you, and USB-A charging ports for each rear passenger on the sides of each front seat. The rear outboard seats cool and heat in SX Limited trim too, while the backside of the front centre console provides a 12-volt charger along with a household-style 110-volt power outlet.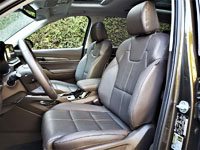 Look upward and you'll see an HVAC vent directly in front of each outboard passenger, while the aforementioned overhead lights and auto climate controls are within easy reach in the middle of the ceiling.
A large, comfortable armrest, complete with dual cupholders, splits the two outboard passengers when the centre position is unoccupied, this made from the same supple Nappa leather as used for the seat surfaces throughout the interior. Making it easier to slide onto those soft leather seats is a large grab handle on the B-pillar, something not always included with competitors.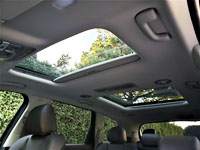 To access the third row, simply push an electronic release button on the top side of the second-row seatback, after which the entire seat automatically slides forward with plenty of room to climb inside with ease. The third row is very comfortable, with seats that wrap around one's back and good support in the lower regions, plus this compartment is truly roomy, even when second-row passengers are given more than enough space to move around ahead. In fact, I could easily sit in the very back with room for my feet underneath the second-row seats, plus about three inches above my head and more than enough room from side-to-side, complemented by nice views through the side quarter windows, along with a separate USB-A plug and two cupholders on each side. The rearmost driver-side passenger even has an extra spot for storage, while there are separate overhead vents for each third-row occupant too, as well as some ambient lights so no one feels lost in the dark.
Additionally, the dedicated cargo area behind the rear seats is spacious at 601 litres (21.2 cu ft), and includes a section below the rigid cargo floor for stowing more items out of sight. The 60/40-split third row is easy to fold down, first by automatically dropping the headrests with pull-tabs, and then by a set of buttons on the left side of the cargo wall, just above another 12-volt charger. This opens up 1,304 litres (46 cu ft) of nearly flat cargo space, while lowering the second row provides a maximum cargo volume of 2,455 litres (86.7 cu ft). Of course, the liftgate is powered, opening quickly enough, plus Kia has even gone so far as to finish off the cargo door sill with a polished stainless-steel guard.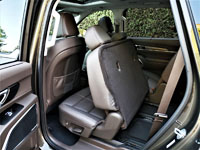 As you might expect, the Telluride is more about comfort than speed, and therefore all occupants will appreciate the superb ride that complements those comfortable seats I just spoke about. It's relatively hefty at 1,970 to 2,018 kilos (4,343 to 4,449 lbs), depending on trim, but nevertheless it's fairly quick off the line thanks to a strong 3.8-litre V6 that's good for 291 horsepower and 262 lb-ft of torque, plus a smooth-shifting eight-speed automatic that's quick to respond to input.
Fuel economy is not great at 12.6 L/100km in the city, 9.7 on the highway and 11.3 combined, especially when compared to the non-hybrid Toyota Highlander's 11.8 city, 8.6 highway and 10.3 combined rating, but it's not as thirsty as some in this class either.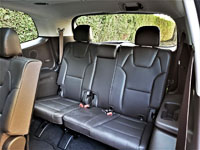 On more of a positive, the Telluride handles corners well, within reason of course. Again, it's primarily built for comfort, but can manage sharp curves with confidence and is especially poised over rough pavement and gravel, my SX Limited tester including a self-leveling rear suspension along with 20-inch alloys encircled by 245/50R20 all-season tires. Its 5,000-lb (2,268-kg) towing capacity means it's also good for small boats and campers, always important in this family SUV sector.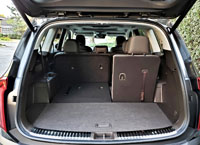 Additional standard SX Limited features not yet mentioned include rain-sensing wipers and LED taillights, while items pulled up from second-rung SX trim include the just-noted 20-inch wheels, the rear portion of the aforementioned dual-pane sunroof, and the rear sunshades, plus a hot-stamped satin chrome grille, satin chrome door handles, satin chrome beltline trim, a set of high-gloss side mirror caps, anodized roof rails, silver-painted skid plates, single-to-twin exhaust tips, metal door scuff plates, metal-finished foot pedals, ambient mood lighting, the 7.0-inch Supervision LCD/TFT instrument cluster with blind-spot view monitor noted earlier (which replaces a 3.5-inch cluster display), a 360-degree surround parking monitor, front parking sensors, and the fabulous sounding Harman Kardon audio system noted before.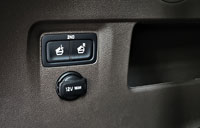 Lastly, some standard Telluride EX features pulled up to SX Limited trim include LED headlamps with high beam assist, LED daytime running lights and positioning lamps, LED fog lights, a solar glass windshield and solar front side windows, the aforementioned front moonroof, automatic power-folding side mirrors with integrated LED turn signals, plus the leather-clad steering wheel and shift knob noted earlier, as well as the superb faux woodgrain trim, tri-zone auto climate control with automatic defog, the 10.25-inch centre touchscreen with navigation, HD and satellite radio, the wireless charger and all of the other phone connectivity features mentioned before, a smart key with pushbutton start/stop, smart cruise control, an auto-dimming centre mirror, a HomeLink garage door opener, express up/down powered windows, and a powered liftgate.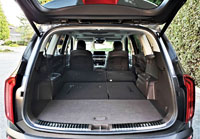 Kia also includes a whole host of advanced safety and convenience features such as Forward Collision-Avoidance assist (FCA), Lane Follow Assist (LFA), Blind-spot Collision Avoidance Assist (BCA), Rear Cross-Traffic Collision Avoidance Assist (RCTCAA), and Highway Drive Assist (HDA), plus a Driver Attention Alert system (DAA), safe exit assist system, rear occupant alert, rear parking sensors, and seven airbags including one for the driver's knees.
All of these standard features don't come cheap, causing the base Telluride EX to start at a fairly lofty $46,195 plus freight and fees, but keep in mind that competitors with similar features are priced in this range, and sometimes higher. On that note, the Telluride SX can be had from $51,195, while my SX Limited tester starts at $54,695, with the blackened Nightsky edition just $1,000 more at $55,695.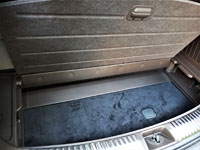 Kia is currently offering up to $750 in additional incentives, by the way, which you can find out about by becoming a CarCostCanada member. Check out how the CarCostCanada system works now, and learn how Telluride buyers saved an average of $2,111 by researching dealer invoice pricing before negotiating their best deal. To make the most of these CarCostCanada features, be sure to download their free app from the Google Play Store or Apple Store, so you can have all this important information on your phone when you need it most.
Summing up the 2021 Kia Telluride, it's not only a great looking mid-size SUV, but a good choice for those who want a premium-level experience without spending luxury brand pricing. It drives very well, delivers supreme comfort, and comes as well equipped as anything in its segment, while Kia backs up all of its new models with a class-leading five-year or 100,000 km comprehensive warranty. For these reasons and more, the new Telluride has earned its place amongst my favourite three-row SUVs, making it 100-percent worthy of your attention.
Review and photos by Trevor Hofmann