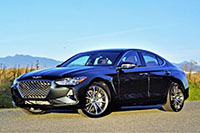 Choices, choices, choices. Should you choose the refreshed 2022 G70 that's now starting to arrive at Genesis retailers across Canada, a car that boasts the premium brand's stylish new diamond-shaped grille, dual-slit LED headlights and tail lamps, and the list goes on? Or should you snag a 2021 G70 while you can still finance a new one?
Styling will be the key factor, and to be clear the outgoing model is still a great looking car that hasn't been with us for very long. What's more, 2021 G70s can be had for bigger discounts than you'll likely get with the new car, but techies might submit to the updated model due to its bigger infotainment display alone.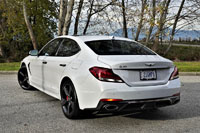 The base 2022 G70 2.0T Select starts at $45,000, which is $2,500 more than the 2021 G70 base model, which started in Advanced trim. Select trim wasn't on the menu in 2021, the G70 available in Advanced, Sport, Elite and Prestige trims since becoming available for 2019, with Dynamic trim dropped after the first year. Equipment levels look very close from when compared the 2022 Select to the 2021 Advanced, except for the new 8.0-inch driver display (up an inch) and redesigned 10.25-inch centre touchscreen (increased by 2.25 inches), plus standard navigation and new Genesis Connected Services on the revised car.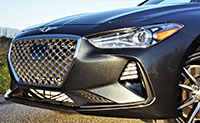 In total I spent three weeks with the G70, the first being a 2019 G70 3.3T Sport AWD tested a few of years back, and since then a G70 3.3T Prestige AWD and another G70 3.3T Sport AWD, the two cars used for this review. As tested, the metallic Himalayan Grey-coloured 3.3T Prestige AWD with the Caramel Brown Nappa leather interior can be had for $56,000 (plus freight and fees), while the top-line Uyuni White-painted 3.3T Sport AWD with its Black and Sport Red Nappa leather cabin is $2,000 more at $58,000.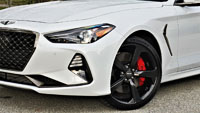 That's full-load, by the way, which means this well-equipped G70 is much more affordable than a similarly outfitted Mercedes or BMW, either of which can easily creep up into the mid-$70k range. It can be made even more affordable by taking advantage of factory leasing and financing rates from zero percent, this information coming from CarCostCanada, whose members are currently saving an average of $2,062 when purchasing a new G70 thanks to accessing dealer invoice pricing information, a critical resource for paying less for your new car. Find out how the CarCostCanada system works now, and remember to download their free app from the Apple Store or Google Play Store as well.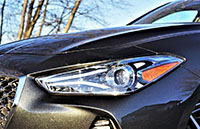 The twin-turbo 3.3-litre V6 tested is one formidable power unit, making 365 horsepower and 376 lb-ft of torque, and would be my choice if purchasing Genesis' smallest model. This said I've only ever tested the car's base 2.0-litre turbo-four in Kia's Stinger, yet another credible sport sedan from the South Korean parent company's namesake brand that rides on the same underpinnings. That engine makes 252 horsepower and 260 lb-ft of torque, while both come mated to an in-house eight-speed automatic transmission.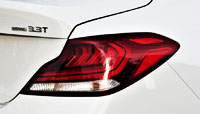 Genesis provides a rear-wheel drive variant exclusively for the G70's Sport 2.0T trim, but take note that this disappears for 2022. Either way, steering wheel paddle shifters make sure the driving experience is engaging, while Sport mode can be actuated from a lower console-mounted rotating knob adorned with ritzy knurled metal edging. When selected it delivers swift yet smooth shifts that ideally match the engine's strong output, resulting in standstill to 100 km/h sprints around the mid fours and an eye-popping top track speed of 273 km/h (170 mph). I never even attempted such lofty goals (honestly, officer), but can attest to the G70 quickly transforming from comfortably quiet cruising companion when tooling around town and whiling down the highway, to one of the more intensely satisfying cars to drive in its category.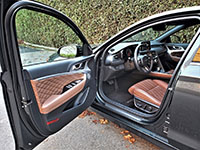 Behind the Sport's 19-inch five-spoke alloys and the Prestige model's classier 19-inch, 10-spoke rims, all G70s incorporate a MacPherson strut front and multi-link rear suspension layout that's more or less the same design type as used by BMW for its 3 Series, as well as most others in this class, which is a very good thing. The Genesis chassis tuning team worked the design to perfection, resulting in one very lively handler that's equally stable at high speeds on the freeway as it is coursing through tight, twisting two-laners.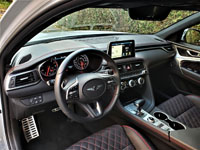 To claim that it's better than (or even as capable as) a 3 Series through corners might be seen as heresy by blue and white roundel zealots, but the once untouchable Bimmer has lost some steering feel since going with an electric rack, leaving the motor-assist powered rack-and-pinion steering setup in the G70 in the same league at least, and feeling much more connected than some others in this segment, while the car's overall grip when pushed quickly through hard-charging curves is tenacious.
When equipped like any of my testers, I'm comfortable classifying the G70 as a true sport sedan, despite its luxurious accoutrements. Steering input requires constant attention, but such regular redirection is what I like about this car. It doesn't just drive itself along at high speeds, only needing the odd nudge here and there to keep it in a chosen lane, but instead demands regular hands-on focus, and responding with more positive excitement on the road or track.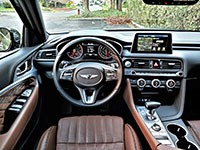 Still, the G70's ride was never uncomfortable, even when its big wheels and sizeable tires were pounding over less than ideal tarmac. Likewise, the Sport's Brembo brakes are worth the extra couple of grand needed for this model alone, while both cars' HTRAC all-wheel drive system maintained the feel of a rear-wheel drive car yet provided superb traction at all times.
In fact, the G70 feels a lot lighter and nimbler than it actually is. Hitting the scale at 1,760 kilos (3,880 lbs), it's not the heaviest in its class, yet hardly the lightest either. I was surprised to find out the G70 actually weighs a couple of kilograms more than the Lexus IS 350 AWD, a car I'd always considered hefty for its size, but BMW's 3 has gained plenty around the middle as it's grown older too, the comparable M340i xDrive, weighing in at 1,800 kg (3,968 lbs), is a surprising 40 kg (88 lbs) pudgier than my 3.3T Sport AWD test car.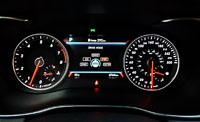 The Japanese are the true Sumos of the industry, with the Infiniti Q50 Red Sport 400 AWD weighing 1,811 kg (3,993 lbs) and Acura TLX SH-AWD porkiest of all at 1,827 kg (4,028 lbs), which leaves the Mercedes-AMG C43 4Matic seeming like a pencil-neck at just 1,740 kg (3,836 lbs). Lighter still, a fully-equipped Audi A4 S Line 45 TFSI is just 1,690 kg (3,726 lbs), while the Cadillac CT4 V-Series is a sprite 1,640 kg (3,616 lbs). So as not to leave Volvo out of the equation, its S60 Recharge T8 eAWD is by far the fattest at 2,017 kg (4,447 lbs), but let's be reasonable as it's carrying a plug-in hybrid power unit and battery, as well as an extra supercharger to go along with its turbo.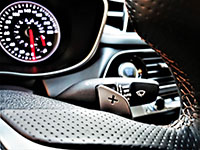 All of that technology results in a shocking 400 horsepower and 472 lb-ft of torque, by the way, while the segment's ultimate lightweight, the 1,647-kg (3,632-lb) Alfa Romeo Giulia Ti Sport AWD, doesn't need as much to get it going, although 280-horsepower and 306 lb-ft of torque hardly competes with the G70's V6 or most of the others mentioned, that is until the Italian outfit drops its 505-horsepower Quadrifoglio powerplant under the hood. Too Jaguar's discontinued its XE, as the 380-horsepower V6 in its 1,721 kg (3,795-lb) S AWD model is a close match to this compact Genesis.
Speaking of the compact luxury segment, fallout like Jaguar's XE is partially due to newcomers such as the G70. Canadian-market XE sales peaked at 858 units in 2017, and tapered off to 157 in 2019 and just 77 last year, whereas the G70 found 1,119 new owners in its first full year (2019), and grew that into 1,173 buyers throughout 2020.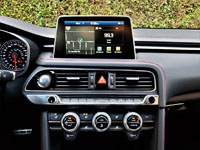 These numbers are much lower than the segment leaders, mind you, with BMW's best-selling 3 and 4 Series earned a combined 4,836 deliveries last year (3,873 and 963 units respectively), and that was a very bad 12 months for the model, while Mercedes-Benz' C-Class sedan, coupe and convertible combined for 3,970 total deliveries. Still, the G70 ranking eighth in a 12-car category is impressive for a newbie, its popularity even passing Infiniti's Q50. Interestingly, the real segment-leader is Tesla's Model 3, which pulled in 6,151 buyers for 2020, but being that it's an EV, it's not exactly a direct competitor. Having now seen the 2022 G70 in the metal, I'm guessing the refresh will give it a boost further up the sales chart.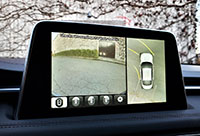 If you're looking for as dramatic a makeover inside, you'll probably be disappointed. Still, it's surprising how much visual change occurs just by swapping out centre touchscreens, the new larger display appearing much more modern. Both are laid out horizontally, but the current model's is just smaller and squarer, with less cohesiveness to the dashboard's overall design. It's not ugly or ill-suited to the car, but it is outdated. The current infotainment system works well, however, and includes most of the features buyers will want in my two tester's upper trims, just like the primary gauge cluster incorporates all of the necessary dials and meters as the newer version, just in analogue form instead of purely digital. Everything else about the 2021 and 2022 interiors remains unchanged, including the diamond-pattern, contrast-stitched and perforated Nappa leather upholstery found in both of my test cars, plus their plentiful metallic accents, and every other high-grade surface treatment.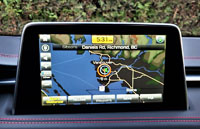 Some notable features included tilt and telescopic steering that powered far enough rearward for ample comfort and control, which was matched by a very comfortable and supportive set of front seats with four-way power lumbar and powered side bolsters, but unfortunately lower cushions that couldn't be extended. A two-way heated steering wheel will keep hands at the ideal temperature year-round, while three-way heatable and coolable front seats do likewise to one's derriere, not to mention three-way butt warmers in the rear. These join a dual-zone automatic climate control system, which is par for the course in this class, yet always appreciated.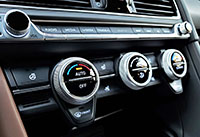 Overhead surround parking cameras are standard fare in upper trims too, and the G70's works well, while the aforementioned infotainment system's navigation system proved accurate. Genesis remembered to include a wireless device charger too, while a sunglasses holder was integrated into the overhead console next to LED reading lights and controls for the large panoramic sunroof, a feature that helps the rear compartment feel more open and airier.
Access to the trunk was provided by a powered lid, but at just 297 litres (10.5 cu ft) it's smallest in the class, and made even less practical by splitting the folding rear seatbacks into a simple 60/40 configuration, instead of the much more utile 40/20/40 divide used by all the category leaders.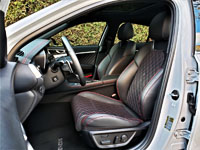 Another negative is fuel economy, the G70 3.3T AWD only managing 14.1 L/100km in the city, 9.5 on the highway and 12.0 combined, which makes it the thirstiest amongst similarly powered competitors. Model 3 aside, Volvo's hyper-potent plug-in hybrid tops the charts at 7.8 mpg combined (or 3.2 Le/100km), with the next best to worst including aforementioned trims of the A4 (at 8.8 L/100km combined), Giulia (9.2), 340i (9.2), TLX (9.8), CT4 (10.2), IS (10.8), Q50 (11.1), and C43 (11.3). Heck, even the 505-hp Giulia Quadrifoglio provides better combined fuel economy than this Genesis at 11.6 L/100km.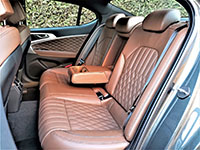 Of course, fuel economy is hardly the first priority for shoppers in this segment, particularly amongst higher performing options, but for those wincing at higher-than-ever gas prices, consider an entry-level G70 2.0T AWD that's rated a bit better at 11.4 city, 8.5 highway and 10.1 combined, but then again, while this is considerably better than the rear-drive base turbo-four Q50's 12.5, 8.7 and 10.8 rating, it doesn't come close to matching Mercedes' least expensive C300 at 8.7 combined, or Audi's base A4 and BMW's miserly 330i that eke out 8.3 L/100km combined apiece.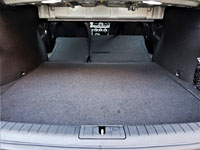 Sorry for the fuel economy yawn-fest, because Genesis' G70 is hardly the kind of car I want to lull you to sleep about. For the most part, the upstart Korean brand got its first sport sedan right, with superb straight-line performance, a nice balanced feel through curves, rock-solid highway stability, and enjoyable comfort around town, while its plenty attractive inside and out. Instead of being best at any given attribute, the G70 is an excellent all-rounder, which is exactly what a car in this four-door segment should be. That it can be acquired for thousands less than most rivals despite a slightly longer five years or 100,000 km warranty, not to mention free maintenance, valet service, and more, makes it a sport sedan you should take seriously.
Review and photos by Trevor Hofmann