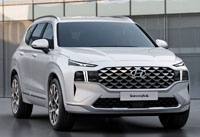 Now that the entirely new 2020 Palisade is garnering positive reviews and gaining plenty of new owners, the time was right for Hyundai to give its top-selling Santa Fe a bold new face as well.
This said not all onlookers are pleased with the design direction the South Korean brand is taking its popular mid-size five-passenger crossover SUV, with a quick CarCostCanada poll showing 100-percent of respondents preferring the outgoing model to the new one. Still, playing it safe can often result in more criticism while sticking your neck out with something daring might only cause initial pushback, so time will tell how buyers respond to the new model when it arrives later this year.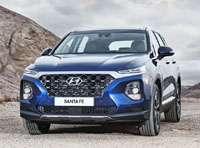 One thing is for sure. There won't be many mistaking the 2021 Santa Fe from its competitors, thanks to a distinctive new widened grille that looks one part Hyundai and another part Fisker thanks to extending right out to each corner of the frontal fascia. It's nevertheless mostly unique, and according to Hyundai's press release accentuates the SUV's "wide and well-balanced stance."
"We modernized the New Santa Fe with premium features and appealing aesthetics that are sure to add value," said SangYup Lee, Senior Vice President and head of Global Design Centre. "The bold lines that extend from one side to the other and from front to back give Santa Fe a rugged yet refined look that SUV customers want. Besides, we've added numerous features and functions to create a truly family-focused SUV that is a pleasure to drive."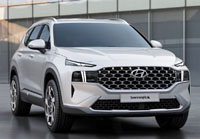 Hyundai didn't explain why the new grille's "signature geometric patterned inlay" is different depending on which photo is shown, however, the model with body-colour painted lower trim (most likely the new top-line Santa Fe Ultimate) receiving seven rows of isosceles trapezoids, and the model with dark grey lower bumpers and rocker panels getting better aeration via larger octagonal vent openings similar to those currently in use, resulting a sportier appearance. Are these actually different grilles or the result of active grille shutters? We'll learn more as additional info gets introduced closer to launch.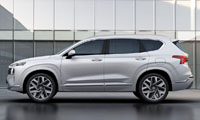 As it is, not a lot has been revealed in Hyundai's 2021 Santa Fe release, other than nine exterior photos of white-painted examples in the two trims just noted. Both receive all-new T-shaped signature LED Daytime Running Lights (DRLs), however, which distinctly flow from the lower grille extensions up to the headlamp clusters, where each T's stem gets capped off by its glowing cross-member. The outer tip of each T visually continues rearward along the new Santa Fe's beltline before meeting up with a crease in the model's redesigned wraparound LED taillights, while thicker flat-planed wheel arches "accentuate the SUV's rugged and powerful character," adds Hyundai, which house large 20-inch alloy wheels featuring a seven-spoke geometric pattern in the two Santa Fe trim-line examples shown.
From the rear, the new 2021 Santa Fe receives more horizontal styling elements to bring attention to its wide stance, including a thin light bar connecting the new taillights just mentioned, and lower down on the bumper a narrow reflector strip spanning most of the model's width, plus a wider, larger rear vent cutout and metallic skid plate below that, which Hyundai dubs "a unique three-layer look."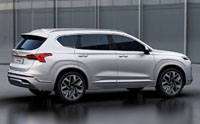 Although Hyundai provides no photos of the updated 2021 Santa Fe interior, it shares some info in the press release that sheds some light on what we can expect. Keep in mind the current 2019-2020 fourth-generation Santa Fe (read our road test review of the 2019 Hyundai Santa Fe Ultimate here) is already one of the more luxuriously equipped two-row crossover SUVs available in the mainstream volume-branded auto sector, but according to Hyundai the new updated model provides "more space, comfort, and convenience," and adds "a new level of luxury with every component finished in premium soft-touch materials."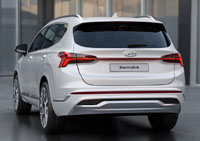 Hyundai continues by saying the new Santa Fe's centre console "sits high, giving the driver and front passenger the feeling of sitting in an armchair," while all switchgear is "centered for intuitive and ergonomic use." What's more, like with the new three-row Palisade, the new Santa Fe's reworked lower centre console receives a quad of buttons for gear selection, replacing the conventional shift lever. This is possible due to the new Santa Fe's shift-by-wire transmission, and while no photo was provided for publication, we noticed one on the 2021 model's press site page that's most likely the real deal. It looks identical to the Palisade's centre stack and lower console, so therefore, while we can't be certain which model it comes from, it's safe to say we'll see something similar if not exactly the same in the updated Santa Fe. Either way, we've included it in our photo gallery above, so make sure to check it out.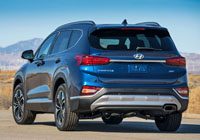 The new button-type gear selector receives a right-side extension housing a new Terrain Mode dial selector with stylish knurled metal edges that optimizes the performance of Hyundai's HTRAC All-Wheel-Drive system, including Sand, Snow and Mud settings, plus Eco, Sport, Comfort and Smart modes (the latter intuitively recognizing and automatically responding to personal driving style). Additionally, five more buttons provide quick adjustment to various driving and parking camera controls.
The new drive controls sit below two redesigned rows of centre stack switchgear, the top silver-painted row mostly for adjusting the larger, wider 10.25-inch AVN (audio, video, navigation) high-definition infotainment touchscreen atop the dash, this interface featuring power/volume and tuning/scrolling/enter knobs with the same knurled metal-look grips as the Terrain Mode selector, and the middle row also including LCD readouts for the dual-zone automatic climate control system, plus the same knurled metal edging on its "Auto" and "Sync" dials. The upscale detailing most likely continues into other areas of the cabin, but we'll need to wait for more interior photos to know how far Hyundai has gone with such improvements.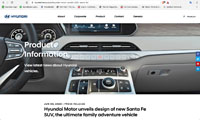 The Santa Fe is Hyundai Canada's longest running SUV nameplate, having originally arrived for the 2001 model year as a larger than average compact car-based crossover SUV. Now, four generations later it was the second best-selling five-passenger SUV in Canada during 2019 behind the Ford Edge, with 18,929 sales compared to the blue oval brand's 19,965. This said, it was number one in the entire mid-size segment in 2018 with 24,040 units sold compared to 19,156 for the Edge, and that was after nearly a decade of class dominance with a peak of 28,402 deliveries in calendar year 2017.
While Canadians clearly like the Santa Fe, Hyundai's more recently introduced models are gaining traction in their various SUV segments too. The aforementioned Palisade was only introduced last year as a 2020 model yet 3,845 units were sold before the close of 2019. Sales were down for the first part of 2020 for obvious reasons, but from January through April the Palisade's 1,285 units were nearly half of the Santa Fe's 2,665 deliveries (the latter representing a 56-percent plunge), boding well for the larger utility when stronger sales resume, whereas the Kona (also available as an electric-powered EV) leads its subcompact SUV segment with 4,858 sales, the Tucson is close behind and third after the mighty Toyota RAV4 and Honda CR-V in the larger compact SUV class with 4,733 units, and the all-new Venue has been selling strongly amongst city car-sized utilities with 1,577 down the road.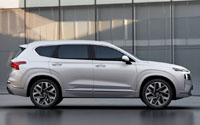 Once again we'll need to see how Hyundai's faithful respond to the new 2021 Santa Fe's unorthodox styling before we predict a return to the top of the mid-size SUV sales charts, but improvements to its already impressive interior won't hurt. This said, those that prefer the outgoing 2020 model's styling may want to purchase one now and by doing so take advantage of up to $3,000 in additional incentives. To learn more go to CarCostCanada's 2020 Hyundai Santa Fe Canada Prices page, and just in case you can find a 2019 version still available, CarCostCanada's 2019 Hyundai Santa Fe Canada Prices page shows factory leasing and financing rates from zero percent.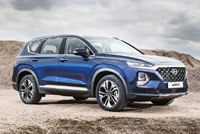 Hyundai Canada is also offering zero-percent leasing and financing rates for the 2020 Venue, 2020 Kona Electric, the 2019 Kona Electric and the conventionally powered 2019 Kona, the 2019 Tucson, and 2019 Nexo (a hydrogen-powered EV), while you can access up to $1,000 in additional incentives when opting for a 2020 Kona or Palisade, and like the 2020 Santa Fe up to $3,000 in additional incentives when choosing a 2020 Tucson. Find out more about a CarCostCanada membership that provides all of this info and more, including available manufacturer rebates and otherwise hard to get dealer invoice pricing that could save you thousands on your next purchase, by linking to their "How It Works" page, plus download the new CarCostCanada mobile app in the iTunes or Google Play stores.
Story credit: Trevor Hofmann
Photo credits: Hyundai