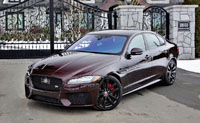 We've got the lovely Jaguar XF in our garage this week, and despite its elegantly classic sport sedan lines, beautifully deep, rich Rossello Red metallic paint, luxuriously appointed Ebony leather and Light Oyster grey contrast-stitched cabin with beautiful Grey Figured Ebony veneers, full assortment of standard and optional features, some of which are new for 2019, and the list goes on, it's difficult to be 100 percent positive. 
The truth of the matter is, no matter how entertaining and informative I try to make this review out to be, you are one of a very small number of Canadian consumers showing any interest in this car at all. It's partially a sign of the crossover SUV times, the success of Jaguar's E-Pace and F-Pace plus interest in its new I-Pace EV verifying that, but to be totally honest, it's also due to Jaguar's declining fortunes overall.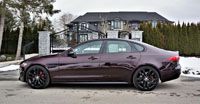 This is where I give kudos to Jaguar for sticking to its guns in the luxury car business, "car" being the key word I'm referring to in this respect. The brand grew legendary thanks to classics like the forever-beautiful Mk II and XJ Series I, II and III that followed, not to mention the B-Type, C-Type and E-Type sports cars that were the inspiration behind today's fabulous F-Type, but times are tough for all but a few luxury sedans these days. 
Jaguar designers Ian Callum and Adam Hatton did a momentous job reinvigorating the XJ nameplate back in 2009, the first one I saw in the metal while descending the baggage claim escalator at Pearson International literally dropping my jaw in dumbfounded adoration, but that was a decade ago and as much as I still love that big, beautiful and surprisingly agile car the full-size luxury F-segment hasn't exactly been twiddling its thumbs while waiting for Coventry to show us all something new.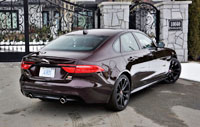 In the meantime, Jaguar introduced the Callum-designed compact D-segment XE in April of 2015 (a 2020 refresh was just revealed), designed to fight it out with the BMW 3 Series, Mercedes-Benz C-Class, Audi A4 and the like, plus the second version of its mid-size E-segment XF later that year, also penned by Mr. Callum—he does have a way with sculpted aluminum panels and composites. They're all beautiful, more than capable of receiving compliments from true enthusiasts who appreciate special cars made by an even more endearing brand, but thumbs up and nods of appreciation from enthusiasts won't pay the bills. 
As it is, Jaguar's Canadian sales aren't exactly on fire. Jaguar sold a grand total of 188 XJs in Canada last calendar year, representing 17.5 percent fewer than in 2017, while year-over-year XF sales were down a staggering 63.5 percent to just 173 units throughout all of 2018. The smallest XE was the only bright spot amongst Jag's four-door sedan lineup with 571 sales and a downward trend of just 27.8 percent.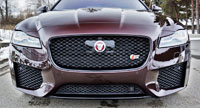 Making matters worse, if it weren't for the Alfa Romeo Giulia the just-noted XE would be dead last in its class, while the XF has the Acura RLX and Infiniti Q70 to thank for not bringing up the rear in the E-segment. On that happy note I'm glad to report my favourite XJ had a more respectable showing amongst its peers last year with the Audi A8, Maserati Quattroporte and Genesis G90 left far behind, but factoring in that Mercedes sells nearly five times as many S-Class models as XJs, and more than 20 times as many C-Class and E-Class variants than XEs and XFs, makes even this tiny positive a tad disconcerting. 
Year-over-year F-Type sales were down in 2018 too, but just by 4.8 percent to 373 units, causing the still gorgeous sports car to slip from fourth to fifth amongst its premium rivals (when including the Corvette), but take heart the F-Pace saw growth of 2.3 percent to 2,419 units last year, while the E-Pace found 572 new buyers despite only arriving on the scene in, um, February (of last year).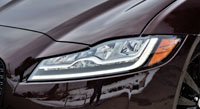 Yah, not quite the compact crossover SUV response Jaguar was hoping for. Interestingly, the new plug-in electric I-Pace might actually become the major league out-of-the-ballpark grand slam hit Jaguar's been longing for, but we'll have to wait and see as the 41 units they managed to sell toward the end of last year was hardly a sizeable enough sample to make judgement on. Overall, the 4,349 Jaguars sold in Canada throughout calendar year 2018 (the vast majority F-Paces) represented a 5.9-percent decline from the year before, and if it weren't for the F-Pace, E-Pace, and an 11.5-percent gain experienced by Land Rover, resulting in JLRC growth of 5.7 percent overall, this wouldn't be a positive story at all.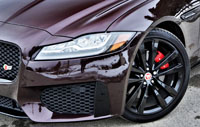 To be fair the BMW brand only saw Canadian sales growth of 1.2 percent, Audi grew by just 2.5 percent, and Porsche by a pretty impressive 7.9 percent, while Mercedes-Benz sales actually fell by 4.8 percent. Last year's biggest luxury brand success story goes to Volvo, mind you, but its amazing 29.8 percent growth is more representative of a phoenix rising from the ashes than anything resembling market dominance. Likewise, Alfa Romeo's sales are up 26 percent thanks to its new Stelvio SUV, but with 1,402 total units (compared to Mercedes' 49,413) it's not causing many competitors concern. The same goes for Genesis, up 174.5 percent to 1,441 total cars sold (they don't have any SUVs yet), but Tesla's 386.4-percent year-over-year rise should cause brands like Jaguar to quake in their Doc Martins, if the California-based brand's numbers can be trusted, and its completely unhinged, egomaniacal CEO doesn't drive the "tech" company's valuation underground one idiotic, questionably drug-induced "funding secured" tweet at a time.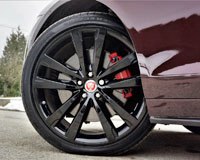 So to make a short story long, the XF is Jaguar's slowest selling vehicle in a market segment that's also losing ground, which makes me (crossing my fingers) hopeful that we'll be fortunate enough to lure in 10 percent of this model's current ownership base (Jaguar sold 2,242 XFs over the past five years) for a total of 224 readers, plus another 100 or so interested lookie-loos, so that advertising can pay for our efforts (fat chance, I know). 
Of course, if we were to base our coverage on this type of business model I'd only be writing about full-size pickup trucks, plus a few compact sedans and crossover SUVs, so suffice to say the XF is worthy of much more attention than it's currently receiving in this country, and no doubt Jaguar hopes that changes made to this 2019 model will help increase sales back to its 2013 levels at best (604 units), or 2017 levels at least (494).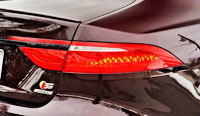 So without further ado, new for 2019 is Jaguar's updated 10.0-inch InControl Touch Pro centre display that provides a lot more area to enjoy its oh-so-British red telephone booth in a field graphics and much easier to see backup camera… but wait… the backup camera is there, but where are the graphics? Hmmm. I suppose most would rather have a larger non-graphical touchscreen than something smaller and more interesting, and you'll probably have your smartphone hooked up to Apple CarPlay or Android Auto anyway, which are now part of the package. Then again, those who'd rather set their navigation instructions via the InControl Touch Pro interface will appreciate that voice recognition has been added to the mix, both standard in the XF's second-rung Prestige trim.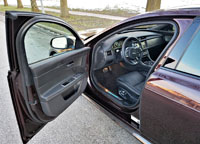 Lastly, Jaguar's luxurious Suedecloth is now standard for the roof pillars and headliner across the entire XF line, as is a set of aluminum treadplates with illuminated Jaguar branding, premium carpeted floor mats, metal-enhanced foot pedals, chromed power seat switchgear, plus a classy and classic looking frameless auto-dimming rearview mirror. 
Now that we're talking XF trims, for 2019 they include the $59,100 Premium, $64,500 Prestige, and $67,800 R-Sport when choosing the 247 horsepower base 2.0-litre direct-injection turbocharged four-cylinder; $67,000 Prestige, $70,300 R-Sport, $72,300 300 SPORT and $79,100 Portfolio with the 296 horsepower version of the same gasoline-powered engine; $66,500 Prestige and $69,800 R-Sport with the 180 horsepower 2.0-litre four-cylinder diesel; and lastly $75,300 for my tester's 380 horsepower 3.5-litre supercharged V6-powered model's sole S trim. All prices, trims and standalone options can be found at CarCostCanada, incidentally, where you can also save thousands by learning about available rebates and otherwise hard to find dealer invoice pricing.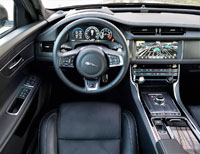 Additionally, all XF sedans utilize an eight-speed electronic automatic transmission with Jaguar Sequential Shift manual mode, plus all-wheel drive, Jaguar Drive Control with Standard, Eco, Dynamic (sport), and Rain/Ice/Snow modes, and Torque Vectoring by Braking (TVBB), hill launch assist and more, while my XF S tester also included Adaptive Surface Response (AdSR) plus Configurable Dynamics and Adaptive Dynamics that let you choose personal engine, suspension, steering, and transmission settings. 
After this ultra-long-in-tooth intro I won't bore you with too many more details about each and every trim level, other than to say it's a mid-size E-segment Jaguar so all of these various XF grades are finished to a higher degree than anything in the mainstream volume mid-size class, but I'm not going to go so far as to say the XF is segment leading when it comes to fit, finish, materials quality, digital interfaces, features, roominess, etcetera. It's very good in all of the above respects, however, and due to offering a wholly unique look and feel, plus a very different driving experience than any rival it deserves your attention.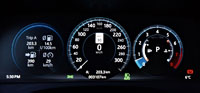 So let's take a quick look at some of the features found on my specific XF S tester, such as its special "S" body kit boasting a sports front bumper, gloss black side sills and rear valance, plus a rear deck lid spoiler, 20-inch alloy wheels, 350-mm front brakes and red calipers all-round, while inside it receives special metal sill finishers with "S" branding, unique Dark Hex aluminum inlays on the instrument panel, a leather-like Luxtec-wrapped dash top, "S" embossed 18-way power-adjustable sport seats, and more. 
Other features not yet mentioned that are incorporated into the XF S include proximity-sensing access, pushbutton ignition, an acoustic layer windshield, automatic headlights, rain-sensing wipers, an electromechanical parking brake, a power-adjustable steering column, auto-dimming, power-folding, heatable side mirrors with approach lights and puddle lamps, memory for those mirrors as well as the front seats, front seat heaters, mood lighting, a Homelink garage door opener, a 10.0-inch capacitive touchscreen, a rearview camera, navigation with detailed mapping, InControl Apps, Pro Services, Bluetooth telephone connectivity and audio streaming, a USB charge port, dual-zone automatic climate control, a 40/20/40 split-folding rear seatback, front and rear parking sensors, and more.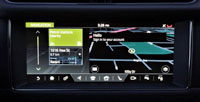 Additionally, along with all the expected active and passive safety features the XF S comes standard with autonomous emergency braking, lane keeping assist, blindspot monitoring, closing vehicle sensing, reverse traffic monitoring, driver condition monitoring, and more. 
On top of the all the XF S standard items, my tester featured $670 worth of gorgeous Rossello Red paint, a fabulous looking $770 set of glossy black twinned five-spoke alloys, a $460 Black package with a gloss black mesh grille and surround, gloss black side vents and the same treatment for the trunk garnish; a $2,200 Comfort and Convenience package with a hyperactive gesture control for that trunk's powered deck lid (more on this in my upcoming review), as well as soft closing doors, three-way active ventilated front seats, and heatable rear outboard seats; a $1,030 Technology package with 12.3-inch digital gauge cluster, Pro Services, and a CD/DVD player; a $3,680 Driver Assistance package with a 360-degree surround camera, a forward facing camera, 360-degree Park Distance Control, Park Assist semi-autonomous self-parking, adaptive cruise control with Queue Assist, blindspot assist, and traffic sign recognition with an intelligent speed limiter; a head-up display for $1,330; a heated windshield and heated washer jets for $410; plus satellite and HD radio for $210.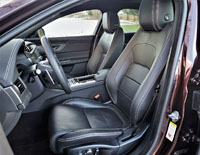 All it was missing in order to be fully and completely loaded was a $2,230 Premium Interior Upgrade package featuring four-zone climate control with an air quality sensor and automatic air re-circulation, a lockable cooled glove box, manual side window sunshades, a powered rear sunshade, and configurable interior mood lighting; and optional interior décor trim (the carbon fibre would've been nice); yet even as is the base XF S model's $75,300 asking price moves up $10,550 to $85,850, plus freight and fees of course (again, check out CarCostCanada for details). 
As good as all of this sounds, and the XF arguably delivers a lot of value for the money asked, we need to face the reality that Germany leads this category by a country mile for good reason (as does Tesla for different cult-like electrified reasons), and despite Jaguar investing quid by the whollops into the XF's lightweight and ultra-rigid bonded and riveted aluminum body shell, which is arguably one of the most attractive in its class, and offering more engine options than the majority of rivals (albeit no longer a supercharged V8), it would need to perform barrel rolls on the spot if it really wanted to get noticed. 
I'll cover all that's good and my few gripes in an upcoming road test review, so until then enjoy our photo gallery above. Like I said, it's a beautiful sedan that deserves a lot more interest than it gets, so thanks for giving it some of yours…