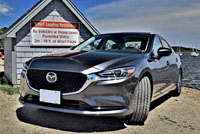 As journalists we get to drive quite a range of vehicles. It is less common be able to drive two variations of a particular model, in this case the 2018 Mazda6, over a couple of weeks. Who could resist, especially when the venue was Nova Scotia? Some twisty country roads, superb seafood, cool Atlantic water, and even an occasional dose of Maritime fog, plus enough time to get a really good feel for the cars.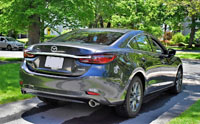 I flew WestJet's non-stop from Edmonton, which ran through the night and arrived in Halifax before 7:00 am. There, fellow writer Lisa Calvi met me with the first test car, a Mazda6 GS-L, one step above the base GS model. That entry-level version, which retails for $28,920 including freight and PDI (find detailed pricing on each trim level, plus dealer invoice pricing and rebate info at CarCostCanada.com), is already very well equipped, including such goodies as self-levelling LED headlights, 17-inch alloy wheels, a power driver's seat, heated front seats, and dual-zone automatic climate control. The GS-L adds leather upholstery, a nice sunroof that is reasonably quiet when open, more electronic driver aids, and a couple of additional features, such as a heated steering wheel and front wiper de-icer, that seem custom made for Canadian conditions.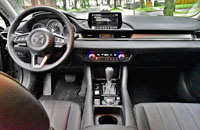 I loaded my luggage in the GS-L and had a quick look around. Mazda refers to their styling as Kodo design language. The easiest way to understand that is to think of an animal ready to pounce. I like the uncluttered and purposeful appearance, especially in Machine Grey Metallic, a $300 option. The as-tested price, including the aforementioned charges, came to $33,695.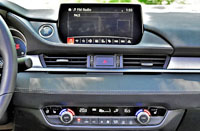 Lisa drove us to town, which allowed me to relax in the passenger seat. The revised interior is nicely finished, punching above its weight in terms of upmarket ambience. The seats do feel as though they were made for wider backsides than mine, but there is adequate support. The information system looks like an add-on, however it works reasonably well once you've read the instructions. I must admit that as a racing driver and advanced driving coach, sound systems and such are at the low end of my priorities, so I'm likely not a fair judge.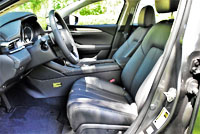 A day after my arrival, a group of us headed to a seaside resort two hours drive from Halifax. My cousin, Croatia-based photographer Rino Gropuzzo, was with me on the trip. Rino and I are obsessed with finding the perfect seafood chowder, which tends to lengthen our journeys. The restaurant search led us to a twisty, weatherworn two-lane. We weren't going particularly fast, but enough to let a true driver's car shine, and this is where Mazda is a solid step ahead of the competition.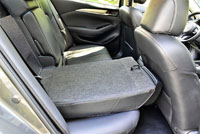 When I first worked with the Skip Barber Racing School in the States, we were using M3 BMWs for all our teaching modules, as well as for track days. The cars earned their Ultimate Driving Machine moniker, because at that time BMW driving dynamics were best in class. These days Mazda is as much a clear leader in its sector as BMW was back then. In evaluating dynamics you have to think beyond numbers and specifications, because almost any vehicle in this class will have decent performance. What makes a driver's car is the combination of ride control, stability, steering feel, and precise response to operator inputs.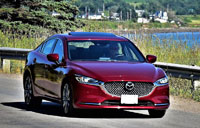 On the road, the GS-L, with its 2.5-litre, 187 horsepower engine, is reasonably quick. A manual gearbox would be nice, and oddly enough that's an option in the States, but not in Canada. I've observed that most people who have to shift for themselves are better, more attentive drivers. A quick read of the Mazda owner's manual reminded me that it is possible to set the automatic so the paddle shifters become useful, holding gears until the driver chooses to shift. Mazda's base engine has a new parlour trick, cylinder deactivation on a four-cylinder engine. At lower loads, two cylinders work, the others hang around until needed. The switch cannot be felt, except in the pocketbook. On a 150 km run, which included some two-lane road overtaking, I got 5.4 L/100km. That number was courtesy of a very efficient powertrain as well as my sneaky right foot, and better than the official highway rating of 6.7. 
My second test car was the Mazda6 Signature, decked out with 19-inch wheels and Soul Red Crystal Metallic paint. All kinds of extra trim, electronic driver aids and so on, but the biggest difference was the turbocharged engine, which puts out 227 horsepower on regular fuel and 250 on premium. More to the point, peak torque, or pulling power, jumps to 310 pounds/feet at 2,000 rpm from the base engine's 186 at 4,000 rpm. With the turbo engine's torque coming in so low in the rev range, there is no need to work the engine hard, even when overtaking. All this luxury and performance came in at $41,045 as tested. As with the other test car, the only option was the paint, Soul Red, as a $450 upgrade. All the dynamic goodness of the GS-L was there as well, which made for quite a quick sports sedan. Once again I used less fuel than the official 10.0 city, 7.5 highway rating. My combined score for city and highway, once I discounted the full throttle 60-100 tests that I do by way of assessing overtaking ability, was 8.4 L/100km.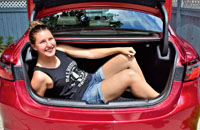 On the last day of the tests, I switched back to the GS-L. Even after being spoiled by the extra horsepower of the turbo, in daily driving the base engine did fine. Mid-size sedans have become a very competitive class, with Honda's Accord and the Kia Optima/Hyundai Sonata pair on my shortlist. The latter offer excellent quality and good value. For those who are looking for that choice, three Accord models have an available manual gearbox. The latest Camry is a much better vehicle, in all respects, than its predecessors. The Mazda wins in style, poise, and driving manners. Despite the turbo's seductive thrust, I'd go for the GS-L. Between purchase price and money saved on fuel I'd have enough left over to continue the search for that perfect seafood chowder.