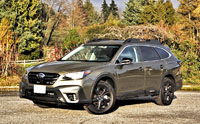 Subaru is all about subtleties when it comes to redesigns, with the latest Outback staying true to the course by paying suitable homage to its predecessors. The sixth-generation design, once again based on the Legacy wagon (albeit the seventh-gen version of that car, which is no longer available in our market), arrived in late 2019 as a 2020 model, and paying special tribute to its soft-roader roots, became available in my tester's Outdoor XT 2.4i trim for both the 2020 and 2021 model years.
From a styling perspective, this is my favourite Outback, and not only because its military-inspired Autumn Green Metallic paintwork goes well with the olive-drab half of my wardrobe. Of note, the Outdoor XT 2.4i will make way for an even beefier 2022 Outback Wilderness later this year, which muscles up the design with more black plastic body cladding than many Subaru traditionalists will appreciate, but Subaru knows it needs to pull in new buyers while still maintaining its diehard loyalists, so the bulked-up iteration will sell alongside those with softer edges.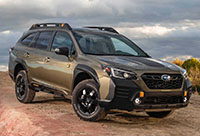 Back to 2021, the $39,295 Outdoor XT 2.4i isn't the Outback's fanciest trim. That honour belongs to the $43,995 Premier XT 2.4i, while the $41,195 Premier 2.5i and $41,995 Limited XT 2.4i fill in the blanks between. On the other side of the pricing spectrum, entry-level Outback ownership starts with the $30,995 Convenience 2.5i, while the trims bridging the gap to my Outdoor XT 2.4i tester include the $35,195 Touring 2.5i and $39,195 Limited 2.5i.
Now that we're on the subject of pricing, Subaru is currently offering up to $1,000 in additional incentives for 2021 models, or up to $750 in incentives off of 2022 variants, while CarCostCanada members were saving an average of $2,008 at the time of writing. That's pretty impressive considering how tight the car market is these days, but membership does have its benefits, such as timely rebate info, regular details about manufacturer leasing and financing rates, plus dealer invoice pricing that gives you a significant edge when it comes time to negotiate your best deal. Check out how the CarCostCanada system works, and also be sure to download their free app from the Google Play Store or Apple Store.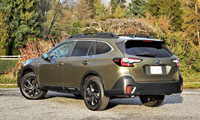 While new Wilderness trim looks like it could pave its own way through the wild, and to that end its rugged new body panels and matte-black paintwork are joined by a special set of black-tone 17-inch alloy wheels wrapped in 225/65R17 all-terrain tires, plus hexagonal LED fog lamps up front, and a quad of underbody skid plates protecting the engine, transmission and rear differential below, the as-tested Outback XT 2.4i Outdoor holds its own when the tarmac ends and muddy, dirty, gravel roads begin, or for that matter snow-covered ski hill parking lots.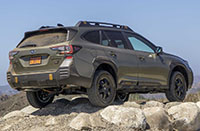 The Outdoor's alloys are larger at 18 inches, and come encircled with 225/60R18 all-seasons instead of A/Ts, so you'll be trading off some off-road grip for on-road traction and comfort, but Subaru's renowned full-time all-wheel drive comes standard as always, albeit upgraded with an enhanced dual-function X-Mode drive system that also provides Snow/Dirt and Deep Snow/Mud settings. This dual-function X-Mode system isn't available with any other trim this year, and likewise will be exclusive to the new Wilderness model for 2022.
Additional Outdoor features include a front-view camera for previewing the rougher stuff before venturing forward (or alternatively making sure you don't hit the car in front while parking at the mall), a full-size spare tire just in case you get a flat far away from civilization (or just don't feel like fixing it right away—note to self, get the spare tire fixed), a black-painted front grille and door mirrors, special XT badging, all-weather rubber floor mats, and really nice soft-touch, breathable and weatherproof two-tone light and dark grey upholstery with cool light-, almost lime-green contrast stitching, which goes really well with all of the upscale accoutrements throughout the cabin.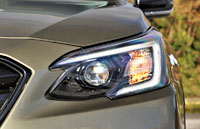 Some of these niceties include fabric-wrapped A pillars, pliable synthetic surfacing across the entire dash top, a really plush instrument panel facing that's padded and covered in stitched medium-grey leatherette, this extending into the door panels just above the door pulls and slightly below the soft-touch door uppers, front and rear, while darker grey padded and stitched leatherette inserts can be found lower down on the door panels, plus lighter grey padded armrests just under these, and overtop the centre console bin as well. Just ahead of the latter, Subaru even added padded and stitched leatherette to each side of the centre console, as well as the intersecting point where the centre stack meets the lower console, all of which shows just how premium-like the Outback is getting with each new generation.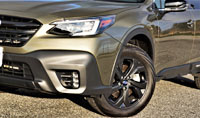 Of course, you might not have noticed any of these subtler details due to the mega-touchscreen on the just-noted centre stack, which would've certainly grabbed your attention first. The vertical display measures 11.6 inches diagonally, which outclasses every direct rival in the mid-size crossover class, even besting the Ford Explorer's 10.1-inch unit, although Toyota Prius owners can at least take pride in matching the familial Subie for having an identically sized and shaped display (Toyota and Subaru probably co-created it, being that the latter is partially owned by the former), whereas Ram takes claim for having the largest infotainment screen in the mainstream volume-branded sector at 12 inches. The sky's the limit in the premium class, however, especially when factoring in new electrics like the Lucid Air, which incorporates a 34-inch curved display that also houses the car's primary gauge cluster, but I digress.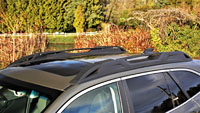 Of course, the Outback won't set you back $91,900 in base trim (not bad for what it is, really), and of course, until available in trail-ready Lucid Gravity crossover guise (sometime in 2023), the Air is not even remotely competitive to this Subaru. Then again, Volvo makes two premium models that at first glance might seem like logical moves upmarket for anyone planning to trade up, and not just because of the large, vertical, touchscreen found on every Volvo model's dashboard, but more so because the V60 Cross Country and V90 Cross Country have long been moulded after the Outback's proven wagon-cum-crossover image (the Volvo V70 XC was introduced in 1997, even beating the Audi A6 Allroad Quattro by two years, whereas the original Outback arrived eight years earlier in 1989, although kudos for now-defunct AMC motors that came up with the idea back in 1980 with the introduction of the Jeep 4WD-enhanced Eagle Wagon). Still, the Outback's upward moves in luxury, technology and performance make it less likely for Subaru owners to crave one of these off-road capable Volvos.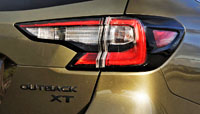 Digression seems to be the order of the day, so, getting back to the Outback in question, its vertical touchscreen includes all the expected radio functions, such as FM, AM, satellite, and device streaming, plus climate controls that pop up on a separate panel, full phone connectivity including Apple CarPlay, Android Auto, and Subaru's proprietary Starlink system, while SiriusXM Travel Link optimizes the navigation system, as does a "My Subaru" section that allows you to make an appointment for service, call for Roadside Assistance, and more, plus the infotainment interface provides a very nice, easy-to-use graphical layout that ties everything together.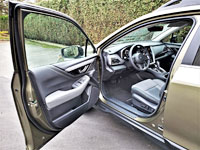 What might be immediately noticeable to previous owners, is the lack of a multi-information display on top of the dash. This feature, normally found within most competitive cars' primary instrument clusters, is now incorporated within the top quarter of the vertical infotainment display. It's a much better setup and easier to modulate than the dashtop design, but it doesn't have the retro ancillary gauge look that some who are faithful to the brand would've become used to.
Additionally, along with the Outdoor trim's front-view camera is a regular backup camera, with moving guidelines to help place the car into a parking spot, but like the Prius this real-time monitor only uses the top half of the display screen, albeit the bottom portion appears like a dark blue sky on a starry night with a wild, natural vista silhouetted below. This is much more entertaining to look at than the plain black bottom section shown to Prius owners, however, so kudos to Subaru for make the most of a less than ideal situation (using the "dead" space for multiple rear angles or even reverse side cameras would've been optimal). This said, a view button shows the aforementioned frontal video of the road or trail ahead, but alas, no overhead camera is offered at all.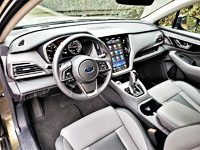 Subaru locates powered auxiliary and USB-A ports at the base of the Outback's centre stack for connecting a phone to the infotainment system as well as charging, while a wireless device charger (standard in Limited trim and above) can be found just below in a clever reverse-angle slot, which therefore optimizes space on the lower console where such devices normally go.
A simple powered glass sunroof is positioned overhead, controllable via an overhead console that comes complete with LED reading lamps and emergency contact switchgear. A very small sunglasses holder is included as well, which isn't finished all that nicely due to no felt or rubberized padding inside, except for a tiny bit of cloth stuck to the front portion. I suppose it's better than no sunglasses holder at all.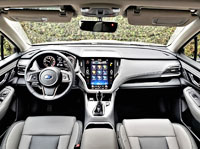 Speaking of not quite hitting the mark, the power-adjustable driver's seat was inherently comfortable, with good lower back support and ample length from the lower cushion squab, but the two-way powered lumbar adjustment didn't meet the small of my back ideally. Fortunately, the driving position was especially good thanks to excellent reach from the tilt and telescopic steering column. The steering wheel rim is leather-wrapped as well, normal in this class, but I would've liked it better if stitched in the lovely green from the seats.
Ok, now I'm really nitpicking, but I'm not complaining when wondering where the heated steering wheel rim was. If included in the Outdoor, a button would've been added to the right side of the third spoke, and according to a video from a very cool salesperson on YT from Prince George, BC (thanks Tyson), it heats up to 36.1 C (97 F) on equipped cars, albeit only on the lower two-thirds of the wheel (not uncommon). Thankfully, all Outback trims will get heated steering wheels for 2022, which is a smart upgrade for the Canadian market.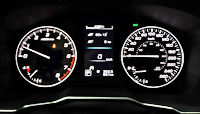 I also noticed it was almost exactly the same steering wheel as found in the larger three-row Ascent, complete with what seemed like identical switchgear for the audio system, phone, and multi-information display (MID), plus trip computer, the former once again integrated within the centre touchscreen, and the latter not as large or fully featured as the one used for the bigger SUV. At least a splash of colour could be seen on the vertical MID, with some useful graphics for the adaptive cruise control system, but due to Subaru's choice to mix multi-info and infotainment functions into one, the primary instruments don't look anywhere near as advanced as the centre touchscreen next door.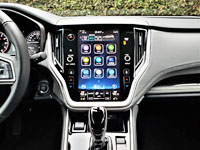 Looking beyond aesthetics to more practical issues, the second-row seating area is as large and spacious as it was in the previous Outback, and includes a nice, wide folding armrest at centre, with two big integrated cupholders featuring useful rubber grips. Two-way rear seat heaters also come as part of this trim, with switchgear located on the backside of the front console, along with two additional USB-A charging points.
When sitting behind the driver's seat that was set up for my long-legged, short-torso five-foot-eight frame, meaning that it was pushed farther rearward than it might otherwise be for someone of my height, I still had about six inches from my knees to the upper seatback, plus plenty of room to stretch out my legs underneath the driver's seat while wearing winter boots. There was about five or six inches from my shoulders to the side window too, plus almost the same from my outer hip to the door panel, and about four inches above my head. This makes the Outback's rear seating area excellent for all sizes of adults and teens, while the rear outboard backrests also provided impressive lower support. Levers on the outside bolsters allow rear passengers to recline those backrests too, or sit more upright, making this one of the more comfortable cars in its class.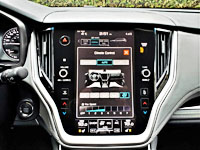 As for cargo, simply nudging the retractable cargo cover with an elbow when loading items inside causes it to retract automatically, a very useful and unique feature, whereas removing it altogether provides the Outback's generously sized dedicated cargo area with even more space for longer cargo. On this note, I so wish it had 40/20/40 split rear seats, or at least a centre pass-through, as it would be much easier to stow longer items inside, such as ski equipment, plus more comfortable for rear passengers when returning from the slopes, being that both could use the outboard seat warmers. Like so many Japanese and domestic automakers, Subaru doesn't go the extra mile for passenger/cargo accommodations, instead simply incorporating 60/40 split-folding rear seatbacks. At least the Outback provides levers on the cargo wall for lowering the seats automatically, plus the usual package tie-down hooks are included as well.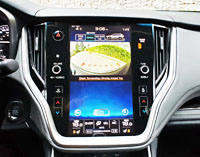 Notably, the Outback stows just as much gear as the average five-passenger mid-size crossover SUV. By the numbers, it can manage up to 920 litres (32.5 cu ft) of what-have-you behind the rear seatbacks, plus a total of 2,144 litres (75.7 cu ft) when those backrests are flipped forward, which means it's a bit tighter than a Hyundai Santa Fe or Ford Edge for dedicated space, but roomier than both when lowering its rear seats. Try to stuff the same number of bags into a Nissan Murano, however, and you'll get a fraction more into the Outback's dedicated cargo area, plus way more when their rear seats are folded flat. It's not the end all to be all, however, with Honda's Passport showing up all of these two-row CUVs, but it's certainly up to the majority of tasks any of the others take on.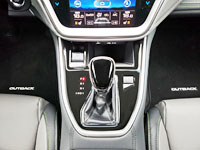 Most of the above crossover SUVs are powered by six-cylinder engines, some throughout the range and others just in upper trims, which was also the case for the former Outback prior to 2020 when the arguably cool yet less efficient 3.6R flat-six was in use, but now the previously noted 2.5i and 2.4i model designations refer to four-cylinder engine displacements. What might come as a surprise is the larger engine is in fact the entry-level powerplant, with the 2.5i being naturally aspirated for 182 horsepower and 176 lb-ft of torque, and the 2.4i utilizing a turbocharger to make 260 horsepower and 277 lb-ft of torque, while all feed through a Lineartronic continuously variable transmission (CVT), albeit beefed up to high-torque specs when matched to the turbo. There are no mechanical changes for 2022, including the CVT's eight-speed manual mode and standard steering wheel-mounted shift-paddles, which are literally a nice touch, making this normally slushy-feeling type of transmission relatively sporty.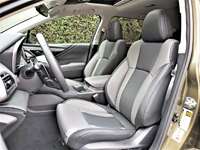 Fortunately, the Outdoor incorporates the more energetic power unit, and I must admit it's more entertaining than the old 3.6R horizontally opposed six, which makes sense considering the new engine's 4-horsepower improvement and 30 lb-ft of additional torque. The outgoing engine was quite smooth and made adequate power, but the new turbo-four combines stronger acceleration with better fuel economy, the latter now rated at 10.1 L/100km in the city, 7.9 on the highway, and 9.1 combined, compared to 12.0, 8.7 and 10.5 for the six. That's a big gain, and while the naturally aspirated 2.5i doesn't improve as dramatically, the 2021 model's 9.0 L/100km city, 7.1 highway and 8.2 combined rating is better than the 2019 base 2.5i's respective 9.4, 7.3 and 8.5.
Another benefit to the new 2.4i is weight reduction over the front wheels, which of course improves handling. This combines with a lower centre of gravity over taller, more SUV-like crossovers, causing the Outback to feel a lot more agile through the corners than something like a Ford Edge (ST aside). At the same time, the Outback has to be one of the smoothest cars in its class. I'd say one of the smoothest in any class, but Volvo's aforementioned V60 and V90 Cross Country models are probably cushier.
Unfortunately, my test wasn't all roses. On occasion, the engine idle-stop system restarted much more abruptly than any vehicle I've tested in a long time. Strangely, this issue was sporadic, with smooth restarts being the norm. Therefore, this could be an issue with my specific test car, and not systemic.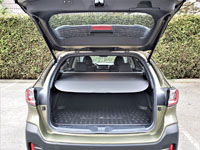 Unusual as well, the dual-zone automatic climate control system required a much lower temperature setting than normal, in order to meet my comfort criteria. I set it at 22.5 C at first, which is usually good for me, but due to the sweltering heat was forced to turn it all the way down to 19 C. Again, I don't know if this was a problem with my test car, and therefore cannot be sure what an owner might experience with their new Outback. Either way, it would hardly be a deal-killer, just an adjustment from the norm.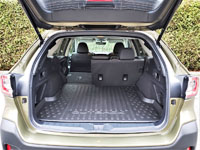 So as not to leave this review on a sour note, let me sum up the remaining few paragraphs with safety, value, and reliability info from third party sources. Pertaining to the first item on the list, Subaru's advanced driver assistance system, dubbed EyeSight, has led the industry for years, and remains amongst the most effective and least intrusive available. I've already mentioned the adaptive cruise control system, which comes standard on all Outbacks as part of the EyeSight package and works very well, while other features include pre-collision braking, pre-collision throttle management, lead vehicle start alert, lane centring assist, and lane keep assist with sway warning.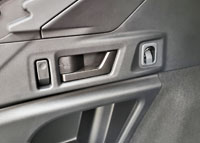 Together with every Outback trim's standard steering-responsive (SRH) LED headlights that also feature standard High-Beam Assist (HBA) and attractive looking C-shaped LED Daytime Running Lights (DRL), Subaru's two-row crossover was awarded a best-possible IIHS Top Safety Pick + rating, while the U.S. NHTSA gave it a five-star ranking in front driver side tests and four stars for front passenger side test results. It earned a perfect score in the NHTSA's side barrier and pole tests, however, so altogether the NHTSA gave the 2021 Outback a five-star safety rating. And this comes before a buyer might add on the Subaru Rear/Side Vehicle Detection (SRVD) system, Reverse Automatic Braking (RAB), and DriverFocus Distraction Mitigation System (DMS), this threesome coming standard when moving one step up from base Convenience trim.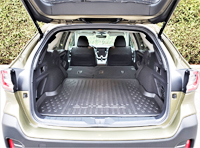 Another feel-good story is the Outback earning Vincentric's Best Value in Canada Award for its "Mid-Size SUV/Crossover" segment, an honour it also achieved in the U.S. On the negative, the Outback received no mention in any of the various third-party dependability and/or initial quality surveys/studies, but only three models could potentially break through the top of J.D. Power's VDS and IQS studies, plus the Outback's category is the most competitive of any, so therefore it makes sense it might not achieve best-in-class.
Likewise, the Outback got no love regarding resale/residual values from Canadian Black Book (won by the Toyota 4Runner) or J.D. Power's 2021 Canada ALG Residual Value Awards (won by the Honda Passport), but the WRX and Crosstrek achieved a top score in the latter, and the Crosstrek earned an honourable mention in the former, reminding that Subaru models normally depreciate less than most others in their respective classes, so therefore it would be unusual to expect anything different from the 2021 Outback.
In the end, you can feel confident the Outback delivers big on value, safety, comfort and reliability, while it now provides higher levels of luxury, technology and performance than ever before. Certainly, improvements could be made, but that's true with any new car. Therefore, I think the Outback will continue proving positive to Subaru's loyal customers while attracting some new clientele along the way, steadily helping to grow the brand.
Review and photos by Trevor Hofmann (2022 Outback Wilderness photos by Subaru)