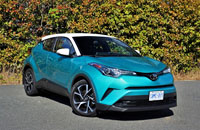 Ever feel like you're in a fishbowl? Drive a new Toyota C-HR in Radiant Green Mica with a white roof and get ready for gaping eyeballs focused in your direction. Young and old, people point and smile, frown, or just generally look bewildered. It's a polarizing vehicle. Not everybody likes it, but the ones that do, love it. 
Toyota did the unexpected with this subcompact crossover SUV, but I suppose those in the know should've expected as much being that the C-HR was initially meant to wear Scion badging. The cancellation of the youth-targeted Scion brand resulted in the C-HR becoming a Toyota, and the unorthodox subcompact SUV's sales will no doubt benefit from association with a household name brand.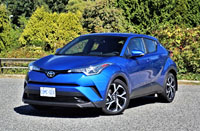 My 2018 C-HR tale actually involves two weeklong drives, one wearing the aforementioned light green and white two-tone colour combo and the other a more conservative yet still eye-arresting Blue Eclipse Metallic monotone paint job. Both were in the same trim level, which I can say with 100-percent accuracy being that Toyota only offers the C-HR as an XLE in Canada. 
This one-trim-fits-all approach is another sign of the new C-HR's Scion history, a marketing strategy that arguably wasn't successful for Toyota's sub-brand and hasn't worked effectively over the C-HR's first year of availability either. After a fairly decent final seven months of 2017, thanks to 4,321 deliveries after its launch in May last year, Toyota only managed to find 5,188 C-HR buyers over the first nine months of 2018. That might sound reasonable until factoring for Hyundai that managed to find twice as many buyers for its fresh new Kona in just seven months. The newcomer went on sale in March this year and sales had already reached 10,852 units by the close of Q3, whereas Nissan sold nearly three times as many Qashqai crossovers during the same three quarters, and those 14,755 sales don't even include the new smaller Kicks subcompact that replaces the outgoing Juke.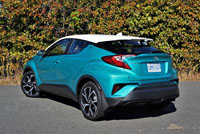 Now that I've mentioned the oddball Juke, this new C-HR is almost as divisive from a styling perspective, which is likely a key reason it's not selling as well as its more mainstream alternatives. There's nothing wrong with controversy when trying to make news, but Toyota likely knew from onset its C-HR would become a niche player at best. After all, C-HR stands for "Coupe-High Rider", the original name of the Scion concept that wowed Los Angeles Auto Show goers three years ago, its fastback 4×4 design mirroring similar four-door coupe-style SUVs within the premium sector, such as the BMW X4/X6, the Mercedes-Benz GLC- and GLE-Class Coupe, the new Audi Q8, and lest we forget the now discontinued Acura ZDX. We've seen similar attempts within the mainstream volume sector including Honda's now defunct Crosstour and the recently introduced Mitsubishi Eclipse Cross, but, Juke aside, the little C-HR is trying to find a niche within a segment that's usually a lot more practical.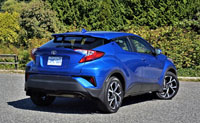 On the positive, the C-HR is a clear sign that Toyota is no longer afraid of being bold and daring. The brand was such a dreadful bore for so long that powers that be in Aichi, Japan, specifically group President Akio Toyoda, truly needed to shake things up by pushing the company's designers to create new models with more emotional appeal. "No more boring cars," he challenged, and that's exactly why we're looking at this C-HR today. 
Just the same, the grille and surrounding fascia aren't that much of a collective departure from the outgoing RAV4, other than headlights that wrap almost completely around the front of the vehicle before stretching halfway through the front wheel arches, making up a large portion of the hood just above. Again these aren't completely different from those on the bug-eyed Juke, while the C-HR's geometrically sculpted side panels are too complex to even put into words, the entire vehicular concoction complemented by massive chunks of matte black body cladding up front, around the wheel cutouts and down each side before culminating across an aggressive diffuser-infused back bumper.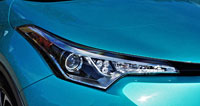 There's really nothing subtle about the C-HR, it's rear rooftop spoiler the most racing-inspired design element, visually formed from the top of the rear door handles before flowing rearward, with three big vents cut through the middle for directing wind down the sloping rear glass that gets more theoretical downforce from a secondary lip spoiler on the trailing edge of the hatchback. That spoiler is partly made up of taillight clusters, these almost conventional in their design when compared to the rest of the SUV, that's about as muscularly overdeveloped as anything the subcompact class has ever seen. It could easily be likened to bodybuilding steroid use gone horribly wrong, but truth be told its many convoluted extremes seem to come together in a totally acceptable cohesive whole. In fact, I kind of like it. Although, truth be told, I liked the Juke, Cube and ZDX too, so I may not be the best judge of successful design.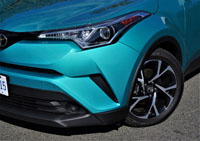 I am a good judge of interior quality, mind you, and to that end the new C-HR picks up where Scion left off. Another orphan of that disbanded brand was the iM, now replaced by the Corolla Hatchback, but while it was with us that European-designed model totally rewrote interior fit, finish and materials quality in the compact class. I'm not going to say the C-HR is better than the recently updated 2019 Honda HR-V or 2019 Mazda CX-3, both of which were already good before they were improved, or some other impressive offerings within this burgeoning class, but you're going to like the padded and stitched leatherette dash-top, which includes a large bolster stretching from the right side of the instrument panel to the passenger's door, while a similar albeit smaller padded piece gets fitted to the left side of the instrument cluster.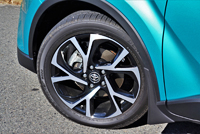 The door uppers get the same high-quality soft touch synthetic detailing, while the armrests are even softer and more comfortable. Toyota uses plenty of piano black lacquered plastic inside too, more than I would personally like in fact, although, other than where it's used to decorate the steering wheel spokes it's found on surfaces that won't likely get scratched easily, such as the instrument panel inlays and centre stack surrounds, whereas the door inserts and lower panels are surfaced in a unique diamond-textured hard plastic that's like nothing else I've ever seen in the industry. It looks good and appears durable, while most importantly it doesn't feel cheap like the segment's usual glossy hard plastic, plus it kind of complements the even more unusual diamond-shaped dimples carved out of the roofliner above. Again, I've never seen anything quite like these, and they're put here only for the sake of style, having no obvious purpose.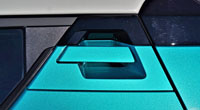 Only the shift knob, vent bezels, door release handles and other small trim bits get any sort of metallic brightwork, and it's a satin-silver finish that's quite attractive and tastefully applied, whereas the centre console's matte black treatment might be the smoothest and softest hard plastic I've ever felt in my life. Large cupholders are included, the rearward one having a removable floor for stowing taller, narrow bottles, while the bottle holders in the door panels can accept very large containers.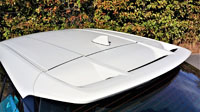 Also on the positive, the C-HR includes some impressive electronic interfaces. A tall, narrow 4.2-inch colour TFT multi-information display (MID) sits within the primary gauge cluster, and it's especially nice at night when you can see the dark blue detailing more clearly. The graphics quality is excellent, and the resolution is very good. You can scroll through MID info by clicking the arrows on the right steering wheel spoke, resulting in a comprehensive list of functions from the usual estimated range, average fuel economy, and vehicle settings, to lane departure info, messages, and more. The speedometer and tachometer gauge needles are attractive at night too, their white translucence vibrant against a deep black background, the outer rings effervescent in a dark glowing blue and the indices easily legible in white.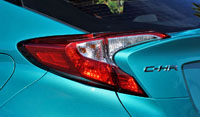 The C-HR's standard 7.0-inch infotainment touchscreen sits up high on the centre stack in the usual fixed tablet-style position, but the interface itself is more Scion than Toyota. I say this because it doesn't include an integrated backup camera, this feature found on the left portion of the rearview mirror instead. It's a tiny little parking monitor that's difficult to use and therefore a big negative for me, while the aforementioned infotainment system isn't as comprehensively functional as some others in the class, missing Apple CarPlay, Android Auto, navigation, and more. Of note, its "Vehicle Settings" menu is the biggest giveaway that the C-HR was meant for Scion and not Toyota, as along with a tick within the C-HR box, it also shows 86 and iM model names.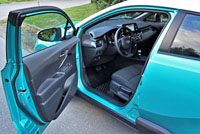 There's an analogue "Media" button for the audio panel that provides radio presets to the left and additional info on the right, the latter featuring a source button that lets you choose between AM, FM, AHA, USB selections, if you've got one plugged in, Bluetooth streaming audio, again if your smartphone is connected, and an auxiliary port—ditto. It all worked well enough, and the audio system sounds pretty good too, but take note the 2019 C-HR replaces this so-so system with an infinitely better 8.0-inch display that features a real reverse camera, Toyota's superb Entune 3.0 smartphone integration with GPS Scout phone app-sourced navigation, Apple CarPlay if you're phone is so inclined, and more. Believe me, if in-car entertainment is important to you, the near identically equipped 2019 C-HR XLE is well worth paying more for (albeit the Entune 3.0 infotainment system comes standard in a new base model that takes $1,000-plus off the 2018 base price).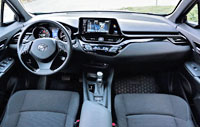 Back to this 2018 C-HR XLE, just under the infotainment display is a nicely organized dual-zone automatic HVAC interface featuring tightly fitted, well-damped buttons and rocker switches, plus three-way front seat heater controls. All of the switchgear feels high in quality, is simple to sort out and, like the rest of the centre stack controls, is within easy reach.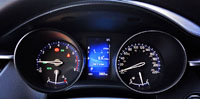 Easy might just be the right word to describe living with the C-HR overall, because, rear camera aside, there's really nothing particularly difficult about it. It's a vehicle that fits ideally into life, not only because of its tall hatchback layout that provides a reasonable amount of room for driver, passengers and gear, but it's also very comfortable. The front seats are excellent, which is rarely an issue for Toyota, while its driving position is better for my body type than some other Toyota models. I have longer legs than torso, and therefore am often in need of a fair bit of steering wheel reach, so I was pleasantly surprised to find the C-HR's tilt and telescopic steering column provided good driver positioning for controllable comfort without forcing a near vertical seatback.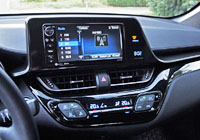 Even though I'm only five-foot-eight, the five or so inches remaining above my head when the driver's seat was ideally set for optimal visibility is a good tell that even tall folks should have no trouble fitting inside. There's also plenty of room from side to side up front, while the back seat left about four inches ahead of my knees when the one in front was set up for my height, plus another four or so next to my shoulders and about three beside my hips, whereas all-important rear headroom allowed for about three above my head.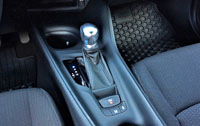 There's no folding centre armrest, which might be a drawback for some, but the C-HR makes up for this with extremely comfortable rear cushions, especially with respect to lower back support. One thing I didn't like about sitting in the rear was side window visibility due to the unusually shaped doors, which cause you to look directly into a black panel when turning your head. For this reason I don't think kids will like it in back, even taller teens, and that should be a concern for any parent. I have to say, however, the jumbo cupholders set into the door panels will probably get a lot of use.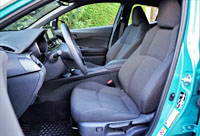 As you might expect by looking at the C-HR's sloping rear window, cargo space is one of this SUV's shortcomings. It's so small in fact, that Toyota Canada doesn't even mention a number in the model's online specifications, only stating that 1,031 litres (36.4 cubic feet) are available when laying both 60/40-split rear seatbacks down. Fortunately the brand's U.S. division is more forthcoming, claiming 19 cubic feet behind those rear seats, which translates into 538 litres. Compared to the segment-best-selling Nissan Qashqai's 648 litres (22.9 cubic feet) in the very back and 1,730 litres (61.1 cubic feet) with all seats folded its easy to see the need for improvement, while even the tiny Nissan Kicks offers up 716 litres (25.3 cubic feet) behind the rear seatbacks and more than 1,500 litres (53.1 cubic feet) when its rear seats are lowered.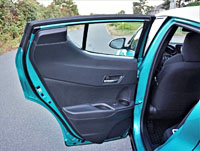 The C-HR's forte is its high quality, comfortable ride, the car looking as sporty as this segment gets yet not particularly zippy off the line or sensational through the corners, despite MacPherson struts up front and a double-wishbone/trailing arm suspension setup in back. Don't get me wrong as it does what it needs to do, but the C-HR is nowhere near as confidence inspiring when pushed hard as some others in the class, while the 144-horsepower and 139 lb-ft of torque produced by its 2.0-litre four-cylinder engine, not to mention the fuel-friendly continuously variable transmission (CVT) and front-wheel drivetrain its connected to, really don't combine for enough forward thrust to get you into much trouble anyway. To be fair most of rivals aren't exactly burning up the asphalt either, but there are some, like the Kona mentioned earlier, that deliver considerably more premium-level performance. As noted, the C-HR shines when comfort is priority one, its ride and those aforementioned seats amongst the best in class.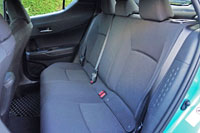 Fuel economy is a C-HR trump card too, with a Transport Canada estimated rating of 8.7 L/100km in the city, 7.5 on the highway and 8.2 combined. I certainly appreciated this during the ultra-high pump prices experienced over the summer, and would still find this a positive point despite those fuel costs dropping somewhat since the price per barrel of crude plummeted to previously unforeseen depths.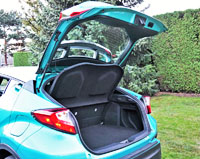 Before signing off with thumbs up or down, the 2018 C-HR's biggest problem isn't its so-so performance or smallish cargo hold, but rather the single trim noted earlier. Its sole XLE trim level starts at a rather lofty $24,690 plus freight and fees (find 2018 Toyota C-HR prices, including options, rebate info and dealer invoice pricing at CarCostCanada), and while standard with the colour multi-information display, 7.0-inch touchscreen, Bluetooth, dual-zone automatic climate control, and heatable front seats mentioned earlier, plus voice recognition, a leather-wrapped steering wheel and shifter knob, an electromechanical parking brake, a cargo cover, heated side mirrors with integrated turn signals, LED daytime running lights, 17-inch alloy wheels, and more, there's no entry-level base model to pull in less affluent buyers. This is probably more of a problem for dealer level marketing, as they won't be able to advertise the lower monthly payment of a base model, but instead are forced to promote what they'll actually be selling—how novel. Of course, Toyota didn't take long to react, with the 2019 model offering the new $23,675 base model mentioned earlier, plus a luxury-oriented leather-lined $28,775 Limited model at the high end, while this XLE trim will start at $25,725 for 2019 (find all 2019 Toyota C-HR prices, including trims, options, rebate info and dealer invoice pricing at CarCostCanada).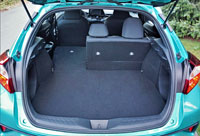 All 2019 C-HR trims will come standard with the same Safety Sense P suite of advanced driver assistance features included with this 2018 version, which boasts forward collision warning and autonomous emergency braking with pedestrian detection, lane departure alert with steering assist, plus automatic high beams and adaptive cruise control.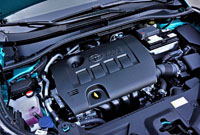 I won't go into everything that comes standard and optional with the new 2019 C-HR, but those still trying to get a deal on a 2018 model should take note that an XLE Premium package ups the price to $26,290 (the 2019 C-HR XLE Premium gets bumped to $27,325) and includes 18-inch alloys, power-folding side mirrors with puddle lamps that project the C-HR logo onto the pavement below, proximity-sensing keyless access with pushbutton ignition, and blindspot monitoring with rear cross traffic alert. I'd want mine so equipped for the passive entry alone, but I'm guessing this time of year you won't exactly have a smorgasbord of 2018 models to choose from. 
All in all, the new C-HR is a funky little subcompact SUV offering from a brand that normally can be relied upon for high quality, reliability and top resale values, although I'm not going on record with any big expectations for the latter. This is a niche model within a very hot category of much more popular models, and C-HR sales have been lukewarm at best. Therefore, hoping for a big residual payoff after a few years of use is misplaced trust. In other words, the C-HR isn't the most pragmatic choice in this class, with plenty of others that might better serve your active lifestyle as well as your wallet. I give Toyota credit for going out on a limb with this unorthodox subcompact SUV, but I don't necessarily recommend you go out on the same limb with your hard-earned money. It's worthy of your interest for sure, but buy it because you love it, not because it wears the coveted Toyota badge.