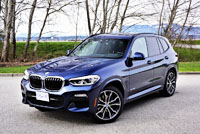 There's nothing better than driving a model's base trim if you want to find out how good its basic elements are, so let me be clear, BMW's X3 xDrive30i is one very good compact luxury SUV.
It arrived for 2018 and hasn't changed much since, only adding automated emergency braking, forward-collision warning, and parking sensors as standard equipment for 2019, plus LED headlamps with cornering lights and navigation standard for 2020 (along with the option of a new plug-in hybrid xDrive30e variant), and finally SiriusXM satellite radio, Android Auto smartphone connectivity (which was never offered previously), lane-departure warning, and blind-spot monitoring as standard for 2021. There have been a few other small details changed along the way, such as paint colours and some minor interior trim bits, but it's mostly been the exact same SUV for the past five years.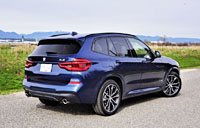 This said, 2022 will bring some significant styling updates as part of a mid-cycle refresh, including a squarer grille to align it more cohesively with BMW's latest design philosophy, plus new LED headlamps, updated taillights, revised front and rear bumpers, new wheel designs, and massaged exhaust tips. All mechanicals remain the same, other than the plug-in hybrid xDrive30e that will be discontinued.
Changes inside will include an updated centre stack and lower console, now featuring a standard 10.3-inch digital gauge cluster as well as an identically sized infotainment display at centre, with a 12.3-inch option for each. A number of secondary controls have been moved around and modified, making it almost seem like an all-new model, but make no mistake, the crossover you see here is basically the same SUV you'll be buying next year, other than styling and electronics.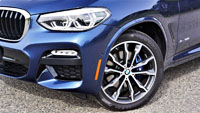 Then again, it may have better interior quality. This will take a personal deep-dive in order to verify, but then again, the current X3 is so well finished inside and out that I'd question BMW's ability to make it much better. Certainly, they could spend Rolls-Royce dollars and blow us all away, but so far not many competitors can touch BMW's interior quality in the X3's $50k price point.
To be clear, the X3 xDrive30i starts at $52,550 plus freight and fees, which is a bit more than most of its peers. In fact, the only competitive luxury SUVs priced higher than the X3 are Tesla's Model Y at $55,000, Alfa Romeo's Stelvio at $55,190, Porsche's Macan at $57,800, Jaguar's F-Pace at $60,350, and Land Rover's Range Rover Velar at $63,500, plus some of the coupe-like compact utes including BMW's own X4, as well as a number of all-electric rivals.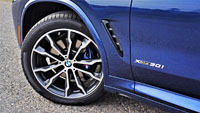 Pricing in this class is all over the map, incidentally, with the cheapest entry being Buick's Envision at $35,998, if it really does qualify as a true compact luxury SUV competitor. But Cadillac's XT4 does, of course, and it's priced a mere $100 higher at $36,098, making the price gap between most affordable and priciest a shocking $27,400. The X3's more popular competitors' window stickers come closer to the $50k mid-point, mind you, with the segment's best-selling rival in 2020 being the $44,505 Acura RDX, followed by the $46,550 Audi Q5 (that includes sales of the sportier $55,400 Q5 Sportback), plus the $49,900 Mercedes-Benz GLC (its sales totals also including the $53,900 GLC Coupe), and finally the $47,100 Lexus NX, putting the X3 in fifth place last year.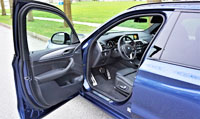 The X3 has dropped down to sixth so far in 2021 (it stays fifth when including X4 sales), thanks to Q2 sales of 3,120 units, and Tesla's Model Y managing 3,200 deliveries, although with perfectly even totals of 1,600 sales per quarter it's difficult to believe the U.S. tech firm's numbers. There's been some shuffling on top too, with 2021 Q2 totals placing the Q5 well into the lead with 5,702 deliveries, followed by the GLC with 3,806, NX with 3,619, and finally last year's top-selling RDX with just 3,456, but these standings could very well change before the year is out, plus this by no means speaks to each model's popularity, being that many automakers are having problems producing at full capacity due to chip shortages.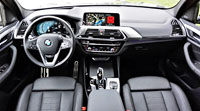 In the US, incidentally, the X3 was number one in 2020 with 59,777 deliveries, followed by the NX with 55,784, RDX with 52,785, GLC with 52,626, and Q5 with 50,435, while the Q5 has jumped right up behind the X3 so far this year thanks to 33,566 unit-sales compared to 36,273 respectively. This said, the Model Y had more than doubled X3 sales as of June's end, with a total of 76,429 units (and the U.S. division's numbers appear legit).
Maintaining best-selling status amongst gasoline-powered internal combustion engine offerings (including a PHEV) in the U.S., and top-five in Canada (or fourth including the X4) is impressive no matter what factors have been at play, and this despite a higher-than-average base price. Model Y aside, the Stelvio (at 487 units), Macan (at 2,283), F-Pace (at 1,446), and Velar (at 1,339) sell in much smaller numbers, so the X3 may just be one of the more profitable models in the class.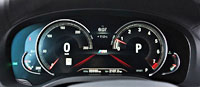 I, for one, would be willing to pay significantly more for its superb interior, which includes one of the best driving positions and driver's seats in the category, plus the X3's impressive driving dynamics. The latter has always been a BMW hallmark, but it's not necessarily because of engine performance in xDrive30i trim. The 2.0-litre turbo-four puts out a reasonable 248 horsepower and 258 lb-ft of torque in this base model, which makes it good for spirited 6.3-second sprints from standstill to 100 km/h, and a top track speed of 210 km/h (130 mph), but it's by no means class-leading when it comes to straight-line performance.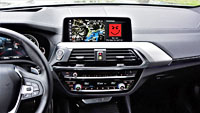 I've long known BMW to be conservative with all performance specs, however, and can honestly say it felt quicker off the line than its official claimed time, but either way its eight-speed automatic shifts smoothly overall, plenty quick in Sport mode, was even more engaging when using its steering wheel-mounted paddles, and certainly couldn't achieve the model's 10.2 L/100km city, 8.2 highway and 9.3 combined fuel economy rating when driving so aggressively.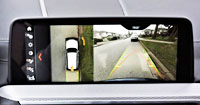 Driven moderately in its most economical mode the X3 xDrive30i actually ties the Q5 45 TFSI Quattro for thriftiest base all-wheel drive model in the segment, with both models' key GLC rival second-to-last due to a rather thirsty 10.0 L/100km combined rating. Buick's more powerful Envision AWD comes in second at 9.5 combined, followed by AWD versions of the Stelvio at 9.6, NX, new Genesis GV70, and XT4 at 9.7, F-Pace and Lincoln Corsair at 9.8, RDX and Volvo XC60 at 9.9, Velar at 10.5, Infiniti QX50 at 10.8, Macan at 11.3, and Land Rover Discovery Sport at 11.5 combined. Yes, the competition is tight, but bragging rights are bragging rights, and BMW deserves credit for making such a great driver so easy on fuel.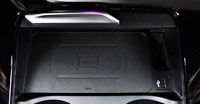 Now that we're talking practicalities, I've only mentioned how well the X3 handles, without commenting on its excellent ride quality. It truly is a comfortable city conveyance, even with my tester's uprated 20-inch alloys on 245/45 Pirellis. Likewise, it can eat up highway miles easier than most in this size class, its adaptive cruise control flawless at maintaining a desired speed no matter the weather or topography.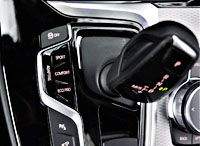 It's just such moments that the aforementioned near-best-in-class driver's seat and overall top-notch driving position proved this SUV worthy of its increased price, the tilt and telescopic steering wheel reaching rearward enough to provide ideal comfort and control, despite my long-legged, short-torso body type. The rim of that wheel is wrapped in a very high-grade leather, plus is heatable for keeping fingers warm mid-winter, while the seat leather feels higher in grade than some competitive hides, despite being the most basic in BMW's line.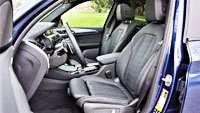 The Bavarian automaker provided an attractive leather-like soft-touch synthetic across the entire dash top too, which was beautifully stitched together with contrasting thread. My X3 received the same surfacing for the door uppers, inserts and armrests, albeit these last items were even more padded for added comfort, while the door inlays were finished in a nicely textured aluminum. There was no shortage of aluminized trim elsewhere, not to mention piano black lacquered composite across the lower console, of all places, where it will be more likely to attract dust and scratches (this is not one of my favourite trends), but nonetheless the workmanship is as good as this class gets, and overall solidity and refinement bar none.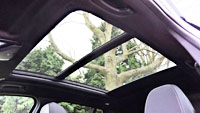 All the roof pillars are fabric-wrapped, with the only weakness being hard plastic used for the lower door panels, but this is par for the course in the X3's compact luxury SUV segment. Then again, the entire lower dash is soft synthetic, which is unusually good for this segment, even including the sides of the centre console, making it nicer for larger folk whose knees might otherwise chafe.
The rear compartment is almost as comfortable as up front, with ample room in all directions, plus the same level of fit, finish and materials quality. My well-equipped model provided plenty of back seat toys too, some for warming derrieres, others shading eyes from sunlight, and yet one more for providing additional sun if desired, the latter two achieved via side window sunshades and a big panoramic glass sunroof.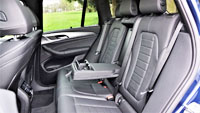 On that note, my tester was upgraded with the $12,100 Ultimate Package, which includes the extra-large sunroof as well as a proximity-sensing entry system, ambient lighting, universal remote, and wireless device charging, these otherwise found in the $4,500 Premium Package Essential upgrade; plus the head-up display, wonderful sounding Harman/Kardon surround audio system, four-way powered lumbar support, heated rear outboard seats, rear sunshades, storage compartment package, and more from the $6,500 Premium Package Enhanced; while ultimately adding adaptive full LED headlights with High Beam Assistant, Parking Assistant Plus with a 360-degree overhead surround monitor, Driving Assistant Plus, BMW Gesture Control, adjustable rear seats, and more.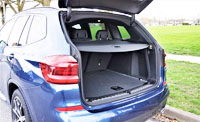 This package pushed the price of my X3 xDrive30i over $65k, with a few items not mentioned included as well, but take note that BMW is providing up to $2,000 in additional incentives right now, with CarCostCanada members saving an average of $2,181 thanks to learning about the X3's dealer invoice pricing before negotiation. Find out how the CarCostCanada system can work for you, and be sure to download their free app from the Google Play Store or Apple Store before you start shopping, so you can have all of their critical info at your fingertips when you need it most.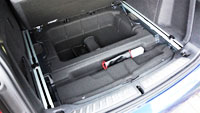 BMW electronics are some of the best available, by the way, with my X3 featuring high-definition displays and bright, colourful graphics that never ceased to delight. As expected, the primary gauges were digital and fully configurable, while the centre display is a nice widescreen tablet-style design featuring a convenient, easy-to-use tile layout.
At the opposite end of the SUV, you may have noticed me mention a storage compartment package when previously listing out options. The upgrade, amongst other items, includes really useful aluminum rails in the cargo compartment for lashing down large items. Of course, the usual tie-down latches can be found in the rearmost cargo compartment's four corners, plus a small netted stowage area to the left, and best of all, an extremely deep hidden compartment below the rigid cargo floor, along with a spot to lock down the retractable cargo cover when not in use. This is a hefty piece of German handiwork, by the way, and takes a fair bit of strong-armed finesse to remove.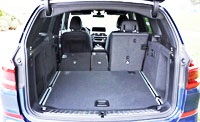 The X3's dedicated stowage area is reasonably generous for the class, measuring 813 litres (29 cu ft), but keep in mind that it grows to 1,775 litres (62.7 cu ft) when lowering the rear seatbacks via convenient release levers on each sidewall. I'm an even bigger fan of the large centre pass-through provided by the rear seat's 40/20/40-split configuration, which allows for longer belongings like skis to be stuffed down the middle while both rear passengers enjoy the benefit of those previously mentioned butt warmers.
If an over-engineered cargo cover is all I can find to complain about, it's obvious that BMW has done a very good job engineering this much-loved SUV. The X3's overall build quality is excellent, finishing impressive, feature set right up at the top of this category, and overall drivability in a class of few. No wonder it still sells so well after all these years.
Review by Trevor Hofmann
Photos by Karen Tuggay