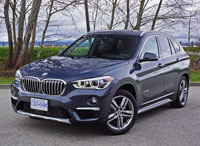 BMW's X1 was the very first subcompact luxury crossover SUV ever produced, having arrived on the European scene in 2009 as a 2010 model, two years before we saw it as a 2012. Even when it showed up on our shores in April of 2011, nothing else was around to compete against it, unless you consider the near-luxury Mini Countryman as a direct rival, that model having arrived in February of the same year.
Once October 2011 rolled around, the Range Rover Evoque entered the market and a new automotive category was created, but it would take another three years for Audi and Mercedes-Benz to add more variety to North America's new subcompact luxury SUV segment with their respective Q3 and GLA-Class (unless you count the Buick Encore that arrived in 2013), plus an additional two years for Infiniti to show up with its QX30 (not that many noticed), three more for Jaguar's E-Pace, Volvo's XC40 and BMW's second offering, the sportier X2, and one more for Lexus' new UX.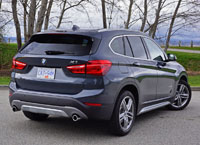 More are on the way, including Alfa Romeo's Tonale for 2022, and possibly something eventually from Acura (long rumoured to be called the CDX), but Infiniti has already cancelled its QX30 so Acura may have been wise to hold out. Then again, aforementioned Buick has done very well with its Encore, and while the brand sits at the lowest end of the premium market in price and prestige, the model's upcoming second-generation (expected for 2020) could make an even bigger dent in the market.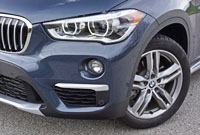 If we were to consider Buick a true luxury brand the Encore be the sales leader in this category, but with a base price of $28,400 (not even as high as the Mini Countryman's base of $31,690) it's not really a contender for premium status. Buick sold 10,637 Encores in 2018 and 8,322 as of October 31, 2019, which represents considerably more buyers than BMW has been able to find with its second-bestselling X1, which found 5,308 buyers in 2018 and 3,753 so far this year. The X1 starts at $41,500, however, so it's not really a fair comparison. One is a gussied up Chevy Trax that delivers big on fuel economy and reasonably on features, but not so much on performance or refinement, and the other is a leader in all of the above (see 2019 BMW X1 pricing at CarCostCanada, where you can learn about all its packages and individual options in detail, plus find out about valuable rebate information as well as dealer invoice pricing that could save you thousands, BMW currently offering up to $2,000 in additional incentives on 2019s and $1,000 on the new 2020 model).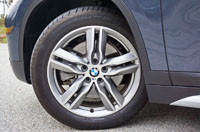 To be fair to Buick, some of the X1's rivals wouldn't have initially received high marks in all the just-noted categories. Audi's first-generation Q3 was a bit weak on performance and refinement, and honestly the original X1 was regularly criticized by pundits for cheaper interior plastics than any other BMW, my first review of this model claiming that Ford's Escape Titanium "even offers more soft-touch interior surfaces than this X1." I lauded the X1 for its overall solidity and performance, mind you, both important differentiators expected from premium SUVs.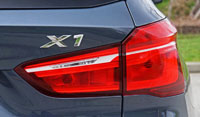 The X1, now in its second generation and ironically having traded its lovely rear-wheel drive E91 3 Series Touring-platform (arguably its best asset) in for the aforementioned Mini Countryman's second-gen front-wheel drive-biased UKL2 architecture (hardly a slouch either), today's entry-level BMW SUV is a wholly different vehicle than its predecessor. It started out as a low, hunkered down, rear-wheel drive-biased AWD five-door crossover, but now it's grown up into a much more conventionally shaped and sized subcompact luxury SUV, looking a lot more like its larger X3 and X5 siblings. Its considerable sales growth in 2016 and 2017 back up BMW's decision to take the X1 in this new direction, and while deliveries dipped a bit in 2018 and so far this year, this probably has more to do with BMW's introduction of the X2 than anything else, while more importantly it's managed to remain in its number one position (amongst true subcompact luxury SUVs) even without factoring in the X2.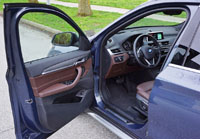 Specifically, the X1's aforementioned year-to-date Canadian sales of 3,753 units is considerably higher than the second-place GLA's 3,021 deliveries over the same 10 months, and likewise when compared to Lexus' new UX that's already taken third-place way from Audi's Q3 with 2,374 units against 2,303. As for the success of the also-rans, Volvo's new XC40 managed 1,690 units, Land Rover's redesigned Range Rover Evoque secured 1,333 new buyers, BMW's own X2 attracted 1,159 new owners, and Jaguar's E-Pace wasn't last (yet) with 372 customers, while Infiniti's now discontinued QX30 brought up the rear with 93 deliveries (too bad, because it's more than decent offering).
BMW shows its dominance even more when combining X1 and X2 sales that reached 4,912 units at the close of October, and that's even before adding in the 2,082 Countryman (should we call them Countrymen?) SUVs sold over the same three-and-a-third quarters (most of which reach into the mid-$40k range), boosting deliveries to almost 7,000 units (6,994), they almost tally up to everything Mercedes, Lexus and Audi (2, 3 and 4 in the category) can sell combined (7,698 units). Ah, the sweet smell of success.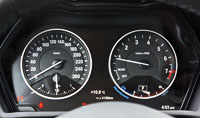 The smell of my tester was leather thanks to its beautiful milk chocolate brown Mocha Dakota Leather upholstered cabin, the $950 upgrade from base leatherette requisite when opting for its pretty $895 Mediterranean Blue Metallic exterior paint (the satin aluminum silver trim across the front and rear undertrays plus the rocker panels comes standard, while optional Oyster Grey and Black leather interiors are also available with this colour). The open-pore Oak Grain wood inlays with chrome and brush-metal highlights are no-cost bonuses that make the cabin look so upscale (additional woods, brushed aluminum and piano black lacquered inlays can be had too) as are all the high-quality soft-touch composite surfaces that step the X1 up and over most rivals.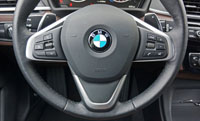 To be real, Dakota leather is BMW's lower grade hide, but Nappa and Merino aren't offered with the X1. It's still the real deal, however, but it can be corrected-grain or even formed from the leather split and then coated with synthetic polymer paint, with its surface artificially embossed for a grain effect. What matters is it smells right, looks good and lasts, with the X1's seat inserts even perforated for breathability. The seats didn't include forced ventilation or anything so fancy, but the three-way front derriere warmers heated up to therapeutic levels quickly when set to their topmost temperature, adding a coziness to the already comfortable driver's seat.
The front driver and passenger four-way lumbar support isn't standard, but rather comes as part of two available packages, the first a $3,500 upgrade dubbed Premium Package Essential that also includes power-folding side mirrors, proximity-sensing keyless Comfort Access, auto-dimming centre and side mirrors, a large panoramic sunroof, a "HiFi" audio system, and an alarm, and the second as-tested $5,900 Premium Package Enhanced including everything above plus a head-up display, a universal remote, satellite radio, navigation, BMW's semi-autonomous Park Assistant, the BMW ConnectedDrive Services Package, and a powered liftgate.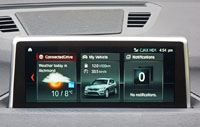 Both packages are also available with a heatable steering wheel, plus a $1,000 Driving Assistant Plus package that adds approach warning with pedestrian alert and light city braking, lane departure warning, adaptive cruise control with stop-and-go plus traffic jam assist, high-beam assist, and speed limit info.
Now that we're talking upgrades, my tester also included a $950 Sport Performance Package featuring a Sport automatic transmission with steering wheel-mounted paddles (worth the upgrade alone), more reactive M Sport Steering, and 19-inch alloy wheels, although my tester was smartly outfitted for this colder season and therefore included a set of 225/50R18 Continental ContiWinterContact tires on special M Sport split five-spoke alloys.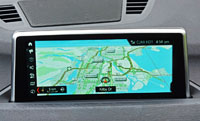 As anyone who's driven on winter rubber will know, performance on anything but snow or ice is compromised, and therefore my tester's at-the-limit grip couldn't possible measure up to the stock wheel and tire combination. This said it proved more agile than the same SUV shod in 17-inch winter tires for my 2016 X1 xDrive28i review, which were smaller due to the older model coming with 18s in base trim.
Not much else seems to have changed since then, however, which obviously (by the aforementioned sales numbers) doesn't matter to X1 buyers, or for that matter to me. The model's only engine, a 2.0-litre turbocharged four-cylinder, still makes 228 horsepower and 258 lb-ft of torque, potent when sidled up beside some of its rivals, like a Lexus UX or the base Mercedes GLA, but nowhere near as energetic as the latter model in 375-horsepower AMG trim, or for that matter top-line versions of the Jaguar E-Pace, Range Rover Evoque or Volvo XC40, but once again popularity proves this isn't an issue.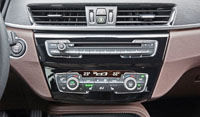 I found it more than adequately powered, especially with Sport mode engaged, which meant the standard ZF-sourced eight-speed automatic transmission responded more immediately to shifts, whether prompted by its paddles or left to its own devices. All-wheel drive is standard, and in the wet improved grip off the line and mid-turn, while the little utility feels poised compared to some in this class, but not as agile as the aforementioned AMG GLA 45, for instance, or its predecessor that was little more than a raised 3 Series wagon. More importantly, today's X1 is more comfortable than its predecessor and many competitors, whether the powertrain is set to more relaxed Comfort or Eco modes or not, its ride particularly good for such a compact SUV. Eco mode in mind, claimed fuel economy is even decent at 10.7 L/100km in the city, 7.5 on the highway and 9.3 combined.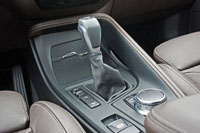 It's actually one of the more well-rounded entry-level SUVs in the premium sector, and amongst the most practical. Along with the comfortable front seats, the lower cushions even including adjustable side bolsters and manual thigh extensions, the steering column provided at least four inches of reach that, together with the amply adjustable driver's seat, allowed my long-legged, shorter-torso five-foot-eight frame to fit in ideally, optimizing both comfort and control (this is often not the case). The aforementioned four-way powered lumbar support aided comfort, especially during long hauls, while the adjustable side bolsters cupped the torso nicely and the thigh extensions added support under the knees. BMW has thought of just about everything to make the X1's front occupants comfortable.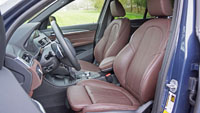 The rear passenger compartment is more accommodating than you might think for a vehicle in this class too, while the outboard backrests are plenty supportive and centre position not wholly uncomfortable (normally the case with subcompacts). Two is better in back, however, allowing a wide (albeit slightly low) centre armrest with smallish pop-out cupholders to be folded down in between. When positioned behind the driver's seat, which once again was extended further rearward than for most five-foot-eight folks, allowing approximately four inches ahead of my knees, at least another four to five above my head, plus about four next to my hips and shoulders. I certainly never felt cramped.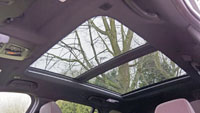 Of course the large panoramic sunroof overhead made for a much more open and airy rear passenger experience, while the LED reading lights overhead can add light at night if those in back want to read. There were no seat heaters in back, a bit of a letdown, but on the positive the rear quarters are finished just as nicely as those up front.
The cargo compartment is nicely finished as well, with high-quality carpeting up the sides of each wall, on the cargo floor, of course, which can be removed to expose a large hidden stowage area, plus on the backsides of the ideally 40/20/40-split rear seatbacks. If you have any intention of using your future SUV for skiing, or any other type of activity that might have you carrying longer cargo down the centre with passengers in back should consider this more flexible cargo configuration. BMW provides 505 litres (17.8 cubic feet) of dedicated gear-toting space behind those seatbacks, and gives you a convenient set of levers to drop them down, resulting in a sizeable 1,550 litres (54.7 cubic feet) of total capacity.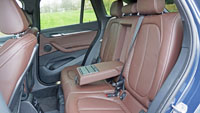 Back in the driver's seat, the X1's primary instrument cluster consists of the usual two analogue dials, although they appear as if floating within a colourful digital background, which looks really nice when lit up at night. Of course that background is a multi-information display at centre, plus warning lights, info about the active cruise control and more around the outer edges.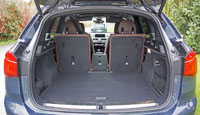 Propped up at the centre leading edge of the sloping dash-top is a beautiful wide high-definition display with fabulous depth of colour and contrast, and stimulating graphics. Unlike most premium rivals that don't include touchscreens, BMW's display is fully capacitive, allowing tap, pinch, and swipe capabilities just like a tablet or smartphone. You can also use the traditional iDrive rotating controller and surrounding buttons on the lower console for quick control. It's an intelligent system, expected from the brand that initiated modern infotainment way back in the early aughts, while all the functions performed flawlessly including the route guidance that got me to my destinations perfectly each time. The upgraded audio system was very good too, and included a power/volume knob and row of quick-access radio presets just below a set of HVAC vents positioned under the display, and just above a comprehensive dual-zone auto climate control interface. Everything is well laid out, adding to the X1's all-round goodness.
As is always the case, vehicles don't become number one in their respective classes by accident, which is why anyone contemplating a small luxury SUV should seriously consider BMW's X1.