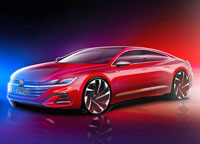 Ahead of the 2021 Arteon four-door coupe virtual world première set for June 24th, Volkswagen has released one image containing two artist's renderings of the forthcoming model, one of which clearly shows an elongated wagon-like body style similar in concept to Porsche's Panamera Sport Turismo (see a full road test review of all Panamera models here).
While exciting news for five-door sport wagon fans in Europe, take note the new Arteon Shooting Brake, as it's called, won't be available in North American markets. Instead, Canada and the U.S. will only get the refreshed first-generation Arteon in its four-door fastback body style, which means the German automaker will have less opportunity to pull this model up from its sales doldrums.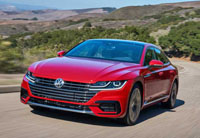 Yes, as attractive as today's Arteon is, the sleek sport sedan has been relegated to niche status in Canada. Sales during calendar year 2019 totalled just 456 units (although deliveries started partway through the year in March), which left it dead last in the volume-branded mainstream mid-size sedan segment. The Passat, its more conventional and much less expensive four-door sedan stable mate, finished one step ahead with 672 examples sold, and take note this happened well before 2020's tumultuous health, economic and social woes shook up the market.
This last point in mind, over the first three months of 2020 (all that's been reported so far, and mostly before we were hit by hard times) the Arteon's numbers were even worse with just 81 Canadian buyers (which if extrapolated over four quarters would equal 324 sales), although the new 2020 Passat found 523 new owners during the first three months of the year (theoretically equaling 2,092 unit sales over four quarters), a clear sign that Canadians like the new 2020 model's ground up redesign.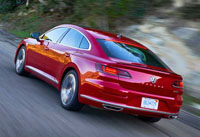 At first glance, the Passat's positive initial 2020 sales results could bode well for the upcoming Arteon mid-cycle makeover, health, social and especially economic issues aside, but the current 2020 Arteon is already a stunner, and while the artist's rendering appears longer, lower and wider with much larger wheels, typical of such cartoonish drawings, if one were to squeeze it back into reality the update should actually look much like the current car other than a slightly modified grille and lower front fascia, plus similarly mild modifications most likely applied to the rear.
The Arteon's interior is currently the best Volkswagen has on offer, and while we shouldn't expect wholesale changes, VW is promising to integrate its latest modular infotainment matrix 3 (MIB3) system for faster application processing, improved connectivity, greater overall functionality, and better entertainment.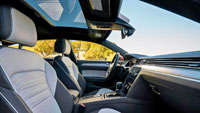 Volkswagen will also introduce more intelligent assist systems, such as "Travel Assist" semi-autonomous or "highly assisted driving." Like other hands-on-the-wheel self-correcting driver assist systems currently offered by other manufacturers, Travel Assist has been designed specifically for long-distance highway use, with the Arteon capable of "steering, acceleration and braking up to speeds of 130 mph [210 km/h]," said Volkswagen in a press release, albeit "under the control of the driver."
All of this could push the cost of the already pricey Arteon higher, however, the current version of this low-slung sport sedan hitting the road just a hair's breadth under $50k ($49,960 plus fees to be exact), which is without doubt a key reason its sales are slow.
Kia's Stinger, the only other four-door coupe in the mainstream volume-branded mid-size sedan segment, found 1,569 Canadian buyers last year, however, while walking away with 2019 Canadian Car of the Year honours, but this similarly sleek alternative is a considerable $5,000 less expensive and comes equipped with stronger base and optional performance as well as more features.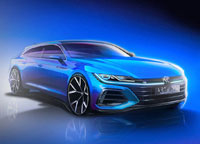 Right now it's possible to lower a new 2019 Arteon's base price to match the Stinger's window sticker, mind you, with up to $5,000 in additional incentives available from Volkswagen, while the German automaker is offering factory leasing and financing rates from zero percent for the 2020 Arteon. Not to be outdone, Kia is offering the same $5,000 in additional incentives on any 2019 Stingers still in stock or up to $4,000 in additional incentives for the 2020 Stinger, so take you pick. Learn more about these deals as well as available manufacturer rebates and otherwise difficult to source dealer invoice pricing at CarCostCanada. Also, make sure to download the new free CarCostCanada app from Google Play Store or the Apple iTunes store.
More detailed information about the 2021 Arteon, and the Euro-market Arteon Shooting Brake, will follow the upcoming world première later this month.
Story credit: Trevor Hofmann
Photo credits: Volkswagen