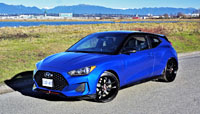 It would be easy to look at the Veloster as an automotive anomaly, a car that doesn't quite fit into the compact sport coupe segment, but I prefer to think of it as a more practical sports coupe. 
After all, there's good reason only a handful of volume-branded compact sports coupes remain in today's auto sector. Owners finally got tired of hearing complaints from family and friends trying to access their rear seats, so they bought sporty four- and five-door alternatives. Heck, even the mighty VW GTI can only be had with four doors these days, yet instead of conforming to near wagon-like levels of practicality Hyundai took a good idea that was poorly executed by GM's Saturn division for its 1999 SC sports coupe, that saw a second rear-hinged half-door added to the driver's side for easier back seat entry, and adapted it to the more appropriate passenger's side with an easier to use conventional hinge on a larger three-quarter sized door. Voila! A car that looks like a coupe from the driver's side and a particularly sleek four-door hatch from the passenger's side.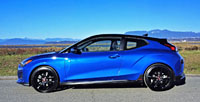 Sales were initially quite strong in Canada, but have steadily tapered off since its first full year of 5,741 units in 2012, but thanks to a ground-up redesign for this 2019 model year the Veloster has responded with a 36.6-percent uptick to 1,295 units as of October's close, although only 279 examples were sold during July, August and September of this year, representing a collapse of 55.1 percent compared to Q3 of 2018, so we'll have to wait and see if 2019's final three months fare any better.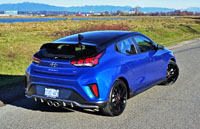 Before we see Hyundai transform the Veloster into a volume-branded BMW X4 in order to keep its coupe alive while the world transfers interests from cars to crossover SUVs (an interesting prospect), those who still appreciate sports coupes for their lower centre of gravity and inherently better handling should take note of the new Veloster's change from a torsion beam rear suspension design (the old car's Achilles heal) to a new independent multi-link setup, the update thoroughly transforming its ride and handling.
The new Veloster's underpinnings are much more compliant than the previous model's, providing comfortable cruising around town with less drama over rough pavement, yet the little coupe remains firm enough to feel like a sport model. Still, despite what feels like a more docile suspension setup it's much better through the corners, especially when pushed hard over broken asphalt mid-turn, which would have upset the outgoing model. Now you can cut the apex with less concern of finding an unforeseen bump or pothole, the rear suspension now absorbing such obstacles with no rear shudder or loss of tire patch contact.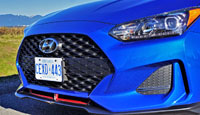 While the Veloster comes standard with a 2.0-litre four-cylinder engine good for 147 horsepower and 132 lb-ft of torque, which drives the front wheels through a standard six-speed manual or optional six-speed automatic, my Veloster Turbo tester uses a 1.6-litre turbo-four making 201 horsepower and 195 lb-ft of torque. It still twists the front wheels through an as-tested standard six-speed manual gearbox, although those wanting automation can choose a new seven-speed dual-clutch EcoShift DCT gearbox with paddle shifters on the steering wheel. I've driven a six-speed version of the latter in previous Velosters (see 2016, 2015 and 2014 reviews), and it proved to be quick shifting and very engaging, so I can only imagine the new seven-speed unit is even more fun to row through the gears, but being a purist when it comes to sports cars I'd be inclined to save the $1,500 and keep the DIY transmission.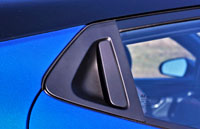 It's a well sorted six-speed with easy, progressive clutch take-up that feels ideally suited to the torque-rich turbocharged four-cylinder. Maximum torque arrives at 1,500 rpm and continues all the way up to 4,500, while max power, arriving at 6,000 rpm, makes laying further into the throttle worthwhile. The little engine hits redline at 7,000, although it'll spin higher if you enjoy hearing the high-pitched mechanical whine, with sport mode really improving performance along the way. Really, push the big, grey "SPORT" button to the left of the shifter and the Veloster Turbo immediately transforms from nice economical runabout to a truly enthusiastic performance car.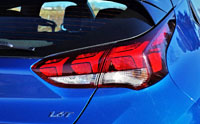 Even better, there are zero negatives when choosing the Turbo over the base Veloster at the pump, with the manual transmission resulting in 9.4 L/100km in the city, 7.1 on the highway and 8.4 combined for the base engine and an even better 9.4 city, 7.0 highway and 8.3 combined for the Turbo, while the base car's six-speed auto is good for a claimed 9.1 city, 7.1 highway and 8.2 combined compared to just 8.5, 6.9 and 7.8 respectively for the Turbo with its seven-speed DCT. Yes, you read that right. Opt for the better performing Turbo and you'll save on fuel, at least if you don't bury your foot in the throttle every time you take off.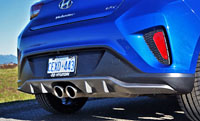 A quick drive will be more than enough for you to attest to the Veloster's sport coupe credentials, but once again living with the car for a week reminded me of just how practical it is. The rear liftgate opens high and wide enough to stow big items, and while not as accommodating as most compact hatchbacks the dedicated cargo area measures a reasonable 565 litres (20 cubic feet), or about the size of a full-size sedan's trunk, and a considerable increase over the old first-generation Veloster's 440-litre (15.5 cu-ft) trunk. Of course, you can lower the rear seats to expand its usability, their divide placed at the 66/33-position instead of the usual 60/40, which makes sense for a car that only seats four. With both rear seatbacks laid flat the Veloster allows for 1,260 litres (44.5 cu ft) of gear-toting space, which is once again a significant increase over the previous model's 982 litres (34.7 cubic feet) of maximum load carrying capacity.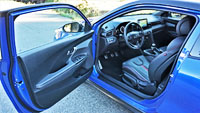 The long driver's door and proximity-sensing keyless entry make access to the cockpit ultra-easy, and the two passenger doors means that no one needs to compromise when coming along for the ride. Sure the first rear passenger to enter needs to slide along the seat to get to the other side, making me wish Hyundai hadn't included a fixed centre console with cupholders and a storage bin in between, but it's not too difficult to negotiate and provides some useful functionality (a folding centre armrest would work better).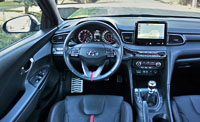 With the driver's seat positioned for my five-foot-eight, long-legged, short-torso frame I had about four to five inches ahead of my knees, plus a reasonable amount of space for my feet, although it was a bit tight for my toes underneath the driver's seat. There was plenty of space from side to side, however, plus about three inches remained above my head, so it should be roomy enough for somebody under six feet.
The two rear seats are nicely carved out for good lateral support, while their backrests push outward slightly at the lower back to improve comfort on road trips. Amenities are limited to power window switches on the left panel and rear door, while the armrests are the only padded surfaces other than the seats.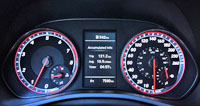 This is also true for the front seating compartment, incidentally, the Veloster's almost complete lack of soft-touch surfaces disappointing. Even the dash top and instrument panel or hard plastic, but at least some of these were given a matte textured treatment, whereas each door panel, armrests aside, were entirely comprised of glossy hard composite.
The red on black sport driver's seat is as comfortable and supportive as it looks, while its two-way powered lumbar support almost ideally met the small of my back. I was able to set up the seat to my preferences thanks to fairly long reach from the tilt and telescopic steering column, further optimizing comfort and control, while the seat warmers and heatable steering wheel rim came on quickly and strong.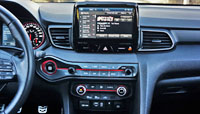 Upon ignition, via a button on the centre stack to the right of the steering column, a transparent head-up display powers up out of the dash top. I must admit it was a bit distracting at first, as it's right in the line of sight (as it should be), but when selecting sport mode it provided a nice tachometer graphic that proved helpful when pushing the engine to redline, while I grew to appreciate it for other functions too. Just below, a colour multi-information display is set without an easily legible set of analogue dials, while controls on the steering wheel spokes, plus to the left and right of the dash were high in quality, well damped, and easy to reach.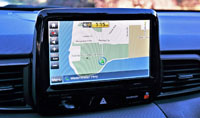 Likewise for the infotainment display atop the centre stack, although the only button at its base was for the car's hazard lights. Its quick-access switchgear can be found lower down the centre stack, between the audio system's power/volume and tuning knobs, but I ended up using the steering wheel controls mixed with the touchscreen for most functions.
Thanks to a $3,000 Turbo Tech package, which includes the just-noted head-up display, leather upholstery, driver's seat lumbar support, and Sport mode function noted earlier, not to mention rain-sensing wipers, rear parking sensors, and automatic climate control (with an auto defogger), my test model had a bigger 8.0-inch infotainment touchscreen with integrated navigation and a great sounding eight-speaker Infinity audio system with an external amplifier.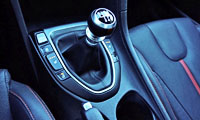 Before I get ahead of myself, the 2019 Veloster starts at $20,999 plus freight and fees, with the Turbo hitting the road at a base of $25,899. The Turbo Tech package boosts that price up to $28,899, while a $500 Performance package can be added with or without the Tech upgrade, and includes a special set of 18-inch alloy wheels on 225/40 Michelin Pilot summer-performance tires.
The base Veloster sports 18-inch alloys too, by the way, plus auto on/off headlights, LED daytime running lights, power-adjustable heated side mirrors, remote entry, a leather-wrapped heatable multifunction steering wheel, a tilt and telescopic steering column, cruise control, power windows, illuminated vanity mirrors, a sunglasses holder, filtered air conditioning, a one-inch smaller 7.0-inch infotainment touchscreen with standard Apple CarPlay and Android Auto, a rearview camera with dynamic guidelines, six-speaker audio, Bluetooth hands-free phone connectivity with audio streaming, a leather-wrapped shift knob, heated front seats, manual six-way driver and four-way front passenger seat adjustments, blindspot detection with rear cross-traffic alert, all the expected active and passive safety features, plus more.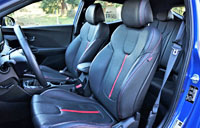 Upgrading to the Turbo adds LED headlights, LED side mirror turn signal repeaters, LED taillights, a unique grille and extended side sills, proximity keyless access with pushbutton ignition, a 4.2-inch TFT multi-information display replacing a more conventional 3.5-inch trip computer within the gauge cluster, a large powered glass sunroof, silver vent rings, checkered dash trim, partial cloth/leather upholstery with red stitching instead of blue, leatherette door trim, red interior accents, and more.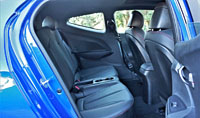 I could delve into available colours and more, but being that this review is being published as 2020 Velosters are arriving, you'll need to accept what you can get if you want to take advantage of year-end discounts and zero-percent financing (the 2020 model was being offered with 0.99-percent financing at the time of writing). By the way, you can learn about these deals and more at CarCostCanada, where all pricing for trims, packages and individual options are itemized, plus info about available manufacturer rebates as well as dealer invoice pricing that could save you thousands.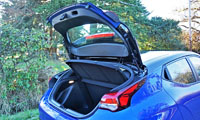 Something else to consider is the new Veloster N, which gets a new 2.0-litre turbocharged four-cylinder good for a lofty 275 horsepower and 260 lb-ft of torque. It comes solely with a six-speed manual gearbox incorporating downshift rev-matching, while an electronically controlled limited slip differential helps get all that power down to the road, and an electronically controlled suspension connecting to 19-inch alloys on 235/35 Pirelli summer-performance tires maximize grip. Normal, Sport, N and Custom drive mode selections, plus a driver-adjustable active exhaust system, make this very special Veloster even more engaging, while fuel economy is still reasonably low at 10.6 L/100km in the city, 8.3 on the highway and 9.5 combined. It can all be had for a very affordable $34,999, so I urge you to take a look.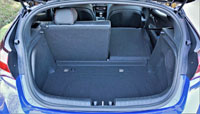 Something else to consider with the 2019, base model 2020s are no longer available with the manual transmission, which is a bit of a shame as this entry-level model is no longer a cheap fix for performance purists and custom tuners, while the new entry price rises by $1,400 to $22,399. Of course, Hyundai wouldn't have dropped it if buyers were demanding an entry-level six-speed manual, but it's nevertheless a negative. Soon, the only way to get a manual will be the $27,499 Turbo, so therefore budget-oriented performance fans will want to start searching for their base 2019 Veloster now. Also noteworthy, Hyundai has changed up some trim names for 2020, dropping GL and Tech from the 2019 car and adding Preferred and Luxury to the new version. The Veloster N is still available in one single trim line for the same price, but if you're looking for it at CarCostCanada, take note it's now a separate model for 2020.
No matter the model year or trim designation, the redesigned Veloster is wholly better than the car it replaces, with much better performance and nicely updated electronics, while it retains an ideal mix of sporty coupe styling elements and practical hatchback livability.