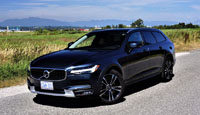 Back in early 2017, Volvo asked us to "rediscover [our] passion in life" in a then new V90 Cross Country, yet while the Swedish automaker's overall sales grew impressively thanks to plenty of freshly redesigned models and some entirely new entries as well, Canadian buyers flocked to its full lineup of SUVs instead of this tall mid-size luxury crossover wagon.
The result is the V90 Cross Country's cancellation in our market as of 2020, this 2019 model year being its last after just three years. Along with the V90 Cross Country's demise is the end of the regular V90 wagon too, while the beautiful and highly competent mid-size S90 luxury sedan remains in the lineup for at least another year and hopefully longer.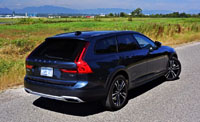 The choice to forgo a crossover wagon for a big flagship luxury sedan flies in the face of convention, with some brands, particularly Volvo's previous parent Ford (and it's Lincoln luxury division), eliminating cars almost entirely, but the continuation of the S90 is probably more about maintaining a premium image than adding to the bottom line, because with only 835 combined S90, V90 and V90 Cross Country sales in its peak calendar year of 2018, and merely 295 after a 65-percent plunge in 2019, none of these cars would've made much of a difference to Volvo Canada's profitability.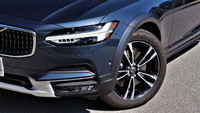 For a bit of background, the V90 Cross Country replaced two generations of XC70 from 2000 through 2016 (it was dubbed V70 XC for the first three years), and by doing so once again brought Volvo's renowned style, respected quality, sensible pragmatism and turbocharged, supercharged four-cylinder performance to the crossover wagon segment, while upping its luxury quotient to an entirely new level of opulence.
Anyone who's spent time in a modern-day Volvo knows exactly what I mean, especially when equipped in one of its top R-Design or Inscription trims. The V90 Cross Country doesn't use the usual trim nomenclatures for the Canadian market, but my tester was nicely outfitted with its Premium package and therefore, together with its generous list of standard features, is quite possibly (or should I say, was quite possibly) the most luxurious crossover wagon available today.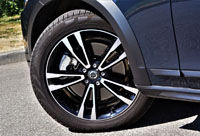 Then again, Audi may have something to say about that. The German brand now offers Canadian urban adventurers their all-new 2020 A6 Allroad in the same rather uncompetitive class, and while the four-ringed contender from Ingolstadt is impressive, Gothenburg's outgoing alternative looks and feels richer inside despite costing $12,700 less.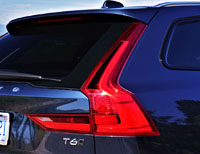 The 2019 V90 Cross Country starts at a very reasonable $62,500 compared to the A6 Allroad's lofty $75,200 price tag, and while Audi's brand image is certainly more upscale than Volvo's, and its turbocharged 3.0-litre V6 makes an additional 19 horsepower and 74 more lb-ft of torque than Volvo's turbocharged and supercharged 2.0-litre four-cylinder that puts out 316 horsepower and 295 lb-ft of torque, the Swede is slightly more pragmatic from a fuel economy perspective, with a claimed Transport Canada rating of 11.6 L/100km in the city, 8.1 on the highway and 10.0 combined compared to 11.8 city, 9.1 highway and 10.6 combined.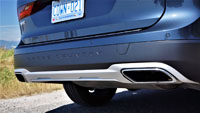 The 250 horsepower V90 Cross Country T5 AWD was discontinued at the end of model year 2018, by the way, this previously the base model at $59,500, while the $84,900 Ocean Race T6 AWD also said goodbye to the market for 2019.  Now for 2019 there's just one T6 AWD trim level, but the noted $3,900 Premium package does a good job of making it Inscription-like, thanks to features such as heated windshield washer nozzles, auto-dimming and power-folding side mirrors, LED interior lighting, aluminum treadplates, a heated steering wheel rim, front and rear parking sensors with graphical warnings, Park Assist Pilot semi-autonomous self-parking, a 360-degree Surround View camera system, a HomeLink universal garage door opener, four-zone automatic climate control, a cooled glove box, heatable rear outboard seats, power-folding rear seatbacks and outer head restraints, a really innovative semi-automatic cargo cover, an integrated soft safety net to separate cargo from passengers, blind spot monitoring with cross-traffic alert, and more.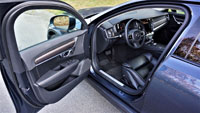 The aforementioned $62,500 base price for the 2019 V90 Cross Country T6 AWD doesn't include $900 for metallic paint, which is included with the Audi incidentally, but the A6 Allroad only provides black and beige leather options inside, and it's not plush Nappa leather like Volvo's, which can be had in four no-cost optional hues including Charcoal (black), Amber (dark beige), Maroon Brown (dark reddish brown) and Blond (light grey).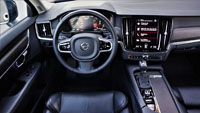 It should be noted that despite appearing richly appointed my tester was far from fully loaded, as it was missing the $3,600 Luxury package with its gorgeous tailored instrument panel, sensational upgraded front seats with power-adjustable side bolsters, power-extendable lower cushions, multi-technique massage function, and cooling ventilation, plus manually retractable side window curtains in back. My test model didn't have the $2,350 optional rear air suspension and Four-C Active Chassis upgrade either, and only had 19-inch alloys instead of $1,000 enhanced 20-inch rims, or for that matter body-colour bumpers, wheel arches and sills, $425 Metal Mesh decor inlays (although the hardwood was lovely), $250 black headliner, $1,500 graphical head-up display, $3,750 Bowers & Wilkins premium audio system (with fabulous aluminum speaker grilles), and $600 dual two-stage child booster seats integrated within the rear outboard positions, with all of the above potentially increasing the 2019 V90 Cross Country's price by $18,375 to $80,875.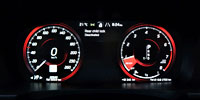 While that might sound like a lot for a mid-size luxury crossover wagon, consider for a moment that the 2020 Audi A6 Allroad Technik starts at $83,100 without a massage, and while it includes that brand's fabulous "Virtual Cockpit" digital gauge package (the V90 gets a digital instrument cluster too, just not quite as configurable as the A6 Allroad's), getting said massage, along with upgraded Valcona leather will set you back another $4,050, while adding on all of the V90's advanced driver assistive systems will cost another $2,400. You can also add the $2,500 Dynamic package with Dynamic Steering and Dynamic All-Wheel Steering, $2,500 for Night Vision Assistant, $500 for quieter dual-pane glass, $350 for Audi Phonebox with wireless charging, another $350 for rear side airbags (some impressive stuff), and $1,000 for full body paint (already priced in to the top-tier Volvo), bringing the German model's total to $102,650, less an expected $1,000 in additional incentives if you choose to sign up for a CarCostCanada account in order to learn everything you can before speaking to an Audi dealer (see CarCostCanada's 2020 Audi A6 allroad Canada Prices page).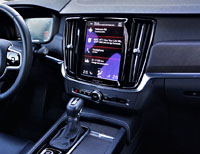 That's $1,000 less than a Volvo dealer is prepared to slice off of the V90 Cross Country, or so says CarCostCanada on their 2019 Volvo V90 Cross Country Canada Prices page, but considerable savings aside the Volvo should really impress anyone considering either of these two fine vehicles. They're both unquestionably handsome from the outside, and come equipped standard with all expected LED lighting tech and brushed metal accents to dazzle owners and onlookers alike. The minimalist Audi cabin is sublime, as is Volvo's ritzier interior, their materials and build quality never in question, the only differences being a desire to appeal to varying tastes.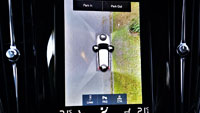 Even before sliding into the V90 Cross Country's enveloping driver's seat, its high-quality gleaming metal- and leather-wrapped key fob sets the tone. This said its proximity-sensing access means it will most likely remain in your purse or pocket and not be touched at all—such a shame. Once inside, Volvo covers most surfaces with premium soft-touch synthetic or optional contrasting French-stitched leather, plus gorgeous dark oak inlays across the entire instrument panel and all doors. The fancier version gets the previously noted metal inlays instead, but truly there's enough satin-finish aluminum trim elsewhere that more metal is hardly necessary.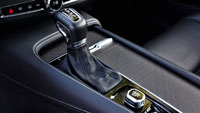 Key areas below the waist are soft to the touch, not so with many premium brands such as Lexus (although they sell nothing in this class), while all pillars are nicely wrapped in the same high-quality woven material as the roof liner. The ritzy details spoken of earlier include much of the switchgear that's downright jewellery-like. Seriously, the exquisite diamond-patterned edging around the main audio knob, plus the twisting ignition controller and scrolling drive mode selector, not to mention the beautifully formed vent knobs, are gorgeous bits of metalwork, while the digital displays are some of the best in the industry.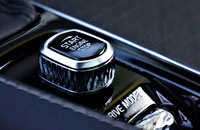 Before I continue, I must say that most everything I'm talking about is standard in Canada. Volvo even includes an impressive vertical tablet-style touchscreen on the centre stack, which in my opinion is one of the best in the business. Not only is it brilliantly clear and high-definition, with nice deep and rich colours, plus as easy use of a regular smartphone or tablet, with familiar tap, swipe and pinch functions, but it's filled with loads of capability, making it one of the most versatile infotainment systems around. I also like that it mostly doesn't change from one Volvo model to the next, so when you're stepping up from an XC40 to this V90 or an XC90, you'll enjoy the same impressive infotainment experience.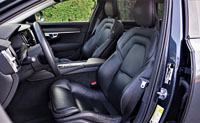 The fully configurable digital gauge cluster is standard too, and provides a nice clear display with a slight matte finish so there's not much glare. While configurable, I wouldn't go so far to say it's as versatile as Audi's aforementioned Virtual Cockpit, being that you can't maximize infotainment system features to turn the entire cluster into a map, for instance. Audi's cluster reduces the primary gauges into tiny dials at each corner, whereas Volvo's dials remain mostly full-size all the time. Still, the V90's gauge cluster offers excellent usability in other ways, the gauges shrinking slightly when using some features in the centre-mounted multi-info display, and that area quite large and appealing with plenty of attractive graphics and most features from the infotainment system, including a detailed, colourful navigation map.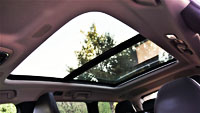 As impressive as its interior is, one of the V90 Cross Country's best attributes is the superb drivetrain noted earlier. Its 315 horsepower and 279 pound-feet of torque provide spirited V6-like performance off the line and quick response for passing manoeuvres. It's mated to a quick-shifting eight-speed automatic with manual mode, but unfortunately no paddles to keep the fingers busy in the more comfort-oriented V90 Cross Country. Rather, those wanting to row through the gears must do so via the shift lever, which is no problem yet not as easy as leaving both hands on the wheel for maximum control. Then again, I almost never bothered to shift the autobox anyway, as it went about its duty with effortlessly quick gear changes needing no prompting.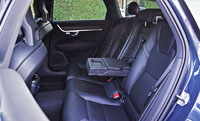 The Cross Country doesn't provide the same level of handling sharpness as the regular V90 T6 AWD R-Design tested last year, but it certainly comes within a hair's width of matching it. It's 58 millimetres (2.3 inches) taller, causing its centre of gravity to raise upwards somewhat, so naturally it can't provide the same lateral grip as the more hunkered down sport wagon, but you likely won't notice much difference unless pushing it extremely hard, and that's not really what the Cross Country is all about. It's better at getting you out from within a snow-filled ski resort parking lot, or allowing for greater ease and confidence inspiring control while trekking through a muddy cottage country back road.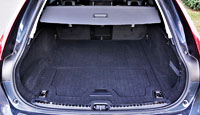 The V90 Cross Country is equipped with standard all-wheel drive, but no off-road mode, yet it manages slippery conditions well. I'd even be willing to venture into some light off-roading situations, such as overcoming small stumps and rocks on a logging road, for example, or wading through a shallow river bed, because that's exactly what Volvo has promised is possible with this all-weather, all-season, multi-activity vehicle.
With standard roof rails on top, plus available cross-members, bike racks, overhead storage containers and more, the V90 Cross Country becomes an ideal companion for outdoor activities such as cycling, kayaking, camping, and more. Volvo provides plenty of other accessories too, such a $1,345 trailer hitch package with electronic monitoring and Trailer Stability Assist (TSA), allowing owners to take full advantage of this crossover's capabilities.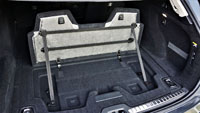 While trekking through the wilderness, or merely overcoming the unkempt lanes in most of Canada's inner cities, you'll enjoy a wonderful ride, the V90 Cross Country providing even more comfort than the already impressive V90 wagon. This is a car I could drive all day long and never tire of. Together with its fabulous front seats, which are superbly comfortable and provide excellent support, there's no real reason to spend more for the fancier massaging buckets unless money is no object.
Even more importantly for me, the driver's position is ultra-adjustable and therefore should be perfect for the majority of body types. I'm a bit shorter than average at five-feet-eight, but my legs are longer than my torso, which can cause a problem if the steering column doesn't provide enough reach. No such issues with the V90 Cross Country, however, that provides an ideal setup for both comfort and control.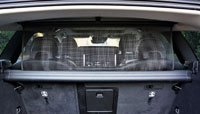 There as an incredible amount of room in back, too, with almost 10 inches in front of my knees when the driver's seat was set up for my long-legged frame, plus five inches remained from my shoulder to the door panel, another four or so next to my hips, and about three and a half above my head. Stretching out my legs was easy, with my shoes placed underneath the driver's seat, while comfort was increased yet more via my tester's four-zone auto climate control that provided a useful panel for controlling each rear outboard passenger's temperature. The heated rear seats would no doubt be appreciated for winter ski trips with the family, as would the massive standard panoramic sunroof overhead, this completely eliminating any feelings of claustrophobia that can happen for some when seated in back, but then again it seems bizarre to imagine someone feeling closed in while seated anywhere in the spacious V90 Cross Country. Aiding the V90's open, airy experience are HVAC vents on the backside of that centre console, and more at the midpoint of each B-pillar, while LED reading lamps hover overhead. A complex centre armrest flips down between outboard passengers, complete with pop-out dual cupholders, a shallow tray, plus a lidded and lined stowage container.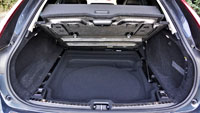 The V90 Cross Country's powered liftgate lets you into the spacious cargo area, while the aforementioned retractable cargo cover automatically lifts up and out of the way. The cargo compartment, which measures 560 litres (19.8 cubic feet) behind the rear seatbacks and about 1,530 litres (54 cu ft) when the rear row is lowered, is luxuriously finished with plush carpets all the way up the sidewalls and rear seatbacks, plus of course the floor, while below an accessorized rubber all-weather cargo mat (part of a $355 Protection package that includes floor trays for four seating positions, a centre tunnel cover, and the just-noted cargo tray), my tester's floor included a flip-up cargo divider featuring integrated grocery bag hooks. The floor can be lifted further, exposing a shallow carpeted compartment for storing very thin items, such as the carpeted floor mats while the all-season ones are in place.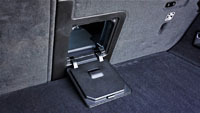 Aiding versatility, the V90's 60/40 split-folding rear seatbacks include a small, narrow centre pass-through that's ideal for a couple of pairs of skis, or alternatively each portion of the seatback can be dropped down flat via powered release buttons attached to the cargo sidewall. These automatically flip the headrests forward too, which incidentally can be lowered from the front to aid rear visibility as well.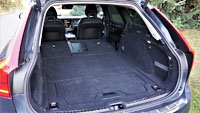 If you're currently driving a four-door sedan or wagon and not quite sure if a tall, SUV-like crossover such as Volvo's XC90 is the right way to go, this V90 Cross Country is a good alternative. All said, I'm not going to recommend it over Audi's new A6 Allroad mentioned throughout this review, but I will go so far as say that it measures up in all ways other than high-speed performance, and possibly prestige. Then again, Volvo has been reviving its respectability as of late, and has long enjoyed its own diehard following that would consider nothing less. Comfort is arguably better in the Volvo too, and as noted earlier this V90 Cross Country is a bit stingier on fuel. In the end it will come down to personal taste, and the ability of your local Volvo dealer to find a new one still available. If your interest is piqued, I recommend calling now before it's too late.
Story and photo credits: Trevor Hofmann
Photo Editing: Karen Tuggay