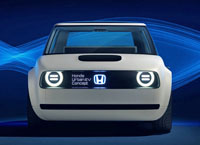 Many concept cars deserve to be built, but few actually see the light of day. Apparently the Honda Urban EV concept, the biggest little hit of the 2017 Frankfurt motor show, has beaten the odds.
The Urban EV, or whatever Honda finally calls it, will enter production in 2019, as per an announcement at the Geneva motor show earlier this month. It will be part of a new range of plug-in vehicles from the Japanese automaker, which already includes the much larger mid-size Clarity five-door hatchback, currently available in North American markets and Japan.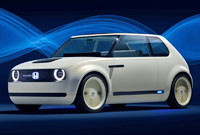 One look at the oddball Clarity and another at the cute-as-a-button Urban EV is all you'll need to speculate on sales leadership, the former only capable of purveying 2,455 units across the entire U.S.A. in all of 2016 and another 2,087 in 2017, and the latter immediately becoming the star of the Frankfurt show and an internet sensation since.
The retrospective city car pulls fond memories from Honda Nation's formative members, its general shape and unique details more than just reminiscent of the brand's first-generation 1972–1979 Civic hatchback. While we can't be sure the production model will replicate this Urban EV concept's design when it debuts later this year or early next, Honda would be smart to keep it as close to a match as possible.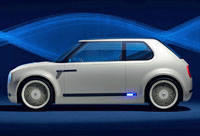 Unfortunately, Honda hasn't revealed anything about the new car's power unit, but we can expect range in the vicinity of Nissan's new Leaf that manages 240 km on a single charge, while charging times should be similar as well (about eight hours on a 6-kW charger or 80-percent in just 40 minutes when hooked up to a fast charger).
While most North American consumers consider small cars as nothing more than inexpensive commuters, the production Urban EV will be priced closer to premium models. This is nothing new in the plug-in electric world, with the just noted Leaf starting in the mid-$30k range before topping out in the low-$40s, and Chevrolet's smaller subcompact Bolt starting in the low-$40k range and escalating from there (less government rebates in BC, Ontario and Quebec).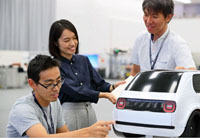 Along with its puppy dog allure, Urban EV customers will likely be treated to an upscale cabin that lives up to its lofty price point. The concept includes a massive one-piece tablet-style digital gauge cluster and infotainment touchscreen combination that spans the entire dash top, smaller secondary displays integrated into each door allowing enhanced sideview monitoring, beautiful wood inlays across the dash and doors, and even unusual loveseat-style front and rear bench seats with throw pillows and wooden side tables. No doubt the production version will bring things back down to earth with regular front bucket seats and a simpler rear bench, but it's possible something similar to the prototype's digital displays will stay.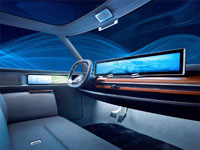 Conceptual features we hope make the grade are exterior message boards integrated into the front grille and rear deck lid, which light up to say whatever you want to adjacent motorists or passersby, such as "hello" up front or "back off" in behind, while some sort of graphical hand gesture might be useful too.
We also like the circular LED headlight surrounds that mimic the original Civic's incandescent headlamps, while the LEDs in the rear also look good, but we certainly wouldn't want to clean the myriad white spokes on the alloy wheels, and would probably find the rear-hinged side doors difficult to live with too.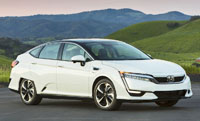 Conceptually we like the idea of the Urban EV's Honda Automated Network Assistant (HANA), a concierge-type service introduced early last year as part of the brand's NeuV autonomous vehicle, that can store personal data for paying parking fees, charging credit cards at drive-thrus, and much more, while it also incorporates artificial intelligence (AI) for detecting the emotions behind a driver's judgments after which, based on that driver's previous choices, it can make new recommendations and potentially even take over when necessary. The Urban EV includes the Honda Power Manager concept as well, which is a smart system for home energy.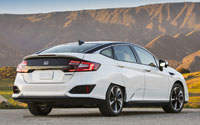 By 2030 Honda plans to have two-thirds of its vehicles fully or partially powered by electricity. This would include gasoline-electric hybrids like the Accord Hybrid, plug-in hybrids such as the Clarity, battery-electric vehicles like the Oregon- and California-market Clarity Electric, and fuel cell vehicles like the California-only Clarity FCV (the latter two only available via lease). Additionally, the third-generation 2019 Honda Insight Prototype was introduced at the Detroit auto show in January, with Accord-like styling in a slightly downsized plug-in package that should prove very popular for more reasons than just its good looks—it's also expected to be available throughout the U.S. and Canada.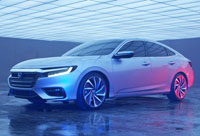 Markets in mind, the production Urban EV isn't expected to be heading to North America due to its diminutive size, with Honda still believing that buyers in this part of the world prefer larger cars. A good argument could be made for the Urban EV when comparing Clarity deliveries to those of the subcompact Bolt, the little Chevy selling more cars in Canada last year (2,122 units) than the big Honda did in the entire U.S. market (see above), not to mention more than 10 times the number of Clarity examples delivered south of the 49th (23,297 units). Adding insult to injury, hybrids normally outsell full EVs by a considerable margin, while making matters worse (for Honda) the Bolt ($43,095 CAD and $37,495 USD) is much more expensive than the Clarity ($39,900 CAD and $33,400 USD). This in mind, we think a production Urban EV would sell at least 10 times better than the Clarity.
We'll keep our fingers crossed for clearer minds at Honda Canada and American Honda to prevail, and look forward to seeing the production Urban EV when it arrives.