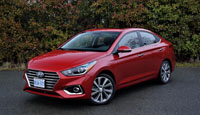 Well you've gone and done it now Canada. You lost your love for the Hyundai Accent Sedan and now its gone.
It could be worse. Our American friends felt similarly about the hatchback and now they've lost the more versatile five-door variant that becomes Hyundai's sole subcompact car offering here in Canada for 2020. The U.S. market loves four-door three-box models a lot more than we do, and with car sales slipping as crossover SUVs rise, it was only a matter of time before something gave way.
Hyundai's U.S. division will fill the void left by the Accent Hatchback with the same entry-level Venue sport utility we're getting for 2020 (I just picked one up for a weeklong test and so far I'm impressed), while the slightly larger Kona has been selling like gangbusters for nearly two years, resulting in significant sales leadership in the same subcompact crossover SUV segment.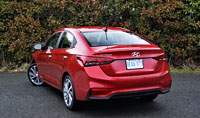 A quick glance at sales numbers makes Hyundai Canada's decision to trim the fat easy to understand. The Kona, which went on sale in March of 2018, sold a phenomenal 25,817 units during its first full calendar year of 2019, by far the best any subcompact SUV has ever done and more than 7,000 units ahead of the second-place Nissan Qashqai. Bolstering its entry-level SUV roster, Hyundai just added the even smaller Venue to the mix, which found 456 buyers in its first month of January 2020 alone. While that number didn't come anywhere close to the Kona's 1,651-unit tally during the same month, it nevertheless outsold the Accent's 202 sales by 225 percent. It's hard to argue against those numbers, which is why cars like the Accent are slowly fading away and small SUVs, like the Venue and Kona, are taking over.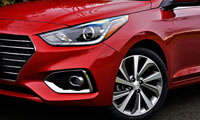 To be fair, at least amongst subcompact cars, the Accent has long been number one in its entry-level segment, only beaten by the Toyota Yaris for the first time last year. The Yaris, by the way, only sold 190 units last month, which is 12 fewer than the Accent, but this said last year's third-place Kia Rio actually stole the show with 243 deliveries so it's anyone's guess as to the subcompact car category's top dog in 11 months' time.
One thing's clear, the Accent Sedan won't help push that tally up by much. Plenty of dealers across the country still have this great little four-door available, although most have made their farewells and ushered in the 2020 Accent Hatchback, which continues forward looking the same, albeit updated with a new engine and new optional continuously variable transmission (CVT), the latter replacing the six-speed automatic tested in this 2019 model.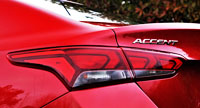 I've got mixed feelings about the 2020 updates, as the changes were all about fuel economy. This 2019 Accent sports a fairly punchy 132-horsepower 1.6-litre four-cylinder with 119 lb-ft of torque, whereas the new 2020 model gets an identically sized four utilizing Hyundai's new Smartstream technology, but the result is just 120 horsepower and 113 lb-ft of torque. It wouldn't have been long ago that losing 12 horsepower and six lb-ft of torque would be a nail in the coffin for a new model, but now that improvements at the pump and emissions reductions are so important, at least in this entry class, the update seems like progress.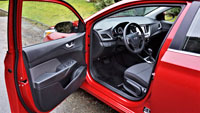 To be clear, the Smartstream G1.6 DPI engine used in the new Accent has very little in common with the Smartstream G1.6 T-GDi engine found in the new Sonata. The former is a naturally aspirated inline four-cylinder with dual-port injection (DPI), continuously variable valve timing, and a new thermal management module that helps warm the engine up faster for optimal performance and efficiency, whereas the latter is a radical turbocharged V4 making 180 horsepower and 195 lb-ft of torque thanks in part to industry-first Continuously Variable Valve Duration (CVVD) that ups performance by four percent, improves fuel economy by five percent, and reduces emissions by 12 percent (I'll go into more detailing when reviewing the new 2020 Sonata Turbo), while Low Pressure Exhaust Gas Recirculation (LP EGR) particularly helps Hyundai to achieve the last figure.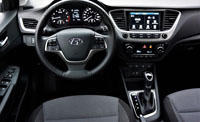 While the Sonata Turbo's new Smartstream G1.6 T-GDi is a significant progression in engine technology, a mechanical rethink that will allow for myriad packaging benefits and potentially shrink the size of future engine bays while making hybrid tech easier to adapt for existing models, plus it also stands as a witness to the importance of the internal combustion engine (ICE) in future products (why would Hyundai invest so heavily in a dying technology if hey didn't believe it had decades of life left), the Accent's Smartstream G1.6 DPI should be seen as more of an upgrade to an existing powerplant rather than anything revolutionary.
Then again, factor in the gains in fuel economy and the word revolutionary might be apropos. The 2019 model on this page is good for a claimed 8.2 L/100km in the city, 6.2 on the highway and 7.3 combined whether using its standard six-speed manual or optional six-speed automatic, whereas the new 2020 model ekes out 7.8 L/100km city, 6.1 highway and 6.9 combined with its six-speed manual or 7.3, 6.0 and 6.6 respectively with its new CVT. That latter number represents a 12-percent improvement in fuel economy.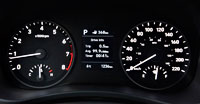 I like the six-speed automatic in the current Accent as it shifts smoothly, provides good mechanical feel and even comes across quite sporty when slotted into manual mode and operated by hand, but with more of its mission focused on fuel economy the 2020 Accent's optional CVT, dubbed ITV by Hyundai for "Intelligent Variable Transmission," should be considered an upgrade. Hyundai claims it simulates shifts well, so I'll be sure to report back on that when tested, and most CVTs are smoother than conventional automatics, unless those simulated shifts aren't executed ideally. I won't go into much more detail about this gearless box right now, but will say it incorporates a wide-ratio pulley system claimed to provide a broader operation ratio when compared to rival CVTs, this improving fuel economy when higher gear ratios are in use and benefits performance when using its lower ratios.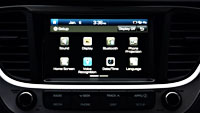 As it is (or was) for 2019, the Accent sedan provides relatively sporty performance from its more potent engine and at least equally engaging transmission, while its ride is good thanks to a well-calibrated front strut and rear torsion beam suspension, and should continue being so moving into 2020 as the two model years are identical other than their powertrains. Likewise handling is about average for the class, its electric power steering providing good directional response yet only moderate feedback, but it's still fun to fling through corners. The standard four-wheel disc brakes provide strong stopping power too, the Accent always feeling safe and stable even when practicing emergency manoeuvres.
Another positive is interior roominess. For such a small car it certainly feels spacious inside, particular for headroom. Front legroom is good and it should be more than adequate for side-to-side hip and shoulder room too, unless those inside are particularly large folk. It's easy to get the driver's seat into a good position, thanks to ample steering column rake and reach, while fore and aft seat adjustment is excellent. The backrest reclines, of course, but there's no way to adjust the lumbar. Fortunately the seat is well designed for good support all-round, so shouldn't be a problem for most body types.
It's fairly small in back, but it should be suitable for two average sized adults or three slender passengers, kids included. With the front seat positioned for my five-foot-eight longer legged, shorter torso frame, which meant I had to push it further rearward than most measuring my height would, I had about two inches remaining between the seatback and my knees, plus enough space for my feet while wearing winter boots. Fortunately the seatbacks get finished in a nice cloth, which would be a bit more comfortable if touching the knees, but no one likes to experience that either way. I had a reasonable room from my small-to-medium build torso to the door panel, measuring about three to four inches at the hips and slightly more next to my left shoulder, while approximately two and a half inches of air space was left over above my head (but remember I've got a shorter than average torso).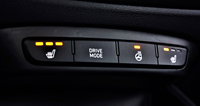 Unfortunately Hyundai doesn't include a folding centre armrest in back, and there were no vents on the backside of the front centre console to keep the rear quarters aerated, but at least Hyundai provides a rear USB charge point for powering passengers' devices.
As far as interior finishings go, Hyundai has eschewed the latest subcompact trend to soft-touch surfaces, which I found both disappointing and odd. Touch the dash, the instrument panel, the door panels or anywhere else and, other than the leather-wrapped steering wheel of this top-line model, fabric door inserts, centre armrest, plus of course the seats, there isn't a single pliable composite surface at all. Most unusual are the hard shell plastic side armrests, that I have to say are very uncomfortable. In this segment I'm able to accept a lack of soft surfaces elsewhere, such as the dash top and door uppers, but using hard plastic for the armrests is going too far.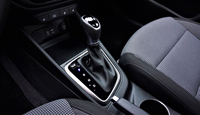 This oversight is a shame because most everything else about the new Accent is praiseworthy. I say most because it only included a monochromatic trip computer in this top-tier model, which should really have a full-colour TFT multi-information display in this day and age. Again, I don't mind the analogue gauges, although some competitors are starting to digitize more of their primary clusters.
Hyundai hopes such shortcomings are forgotten quickly when adding up all the other standard and available features, plus this car's fairly low price point. Just for a sampling, on top of everything already mentioned my top line Accent Sedan featured proximity-sensing entry with pushbutton ignition, a nice infotainment touchscreen with Apple CarPlay, Android Auto, plenty of apps, a backup camera with active guidelines, and more. The climate control system is automatic, albeit single zone, while this model includes three-way heated front seats as well as a heatable steering wheel, the former capable of getting warmer than the class average (it can get very cold in Korea) and the latter downright hot.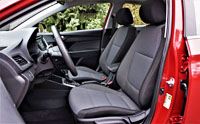 The just-noted leather-wrapped steering wheel rim is nicely finished and padded for extreme comfort, while the switchgear on the 9 and 3 o'clock spokes is superbly done with voice activation, audio controls, and phone prompts on the left side, plus multi-information display and cruise controls on the right. The turn signal/headlight and windshield wiper stalks are upscale too, these, along with most of the cabin's switchgear making its owner feel as if they've paid more than they really have. Likewise for the overhead console that incorporates old-school incandescent lights, yet features one of the nicest most luxuriously finished sunglasses holders I've ever felt, not to mention controls for the powered glass sunroof.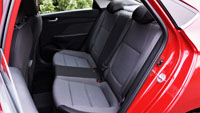 The rear seatbacks are split 60/40 for stowing longer items via the trunk, and dedicated storage space is fairly generous at 388 litres (13.7 cu ft), but take note the lid is very short so you're limited as to how much you can angle in. A hatchback would remedy this, of course, so be glad Canada chose to keep the more versatile of the two body styles moving into 2020. A benefit to trunks over hatches is security; a trunk being more difficult to access by would-be thieves and therefore passed by more often when easier prey is available, but a simpler solution is to bring valuables inside. Hyundai provides a fairly large compartment underneath the trunk's load floor, mostly filled up with a compact spare tire and tools, but there's space around the edges for small items.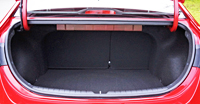 So there you have it. If you must have a new Accent Sedan, start calling around to your local Hyundai dealers to find one. I've checked, and there are some available, but you'll need to act quickly. According to the CarCostCanada 2019 Hyundai Accent Canada Prices page, the base Essential with Comfort Package Sedan starts at $17,349 plus freight and fees, while this top-line Ultimate Sedan starts at $21,299. Of course, discounts will be available, as retailers are motivated to sell, and information about any manufacturer rebates will be available to CarCostCanada members, plus deals on factory leasing and financing rates, which were available from zero-percent at the time of writing (and 0.99 percent for the new 2020 model), and as always dealer invoice pricing that can potentially save you thousands, depending on the car being purchased.
As an alternative you can also walk over to your local Kia dealership for a 2020 Rio sedan, which is basically identical to the U.S.-market Accent Sedan under the skin, drivetrain upgrades and all. Interestingly, the Rio is now the only new subcompact sedan available in Canada, so Korea's other auto brand has an opportunity to pull in a few sales it might not have been able to earn previously (they also have a 2020 Rio Hatchback).
So go ahead and snap up this 2019 Hyundai Accent Sedan while you can, opt for a new 2020 Accent Hatchback if its more functional cargo area suits your lifestyle, or choose the Kia Rio Sedan (or hatch). Then again, you might want to try a new Hyundai Venue or Kona on for size, as they're great subcompact crossovers for not much more investment. No matter what you want, it appears Hyundai Motor Group has you covered.