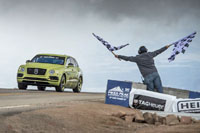 Ask those in the know to name the best of the best in the super-luxury SUV market segment, and the Bentley Bentayga will quickly rise to the top of the list. 
When it arrived on the scene in 2016, nothing could match it for premium accoutrements or performance, the former because it's a Bentley, and the latter thanks to a 600 horsepower twin-turbocharged W12 engine featuring 663 lb-ft of torque, a quick-shifting eight-speed ZF-sourced automatic transmission with paddle-shifters, and performance-tuned full-time all-wheel drive, allowing it to catapult from zero to 100km/h in just 4.0 seconds flat, before topping out at a stratospheric 301 km/h (187 mph). 
Renowned drift champion, Global Rallycross racer, and U.S. rally driver Rhys Millen never attempted to achieve top-speed in his most recent Bentayga outing, but he nevertheless managed to smash the Production SUV record at the famed Pikes Peak hill climb.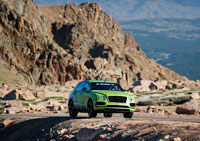 Millen completed the 19.99-km (12.42-mile) course in just 10:49.9, chopping nearly two minutes off the previous record by averaging 107 km/h (66.5 mph). 
"What an incredible machine," said Millen immediately after his run. "To take a luxury SUV with minimal modifications and be able to drive up this course in under 11 minutes is a huge testament to the performance and level of engineering in the Bentayga. I had a great run – the car was planted all the way up and gave me the confidence I needed to push hard. I'm delighted to take the SUV record for Bentley and for everyone that's been involved in this project."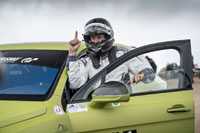 The Pikes Peak track, in Colorado, USA, scales 1,440 metres (4,720 feet) of paved mountainside roadway (prior to August 2011 gravel sections were also included), from its starting point at Mile 7 on Pikes Peak Highway, to the finish line at 4,300 metres (14,110 feet). The course includes more than 156 turns on grades averaging 7.2 percent, and has hosted sanctioned racing events since 1916. 
The record-setting Bentayga featured Bentley's top-line W12 engine (a 542 horsepower V8 with 569 foot-pounds of torque is also available), plus an adaptive air suspension, active electric 48-volt anti-roll control, and carbon ceramic brakes, all of which are available on the stock Bentayga, and each contributing to the SUV's shockingly fast record pace.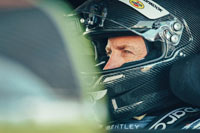 "This record proves the outstanding dynamic ability of the Bentayga – demonstrating again how Bentley Motors is the only automotive company in the world that can combine pinnacle luxury and breath-taking performance," said Chris Craft, Bentley's Member of the Board for Sales and Marketing. "Congratulations to all at Bentley Motorsport and to Rhys Millen and his team."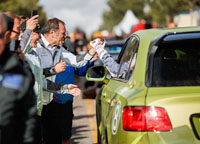 Due to Pikes Peak International Hill Climb rules compliance, Bentley modified the standard production Bentayga with front racing seats featuring four-point harnesses, while the rear seats were removed to make way for a roll cage. A fire suppression system was also installed, while Bentley Motorsport chose a set of Pirelli DOT-marked performance tires for extra grip, plus a production-specification Akrapovic sports exhaust system. Other than these small changes, the Bentayga that conquered Pikes Peak was standard from the factory, including its stunning Radium Satin paintwork, all-black chrome exterior accenting, and carbon fibre body kit that came as part of its Bentley Black Specification. 
Knowing that its ardent racing enthusiast clientele would want to own a commemorative example of this record-breaking Bentayga, Bentley has created a Limited Edition model handcrafted by its in-house Mulliner bespoke and coachbuilding division. The Pikes Peak Bentayga is now available as "an homage to the achievements of the Bentayga W12 on the mountain," said Bentley in a press release. 
Of course, the same Radium Satin paint is available, but Beluga black can also be had as an alternative for those wanting a darker, more menacing look. Additionally, an eye-catching set of totally unique 22-inch alloys feature two-tone Beluga coated spokes with Radium painted pockets, while Bentley's Black Specification is once again part of the package, with all components normally finished in chrome done out in gloss black, plus the splitter, side skirts, diffuser and rear spoiler made from visible carbon fibre weave. The exterior is capped off by a tastefully penned Pikes Peak nomenclature below a subtle mountain outline on the front fenders.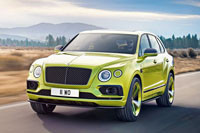 Inside, the Pikes Peak Bentayga features a Mulliner Design Colour Split that combines Beluga black leather with Key Lime accents, while the seat and door inserts are covered in grippy suede-like Alcantara for a rich look and feel. The headliner is made from a "technical Eliade cloth," says Bentley, while a lime green outline of the Pikes Peak track, along with elevation increments and the specific example's number plaque, gets applied to the carbon fibre dash inlay ahead of the front passenger. Lastly, Mulliner adds a set of numbered Pikes Peak treadplates to the doorsills, reminding the special SUV's owner of the celebratory event each time they cross the threshold.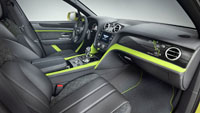 Just like the Pikes Peak Bentayga that took to the track, the production version includes Bentley's 6.0-litre twin-turbo W12 under the hood, while the adaptive air suspension and 48-volt electric active anti-roll control system, a world's first that gets named Bentley Dynamic Ride, comes as part of the package too. Finally, Mulliner adds a Bentayga Sports Exhaust system and a Touring Specification pack, making this special edition almost as formidable as the record-winning race-spec version. 
To find out more about the Pikes Peak Bentayga, or a more readily available Bentayga SUV, contact your local Bentley retailer.