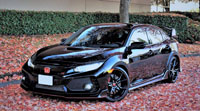 So what does it feel like to drive the world's fastest front-wheel drive production car? Fabulous! 
There isn't a sport compact fan that doesn't already know about the new Honda Civic Type R's many achievements, its class lap record around the famed Nürburgring Nordschleife road course the stuff of modern-day legend, a feat just recently built upon by doing the same at the equally revered Spa-Francorchamps in Belgium. 
All of this sounds impressive, although such news is usually dampened by the reality that most race-ready sport models are hardly easy to live with. Not so with the Civic Type R, however. It's as easy to drive around town or on the highway as a regular Civic, while it's plenty comfortable, and accommodative of four adults plus loads of gear under its utile hatchback. Who could possibly find fault with that?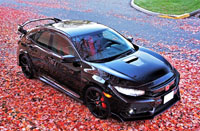 I suppose those who want a fast-paced automatic drivetrain won't be too happy to learn the Type R can only be had with a six-speed manual. It's a fine gearbox, which is nothing new for Honda. The Japanese brand's Civic Si is legendary for short-throw shift quality amongst other attributes, while this Type R shifter is even capable of rev-matched control, but the Type R's manual-only status will definitely limit sales.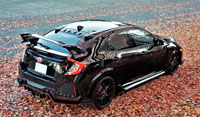 Still, this is hardly a problem. Honda seems to be selling as many Civic Type Rs as it's willing to build in its Swindon, England assembly plant. And you thought I was going to say Suzuka, but oddly enough Honda no longer builds its best-selling model in any of its Japanese factories, instead relying on its new Prachinburi, Thailand plant for Japanese Civic consumption, while its Alliston, Ontario and Greensburg, Indiana facilities are too busy building less specialized, higher volume Civics and CR-Vs for the North American markets (there's no Civic production in Mexico). Honda builds regular Civics, plus its CR-V and Jazz (Fit) in Swindon as well, but the British factory has a long history of producing the Civic Type R too, so it only made sense to keep a good thing going.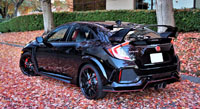 Of course, we've never seen any of these older Type R models on Canadian shores, at least outside of grey market examples shipped here by individual enthusiasts. The first Type R, based on the 1997–2000 sixth-generation Civic hatch, actually hailed from Suzuka, with Swindon taking over production for the second 2001–2006 version based on the seventh-gen hatchback, which was actually available to us in the somewhat detuned Civic SiR, also built in England. Next up was the 2006–2011 model based on the eighth-gen four-door sedan, this one made in the UK as well as Suzuka, but soon after the Euro-spec 2007 FN2 hatch (also sold in Australia and Singapore) became the basis for the European Type R, and therefore Swindon was the sole producer, while the four-door Type R remained Japan-sourced until 2010 when Suzuka stopped building the Civic. Now, as already mentioned, this fourth-generation Civic Type R, based on the 10th-gen Civic, sits on the new five-door hatchback design, and due to that is one of the most intriguing performance car designs available today.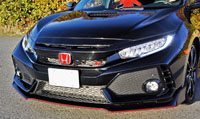 By intriguing, I don't necessarily mean attractive. The full LED headlights are dazzling, classic circular fog lamps a nice touch, unique air intake-infused aluminum hood ultra light and really nice, loads of aero add-ons impressive, and three centre-mounted chromed exhaust pipes kind of cool, but beauty is truly in the eye of the beholder with this car. 
The Type R seems to pull design inspiration from the most radical of big-winged Lamborghinis, let alone anything from the sport compact arena. I should rephrase that last point to say "production" sport compact, being that plenty of modified hot hatches get stuffed to the gills with aftermarket components capable of making this stock Type R seem subdued. Still, for a race on Sunday, drive to work on Monday capable super hatch, the Type R is no wallflower. 
I hope fans of the car's styling and the nice folks on Honda's press relations team won't be offended that the nickname I gave this Crystal Black Pearl painted example was "Cockroach", as it looks more like that nasty little beetle than anything else I could think of. Its fiery little 2.0-litre turbocharged engine spits like a roach too, and no doubt it's as bulletproof reliable as a cockroach is indestructible—anyone who's home has been infested with these hardy little critters will know exactly what I'm talking about.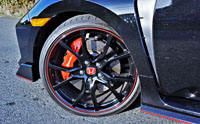 To my eyes, the Civic Type R isn't pretty, but everything about its applied bodywork is functional, so it gets big marks for purposeful aerodynamics. I've seen some in my area in Championship White, and I must say it looks a lot less insect-like, while Rallye Red would probably have similar effect, but so far I haven't seen its third colour in the wild. 
While any fan worth his or her (or zir) salt will likely be able to rattle off the Type R's specifications faster than I can, I'll nevertheless repeat them here for the few uninitiated still thinking their Golf GTI is fast for a front driver. It isn't (unless it's a Clubsport S). Don't get me wrong, as I love the GTI, but the Golf R isn't even as quick or as nimble as this Type R. The numbers speak volumes, with the Type R's 2.0-litre turbo good for 306 horsepower and 295 lb-ft of torque, and the Golf R's only capable of 292 and 280 respectively.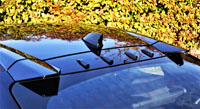 That's an 11 horsepower and 15 lb-ft advantage to Honda, which results in 5.1 seconds to 100km/h (4.9 sec to 60 mph) compared to 5.4 (5.2), 13.5 to 160 km/h (11.5 to 100 mph) instead of 15 (13), the quarter mile eclipsed in 13.5 seconds compared to 13.7, quarter mile speeds at 174 km/h (108 mph) over 166 (103), and top speeds set at 270 km/h (168 mph) compared 250 km/h (155 mph)—note, I gathered these numbers from a variety of independent albeit credible test results and then averaged them out.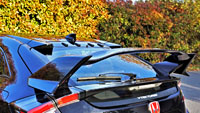 As for race track dominance (a more exact science), the Type R and Golf R managed the Nürburgring Nordschleife in 7:43.08 and 8:14.00 minutes respectively (that's a sizeable gap), Tsukuba (Japan) in 1:06.48 and 1:07.83 (closer), the Contidrom (Germany) in 1:36.70 and 1:37.38, Sachsenring (Germany) in 1:41.16 and 1:41.73, and Llandowin (Wales) in 0:46.50 and 0:49.00. To be fair, the Golf R shows up well on the track, proven on the Hockenheim Short (Germany) circuit that saw the VW out-lapping the Honda with a time of 1:14.50 to 1:15.70.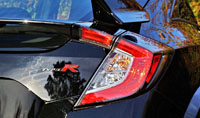 You might wonder why I chose to compare the Civic Type R to a Golf R, being that the latter car benefits from an available dual-clutch automatic and standard all-wheel drive, but the once mighty Mazdaspeed3 is no more, and I happen to like the Golf R a lot more than most other hyper-tuned sport compacts due to its sleeper styling and better than average interior.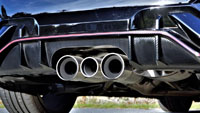 Of note, current competitive sport compacts include the truly legendary Subaru WRX STI, and the soon to be unavailable Ford Focus RS (due to Ford North America's anti-car "focus"), the former putting 305 horsepower and 290 lb-ft of torque down to all four wheels via a six-speed manual or sport-tuned CVT f¬or zero to 100km/h in 5.7 seconds, and the latter pushing a staggering 350 horsepower and 350 lb-ft of torque through all four wheels via a six-speed manual, resulting in zero to 100km/h in just 4.6 seconds. Strangely, however, the fastest Nürburgring Nordschleife time from a Focus RS is just 8:06.29, significantly slower than the Civic Type R.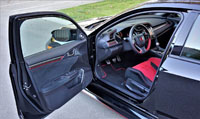 I'm not about to say anything negative about any of the cars mentioned so far, or my previous favourite Mitsubishi Evo X MR, as they're all beyond brilliant. If you've ever spent time at the wheel of any one of these super compacts you'll likely nod in agreement while your mouth turns up at each end in fond memory. These are the modern-day equivalents of yesteryears muscle cars, but with levels of near otherworldly manoeuvrability such straight-line masters could never hope to attain. Every car I've mentioned in this review is worthy of a driving enthusiast's appreciation, but Honda has done something very special in attaining such sensational performance from a front driver.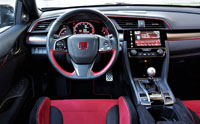 I'm not going to say another word about style, and won't even harp one bit about the overzealous use of red highlights inside (it's the automotive equivalent of a pre-teen girl discovering makeup for the first time—bright red lipstick, caked-on rouge and vamp eye-shadow), because all of that is immediately forgotten when the hyperactive turbo-four gurgles to life and the precision six-speed slots into first. The notchy gearbox is tight yet light, the clutch action easy perfection, and the lack of torque steer at full throttle shocking.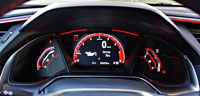 Shocking too is the immediate response to throttle input, the high-revving four spinning up to its 7,000 rpm redline so quickly you'll need to have quick arm/hand reflexes to get from the 3 o'clock position on the steering wheel to the shift lever and back in time to maximize control ahead of the next shift. 
The shift knob is cold aluminum, hardly the most welcoming material for a wintry Canadian morning. In fact, I recommend a set of red leather racing gloves with white H's sewn on top for just such days (Honda Canada should include these with every Type R delivery), the Type R (when properly shod) being a superb choice for getting sideways on a slippery road or track while set to "Race" mode.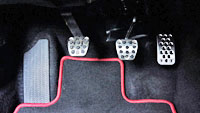 Honda includes multiple driving modes in the Type R, from default to Comfort at one end, and Sport to +R (Race) at the other, this being one of only two Civic models without an Econ mode—the other being the Si. I'm ok with that, being that it's pretty fuel efficient for such a formidable sports car, its official Transport Canada claimed rating at 10.6 L/100km city, 8.3 highway and 9.6 combined. Of course, compared to the 8.0 city, 6.2 highway and 7.2 combined rating from the same Civic Hatchback model with a 1.5-litre turbo and manual transmission the Type R is thirsty, but it's a bit cheaper to use than the Golf R M6 that's rated at 11.1, 8.1 and 9.8 respectively, the Focus RS with estimated fuel usage of 12.2, 9.0 and 10.8, or the WRX STI that guzzles down 14.1, 10.5 and 12.5. Certainly fuel economy isn't the first priority in this class, but with regular hovering between $1.50 and $1.58 per litre in my town, and premium unleaded a helluvalot higher, the Civic Type R's best-in-manual-class fuel economy is something to consider.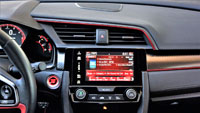 I could go on at length telling you about the Type R's fabulous handling, just how addictive it is to repeatedly lay into the throttle, flick through the gears, stomp on the big 350/305-mm Brembos and experience the big 245/30ZR20 Continental SportContact 6 performance tires bite into tarmac, etcetera, but as noted earlier the numbers speak for themselves. What you might find more useful is my opinion on general livability.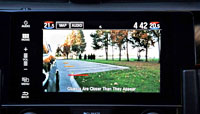 First off, after proximity keyless access lets you inside and an ignition pushbutton gets the engine rumbling in the background, the Type R's outrageously bolstered microfibre sport seats are amazingly comfortable, providing your backside fits in, as they wrap right around to hold you in place during hard cornering. I found them ideal, and while the six-way manual driver's seat isn't as adjustable as a Civic Touring's powered setup, it's so well designed, cupping my lower back in just the right position for optimal comfort and support, that I could drive it all day without issue.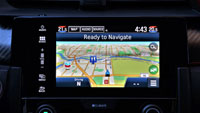 What's more, the black and red, flat-bottom sport steering wheel, while a bit gaudy, provides excellent telescopic reach, which allowed me to set up my driving position for perfect control of wheel and pedals, the latter finished with a nice set of grippy textured aluminum pads. 
The mostly regular Civic gauges are upgraded with angry red background lighting all the time, a change from the regular Civic's pacifying aqua blue, unless in Sport mode when they go red as well. A well-stocked 7.0-inch colour TFT centre meter display provides quick-access info from the tips of your thumbs via illuminated steering wheel controls, which is nothing new but nicely done.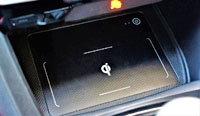 Red also gets used for the centre-mounted infotainment touchscreen's backing colour. It's a bit much, and merely smearing everything with red doesn't show a lot of creativity, but the primary gauge cluster and infotainment interface are superbly designed and filled with useful features like an excellent multi-angle backup camera with dynamic guidelines, Honda's awesome LaneWatch blind spot display that projects a live image from a right-side rear-facing camera onto the monitor when flicking the right turn signal, highly accurate Garmin-based navigation with excellent mapping, HD Digital Traffic, 3D renderings of terrain and buildings, predictive local search, a lane guidance split-screen for road signs and exits, and simplified voice recognition, plus climate controls supported by a separate dual-zone auto HVAC interface just below, Bluetooth, Apple CarPlay, Android Auto and HondaLink smartphone connectivity, a great sounding 542-watt audio system with 12 speakers plus HD and satellite radio, Siri Eyes Free, SMS text message and email reading capability, two USB ports, Wi-Fi tethering, car settings, apps, and more. Also worth mentioning, a wireless charging pad sits at the base of the centre stack.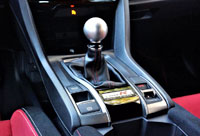 The microfibre seats are joined by equally plush microfibre door panels front and rear, these with red stitching of course, plus carbon-fibre-look inlays cross each door and the instrument panel, adding to the performance-first design. Overall Civic quality is superb no matter the trim, so expect the best when climbing inside a Type R, but I was surprised that vibration from the engine spinning at such high revs caused a buzzing sound within the left side of the dash. Still, I could hardly have cared. The Type R is really about the drive, not refinement.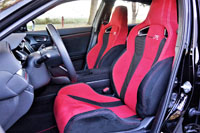 On that note, I'll quickly mention that two rear passengers will be well cared for in a comfortable albeit not so fancy set of seats, Honda having eliminating the Civic Hatchback's usual middle position and folding armrest for a fixed centre console with two cupholders and a tray. The cupholders are fairly deep and quite useful, but depending on who's behind the wheel I'd hold onto those drinks just the same.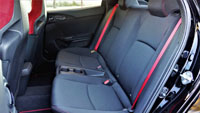 As for storage, anyone familiar with the Civic Hatchback's cavernous cargo compartment will be happy that nothing changes in its transformation to Type R, its measurements still 728 litres (25.7 cu-ft) with the seatbacks upright and 1,308 litres (46.2 cu-ft) when they're folded flat. The 60/40 split-folding rear seatbacks remain, while Honda once again fills the compartment below the floor with a styrofoam storage unit partially filled with a tire repair kit. My favourite cargo feature is the retractable cover up top, which smartly slides sideways when not needed.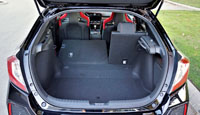 Considering the incredible performance, the long list of standard features, and that it comes full equipped in standard trim (although plenty of dealer-added accessories are available), the 2018 Civic Type R's $41,090 base price is quite reasonable (find the Type R's pricing and the MSRPs of its competitors at CarCostCanada.com, not to mention rebate info and otherwise hard to get invoice pricing). Of note, it slightly undercuts the Golf R and base WRX STI, but when more fairly compared it's more than $6,000 less expensive than a similarly outfitted WRX STI Sport-tech, while the Focus RS is almost $18,000 pricier. For that you can get a Civic Type R and a nicely equipped Fit for the kids, your spouse, parents, or anyone else you want to make smile. 
It's so very Honda to make sure that its track-dominating super compact is also a great value, plenty practical, comfortable and feature filled, and no doubt reliable. Civic Nation is certainly alive and well in Canada.