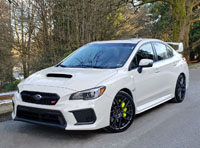 Are you a wing spoiler or a lip spoiler person? That's a question you'll need to ask yourself when purchasing a new Subaru WRX STI. It might come down to your age, or how fast you plan on driving your new ride. If you've got a race course close by, choose the wing as it adds significant downforce at high speeds.
Being that Vancouver doesn't have a decent track within easy distance I'm personally torn, because the big aerofoil on the backside of this high performance Subaru actually has purpose, unlike so many of its contemporaries. The WRX STI's predecessor, after all, won the FIA-sanctioned World Rally Championship (WRC) three years in a row from 1995 to 1997, amassing a total of 16 race wins and 33 podiums, no small feat. Of course, that was a long time ago and Subaru hasn't contested a factory WRC team for more than a decade, but the road-going rally race replica before your eyes is a much better car than the one I tested in 2008 in every way.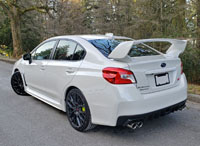 Competitors have come and gone over the years, the most saddening being the Mitsubishi Lancer Evolution (EVO) that was cancelled at the end of 2015, and no doubt sport compact enthusiasts are also lamenting the more recent loss of Ford's Focus RS that went wayward with the demise of the model's less potent trims at the end of 2018. Still, the segment isn't down and out. Volkswagen raised its Golf R from the dead for 2016 and it's still running strong, while Honda's sensational Civic Type R hit the streets with front-wheel screech for 2018, and Hyundai is getting almost as serious with its new Veloster N for 2020, although these last two are front-wheel drive entries and would therefore rally in a different class than those mentioned previously.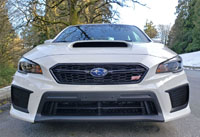 The WRX STI being reviewed here is a 2019, which means it's devoid of the styling enhancements available with the 2020 model, but both receive the 5-horsepower performance boost added last year. What styling enhancements? To be clear, the regular WRX looks the same for 2020, at least externally, although its interior gets some red stitching on the door trim and its engine bay comes filled with a retuned 2.0-litre boxer, while the differential receives some tuning too. This said only the STI receives any styling upgrades, which include a new lower front fascia and redesigned 19-inch aluminum machined alloy wheels for Sport and Sport-tech trims. Additionally, 2020 Sport trim gets proximity-sensing keyless entry with a pushbutton ignition system.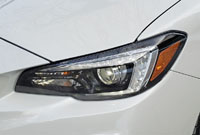 This 2019 WRX STI was tested in Sport trim, which sits between the base and top-line Sport-tech models. The base STI starts at $40,195 plus freight and fees, with the Sport starting at $42,495 and the more luxury-trimmed Sport-tech at $47,295. Incidentally, the wing spoiler comes standard with the Sport and Sport-tech, but can be exchanged for the aforementioned rear lip spoiler with the Sport-tech at no charge.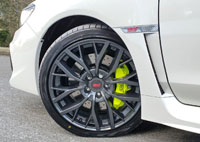 Your pickings are slim for a 2019 model, but I scoured Canada's Subaru dealer websites and found plenty for sale. Still, don't expect to be picking and choosing trims or options. At least you'll save if opting for the 2019, with CarCostCanada reporting up to $2,500 in additional incentives available at the time of writing, seen on its 2019 Subaru WRX Canada Prices page where you can also get complete trim, package and option pricing for the WRX and WRX STI, plus info on special offers like financing/leasing, notices of manufacturer rebates, and dealer invoice pricing that will help you secure the best deal possible when it's time to negotiate. On that note, if you don't find the trim or options you're wanting from a 2019 model, make sure to check out CarCostCanada's 2020 Subaru WRX Canada Prices page that was showing up to $750 in additional incentives at the time of writing.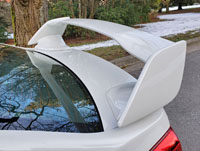 Even though the 2019 WRX STI appears no different than the 2018, it's still a fine looking sport sedan. Last year's STI added new LED headlights for a more sophistication look and brighter frontal illumination, while standard cross-drilled Brembo brakes get yellow-green-painted six-piston front calipers and two-piston rear calipers enhanced with four-channel, four-sensor and g-load sensor-equipped Super Sport ABS. Subaru revised the STI's configurable centre differential (DCCD) so that it's no longer a hybrid mechanical design with electronic centre limited-slip differential control, but rather an electric design for quicker, smoother operation, while the interior received a set of red seatbelts that, like everything else, also get fitted to this 2019 model.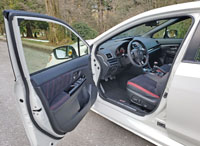 The interior also includes red on black partial-leather and ultrasuede Sport seats, with the same soft suede-like material used for the door inserts, along with nice red thread that extends to the armrests as well, while that red stitching also rings the inside of the leather-wrapped sport steering wheel, the padded leatherette-covered centre console edges, and the sides of the seat bolsters. Recaro makes the seats, and therefore they come as close to race car-spec as most would want for a daily driver. They provide power adjustment for the pilot, including two-way lumbar support. The rear passenger compartment is comfortable too, and gets finished identically to that up front, even including the padded door uppers.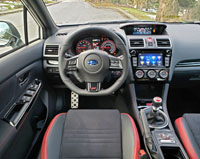 That rear passenger compartment is one of the strongest selling points of the WRX STI, in that it couples legendary sports car performance with day-to-day practicality. Along with a rear seating area that's good enough for two regular-sized adults or three smaller folk, upgraded with a fold-down centre armrest featuring integrated cupholders in the 2018 model year, the 340-litre trunk holds plenty of gear, while the rear seat even folds down 60/40 via pull-tab latches on the tops of the seatbacks.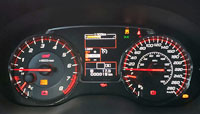 All occupants continue to benefit from reduced interior noise too, not to mention a retuned suspension with a more compliant ride, while the car received a beefier battery and upgraded interior door trim last year too. Additionally, the driver received a revised electroluminescent primary gauge cluster with a high-resolution colour TFT centre display that Subaru dubs Multi-mode Vehicle Dynamics Control system indicator, showing an eco-gauge, driving time info, a digital speedometer, a gear display, cruise control details, an odometer, trip meter, SI-Drive (Subaru Intelligent Drive) indicators, and the Driver Control Centre Differential (DCCD) system's front/rear power bias graphic, whereas the 5.9-inch colour multi-information dash-top display, also updated last year, shows average fuel economy, DCCD graphics, a digital PSI boost gauge and more.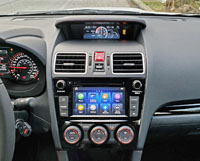 Subaru has been updating its electronic interfaces for all models in recent years, and now they're some of the best in the business. The most impressive, a giant vertical touchscreen, is found in the new 2020 Legacy and Outback, so after experiencing that, the WRX STI's centre display seems a bit lacklustre. Truly, the base 6.5-inch system found in this 2019, as well as the 2020, should no longer exist in a car that starts at more than $40k. Instead, the top-line Sport-tech's 7.0-inch touchscreen should at the very least be standard across the line. I wouldn't care if navigation was included or not, this worth paying more for some and not for others, but a single interface makes sense from a build cost scenario too. Then again the larger display might cost more than the smaller one even after factoring in economies of scale, but both incorporate glossy screens with deep contrast and crisp, bright colours, which is what's needed to compete in this space.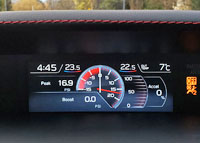 As it is, the standard infotainment system incorporates Apple CarPlay and Android Auto, plus Subaru's own StarLink smartphone integration that also includes Aha radio and the ability to download additional apps. I like Subaru's updated interface, which features colourful smartphone/tablet-style candy drop graphics on a night sky-like blue 3D tile-style background, plus the system's easy functionality that for 2019 includes near-field communication (NFC) phone connectivity, a Micro SD card slot, HD radio, new glossy black topped audio knobs, and more. The standard six-speaker audio system is very good too, but that said I missed the top-line 320-watt nine-speaker Harman/Kardon upgrade tested previously in the Sport-tech package.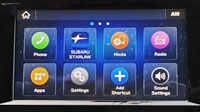 Along with everything already mentioned, all STI trims include a glossy black front grille insert, brushed aluminum door sills with STI branding, carpeted floor mats with red embroidered STI logos, aluminum sport pedals, a leather-wrapped handbrake lever, black and red leather/ultrasuede upholstery, dual-zone automatic climate control, a backup camera with dynamic guidelines, voice activation, Bluetooth phone connectivity with audio streaming, an AM/FM/MP3/WMA audio head unit, vehicle-speed-sensitive volume control, Radio Data System, satellite radio, USB and aux ports, plus more.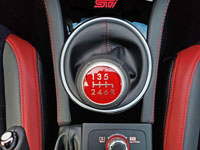 STI trims get plenty of standard performance enhancements too, such as quick-ratio rack and pinion steering, inverted KYB front MacPherson struts with forged aluminum lower suspension arms, performance suspension tuning, high-strength solid rubber engine mounts, a red powder-coated intake manifold, a close ratio six-speed manual gearbox, a Helical-type limited-slip front differential and a Torsen limited-slip rear diff, plus more.
Sport trim adds 19-inch dark gunmetal alloy wheels wrapped in 245/35R19 89W Yokohama Advan Sport V105 performance tires, the high-profile rear spoiler, light- and wiper-activated automatic on-off headlamps with welcome lighting, a 10-way power-adjustable driver's seat, a powered glass sunroof, Subaru's Rear/Side Vehicle Detection System (SRVD) featuring blindspot detection, lane change assist, rear cross traffic alert, and more.
Lastly, Sport-tech features not yet mentioned include proximity-sensing keyless access with pushbutton ignition, navigation with detailed mapping, SiriusXM Traffic and Travel Link with weather, sports and stocks info, while the Sport-tech's Recaro sport seats are only eight-way power-adjustable.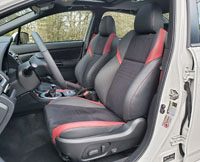 Of course, like with almost all Subaru models (the rear-drive BRZ sports car excluded) the WRX STI comes standard with Symmetrical-AWD, its torque-vectoring system continuing to push and pull its way to the front of the sport compact pack. You can pitch it sideways on dry pavement or wet, or for that matter on gravel, dirt, snow or almost anything else, and be confident in its ability to pull you through, as long as you've got the right tires underneath as well as the driving chops to apply the correct steering, throttle and braking inputs exactly when required.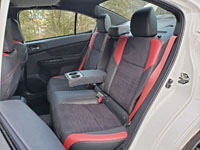 On this last note it almost feels redundant talking about WRX STI performance, considering its legendary status noted earlier, but I should point out changes made a couple of years ago to the shifter and suspension, which made it a much nicer car to drive both around town and at the limit. The manual gearbox is much smoother, and clicks into place with greater precision than the previous one. In fact, I'd go so far to say it's now one of the better six-speed manuals on the market, rivalling the Civic Si manual's brilliance, which I would place at the top of almost anything on the market. That's heavy praise to both automakers, but certainly well deserved.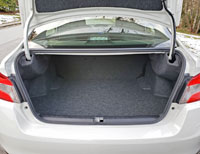 The six-speed manual connects through to a turbocharged 2.5-litre four that includes stronger pistons, a new air intake, new ECU programming and a higher-flow exhaust system than in previous generations, resulting in the same 290 lb-ft of torque, albeit five more horsepower for a new total of 310, while the just-noted gearbox features a revised third gear for quicker acceleration. This means the new STI feels even more energetic off the line than its predecessor, which was already brilliant fun.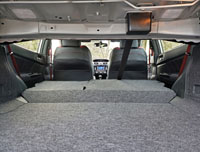 As anyone who's driven a WRX STI knows, its handling is outrageously good. Then again the EVO mentioned earlier was capable of outmanoeuvring the previous five-door STI. I'd love to put the new STI up against the final EVO back-to-back, like I previously did with the old models, because Subaru has completely eradicated any handling problems of past STI models. It feels light and lively, yet mostly locked in place through fast-paced corner, whether the road surface is smooth or filled with bumps and dips. I say mostly because the old five-door held on too tight, and a little oversteer in the rear is important when making quick time through particularly sharp curves, such as those found on autocross courses. Braking is stupendous, with incredible bite from high speeds, the meaty 245/35R19 Yokohamas grippy on most surfaces and the majority of conditions, snow aside.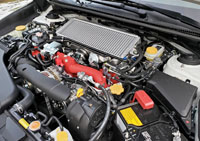 Fuel economy won't likely matter much to anyone purchasing an STI, but it's nevertheless reasonably efficient for its performance at 14.1 L/100km in the city, 10.5 on the highway and 12.5 combined, this number not changing one iota from last year. Subaru isn't showing any improvement from zero to 100km/h either, its claimed sprint time still 0.5 seconds quicker than the regular WRX, at 4.9 seconds. With only negligible changes to its 1,550- to 1,600-kilo curb weight (depending on trims), plus five additional horsepower joining a stronger third gear, both off-the-line and mid-range acceleration should be quicker, which leaves us to believe Subaru is either being conservative or their marketing department just hasn't gotten around to changing all the specifications on their website.
If you've never driven a WRX STI you should, because it's one of the best sports cars available in its low- to mid-$40k range, plus it's a practical everyday road car that can manage an active lifestyle.