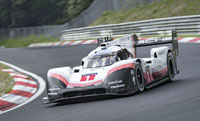 Porsche is certainly celebrating its 70th year in style. Earlier this month it debuted the wonderful 356 'No. 1' Roadster concept, which combined some of the best new technologies the automaker currently offers with retrospective design inspiration from the original 356 sports car that put the Stuttgart-based brand on the road, track and map in 1948, but 2018 has also been a year to honour its motorsport success. 
After securing its third consecutive World Endurance Championship (WEC) title with its LMP1 class dominating 919 Hybrid in November of last year, Porsche created a special 1,200-horsepower 919 Hybrid Evo Tribute car for showing the world the breathtaking capability of its sports car prototype.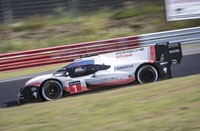 On April 9, Porsche factory driver Neel Jani broke the Spa Francorchamps lap record, which was previously held by four-time Formula One champion Lewis Hamilton at the wheel of his Mercedes-AMG Petronas Motorsport F1 W08. Despite being up against one of the most decorated racing drivers of all time in one of the most successful F1 cars ever created, Jani and his specially tuned derestricted 919 Evo managed a blistering 1:41.770 minutes around the revered Belgian road course, besting Hamilton's record by 0.783 seconds.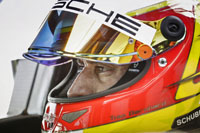 Most recently Porsche had its sights on Germany's "Green Hell", otherwise known as the Nürburgring-Nordschleife, with two-times Le Mans winner and reigning WEC champion Timo Bernhard at the wheel. Their June 29th result was a best-ever track time of 5:19.55 minutes over the 20.8-kilometre-long course, smashing the previous non-production car lap time of 6:11.13 minutes by just over a minute and a half (91.58 seconds). This marks the first time anyone has broken the six-minute barrier, while doing so by such a wide margin would have been unfathomable in decades past.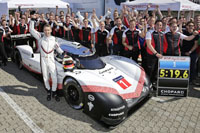 On that note, the previous record had held for 35 years. It was originally achieved on May 28, 1983 by Stefan Bellof in a Porsche 956 C, which while a legendary sports prototype car in its own right, having led the challenging Circuit de la Sarthe track at Le Mans from start to finish in its first 1982 outing with Jacky Ickx and Derek Bell at the wheel, a race that further saw a trio of factory Porsches finished 1-2-3, it could have never matched the performance of this modern-day 2015, 2016 and 2017 Le Mans 24-hour race winner.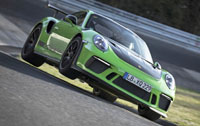 While this is certainly impressive, possibly even more convincing of Porsche's dominant performance is the strength of its bone stock production cars when they hit the track. In September of last year, Porsche regained the number one position for production cars on the Nürburgring-Nordschleife, with Lars Kern pushing its 911 GT2 RS to a best-overall lap time of 6:47.25, while only in April of this year it managed a shocking 6:56.4 in the new naturally aspirated 911 GT3 RS, resulting in a fourth place finish. This pushed the Porsche 918 Spyder into fifth, although its time of 6:57 minutes still maintains its record as the fastest hybrid electric production car to ever circle the ring.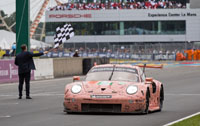 Even though the 919 Hybrid is now retired from World Endurance Championship racing, of the 17 cars entered into this year's 24 hours of Le Mans GTE Pro category four were Porsche 911 RSR coupes, while six more Porsche 911 RSRs raced in the GTE Am class. Even more impressive, after a punishing 24 hours of grueling competition was completed the first two GTE Pro category podium tiers were occupied by 911 RSR drivers from the Porsche GT team, while Patrick Dempsey's (yes, Doctor Dreamy from Grey's Anatomy) Dempsey – Proton Racing #77 911 RSR took the top spot in the GTE Am class.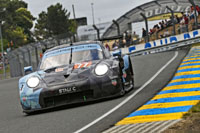 We've included an awesome action-packed video of the Porsche 911 RSR at this year's Le Mans down below, as well as one showing the incredible 919 Hybrid earning its third consecutive WEC championship in Shanghai, but if you've only got time for one make sure to check out the amazing in-car footage of the 919 Hybrid Evo Tribute car achieving its record-setting Nürburgring-Nordschleife lap below, with one of many highlights showing the engine nudging up against its redline down the Döttinger Höhe straight at 368 km/h, or watch a shorter narrated compilation showing drive-by and in-car footage of the same event:
The 919 Tribute Tour: On-board record lap, Nordschleife (5:48):

The 919 Tribute Tour. New king of the ring. (2:10):

Triple – Porsche at the FIA WEC 6h of Shanghai (2:11):

Porsche at Le Mans 2018. (3:16):