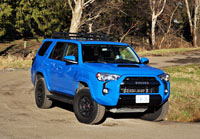 Remember when the traditional SUV was supposed to die? A lot of people make a lot of predictions, but as sure as rain, or should I say as sure as snow, which we were also told would no longer be part of our future in Al Gore's wildly sensational fantasy film "An Inconvenient Truth," both the white fluffy stuff and big, off-road capable 4x4s remain very real and ever-present, thank goodness.
In fact, our winters have been getting colder in recent years, likely caused by a solar minimum amongst other things, making vehicles that can manage sudden downfalls of deep powder all the more important. The 4Runner can do a lot more than that, as evidenced in the photo gallery above, an opportunity to venture off the beaten path rarely missed when I spend a week with such a capable companion.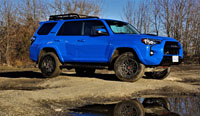 Toyota started building the 4Runner the year I graduated high school, and is now well into its fifth generation that was introduced over 10 years ago. The original was little more than the pickup truck with a removable composite rear roof section, much like the original Chevy Blazer and Ford Bronco that came before, but the next version that arrived in 1989 refined the offering with a fully enclosed roof, and the rest is history.
Unlike some body-on-frame competitors that forgot their 4×4 roots in their transformation to car-based crossovers, Toyota stayed true to the 4Runner's purposeful character and earned respect and sales for doing so. Now it's one of few truck-based off-roaders available, making it a go-to alternative for those needing family transport yet wanting a way to access a more adventurous lifestyle.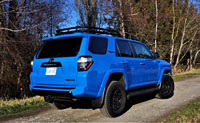 The 2019 model tested is being replaced by a new 2020 model, which swaps out the infotainment system with a new head unit complete with a larger 8.0-inch touchscreen, Apple CarPlay and Android Auto, satellite radio and USB audio, plus the brand's Connected Services suite. Push-button ignition gets added too, as does Toyota's Safety Sense P bundle of advanced driver assistance features including pre-collision system with vehicle and pedestrian detection, lane departure warning and assist, automatic high beams, and adaptive cruise control.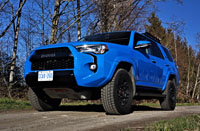 There's a new trim level too. Dubbed Venture, it's all about getting out of the city and into the wild. It builds on just-above-base TRD Off-Road trim, which means it starts off with go-anywhere features like 4-Wheel Crawl Control with Multi-Terrain Select, a locking rear differential, and the Kinematic Dynamic Suspension (KDSS) upgrade, not to mention a hood scoop, plus navigation system with traffic and weather, before adding black mirror housings, trim, and badging, Predator side steps, 17-inch TRD Pro wheels, and a basket style roof rack.
That might sound exciting, and it looks pretty cool, but it's no off-road match to the TRD Pro given to me for a week's testing. That truck looks even more intimidating, especially in exclusive Voodoo Blue paint. Anything not blue is matte black for a sort of paramilitary appearance, visually supported by a special heritage "TOYOTA" grille, a TRD-stamped aluminum front skid plate, plenty of black accents and badging front to back, and fabulous matte black painted 17-inch alloy wheels with TRD centre caps on massive 31.5-inch Nitto Terra Grappler all-terrain tires (although my tester's were on Bridgestone Blizzak 265/70 studless snow tires).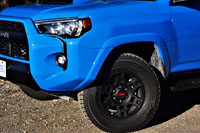 It looks like it's jacked up higher too, but there's no mention of any change to ride height or ground clearance despite the addition of TRD-tuned front springs and TRD Bilstein high-performance shocks with rear remote reservoirs, but it probably doesn't need much more height. An automatic disconnecting differential helps to keep the four drive wheels from fighting each other during tight turns, while its rear differential lock assists when the ground surface is extra slippery, and multi-terrain ABS comes into action when scaling a downward grade. Aforementioned Crawl Control is good for going up, down or just cruising along a low-speed stretch of flat terrain, selectable via an overhead console dial right next to the one for the Multi-Terrain Select system that makes choosing the four-wheel drive system's best possible response over "LIGHT" to "HEAVY" terrain an easy process. Of course, getting serious will need a quick shift from "H2" or "H4" to "L4" for its low set of gears via the console-mounted 4WD Selector lever.
Its insanely capable off road, something I learned when swamping through a local 4×4 course I use whenever I have something worthy of its rutted trails and long, wide, deep muddy pools. I tested it recently with Jeep's Wrangler Unlimited Sahara and did likewise with a Chevy Colorado ZR2 that saw brown water sloshing over its hood, plus I even proved Toyota wasn't fooling compact crossover buyers into believing its new RAV4 Trail could actually do a bit of dirty dancing too, albeit nowhere near as capably as the others just noted, including this 4Runner TRD Pro.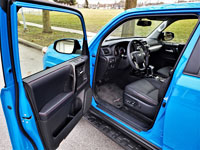 My tester's hood scoop never tested water, nor did it need the Tacoma TRD Pro's snorkel, although it would've looked cool, and believe me I was careful not to totally soil the white and red embroidery on the special floor mats, or even get mud on the breathable leather-like Black SofTex seat upholstery, complete with red contrast stitching and red embroidered "TRD" logos on the front headrests, not that it wouldn't be easy enough to wash off. I just keep my vehicles clean out of respect to the machinery, and an annoying fastidiousness about cleanliness.
The 4Runner TRD Pro makes easy work of most any off-road course or backcountry trail, even if there's not much of a trail to begin with. Choose the right Multi-Terrain setting and engage Crawl Control if you need to sit/stand up high without needing to press the gas pedal, and its amazing grip will do the rest. We used to have a mechanical version of this on the family's old Land Cruiser FJ40, which was more or less a choke that held the throttle out when applying the gas pedal wasn't possible, and it worked wonders just like the 4Runner's version. The FJ Cruiser had one too, a model that shared underpinnings with this much larger and more accommodating SUV, as does the global market Land Cruiser Prado and luxury-oriented Lexus GX 460.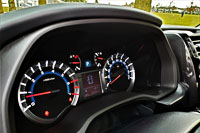 Speaking of eight-cylinder-powered 4x4s, I remember when Toyota stuffed a 4.7-litre V8 into the previous fourth-generation 4Runner. I loved that truck and its silky-smooth formidable powertrain, but I must admit to rather having the 2.8-litre turbo-diesel found in the current Prado, as it's fuel economy would be a bonus around town and in the woods where it could trek a lot farther away from civilization than the current 4.0-litre V6. That beast chows down a gluttonous 14.3 L/100km in the city, 11.9 on the highway and 13.2 combined, although it uses a great deal more in low gear off-road. That's really this truck's weak point, and now that Jeep is offering its Wrangler with a turbo-diesel V6, and Chevy has one for the Colorado, it's high time Toyota provided North American 4×4 enthusiasts with something similar from its global catalogue.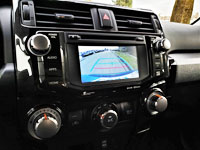 The 4Runner's five-speed automatic transmission doesn't exactly help at the pump either, but it's a ruggedly reliable lump of machinery and certainly shifts smooth enough. This TRD Pro model adds a red-stitched leather shift knob to its console-mounted lever, almost making it feel sporty when utilizing manual mode, and to be fair to the big hunk of an SUV it manages fast-paced corners quite well, whether on pavement or off, while its ride is very compliant, appreciated as much through inner-city laneways as on the trail.
I would've loved it even more if it came standard with shock-absorbing seat frames like my old '86 LC BJ70, still my favourite Toyota to this day (diesel-powered no less), but the TRD Pro's powered seats with two-way lumbar took care of comfort well enough, while its tilt and telescopic steering column allowed for ample reach to set up my driving position for good comfort and control.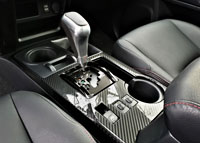 That steering wheel rim is leather-wrapped, albeit without the red stitching, and its spokes filled with just enough buttons to make it look up-to-date. Seen through its upper section is a really eye-catching set of bright blue, red and white on black Optitron gauges featuring a small trip computer at centre; nothing too advanced, but attractive and functional.
Over on the centre stack, the centre touchscreen might be the one being replaced for 2020, but it was nevertheless decently sized, fairly high in resolution and filled with attractive graphics and plenty of functions, its backup camera devoid of active guidelines yet nice and clear (when not sprayed with mud), its navigation system accurate and map easy to read, plus its audio system just fine.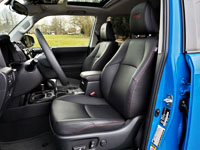 The 4Runner's second row is nicely sized for most anyone, particularly if seated next to one of the windows, while its third row gets deleted for this off-road model, leaving loads of space for cargo. There's actually 1,337 litres (47.2 cubic feet) dedicated to gear, or up to 2,540 litres (89.7 cu ft) when the 60/40-split second row is folded down, making the 4Runner an awesome camping companion or ski hill buddy.
You can get into a 2019 4Runner for $46,155 or less depending on your negotiating skills (which shouldn't have to be that sharp this time of year), while I should also note that leasing and financing rates could be had from 1.99 percent at the time of writing according to CarCostCanada, which also provides members with money saving rebate information and dealer invoice pricing that could save you thousands. The 2020 4Runner, which starts at $48,120 due to all the new equipment I mentioned earlier, only benefits from leasing and financing rates from 4.49 percent, so the 2019 might be the way to go if you can still find what you want. If it's this TRD Pro, you'll need to come up with $56,580 plus freight and fees, less any discount, this being the priciest trim in the lineup.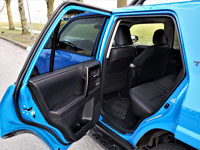 Money in mind, the 4Runner won't wow its owner with fancy soft composite interior surfaces or any other premium touches, but that's ok because it's a tough-as-nails SUV that doesn't need to pamper its occupants to impress. Instead, along with its killer off-road prowess, general ease of use and overall livability, it manages to beat every other similarly sized sport utility for all-important cost of ownership status by topping its "Mid-size Crossover-SUV" category in the 2019 Canadian Black Book Best Retained Value Awards, and while it didn't do likewise in ALG's Residual Value Awards, the Sequoia, Tacoma and Tundra did in their Fullsize Utility, Midsize Pickup and Fullsize Pickup categories respectively, so I'm guessing it wasn't too far behind Jeep's Wrangler in the third-party analytical firm's Off-Road Utility segment (it won this category in 2018 after all).
I could go on and on with awards, but the 4Runner and Toyota have won too many to list over the years, so suffice to say you'll be well taken care of in this dependable ute. I'd be happier than a pig in mud if this were my very own, although I'd probably rather have it in last year's Cement Grey hue and would definitely add a TRD-sourced snorkel to its front right fender and A-pillar for dramatic effect.