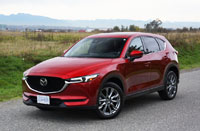 Anticipation. Sometimes it's better than the real thing. Just think back to someone you fell head over heels for in junior high, only to finally go out on a date and realize they weren't the perfect match your idealistic imagination conjured them up to be. As we age, most of us become a little more cautious in our approach to everything, including our next best ride.
Enter the Mazda CX-5 Signature Diesel or SkyActiv-D, a compact crossover SUV that most buyers in this class never realized was even on the radar, let alone available for the 2019 model year. Amongst the auto industry media, Mazda's upcoming turbo-diesel was a highly anticipated new powertrain in a model that's long earned high marks, but it took longer to arrive than expected and only lasted one single model year, a shocker that's caused some disappointment within a small following of diesel engine fans, and as I just noted, not even a whimper from most Mazda buyers.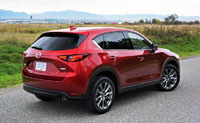 Of course, the latter group matters much more in the grand scheme of things than a tiny handful of oil-burner zealots and enthusiastic auto journalists, and to be fair to Mazda that's now looking as if it made a major product planning error, Volkswagen's Diesel-gate fiasco wasn't a thing when the 100-year-old independent Japanese brand first decided to bring its SkyActiv-D to market (yes, Mazda is 17 years older than VW). As it is, the very fact the new turbo-diesel engine met Canadian regulations for the 2019 model year shows that it was cleaner than anything offered by the Germans, all of which dropped their diesel powerplants soon after the Diesel-gate scandal.
I'm speaking in past-tense because this review is coming out after the fact, although being that 2020 is one of the most unusual years we've ever experienced in the car industry, or any other sector for that matter, I was still able to find some of these unique 2019 CX-5s available to purchase new when perusing online.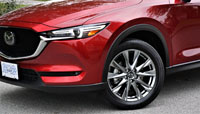 In this review I'm going to cover the 2019 model shown, as well as the 2020, particularly the changes moving up to the latest model year, being that there are many more 2020s available to purchase than 2019s, with or without the SkyActiv-D powertrain with respect to the latter. If you can find a 2019 model that suits your needs, you'll be able to benefit from up to $2,500 in additional incentives, while 2020 models are only being offered with incentives up to $1,000, as per CarCostCanada's comprehensive 2019 Mazda CX-5 Canada Prices page and 2020 Mazda CX-5 Canada Prices page. CarCostCanada's very affordable membership provides plenty, by the way, including manufacturer rebate information, details about any available manufacturer financing and leasing deals, dealer invoice pricing info that could save you thousands, and more.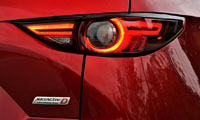 A quick look at the just-noted 2019 Mazda CX-5 Canada Prices page will immediately show the 2.2-litre twin-turbo-diesel only being available in top-line Signature trim at a price of $45,950 plus freight and fees. Signature trim is a new for 2019 premium brand-like level that's never previously been offered to CX-5 clientele. Other CX-5 trims include the base GX that starts at $27,850 with front-wheel drive or $29,850 with all-wheel drive, the mid-grade GS at $30,750 with FWD or $32,750 with AWD, and the previous top-line GT that starts at $37,450 and tops out at $39,450 with its 2.5-litre turbocharged gasoline with engine upgrade. GT and Signature trims include Mazda's i-Activ all-wheel drive (AWD) as standard equipment.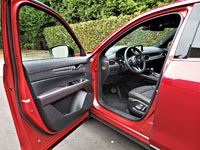 The CX-5 Signature, available with the just-noted 2.5-litre turbo gas engine for $40,950 and the aforementioned diesel, builds on the already impressive CX-5 GT with features like LED cabin lighting, a 7.0-inch digital instrument cluster, a slick looking frameless rearview mirror, genuine Abachi hardwood inlays on the dash and door panels (yes, real wood, folks), plus dark chocolate brown Cocoa Nappa leather upholstery and trim, while items pulled up from the GT include front and rear signature lighting, adaptive headlamps, LED fog lights, power-folding side mirrors, proximity-sensing keyless entry, traffic sign recognition, dual-zone automatic climate control, navigation, a 10-speaker audio system including satellite radio, a garage door opener, leather upholstery, a 10-way power-adjustable driver's seat and a six-way powered front passenger's seat, plus more.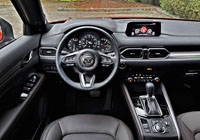 Details like fabric-wrapped A pillars and luxuriously padded interior surfaces including the dash top, upper and lower instrument panel, lower console side edges, door uppers front to back and armrests side to centre go further to make the CX-5 a near-luxury experience, while Mazda also adds a tasteful assortment of anodized aluminum accents throughout the compact SUV's cabin, with some of the brushed metal switchgear receiving rich knurled metal edging for an extremely upscale appearance. It's pretty fancy stuff from a mainstream volume-brand, leaving some in the industry to wonder (including yours truly) whether or not Mazda is making a long play for luxury brand status.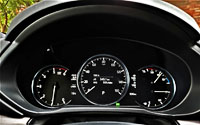 The diesel option fits the premium sector well too, being this engine type has mostly been sold through luxury brands (Volkswagen aside) such as Mercedes-Benz, Audi, BMW and the like, with Jaguar offering a bevy of diesel-powered models up until last year (so there are probably plenty of these around if you're interested too) and Land Rover having only dropped the oil-burner in its Velar, yet not offering diesel-power in the one vehicle 4×4 enthusiasts would most likely want it in, the all-new 2021 Defender.
Back to Mazda's diesel, it makes a rather meagre 168 horsepower yet a very healthy 290 lb-ft of torque; the low horsepower, high torque ratio normal for diesel powertrains. This said the same CX-5 Signature's base gasoline-fed powerplant is good for 227 horsepower and 310 lb-ft of torque (take note, this engine has just been announced for the AWD Mazda3, and should be a real screamer in such a lightweight car), as long as you fill it with 93 octane premium fuel. If you don't, and I can't see most owners throwing that much cash into the ether, it puts out a commendable 250 horsepower and the same 310 lb-ft of torque, while the 2020 model gains an additional 10 lb-ft of torque to 320 lb-ft when fuelled with high-octane gas.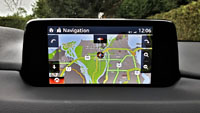 Drive both CX-5 powertrains back-to-back, as I'm sure many would-be CX-5 Diesel buyers would have done, and the benefits of the gasoline-powered version are immediately clear, at least from a performance perspective. Of course, opting for the diesel is more about fuel economy, and to that end it's thriftier than its gasoline-powered counterpart, but probably not enough to cause a large volume of CX-5 buyers to choose it over the more conventional powertrain. The diesel's claimed 8.9 L/100km city, 7.9 highway and 8.4 combined fuel economy is certainly better than the gasoline engine's 10.8 city, 8.7 highway and 9.8 combined rating, but the extra $5,000 needed to upgrade makes any savings less reasonable.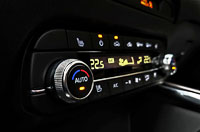 Something else to consider is the nicely equipped CX-5 GT mentioned earlier, which for $37,450 offers a lot of luxury along with an even thriftier 2.0-litre SkyActiv-G four-cylinder good for 187 horsepower and 186 lb-ft of torque, plus a claimed fuel economy rating of 9.8 L/100km in the city, 7.9 on the highway and 9.0 combined, while the same engine with front wheel drive gets 9.3, 7.6 and 8.5 respectively.
Last year I reviewed a GT with its base engine and was very pleased with its fuel economy, performance and level of luxury after my usual weeklong test, but this said I more recently spent three months with a 2020 CX-5 Signature 2.5-litre SkyActiv-G turbo and was even more enamoured, particularly with its performance and premium fittings. I'll be sure to review it in full detail soon, although for the sake of this review I'll only say that Mazda made the right choice in keeping its top-line gasoline engine over its even more exclusive diesel.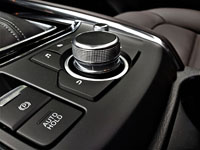 Don't get me wrong as the two models' fuel economy disparity was even more pronounced during real life duty than on National Resources Canada's downloadable Fuel Consumption Ratings spreadsheet. This was made even more obvious thanks to diesel fuel pump prices that are normally much lower than regular gasoline (let alone premium), but the biggest reason for the two models' fuel economy disparity came down to the sportier 2.5-litre turbo-gasoline engine making the paddle-shift actuated 2020 CX-5 Signature way too much fun to merely coast along in comfortable bliss. With the knurled-metal, console-mounted rocker switch pulled rearward for Sport mode, the most potent CX-5 is a rarified dynamo amongst mostly dawdling compact crossover competitors, while the turbo-diesel version is much more sedate after its initial launch from standstill.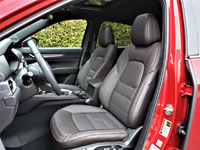 Yes, the diesel-powered CX-5 provides a lot of twist from lower speeds, and I certainly never had any problem passing slower moving traffic on the highway. It just doesn't provide the level of sporty performance as the conventionally-fuelled turbo-four, and due to the subtle yet still evident rat-a-tat-tat sound emanating from ahead of the engine firewall, it makes the CX-5 sound a bit more truck-like than the gasoline version. This will either be good or not so good depending on your preferences. I happen to like the sound of a diesel engine, so it was kind of comforting, while its standard 19-inch Gunmetal grey Signature wheels and equally large tires provided plenty of pavement adhesion when hustling it through corners.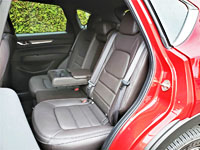 Unlike the gasoline-powered Signature, the diesel doesn't provide steering wheel paddles, so its six-speed automatic transmission isn't quite as engaging as the gearbox I more recently tested. Yes, you heard me right, like Hyundai's Tucson and Kia's Sportage, the CX-5 uses a conventional six-speed automatic instead of a continuously variable transmission (CVT), which has become more commonplace in this small SUV market segment, while more complex eight-speed autoboxes are now incorporated into VW's Tiguan and Ford's latest Escape, and even fancier nine-speed automatics can be found in the Chevrolet Equinox, GMC Terrain and Jeep Cherokee. More gears can add problems, however, with most of the eight- and nine-speed automatics just noted commonly cited for reliability issues, making Mazda's well-proven six-speed SkyActiv-Drive transmission a good choice for those wanting something they can rely on.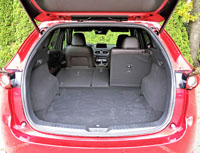 Along with commendable handling, all second-generation CX-5 models I've driven so far have provided a comfortable ride, albeit firmer in the more performance-oriented Germanic sense than most competitors. This said, the SUV's fully independent suspension was never harsh in any way, but instead felt wholly confidence-inspiring when pushed hard through circuitous two-lane roadways, and wonderfully controllable at higher speeds on the freeway. This is a crossover SUV I was able to spend many hours in at a time without discomfort, while its roominess from front to rear is very generous and therefore competitive with compact SUV challengers.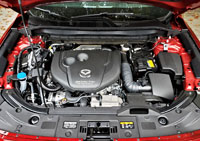 Feel free to check out my 2019 Mazda CX-5 GT AWD Road Test for even more detail, particularly about its best-in-class 40/20/40 split-folding rear seatbacks with convenient cargo sidewall-mounted release levers, cargo measurements and more, and remember to download the free CarCostCanada app to your smartphone from the Apple Store or Google Play Store so you can get the best deal possible on this impressive compact SUV.
I won't try to claim that I know which engine will best suit your needs, because those who already like diesels will love the short-lived SkyActiv-D, and performance fans will no doubt want the much quicker SkyActiv-G turbo, while some will prefer to save as much as possible by purchasing a more affordable trim and therefore be happy with the naturally aspirated SkyActiv-G powerplant, as I was. Either way Mazda has you covered, at least for a little while longer, unless you're looking for a hybrid. If that's the case, you may want to wait for Mazda's sporty looking electric crossover just unveiled at the Tokyo auto show.
Story and photo credits: Trevor Hofmann
Photo editing: Karen Tuggay