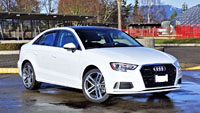 In a market that's constantly talking big about SUVs and simultaneously downplaying the popularity of traditional sedans, the Audi A3 has steadily made year over year gains. In fact, the recently revised model's Canadian sales grew 5.3 percent from the close of 2016 to December 31, 2017, while deliveries are up an impressive 63 percent since 2014, the first full year that four-door sedan and convertible body styles were added to the mix and the conventionally powered first-generation five-door wagon/hatchback Sportback was dropped. 
To be clear, along with the A3 Sedan and A3 Cabriolet, Audi once again sells an A3 Sportback, albeit now dubbed A3 Sportback e-tron due to only being available in plug-in hybrid guise, while the A3 Sedan is also available with sportier S3 and RS 3 upgrades. Being that I haven't driven any of these alternative versions in 2018 guise I'll keep this review focused solely on the A3 Sedan, which once again found its way into my hands in mid-grade 2.0 TFSI Quattro Progressiv trim.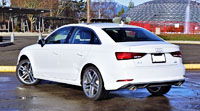 Back to sales and the SUV phenomenon, the A3 was the only car in its subcompact luxury class to achieve positive growth last year, actually managing to pass right by the Mercedes-Benz CLA on its way to segment bestseller status. While this is great news for Audi, the surprising flip side to this scenario is a Q3 subcompact luxury SUV that's losing ground to its competitors, with calendar year 2017 sales that were off by 3.5 percent in a Canadian new vehicle market that was up overall. Audi will want to remedy its entry-level SUV situation quickly.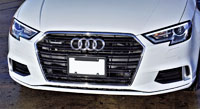 The A3 Sedan needs no such drastic attention, especially after receiving a significant mid-cycle upgrade for the 2017 model year. It therefore continues into 2018 unchanged, with its "horseshoe" grille still slightly larger and more angled than the one it replaced, the now standard HID headlamps slimmer with more sharply scalloped lower edges than the more conservative outgoing lenses, and its standard LED taillights still dazzling when lit up at night, while the refreshed A3 Sedan's sharply detailed lower front and rear fascias continue forward unchanged as well. 
Last year's redesigned standard and optional alloy wheels needed no fix either, my tester's being a stunning set of machine-finished twinned five-spoke 18-inch alloys that looked as if they'd been upgraded to S Line sport trim, but such wasn't the case at all.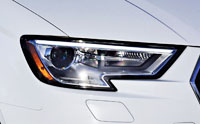 Really, despite standing out like a fully dressed premium four-door, my 2018 A3 Sedan 2.0 TFSI Quattro Progressiv tester was simply Audi's least expensive model in its standard mid-range trim, nothing special. Or at least it was nothing special for an Audi. The German brand's bold, sporty styling has helped sales steadily grow year over year since 2005, even making gains through the great recession. Specifically, Canadian Audi sales grew 17.9 percent last year, making 2017 the luxury brand's strongest growth since 2014 that saw its sales expand by 19.5 percent over the previous year's sales record. Other standout years include 2010 with a 26.7 percent increase over 2009, while even 2008, right smack dab in the middle of the financial crisis, saw Audi sell 22 percent more vehicles than 2007. That 10-year period witnessed Audi Canada sales grow by more than 288 percent, all because of making smart decisions like the A3 Sedan. 
The four-ringed brand's winning formula has long included some of the most appealing cabins in the industry, and the new A3 Sedan only improves on the outgoing model. It's all about tastefully applied high quality materials—an ample supply of real aluminum trim always part of the package. 
The fully configurable Audi Virtual Cockpit 12.3-inch TFT primary instrument package was added to top-line Technik trim as part of last year's update, while the car maintained its already well-received MMI infotainment system that continues to power up out of the dash-top to the oohs and ahs of passengers, so Audi is ahead of its rivals in one instance and about mid-pack with the other.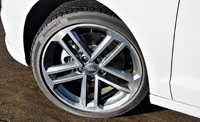 Why just a middling classification for A3 infotainment? The 7.0-inch display's diameter probably makes it a bit small in today's bigger is better tablet-infused world, although it was certainly large enough for my requirements, and despite providing bright, beautiful colours, deep and rich contrast, crystal clarity and stimulating graphics, its lack of touch-capacitive control keeps it from earning top marks. Then again, the screen earns big points for its disappearing act, or rather the ability to eliminate its own distracting presence during night drives by hiding away in the same nook that brings it to life on startup.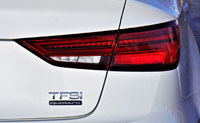 Audi recently upgraded the MMI Radio's operating system to accept Apple CarPlay and Android Auto smartphone connectivity, but being that I use an Android-based phone and don't like the latter system I found the standard interface more pleasing to look at and plenty easy to navigate through, and I'm not just talking about route guidance. Yes, Audi included its $1,950 Navigation package in my $36,100 Progressive trimmed test car, which added MMI Navigation plus to the centre display, as well as MMI Touch to the lower console, and a colour multi-information display (replacing a rather rudimentary looking monochromatic unit) to the otherwise analogue primary gauge cluster.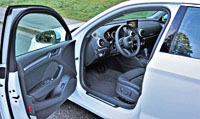 I should be clear that my Progressive trimmed A3 Sedan tester was actually upgraded with Quattro all-wheel drive, so the starting price was pushed up to $40,900 before freight and fees, and I should also let you know that all manufacturer recommended prices are easy to find and perfectly accurate at CarCostCanada.com, the one-stop-shop that allows me to quickly source pricing, features, cost/markup info, available rebate details and more. Here you can see the base 2018 A3 Sedan Komfort starts at just $32,800, while the top-tier Technik hits the road at $45,300.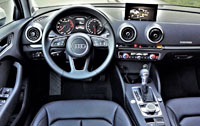 The $4,800 difference from front-drive to the all-wheel Quattro drivetrain includes more than just rear-wheel motivation, by the way, the upgrade also featuring 34 more horsepower from 186 to 220 ponies, 37 additional lb-ft of torque from 221 to 258 foot pounds, and one less forward gear, from the FWD car's brilliant seven-speed dual-clutch S tronic automated gearbox to the slightly less flashy yet still very good six-speed S tronic automatic transmission. 
Efficiency fans may also chagrin at the Quattro-equipped car's lack of idle start/stop that helps to reduce the base model's claimed fuel economy to just 9.1 L/100km in the city, 6.8 on the highway and 8.0 combined to a less miserly yet still thrifty 9.7, 7.5 and 8.7 respectively, but frowns turn to a smiles when factoring in the more formidable model's 0.8-second gain from standstill to 100km/h, the FWD model performing the feat in a respectable 7.0 seconds compared to the Quattro's much more entertaining 6.2 seconds.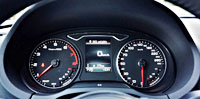 Both A3 trims benefit from highly responsive speed-sensitive rack and pinion steering and a wonderfully nimble fully independent chassis, the latter consisting of MacPherson struts with lower wishbones up front and a four-link suspension with separate springs and dampers in back, the setup combining for easy manageability and a nice comfortable ride through town, superb manoeuvrability on fast-paced windy back roads, and total stability at highway speeds up to 209 km/h (130 mph), but take note the Quattro system's rear-drive mechanicals eat up trunk space, reducing available cargo capacity by 62 litres (2.2 cubic feet) to just 284 litres (10.0 cubic feet).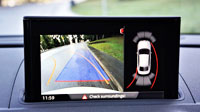 At least Audi finishes the A3 Sedan's trunk off nicely with a carpeted floor, sidewalls and under-lid, plus chromed tie-down rings at each corner, while it provides 60/40-split rear seatbacks to expand on its usefulness, with a handy centre pass-through for placing longer cargo like skis down the middle so that a duo of rear passengers can enjoy the more comfortable window seats. Also notable, the rear seat folding mechanisms feel much better made than average, while along with a spare tire Audi has organized some small cubbies below the cargo floor for stowing items like work gloves and rags, or possibly a little tool kit.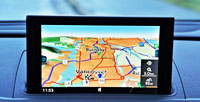 I should point out the A3 Sedan's rear seating area is fairly roomy for this subcompact luxury class, with my five-foot-eight medium-build frame still a healthy six inches from rubbing knees against the backside of the driver's seat after setting up the latter for my near-average height, plus there was still plenty of room for my feet while wearing clunky leather boots. The A3 also provided more than a few inches of air space next to my hips and shoulders, but rear headroom was somewhat compromised with only an inch or so above my crown, and it should be noted that my torso is shorter than average for my height, so therefore someone five-foot-ten with a normally proportioned body would probably find the A3 Sedan a bit cramped in back.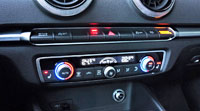 Of course, other than the need to move around the cabin to take notes I spent the majority of my time in the A3 Sedan's driver seat, which proved easy to set up thanks to exceptionally good ergonomics, and was therefore wonderfully comfortable and ideally positioned for optimal control. Backing out of my parking spot I immediately appreciated the dynamic guideline-assisted rearview camera system that relegates a third of the MMI display to active overhead graphics, which highlighted my car's proximity to surrounding objects via colours that corresponded with the front and rear parking sensor's audible beeps, hazard orange changing to bright red when coming dangerously close to scratching the A3's lovely paintwork.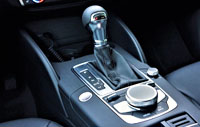 My tester was finished in Ibis White, one of two standard colours that also include Brilliant Black, while Audi offers an octet of $800 metallic enhancements, with Cosmos Blue Metallic being the most interesting—the rest are white, silver and grey shades, plus vibrant Tango Red Metallic. 
Now that I'm talking features, on top of everything already mentioned, base Komfort trim includes 17-inch alloys, auto on/off headlights, aluminum doorsills, an electromechanical parking brake, leather upholstery, a powered driver's seat with four-way power lumbar, heatable front seats, rain-sensing wipers, dual-zone auto climate control, a leather-wrapped multi-function steering wheel, 7.0-inch MMI infotainment, 180-watt 10-speaker AM/FM/CD audio with an aux plug, satellite radio, Bluetooth phone connectivity (without audio streaming!), a large glass sunroof, an alarm, and more.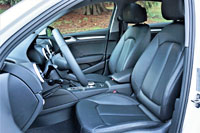 On the safety front the A3 gets the expected ABS-enhanced four-wheel disc brakes with EBD and BA, plus traction and stability control, Pre-sense Basic crash response, and six airbags, which is good enough for five stars from the NHTSA in standard trim and Top Safety Pick status from the IIHS when its $1,050 LED Lighting package is added. Within the A3's subcompact luxury class only BMW's 2 Series achieves the latter IIHS rating, and being a two-door coupe or convertible it doesn't directly compete.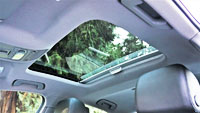 Upgrading to Progressiv trim provides Audi Drive Select with Comfort, Auto, Dynamic (sport) and Individual modes, the aforementioned 18-inch alloys, brighter high-gloss window surrounds, unique Mistral aluminum interior inlays, more aluminum trim, LED ambient cabin lighting, a powered front passenger seat, an auto-dimming rearview mirror with an integrated compass (that should really be standard in this class), Audi's MMI music interface featuring Bluetooth audio streaming (ditto standard equipment), one more SD card reader slot, an extra USB charging port, the rearview camera with active guidelines mentioned earlier (I still can't believe it's not standard), and more.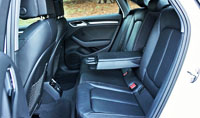 I should point out the A3 Sedan's aluminum cabin trim is exquisitely finished, especially around the shifter and MMI controls, the latter including a large rotating dial surrounded by aluminized buttons. The circular controller provides a matte black surface on top capable of finger gestures in lieu of the tablet-style touchscreen missing from the dash, which means that any tap, pinch and swipe functions need to be performed on this small surface. 
Options include a Premium package at $1,700 with the base car or $1,100 when added to Progressiv trim, the price difference due to only adding proximity keyless access with pushbutton ignition plus fore and aft parking sensors with the upgraded trim, being that the bright window surrounds and powered front seats are already standard.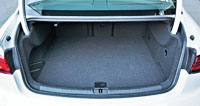 I've already noted the LED headlight upgrade and Navigation package, which means that only the $1,800 S line sport package remains, a worthwhile addition that features unique exterior styling, a separate set of 18-inch alloys, a sport suspension, S line doorsills, brushed aluminum interior trim, a flat-bottom steering wheel with paddles, sport seats, and a black headliner. 
I'd be tempted to go for the S Line sport package if this were my personal ride, and it would be difficult not to spend a little more to move up to Technik trim as well, which makes everything mentioned (other than the S Line package) standard, including the LED headlights and navigation, plus adds auto cornering headlight capability, special dynamic taillights, a heatable steering wheel, the aforementioned Virtual Cockpit, a brilliant sounding Bang & Olufsen audio system, Audi side assist to warn from approaching rear traffic, and more.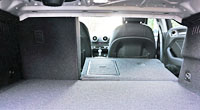 Additionally, only Technik trim lets you add a $1,400 Technology package with Audi pre-sense front, Active Lane Assist, Adaptive Cruise Control with Stop and Go, plus High Beam Assist, the latter two well worth the price of admission for convenience sake, and the first two capable of saving life and limb. 
With pricing between $33k and $50k, plus features to justify any extra expense, it's no wonder the A3 Sedan remains so popular. It delivers exactly what budget-oriented premium sport sedan buyers want, and looks fabulous no matter the trim. I expect Audi will remedy some of the base car's shortcomings by making some optional items standard, but keep in mind that it's priced well and includes leather, auto HVAC, a sunroof, etcetera in its most basic package, so splurge for Progressiv trim if an auto-dimming mirror, backup camera, and Bluetooth streaming are must-haves. Either way you'll be well served in a 2018 Audi A3 Sedan.