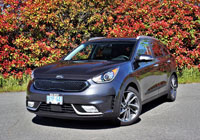 Kia is no stranger to electrified vehicles. It currently offers the Optima Hybrid in both regular and plug-in varieties, the fully electric Soul EV that's just been redesigned for 2019, so therefore nobody should be surprised to see the new Niro subcompact crossover show up in HEV guise. 
The surprise is its dedicated hybrid powertrain. Yes, that means it isn't offered with conventional gasoline-only propulsion at all. This is reason enough for it being compared to the Toyota Prius, with some even considering it a Prius competitor. While such may be true in the context of its hybrid drivetrain, directly challenging the Prius is really the job of Hyundai's equally dedicated Ioniq, which while sharing the same fully independent underpinnings, the identical 1.6-litre Kappa III four-cylinder Atkinson-cycle powerplant, a duplicate of its six-speed dual-clutch automated transmission, and direct copies of its electrified components, the Ioniq is shaped more like a traditional hatchback, is quite a bit longer, and sits a lot lower to the ground overall.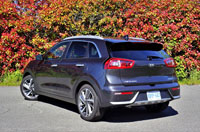 Instead, the shorter, taller Niro is sized almost identically to the new Toyota C-HR and slightly longer Nissan Qashqai, which are two of the larger subcompact SUVs available. This said the Niro is quite wide, coming closer to matching Subaru's Crosstrek. Either way the Niro fits nicely within this smallest of SUV categories, which is an ideal place for a new hybrid to reside as it provides an excellent opportunity for sales growth.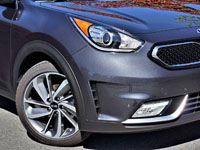 You'll have to decide for yourself if the thick matte black trim around the wheel cutouts and additional slabs of black protective trim skirting the rest of the Niro's lower extremities provide enough SUV-like machismo for its Kia-applied crossover categorization, or whether its satin-silver roof rails and other exterior detailing enhance or detract from that effect. Likewise, you'll need to take it for a drive to find out if its slightly raised ride height allows enough visibility of the road ahead and surrounding area to make you feel like you're at the wheel of a sport utility, but then again the popularity of the aforementioned Qashqai, which is now the subcompact crossover SUV segment's best-selling model and hardly anymore truck-like, proves that tough, rugged styling and a tall profile aren't the only elements of success in this class.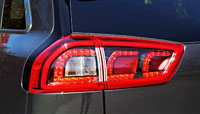 SUV-ness aside, the idea of combining a small crossover with a hybrid drivetrain is pretty smart. It's hardly an original ideal, Toyota having found plenty of success implementing this formula with in its larger RAV4 Hybrid in the compact SUV category, and Mitsubishi slightly less so with its similarly sized Outlander PHEV, but the Niro is a first for the smaller entry-level subcompact SUV segment, and the fact that it's the first dedicated hybrid within the crossover SUV sector is actually groundbreaking.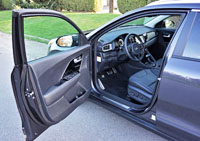 Another thing the Niro has going for it is price. A base 2018 Niro L can be had for as little as $24,995 plus freight and fees (see full 2018 Niro pricing at CarCostCanada, plus money saving rebate info and dealer invoice pricing that could save you thousands), which is quite reasonable even without factoring in its hybrid drivetrain that normally costs thousands over a given model's conventionally powered alternative. Still, you get this super-efficient HEV in base trim with standard 16-inch alloy wheels, perimeter/approach lights, auto on/off projector headlamps, LED DRLs, LED positioning lights, fog lamps, splash guards, variable intermittent wipers, a tilt and telescopic steering column, a heatable leather-wrapped multifunction steering wheel, a large colour TFT multi-info display, distance pacing adaptive cruise control, a leather-clad shift knob, illuminated vanity mirrors, filtered dual-zone automatic climate control with auto defog, three-way heated front seats, an overhead sunglasses holder, cloth upholstery, chrome/metal-look interior accents, a cargo net, a hill holder, individual tire pressure monitoring, a perimeter alarm, all the usual active and passive safety features including a driver's knee airbag, and more.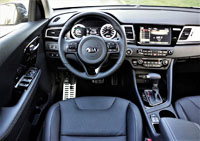 Continuing with the Niro's impressive value theme, base L trim also comes standard with a 7.0-inch infotainment touchscreen featuring a rearview camera, Apple CarPlay and Android Auto smartphone integration, six-speaker audio, AM/FM/MP3/satellite radio, Bluetooth phone connectivity with audio streaming, USB and aux ports, etcetera. 
If you want more than mere base trim, and most Canadians do, the $27,595 Niro EX adds LED turn signals onto an upgraded set of power-folding side mirrors, sharp looking and quicker responding LED taillights, those roof rails mentioned earlier, plus proximity-sensing access with a pushbutton ignition, an auto-dimming rearview mirror, rear parking sensors, a wireless phone charger, upgraded cloth and leather upholstery, piano black lacquered interior trim, coloured console and door panel inlays, satin chrome inner door handles, a folding rear centre armrest, rear climate ventilation, a cargo cover, an under floor storage tray, and more.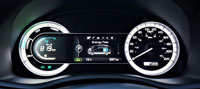 If you think that's good, a tiny hop up to the $29,195 EX Premium adds a powered glass sunroof, an eight-way power-adjustable driver's seat with two-way powered lumbar, and blind spot detection with rear cross-traffic alert. 
Leaving the best to the last, my top-line $32,995 Niro SX Touring included most everything already mentioned as well as better looking 18-inch alloys, brighter HID headlamps, aeroblade wipers, "niro" inscribed metal door sill treadplates, alloy sport pedals, a larger 8.0-inch touchscreen with a navigation system featuring detailed mapping, front parking sensors, a great sounding eight-speaker Harman/Kardon audio system, stylish perforated leather upholstery, a household-style 110-volt power inverter, driver's seat memory, ventilated front seats, heatable rear seats, emergency autonomous braking, lane departure warning, lane keeping assist, stop and go added to the distance pacing adaptive cruise control, driver attention alert, and more. It all comes in a really nicely finished cabin that's suited up more impressively than some premium branded subcompact crossover SUVs, highlighted by a high-quality soft-touch synthetic dash top and door uppers.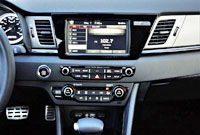 My Graphite painted Niro SX Touring looked stealth compared to those coated in Ocean Blue or Temptation Red, while other exterior colours include a darker, greyer Gravity Blue, Espresso brown, Snow White Pearl, and Aurora Black, with all SX Touring models receiving black leather upholstery within an all-black interior. Of course it's not completely black inside, thanks to sporty white contrast stitching throughout, and two above average quality high-resolution electronic displays ahead of the driver and another on the centre stack, these filled with deep, rich colours and attractive graphics.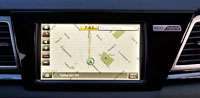 Before I delve into these interfaces, the Niro SX Touring driver's seat is comfortable and the all-round view is quite good thanks to a reasonably tall ride height, the Niro bridging the aforementioned gap between crossover SUV and tall wagon quite well. The previously noted power seat controls provided plenty of adjustment and the fore-and-aft-only powered lumbar support fit my lower back ideally, as did the entire backrest. Comfort in mind, the steering column offers a lot of telescopic reach, which I happen to appreciate because this benefits my long-legged, shorter torso five-foot-eight body type, while there's also plenty of rake.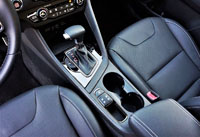 The nicely shaped leather-wrapped and black-lacquer adorned steering wheel looks and feels sportier than I expected for a hybridized SUV too, and it comes filled with high quality switchgear including easy-to-use rockers for various functions, particularly for scrolling through and selecting features within the full-colour dual-screen multi-information display mentioned earlier, these defaulting to hybrid-specific info. The analogue gauges are brightly backlit too, with the entire cluster very good looking. 
The centre stack mounted infotainment interface noted earlier features familiar tablet-style tap, pinch and swipe touchscreen gesture controls, a very clear and easy to see backup camera with active guidelines, navigation with a nicely detailed map and accurate route guidance, plenty of useful apps, and once again unique hybrid info that even goes so far as to show how well you've been driving via a dot matrix-style tree which grows more foliage when driven more efficiently. 
It showed my real-time fuel economy averaging 5.9 L/100km, but to clarify I really wasn't trying to drive efficiently during my final stint, as I need to get the Niro home quickly. It's useful info just the same, while eco-geeks will likely enjoy the graphic energy flow display even more. This said I'll deep dive into fuel economy as I get further into this review, because I don't want to get pulled out of the Niro's impressive interior just yet, and I need to preamble the powertrain before that. 
Having set the driver's seat up for my aforementioned small-to-medium-build frame, I slid into the back seat more easily than I would in a lower car thanks to its taller ride height, and found a lot of space to move around and get comfortable in. In fact, there were four to five inches between my knees and the front seatback, plus even more above my head, while you shouldn't have any problem seating three adults side-by-side, although two would be more comfortable.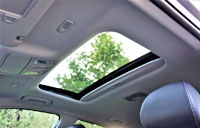 As expected in a crossover SUV albeit not always true of electrified cars, the Niro provides a sizeable cargo hold measuring 635 litres (22.4 cubic feet) behind the 60/40-split rear seatbacks and 1,789 litres (63 cubic feet) when they're folded flat, which is actually much better than average for the subcompact SUV class. The loading area is nice and wide too, while a folding cargo floor reveals a hidden cargo organizer below, useful for storing valuables, tools or other items you may want to keep separated from everything else. 
Back in the driver's seat, a quick press of the dash-mounted button ignites the engine and you're off to the races. The direct injection-enhanced four-cylinder internal combustion engine (ICE) displaces 1.6 litres resulting in 104 horsepower, but when factoring in the 32-kW (43-horsepower) permanent magnet synchronous electric motor it's good for 139 net horsepower. Even better, the electric motor adds 86.5 lb-ft of more immediate twist to the ICE's 108.5 lb-ft of torque, with the combined effect totaling 195 lb-ft of net torque from 4,000 rpm.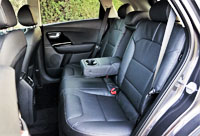 That's a lot of get up and go for a subcompact SUV, but the inclusion of the quick-shifting six-speed dual-clutch automated transmission I mentioned earlier (not the humdrum CVT found in most hybrids) makes the Niro feel even sportier. It's such a great gearbox that I was longing for a set of steering-wheel mounted paddle shifters, but at least Sportmatic manual mode can be actuated via the gear lever, and it works well enough. 
Another driveline feature I would've liked to see is AWD, but despite the Niro targeting the subcompact SUV market the placement of its 1.56-kWh rear-mounted lithium-polymer battery means it won't be getting all-wheel drive anytime soon if at all. Still, news that Hyundai-Kia is developing in-wheel e-AWD technology gives me hope that it's not totally out of the question at some point in the future.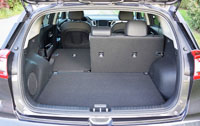 Some time ago I would've said that AWD is a subcompact SUV prerequisite, but it's long been excluded from the very popular Kia Soul and now can't be had with the aforementioned Toyota C-HR either, so I suppose AWD isn't as critical in this category as I initially figured it would be, and the Niro's fuel economy is so good many won't care one whit about extra rear-wheel traction. 
Driving this point home is a great story worth repeating. The Niro was barely born when it earned a Guinness World Book of Record's entry thanks to Wayne Gerdes and co-driver Robert Winger using just 4.1 tanks of gas while driving their Niro EX 5,979 km (3,715 miles) from Los Angeles to New York City, the key number being an average of 3.1 L/100km (76.6 U.S. mpg). No doubt they were using hypermiling techniques to achieve such incredible efficiency, as the Niro EX trim's five-cycle Transport Canada rating is a more conservative 4.6 L/100km in the city, 5.1 on the highway and 4.8 combined. The base LX is claimed to do even better with a 4.5 L/100km city, 4.8 highway and 4.7 combined rating, whereas the as-tested SX Touring is good for an estimated 5.1 city, 5.8 highway and 5.4 combined.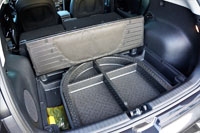 Like other hybrids Kia uses regenerative braking to recoup kinetic energy, as well as auto start/stop to save fuel that would otherwise be wasted while idling, while standard Drive Mode Select provides an Eco mode to increase efficiencies and therefore reduce emissions further. I actually left it in this greenest of settings for most of my test week due to a generally stingy personal nature, but I must say its alternative Sport mode makes for a more enjoyable driver's car, providing that extra punch off the line required for quicker takeoff and more confident highway passing. 
I was actually surprised at how well the Niro drove. Let's face it. While attractive, its somewhat conservative tall wagon styling prepared me for more of a sheepish experience than running with the wolves, but its formidable power, superb transmission, and nicely dialed in front strut, rear multi-link suspension rolling on meaty as-tested 225/45R18 rubber combined for good balance through the corners, while the ride is smooth and once again comfortable. Its lightweight yet rigid construction, made with plenty of high-strength steel and aluminum, adds to its Euro-inspired feel, while its nice taut ride was never rough, the Niro striking a good compromise between sport and comfort that most should appreciate. 
That last sentence really sums up my entire weeklong experience. I can't see many disagreeing with Kia's new Niro, nor its very attractive value proposition. It's a great little crossover that's wonderfully comfortable, fully accommodating, filled with premium features, and best of all it delivers record-breaking fuel economy yet doesn't feel at all like a hybrid. In other words, the Niro is a lot of fun to drive. Whether you're looking for a good small SUV or a fuel-efficient dedicated hybrid, consider the Niro. It's a best of both worlds offering that shouldn't be looked over.