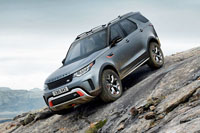 The mucky dirt Land Rover left all over this new Discovery SVX prototype when posing for its photo shoot says it all. This is no lily white (or Fuji/Yulong white) soft-roader, but a bold, brash 4×4 cut from the same gritty emery cloth as the legendary Defender.
Most of today's sport utilities can't say the same. Even after the most purposefully utile off-roaders like Land Rover's Series I staked their claim on the wild, when much more refined alternatives ushered in the SUV craze that replaced wagons and minivans as family favourites, boasting rough and rugged nameplates like Blazer, Cherokee, Trooper, 4Runner, Explorer, etcetera, with real truck-based 4×4 capability, few could really slog it out in the mud alongside anything from Land Rover. How much less so for today's car-based SUVs, which are oftentimes little more than gussied up wagons.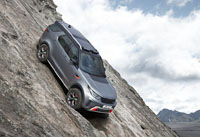 The Discovery was introduced back in the late '80s when SUVs were changing the face of the auto market. It quickly rose to prominence in the luxury sector, and has never looked back. For a bit of history, the Discovery Series I was replaced by the slightly roomier and more refined 1998-2005 Discovery II, while the much improved 2003-2009 Series III was renamed LR3 in North America when introduced for the 2005 model year, before the 2010-2016 LR4 brought Land Rover's most family friendly model fully into the premium class both stylistically and luxuriantly.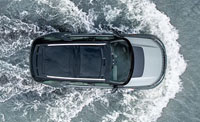 The new 2017 Discovery, which remains mostly unchanged as it moves into the 2018 model year, other than some minor yet important updates including standard autonomous emergency braking, standard InControl Touch Pro Navigation now benefiting from a larger 10-inch touchscreen, the turbo-diesel powertrain now available throughout the entire model lineup, and a revised second-gen head-up display system that can now be had on HSE and HSE Luxury trims, is a completely reimagined sport utility that eschews nearly everything from its LR4, LR3 and Discovery past.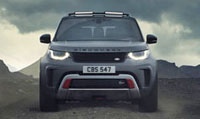 Most obviously its blocky corners have been wholly smoothed over, but more so that metalwork is now formed from aluminum instead of steel, while an even more significant change sees the old Integrated Body Frame (IBF) platform architecture left behind for a monocoque body shell. The suspension is aluminum as well, the result of these lightweight materials being a 480-kilogram (1,058-lb) reduction in curb weight from the outgoing model, for much improved driving dynamics and efficiency.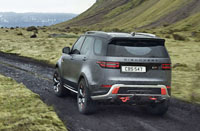 While this strict alloy diet should theoretically aid off-road capability, some naysayers point to the change from partial body-on-frame architecture to monocoque (a.k.a. unibody) as a negative when the pavement ends and trail begins, which makes it all the more important for Land Rover to highlight that its new Disco is every bit as capable off-road as its outgoing LR4. What better way to prove this point than to showcase a special off-road optimized version of the new SUV, that every diehard Land Rover 4×4 fan will want to call their own.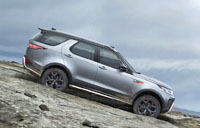 Meet the new Discovery SVX, just revealed at the Frankfurt motor show. It's a "production preview" of what the British SUV brand is calling "the ultimate all-terrain Land Rover Discovery." Just one look should have even the most jaded 4×4 purists wanting a turn at the wheel, plus news that behind its matte grey, black, silver and orange coloured front fascia is Land Rover's 518 horsepower supercharged 5.0-litre V8.

"The SVX product line gives us a fantastic opportunity to deliver the ultimate Land Rover all-terrain capability in a dynamic and distinctive manner, creating a rugged and versatile SUV that the whole family will love: effortless, unstoppable and connected, whatever the terrain," said Mark Stanton, Jaguar Land Rover SVO Director. "Discovery SVX is designed to reward off-road driving enthusiasts with the next level of all-terrain capability, without compromising comfort and practicality."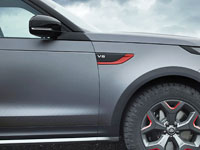 The list of kit that makes it worthy of the brand's "most extreme Land Rover yet" claim is extensive, including a raised monocoque and four-corner air suspension with long-travel dampers and modified knuckles for better approach, departure, and breakover angles, as well as heightened ground clearance for overcoming obstacles, while all of the above gets assisted further via bigger 20-inch forged aluminum alloys wrapped in meatier 815-mm diameter 275/55 Goodyear Wrangler all-terrain rubber. Land Rover points out that the tires' higher sidewalls "reduce contact pressure and improve performance on soft surfaces," which when "combined with a more aggressive tread pattern… improves grip in muddy conditions."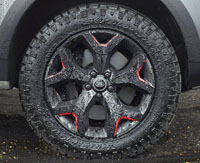 Aiding both off-road performance and on-pavement stability is new Hydraulic Active Roll Control (H-ARC). This SVX-exclusive technology allows for increased wheel articulation when tackling aggressively uneven trail surfaces, plus reduced body-roll during fast-paced cornering.
An additional Land Rover first is the Discovery SVX's specially tuned Terrain Response 2 four-wheel drive system, which, along with manually or automatically modulating throttle, brake, and torque distribution from a dial atop the centre console, includes active centre and electronic rear locking differentials for optimizing traction in all weather conditions and all types of surfaces.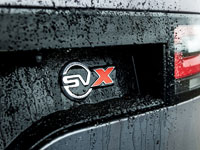 Likewise, the model's eight-speed automatic gearbox and twin-speed transfer case have been tweaked with "unique software calibrations," says Land Rover, while variable ratio electric power-assisted steering (EPAS) joins the Discovery's usual assortment of advanced driver assist systems, including Hill Descent Control, Electronic Traction Control (ETC), Adaptive Dynamics, Dynamic Stability Control (DSC), and All-Terrain Progress Control (ATPC).
Providing "optimum control of gear selection in off-road manoeuvres," the current production Discovery's Drive Select rotating gear selector has been replaced by a Pistol Shifter that looks as if it was pulled straight out of a Jaguar F-Type, other than the tiny orange cross-stitched "X" that's applied overtop the leather shift knob's regular French stitching and some minor changes to the lever's backside design, this JLR parts bin-sourced item making perfect sense for an SUV that's bound for production.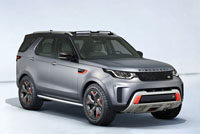 Yes, something very similar is on the way next year, with Land Rover confirming the "Discovery SVX will be the first Land Rover assembled by hand at the SVO Technical Centre when production begins in 2018."
What might change ahead of production? True 4×4 aficionados would most likely rather have the fuel-friendly and therefore much more range-capable turbo-diesel in place of the hyper-tuned V8, the formidable powerplant's 461 lb-ft of torque tempting yet more in tune with off-road racing than any serious, adventurous safari-like 4x4ing. In stock trim the 3.0-litre turbo-diesel V6 is good for 254 horsepower at 3,750 rpm and a still impressive 443 lb-ft of torque at 1,750 to 2,250 rpm, while fuel economy is rated at 11.2 L/100km in the city, 9.0 on the highway and 10.2 combined, which won't only save weekend warriors a lot of coin on the way to their trails of choice, but get them much deeper into the wilderness per tank of fuel.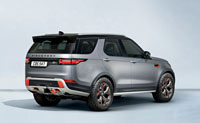 If you're wondering where the SVX nomenclature hails from, JLR's aforementioned SVO (Special Vehicle Operations) division is fully responsible. It also produces the highly acclaimed Range Rover Sport SVR and new Range Rover SVAutobiography (SVA), the former representing the ultimate in SUV performance, the latter being the ultimate in SUV luxury. SVX, of course, is for those wanting the ultimate in off-road capability.

As for styling, this SVX production preview certainly looks the part. The front and rear bumpers are unique, featuring protective skid plates and exposed Rush Orange-painted recovery eyes that Land Rover says can manage more than 6,000 tonnes (6,614 lbs) of SUV and gear, if the need to get unstuck via a two vehicle or winch arises (never do any serious 4x4ing without a handheld come-a-long). An electric winch is mounted within the rear bumper, its orange hook hanging from the left rear recovery eye in the photos.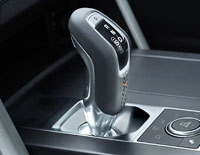 Land Rover calls the matte-finish exterior paint Tectonic Grey, which is as much of a dark silver as a light grey. While attractive, this surface treatment also provides an anti-glare finish for the hood, helpful for reducing strain in the eyes when trying to keep a lookout for obstacles ahead. Additional unique details include a Narvik Black Dynamic grille, Narvik Black side vents with V8 badging, silver roof rails, and a roof-mounted light bar up front featuring two rows of LED driving lights for help in low-visibility situations.
Inside, the SVX gets a combination of Lunar and Light Oyster greys with more Rush Orange accents, the little "X" on the shift lever complemented by more X logos on the SVX-branded seats.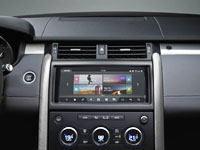 "SVO designers are embedded within the Land Rover team and have worked with our engineers to unleash their own passion for adventure to create another truly desirable and versatile vehicle in the Land Rover line-up," said John Edwards, Special Vehicle Operations Managing Director.
Longtime Discovery fans will likely find the SVX' orange highlights familiar, the colour previously used as the livery for G4 Challenge events, plus the race replica production models that soon followed. Land Rover's Camel Trophy branded Discovery and Range Rover models wore more yellowish-orange paintwork, which will no doubt make a comeback at a later date when yellow comes back in popular favour. Now, the SVX' grey and orange colour scheme is the height of fashion.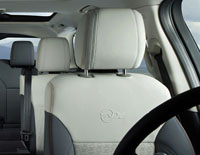 "The combination of design excellence and engineering integrity inherent in every Land Rover is the foundation of everything we do," said Gerry McGovern, Land Rover Chief Design Officer. "The Discovery SVX reinforces Land Rover's unrivalled reputation for building vehicles with true all-terrain capability for customers who desire the ultimate in off-road performance."
If you like what you see, register your interest at https://www.landrover.ca/en/special-vehicle-operations/discovery-svx/index.html or talk to your local Land Rover dealer. Also, make sure to check out our photo gallery above, as well as two beautifully produced videos below, the shorter one dubbed "The Goat" just for fun, and the longer one named "The Journey" showing the new Discovery SVX in its element:
"The Goat" video:

"The Journey" video: