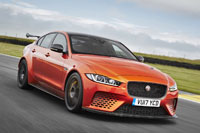 Few who have driven the new Jaguar XE have come away complaining. It's arguably attractive, mostly well finished inside, filled with an impressive load of features including some nicely kitted out electronic interfaces, and plenty roomy, plus its lineup of powertrains, ranging from a 247 horsepower turbo-four to a 380 horsepower supercharged V6, make the most of its lightweight aluminum body shell and agile independent suspension. Just the same, a hyper-powerful SVR variant would be nice. 
SVR, which is a sportier marketing variation of the short-form for Special Vehicle Operations (normally called SVO albeit shown on JLR products as an SV with an O wrapped around the outside and an R following), is the Jaguar Land Rover answer for BMW's M performance sub-brand, Mercedes' AMG, Audi's RS, Alfa Romeo's Quadrifoglio, Volvo's Polestar, Lexus' F, Cadillac's V, and so on.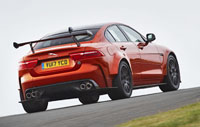 A number of Jaguar and Land Rover products already boast the three-initial moniker, but the most recent is the Jaguar F-Pace SVR, a vehicle directly related to the XE. Unfortunately, Jaguar's compact luxury D-segment sport sedan has yet to be given the usual 550- to 575-horsepower supercharged V8 SVR treatment in order to compete with the likes of the M3, C63 AMG, Giulia Quadrifoglio, ATS-V, etcetera, but this is about to change as enthusiasts plugged into the Euro performance car pulse will already know. For those not in the know, meet the new Jaguar XE SV Project 8.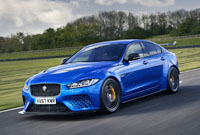 After a reasonably long gestation, which first saw the Warwickshire, England SVO outfit's skunkworks project semi-debut in camouflage photos in May of last year; then receive an official web intro in June; arrive in the metal at the Goodwood Festival of Speed in July (where it won a "Showstopper" award); make its North American debut in August at the Monterey Car Week; record the fastest time ever of 7 minutes and 21.23 seconds on the Nürburgring Nordschleife for a sedan of production-intent specification in November (which bested the aforementioned Alfa Romeo Quadrifoglio's time of 7 minutes 32 seconds, although despite the Alfa being a full production car, Jaguar plans to improve on the pre-production XE SV Project 8's capability when the final street-ready version arrives), not to mention the fastest lap ever for a Jaguar; and debut near final production refinements in April of this year, which was quickly followed up later in April with some track time by legendary sports car racers Andy Wallace and Davy Jones on the Goodwood Motor Circuit; the finished Jaguar XE SV Project 8 is almost upon us.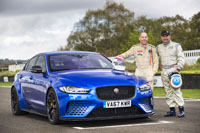 "Most road-legal cars on track are a massive disappointment, but Project 8 is really something," said Andy Wallace. "It's absolutely staggering how it has been made to feel like a proper racing car. It keeps wanting you to push harder. It's not bothered by Goodwood's undulations, it just hunkers down and feels totally at ease, so you're happy to get on the throttle earlier. It inspires confidence straight away.  
The brake pedal feel is fantastic. It is absolutely linear and you can feel what it's doing. The steering too is brilliant. It feels like a car that's developed after days and days, and hours and hours, of testing. You don't just 'luck' something as good as this. Anybody can build a fast car. But to build a fast car that feels this good – that's quite an achievement."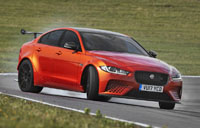 "I'm used to powerful racing cars," added Davy Jones. "But this feels really fast. The sheer acceleration didn't feel all that different from a 700bhp racing prototype – and that really surprised me. It's certainly Jaguar's best track car I've driven since the sports prototype Jaguars of the 1980s and 1990s. 
There is no body roll, loads of grip, the braking is incredible. When you turn into a corner, it points in, when you step on the accelerator it wants to launch out of the corner. It doesn't do anything to spook you. It's such an accessible car to drive. The [8-speed automatic] gear shifts are so precise and so quick too."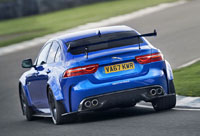 It's fair to expect the ultra-exclusive group of 300 XE SV Project 8 owners should be well pleased with their upcoming purchase, the custom-built hyper-sedan, hand-assembled at the SVO Technical Centre in Warwickshire, costing a cool $188,495 USD, the equivalent of $247,940 CAD at the time of writing. 
When it arrives the XE SV Project 8 will have the highest output of any street-legal Jaguar vehicle in the British brand's long and illustrious history, its 5.0-litre supercharged V8 making a shocking 592 horsepower and 516 lb-ft of torque, while a sport-tuned eight-speed ZF automatic transmission promises the quickest possible shift intervals along with the ability to drop multiple ratios at once via non-sequential downshifts, which will quicken pre-corner setup to enhance circuitous road and track performance.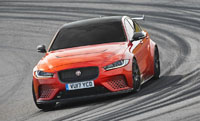 The eight-speed auto puts power down to all wheels, with a maximum of 30 percent motive power going to the front axle in order to produce rear wheel bias for maximum performance and feel. The all-wheel drive system will be torque vectoring, of course, while the electronic rear differential keeps temperatures low via an exclusive cooler situated within the rear diffuser. 
The XE SV Project 8 provides three driving modes, including Normal, Dynamic and Track, Eco not on the menu for obvious reasons, while this is the first time we've seen Track mode on an XE. SVO says that the drive modes adjust the throttle, torque vectoring control, dampers, steering, all-wheel drive system, and the stability control, which is about as comprehensive as such systems get.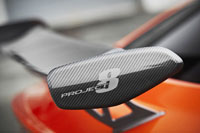 The regular XE already has an extremely agile, lightweight, aluminum-intensive double wishbone front and integral link rear suspension setup, but the SVO team has modified almost everything anyway. An in-house developed billet suspension knuckle includes ceramic bearings to reduce unsprung weight by 840 grams, while also improving steering response by minimizing friction and increasing rigidity. Speaking of stiffness, Warwickshire has uprated the suspension bushings, with those in the rear upper control arm replaced with ball joints, while both front and rear anti-roll bars have been modified to improve high-speed stability.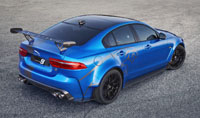 The electrically assisted power steering and the continuously variable damper systems in the stock XE are both carried forward into the new Project 8, although they've been reprogrammed for quicker, more responsive reaction, while an available Track Pack provides manually adjustable spring platforms that let you lower the ride height by 15 mm to optimize handling. 
Nothing resembling the Project 8's Brembo carbon ceramic discs can be found in any current XE, as the massive 400-mm front rotors are clamped down on with six-piston calipers and the 396 mm discs in back get grip from a large single piston caliper. Brembo claims that its new-tech brakes achieve temperature reductions of 38 to 93 degrees Celsius, which should all but eliminate fade even when on the track, important for a car that weighs in at 1,745 kg.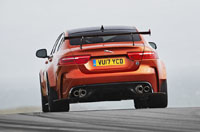 The larger V8 powertrain is responsible for most of the XE SV Project 8's 24 kilos of extra weight over the otherwise sportiest supercharged V6-powered XE S (the aforementioned Track Pack reduces weight by 12.2 kg), but the aero bodywork, especially the massive wing on the rear deck lid, has got to account for something. It's certainly necessary to keep the car planted at its 322-km/h (200-mph) top speed, whereas any weight gain hasn't hampered its zero to 100km/h sprint time, which is claimed to take just 3.7 seconds (3.3 seconds to 60 mph).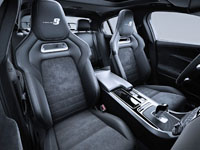 "The SVO design and engineering team's mission was to create the most track-focused road-legal Jaguar in history – not only the fastest, but also the most agile," Mark Stanton, SVO Director. "As a result, only the roof and front door skins of the Project 8 body are carried-over unaltered from XE and 75 per cent of its mechanical hardware is new. This astonishing Nürburgring Nordschleife record validates the success of such extensive changes." 
The rear door skins, unmentioned by Stanton, are formed from aluminum and much wider as they flare into the rear fenders, which are bulge outward by 55 mm to accommodate 305-width rear tires. Most of the other modified bodywork and aerodynamic aids are made from lightweight carbon-fibre, and the list of changes is far too long to itemize.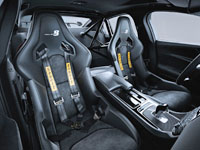 All the modifications result in a major difference to XE SV Project 8 styling, but those owners who still want to use their car as a regular driver will be happy to learn the interior hasn't deviated much from the already spacious and comfortable stock XE. Rather than a third seat in the rear centre position, the SVO team has followed the usual rule for super sedans by providing two rear bucket-style seats. The previously noted Track Pack, on the other hand, loses its rear seats altogether for a track-ready roll cage.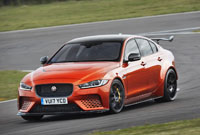 The "Project 8" embroidered sport seats up front are much more aggressively bolstered than those in the rear of the base car, although they're still covered in leather with suede-like Alcantara insets. Rich Alcantara wraps the instrument hood, dash top, steering wheel rim and door inserts as well, while bespoke carbon-fibre lower console surfacing surrounds a conventional pistol grip gear lever in place of the regular XE's rotating dial. 
The Jaguar XE SV Project 8 is currently in production, and will soon be available to 300 fortunate owners. Whether you're waiting for yours to arrive or simply want to see one of the most powerful four-door sedans ever made in action, make sure you check out these fabulous Jaguar XE SV Project 8 videos: 
 
Jaguar XE SV Project 8 | World's Fastest Saloon — the 7min 21.23 second record lap of the Nürburgring Nordschleife (7:58): 

  
Jaguar XE SV Project 8 | A Legend in the Making with Le Mans champions Andy Wallace and Davy Jones (2:51): 

  
Jaguar XE SV Project 8 | Laguna Seca and Pacific Coast Highway Debut (1:49): 

  
Jaguar XE SV Project 8 | Shelsley Walsh Hill Climb (1:27): 

  
Jaguar XE SV Project 8 | Wind Tunnel Testing (1:07): 

  
Jaguar XE SV Project 8 | Performance in Portimao (0:40): 

  
Jaguar XE SV Project 8 | Handmade by Special Vehicle Operations (1:00): 

  
Jaguar XE SV Project 8 | Portimao Track (0:41): 

  
Jaguar XE SV Project 8 | Pushing Boundaries (3:06): 

  
Jaguar XE Project 8 | Animated Build. (1:27): 

  
Jaguar XE SV Project 8 | Unleashed (0:57):