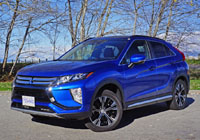 I'm not sure how I feel about the name that Mitsubishi chose for its new compact crossover SUV. I mean, Eclipse Cross makes me think way back to better times when personal 2+2 sports coupes like the Japanese brand's own Eclipse, Honda's Prelude and Toyota's Celica, amongst others, roamed city streets, highways and winding byways in wild abandon, but now all of these low-slung two-door fastbacks are gone and we're left with a gaggle of two-box SUVs. 
Fortunately some of these car-based crossovers are oddly contorted, making this practical sector a bit more interesting than it might otherwise be, with the sporty new Eclipse Cross high on the list of unusual newcomers. It's an especially good choice for those not needing all of the Outlander's cargo space and wanting more performance than an RVR can muster, plus its edgy SUV-coupe styling pulls some of the premium flair down from luxury mega-brands like BMW and Mercedes-Benz that offer similarly sized upper-crust variants in their respective X4 and GLC Coupe models. I'm not pretending for a minute the lowly Mitsu measures up to these pricey Germans, but it's got a swagger all its own and therefore deserves a certain amount of respect for being boldly different in a compact SUV segment that all too often plays it safe.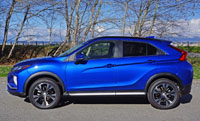 Most automakers choosing to get funky gravitate to the smaller subcompact SUV segment, where Mitsubishi offers its comparatively straightforward RVR against oddities like Kia's Soul and Toyota's C-HR (Nissan's Juke, the strangest of them all, having finally departed a couple of years ago, replaced by the much more conservative Kicks), while (size aside) Mazda's CX-3 is probably closest to the Eclipse Cross as far as mainstream acceptability combined with sportier than average styling and performance goes, but alas this considerably larger model is the lone coupe-like SUV in its larger compact class. 
The Eclipse Cross measures 4,405 mm (173.4 in) end to end with a 2,670 mm (105.1 in) long wheelbase, while it spans 1,805 mm (71.1 in) in width and sits 1,685 mm (66.3 in) tall, making its wheelbase identical to its 290 mm (11.4 in) longer Outlander sibling, yet its width just 5 mm (0.2 in) narrower and height 25 mm (1.0 in) shorter. In other words, it's much the same size as the Outlander excepting length, which together with its sloped rear roofline makes for a much sportier looking ride.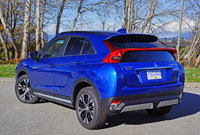 As far as the Eclipse Cross design goes, Mitsubishi's dramatic new "Dynamic Shield" frontal styling works much better on this new utility than with any other application it's been used for, other than the latest 2020 RVR that I find quite attractive. The drama continues around each side where a deeply sculpted cutline emerges about a third of the way through the front door panels before slashing through each handle and meeting up with the bottom edge of an even more intriguing set of LED taillights, these tied together by a thin strip of lighting that divides two panes of rear glass a la Honda's second-generation 1988-1991 CRX or more recent 2011–2016 CR-Z, not to mention the automaker's also defunct Accord-based mid-size 2010–2015 Crosstour, although those three sporty coupes never incorporated the Eclipse Cross' extra lighting element. More rocker panel body sculpting tapers upward before wrapping around the rear fenders, these mimicking the front fenders as they pay some subtle homage to the sporty 2004–2011 Endeavor (a previous long-term tester that I thoroughly enjoyed back in the day – RIP).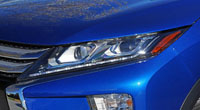 Hidden behind a slick looking standard set of 18-inch alloy wheels on 225/55 all-season tires is a fully independent MacPherson strut front and multi-link rear suspension setup featuring stabilizer bars at both ends, which all combines for more than enough grip to keep its turbocharged 1.5-litre four-cylinder engine in control. The little mill makes just 152 horsepower and 184 lb-ft of torque, and puts that output through a continuously variable transmission (CVT) that's engineered to emulate an eight-speed automatic gearbox via some of the nicest magnesium column-mounted paddle shifters in the industry.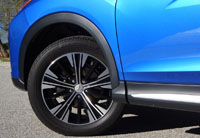 Unlike most vehicles in the industry, these elongated paddles are actually fixed to the steering column instead of attached to the steering wheel, just like with the fabulous Evo X MR (RIP once again), making it easy to locate the correct paddle no matter how many times you've rotated the steering wheel. 
My Eclipse Cross GT tester really moved along nicely when pushed, feeling much more potent than its claimed horsepower rating, no doubt because of its substantive torque. Its steering was a bit firmer than most others I've tested in this class, albeit light enough for easy control, while its ride was slightly stiffer, but never uncomfortable or harsh. That firmness helped it handle well in corners, feeling really planted when pushed hard (Mitsubishi's renowned chassis expertise pays off once again), but I wouldn't have guessed it to be so good when tooling around town or otherwise driving normally, because the powertrain feels as if it's in Eco Mode even when it's not, meaning there's plenty of Eco Mode still available by pressing the big green button on the centre stack.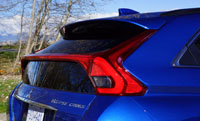 This said there is no Sport button, your right foot being the only way to coax more out of the powertrain, and despite those lovely paddle shifters just noted, the CVT is not very sporty (I'm being kind). It's smooth and linear, exactly how most compact SUV buyers like it, and it's highly efficient, not only saving fuel, but also allowing more of the engine's power to get down to the road. 
Some of its straight-line performance and handling prowess comes down to standard Super All-Wheel Control, this being Mitsubishi-speak for all-wheel drive, an advanced torque-vectoring system honed from years of Lancer Evolution rally car breeding. Yes, it's hard to stomach the thought that this wannabe performance SUV is now the hottest model in Mitsubishi's once proud lineup, which previously anted up the aforementioned Evo X, an all-wheel drive super sedan that easily outmaneuvered the Subaru WRX STI and most every other compact of the era, but Mitsubishi now has its limited funds (despite being part of Mitsubishi Group, which also owns a top-10 banking institution and so much more) focused on practical SUVs that more people will potentially purchase, not to mention plug-in electrics that give it a good green name if not many actual buyers, at least when comparing the Outlander PHEV's sales to those of the conventionally powered and milder hybrid compact SUV rivals it's up against.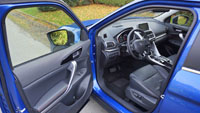 We can get glossy eyed over the loss of the Evo, but should commend Mitsubishi for the Eclipse Cross' fuel economy that's rated at just 9.6 L/100km in the city, 8.9 on the highway and 8.3 combined, which is quite good in comparison to the segment-sales-leading RAV4 that only manages 10.5 city, 8.3 highway and 9.5 combined, but then again it's not quite as thrifty as the CR-V's 8.7 city, 7.2 highway and 8.0 combined rating. 
The aforementioned powertrain is the same no matter which of its three trim levels is chosen. As usual, Mitsubishi supplied this Eclipse Cross tester in top-line form, this GT model going for $35,998 plus freight and fees (go to CarCostCanada for all pricing details, including dealer invoice pricing and rebate info that could save you thousands). This meant it came loaded up with LED headlamps, a head-up display, a multi-view backup camera with dynamic guidelines, a superb 710-watt Rockford Fosgate Punch audio system with nine speakers including a 10-inch subwoofer, a heatable steering wheel rim, two-way heated rear outboard seats, leather upholstery, a six-way powered driver's seat, a dual-pane panoramic glass sunroof, and more.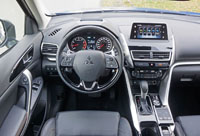 The top-tier GT also features everything from the second-rung SE model's optional Tech Package that includes automatic high beams, adaptive cruise control, forward collision mitigation with pedestrian warning, lane departure warning, an auto-dimming rearview mirror with an integrated Homelink garage door opener, roof rails, and a nice silver painted lower door garnish. 
Mid-range SE features pulled up to GT trim include the previously noted paddle shifters, proximity-sensing keyless access and ignition, an electromechanical parking brake (the base model gets a regular handbrake), a leather-wrapped steering wheel and shift knob, auto on/off headlamps, rain-sensing wipers, dual-zone automatic climate control (an upgrade from the base model's single-zone auto HVAC system), blindspot warning, and more for $29,998, while features from the $27,998 base ES model that are still incorporated into the GT include LED DRLs, fog lamps, LED turn signals integrated within the side mirror caps, LED taillights, tilt and telescopic steering, a colour multi-information display within the gauge cluster, an "ECO" mode, micron filtered automatic climate control, two-way heated front seats, and more.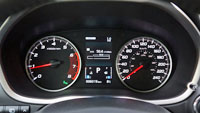 I like the quality inside, thanks to a full soft-touch dash top that curves all the way down to the mid portion of the instrument panel, plus nice pliable synthetic front door uppers, even nicer door inserts, and contrast-stitched armrests side and centre. These match the seat bolsters that also boast contrast stitching in the same orange hue, and unlike the near overwhelming orange overload found in a Subaru Forester Sport I previously tested, Mitsubishi's subtler colour treatment should appeal to more people. 
The primary instrument cluster is nicely organized and well laid out, with a decent size colour trip computer at centre, while the 7.0-inch tablet-style infotainment touchscreen display is especially good, sitting up high atop the centre stack and controlled by the usual tap, pinch and swipe finger prompts. Even better for those who don't like reaching so far to input commands, Mitsubishi also included a brilliantly designed touchpad on the lower console. That this is all standard kit is most impressive, rivaling some premium brands and outdoing others, such as Lexus that only offers a joystick-like controller or similar touchpad depending on model, not the convenience of both.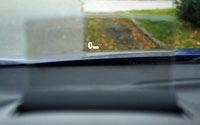 The infotainment system also includes standard Apple CarPlay and Android Auto smartphone integration, an excellent rearview camera with dynamic guidelines (although the multi-view one on my tester was even better), Bluetooth phone connectivity with audio streaming, satellite radio (that I listened to most often), and control of devices hooked up to two USB charging/connectivity ports, located right on the centre stack above a rubberized phone tray below. With all of this included as standard, it makes me wonder why Mitsubishi didn't bother making the electromechanical parking brake standard as well. 
The driver's seat is very comfortable, featuring ample powered adjustability for what I found to be an ideal driving position, thanks to enough rake and reach from the tilt and telescopic steering column, but unfortunately the seatback offered no lumbar support adjustment at all. Again, its good inherent design makes additional lower back support less critical, but as learned from many long road trips it's always nice to make periodic adjustments in order to appease pressure pain points.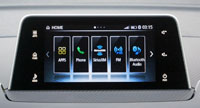 Back to that steering wheel, it's nicely shaped with a fairly thick leather rim and heatable, which came in handy as summer's warmth dissipated and evening temperatures delved into single digits. The front seat heaters warmed up nicely too, but with only two temperatures my driver's seat was often too hot or too cool. 
The rear passenger compartment is very roomy and comfortable too, with a folding centre armrest that includes the usual dual cupholders within. The seat heaters are easy to reach on the backside of the front console, and my tester's rear sunroof complemented the Eclipse Cross' good rear window visibility for an open and airy passenger experience.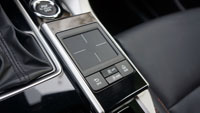 There's no powered liftgate for accessing the cargo compartment, which would be fine by me, and it's finished as nicely in back as most any other vehicle in this class too. I would've preferred more accommodating 40/20/40 split-folding rear seatbacks than the 60/40 divide Mitsubishi provides, or at least a centre pass-through so I could load skis down the middle while rear passengers enjoyed those aforementioned derriere warmers on the way back from the hill, but as it is only a few mainstream volume-branded competitors offer such premium-like convenience anyway, so it's not like the Eclipse Cross breaks rank with any compact SUV practicality norms. 
Pragmatism in mind, even this sportier SUV needs to measure up when it comes to load hauling capability in order to achieve market acceptance, so it's good the Eclipse Cross delivers a reasonable amount of cargo space to go along with its generously proportioned passenger compartment. The hard numbers reveal 640 litres (22.6 cu ft) behind the rear seatbacks, and 1,385 litres (48.9 cu ft) aft of the front row when the rear seats are folded down, making it a mere 26 litres (0.9 cubic feet) more accommodating for cargo than the subcompact RVR with both SUVs' seats upright and 17 litres (0.6 cubic feet) less so when said seats are laid flat.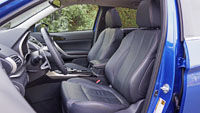 Comparing it to the larger Outlander that it comes closer to measuring up to externally, the Eclipse Cross loses 328 litres (11.6 cubic feet) behind its rear row and 407 litres (14.4 cubic feet) when both models lower their rear seatbacks. Mitsubishi also includes a heavy-duty removable cargo floor with a hidden compartment below, which is handy for storing dirty items you may not want the nice carpeting above coming in contact with, or for keeping pricier belongings away from prying eyes. 
What's more, when putting those rear seats back into use, their headrests were almost impossible to pull up from their lowered positions. It took all the strength I had, and while I'm no Ben Weider, the level of effort required was ridiculous. I'm guessing these would loosen over time, but that presupposes the owner has ample strength to muscle them up and down enough in order to ease the process. I recommend prospective buyers check this issue before signing on the dotted line, and also that dealers have their service departments add this test to each model's pre-delivery inspection regimen.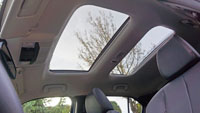 Now that I'm complaining, I heard a disconcerting number of creaks, groans and annoying squeaking sounds emanating from the rear seating area while driving. This might have something to do with the previously mentioned removable cargo floor, but it's more likely fitment of the second sunroof in back or the rear seats themselves, because some of the creaking noises sounded like leather (or something similar) rubbing together. This said I'd like to test this SUV with cloth seats to find out if that sound disappears. 
On the positive, I appreciated having separate power-sliding sunshade controls for the front and rear portions of the panoramic moonroof. This can provide rear passengers with a more fully lit experience, while those up front can have shade drawn if wanted.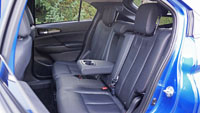 Another positive is a rear window wiper that turns on automatically when backing up if the wipers are on up front, and the aforementioned head-up display system was a nice touch too, providing vital information right in front of the driver where it can be seen easily. This is just like the head-up display used by Mazda, in that it powers up a small transparent plastic screen atop the instrument cowl instead of projecting images directly on the windshield, with the only problem in this case being that it's a bit distracting in some ways, not really blocking the view, but certainly interrupting the mind's eye. I eventually got used to it to the point that it didn't bother me one bit, but I'd understand if some complained about it getting in the way.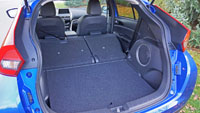 To leave this review on a more uplifting note, I need to point out one of Mitsubishi's best attributes, its industry-best five-year or 100,000-km basic (mostly bumper-to-bumper) warranty and 10-year or 160,000-km powertrain warranty. Nothing comes close to this, with most competitors coming up two years or 40,000 km short in their basic warranties, and five years or 60,000 km less generous for their powertrain coverage. Considering Mitsubishi is one of the most well respected brands in other markets around the world, thanks to exceptionally good engineering and better than average reliability, this impressive warranty is a major selling point that any new car buyer should factor in when making a decision. 
Overall, Mitsubishi should be commended for establishing the compact SUV-coupe niche within the mainstream volume-branded sector, and while year-to-date 2019 sales numbers of 4,159 units put the Eclipse Cross dead last in its class, when it's combined with second-to-last Outlander deliveries of 8,568 units, the brand's 12,727-unit compact SUV total puts it ahead of Subaru, GMC and Kia, which is quite a feat for one of the newest automotive brands in Canada (Mitsubishi Motor Sales of Canada, Inc. was established in 2002). This, together with the Outlander PHEV, the only plug-in hybrid in the segment, shows that innovation remains key to the company's continued progress, and while some of us might lament the loss of sportier models like the Evo, as well as the Eclipse this SUV was named after, times have changed and only those that adapt survive.