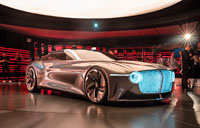 Bentley only just launched its third-generation Continental GT, and now they've got us thinking about what might be coming down the pike in a decade and a half. 
The Bentley EXP 100 GT "reimagines the Grand Tourer for the world of 2035," says the ultra-luxury brand's press release, with a new take on the Continental GT's elegant long-hooded, sweptback, two-door profile, complete with a massive backlit grille, dazzling circular headlamps, and ornately detailed eye-like OLED taillights, its plentiful body panels featuring special Compass "exterior paint made from recycled rice husks," says Bentley. 
Where the front end could only be a modern-day Bentley, the car's rear design is longer and more pointed than anything we've seen from the brand since its '50s era R-Type Continental, extending this avant-garde carbon-fibre and aluminum-clad prototype to a lengthy 5.8 metres (19.0 feet) for what should be superb legroom front to rear, while occupants of this 2.4-metre (7.9-foot) wide mega-coupe certainly won't be rubbing shoulders either.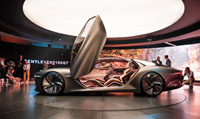 The "100" in the EXP 100 GT's name, incidentally, pays direct reference to Bentley's 100th anniversary, W. O. Bentley's namesake firm having started business in 1919 at Cricklewood, North London, while the Volkswagen-owned brand is now located some 267 km (166 miles) northwest in Crewe, Cheshire, England. 
"Today, on our Centenary, we demonstrate our vision of the future of our Marque, with the Bentley EXP 100 GT – a modern and definitive Grand Tourer designed to demonstrate that the future of luxury mobility is as inspirational and aspirational as the last 100 years," said Adrian Hallmark, Bentley Chairman and CEO. "Bentley has, and will continue to enhance and enrich every single journey and the lives of every single person who travels in, or has the honour to be a part of creating our extraordinary products."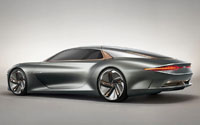 As pretty as the EXP 100 GT is, it's much more than merely a design exercise, but rather a cornucopia of advanced future-think hardware and software. It's 100-percent electric, a given with far-off concepts these days, but then again its four-motor wheel-integrated "Next Generation Traction Drive" powertrain includes torque vectoring and makes an incredible 1,100 pound-feet of torque (1,500 Nm), resulting in a zero to 100km/h sprint time of "less than 2.5 seconds" claims Bentley, much thanks to its aforementioned lightweight materials that help keep its weight down to just 1,900 kilograms (4,189 lbs) (considerably less than the current base Continental GT's 2,244-kg/4,947-lb curb weight), while its maximum range should top 700 kilometres (435 miles), as long as cruising speeds are kept far lower than its terminal velocity of 300 km/h (186 mph).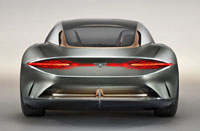 The EXP 100 GT will include "future battery technology" with "intelligent power and charge management" that will allow "five times the conventional energy density," says Bentley, while recharging the battery from near empty to 80 percent of capacity will only take 15 minutes. Of note, charging is automatically taken care of via the advanced artificial intelligence (AI) infused Bentley Personal Assistant, a do-all system designed to make the most of every journey. 
"The Bentley EXP 100 GT represents the kind of cars we want to make in the future," said Stefan Sielaff, Director of Design. "Like those iconic Bentleys of the past, this car connects with its passengers' emotions and helps them experience and safeguard the memories of the really extraordinary journeys they take."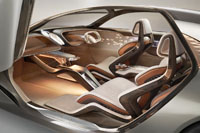 "Whether driving or being driven autonomously" (Bentley promising its car of the future will be capable of both), the EXP 100 GT's interior is every bit as sumptuously attired as Crewe's current creations and those from its storied past. With seating for two or four, the big coupe gets all the leather, fabrics, glass, wood and metal anyone familiar with Bentley expects, except that the Bridge of Weir alternative-material hides are actually made from 100-percent bio-based winemaking byproducts, thus saving a handful of Herefords from the slaughterhouse, while its embroidered door panels are made by London-based Hand and Lock using "traditional techniques that date back to 1767 and are used on Royal and Military Dress uniforms," its electronic interfaces covered with Cumbrian crystal, its sustainable peat bog-, lake- and river-sourced Copper Infused Riverwood harking back half a myriaannum (5,000 years), and its metal being genuine aluminum and copper, the combination apparently paying tribute to an alloy created by the aforementioned founder for his BR1 Aero engine piston, which played a significant role in securing the air theatre during World War 1.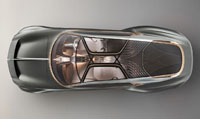 Bentley sheds both harvested natural light and synthesized light on the EXP 100 GT's interior via "an innovative glass roof embedded with prisms that collect light and transfer it into the cabin using fibre optics," while all occupants' feet will rest upon British Farmed Wool carpets, and embroidered cotton interior surfaces also help to create a more sustainable atmosphere. 
The seats use intelligent, adaptable biometrics configured in three different ways, their positions dependent on whether you're driving or being driven. Biometric sensors monitor the automatic climate control system too, plus the passenger position, and exterior environmental conditions in order to provide ultimate comfort, while biometric sensors embedded throughout the interior track eye and head movements, blood pressure, plus more in order to deliver a level of in-car comfort that far exceeds anything currently available. The cabin can even be automatically aerated with a refreshing sandalwood and moss fragrance.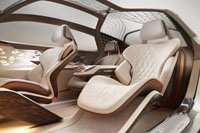 Whether or not we'll see this particular Bentley coupe by 2035 is anyone's guess, although it should be noted that carmakers need to plan their models far into the future in order to arrive when needed, so something similar may actually be in process. We certainly wouldn't complain if Bentley offered us a production EXP 100 GT like this to test in 15 or so years, with or without all of this concept's innovatively sustainable features. 
The EXP 100 GT is a vision of dramatic beauty that would be welcomed to car enthusiasts in any era, and possibly more true to its brand heritage than the all-electric, fully autonomous two-box SUV/MPV they'll likely show up with by that time. 
Until we truly find out what's in the AI-dealt carbon-fibre cards, check out our complete gallery above as well as the four videos Bentley supplied below. 
Bentley EXP 100 GT Concept Car Reveal Highlights | Bentley (0:49):

 
Bentley EXP 100 GT Concept car reveal Livestream | Bentley (28:49):

 
The Bentley EXP 100 GT: The Future of Grand Touring | Bentley (2:52):

 
24 Hours to go before Bentley reveals the Future of Grand Touring | Bentley (0:41):