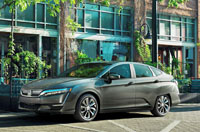 Honda has been at the forefront of production car electrification since the first modern-day hybrids hit Canadian roads way back at the turn of the millennia, but the Japanese automaker has been cautious to add plug-in hybrids (PHEVs) or pure electric vehicles (EVs) to our smaller market despite previously offering the Accord Plug-in Hybrid and Fit EV south of the border.
This will soon change thanks to the new Clarity Plug-In Electric Hybrid that will go on sale across Canada starting mid-winter 2018 and the Clarity Electric expected next spring, so in preparation for the arrival of these two models a total of 152 Honda dealerships will have outfitted their facilities with electric charging stations before 2017 comes to a close.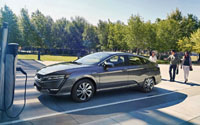 "The investment by our dealer network is an indication of our commitment to supporting Honda's Global 2030 Vision of electrifying two thirds of our fleet," said Jean Marc Leclerc, Senior Vice President of Sales and Marketing at Honda Canada. "This electrification project is essential to our future business as we begin to introduce more electrified vehicles in Canada starting with the Clarity Plug-In Hybrid sedan later this winter."
The commitment represents close to two thirds of Honda Canada's entire dealer network, with each getting two 240-volt charging stations apiece. Either charger will be capable of replenishing the Clarity Plug-in Hybrid's 17-kilowatt hour (kWh) battery pack in about two and half hours.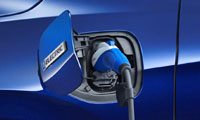 Honda's first dedicated PHEV is said to have an overall driving range exceeding 530 km (329 miles) and a pure EV range of 68 km (42 miles), which should be enough for many would-be owners who live in urban environments to travel to and from work on electricity alone, although they will need to utilize the car's electrically-assisted hybrid mode for extended trips.
According to a Honda Canada press release, "… the Clarity Plug-In Electric Hybrid aims to ease Canadian's concerns about driving range with a no-compromise alternative fuel vehicle that meets the needs of Honda's customers today while building the foundation of an electrified future."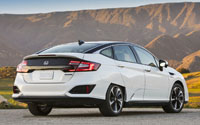 The Clarity Plug-In Hybrid's electric motor is capable of 181-horsepower and 232 lb-ft of instant torque, while the internal combustion engine (ICE) portion of the power unit is a 1.5-litre Atkinson-cycle four-cylinder.
With plenty of plug-in contenders already vying for early adopters, plus no shortage of alternatives arriving each year as well as new additions announced regularly, Canadian PHEV and EV markets are already very competitive, so therefore aggressive pricing, financing and leasing options, along with Honda's reputation for quality, will determine the new Clarity's success.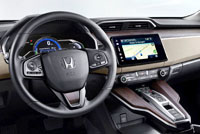 This said, despite being one of the original innovators in the HEV sector and producing a wide variety of hybrid models since that initial two-seat Insight, Honda hasn't had much success with its electrification program to date, the now discontinued Civic Hybrid and the recently introduced second-generation Accord Hybrid aside.
Honda's U.S. division has already launched the Clarity at select dealerships in Oregon and California with pricing approximately equivalent to $42,500 CAD, while the Clarity Fuel Cell car, which is more representative of the automaker's long-term alternative fuel plan, went on sale in December of last year, followed up by the aforementioned Clarity Electric, a full EV capable of up to 130 kilometres of range on a single charge.