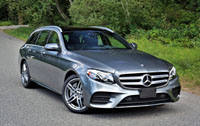 Sport utilities might be all the rage these days, but there's a select group of discerning consumers that prefer family vehicles more closely rooted to the ground, keeping the station wagon alive and well all over the world.
Then again, the phrase "alive and well" is subjective, as the wagon sector has hardly been without casualties. Amongst mainstream volume-branded players only three wagons survive where there were once multitudes, Volkswagen's compact Golf SportWagen/Alltrack, Subaru's compact Impreza Sport/Crosstrek and the mid-size Subaru Outback (although the Alltrack, Crosstrek and Outback are really classified as crossover SUVs).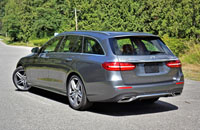 That said, amongst premium-badged players the state of the wagon is looking up, with newcomers including Porsche's Panamera Sport Turismo, available in most global markets, Jaguar's XF Sportbrake, found in most markets except Canada, and Buick's intriguing new Regal TourX, a U.S.-only affair as far as we can ascertain—a shame. These join long-timers like BMW's 3 Series Wagon, the recently renewed Mercedes-Benz C-Class Wagon, Audi's A4 Allroad, plus Volvo's V60/V60 Cross Country and larger V90/V90 Cross Country (once again, the Audi and two Cross Countrys crossovers), and of course the subject of this review, Mercedes' E-Class Wagon.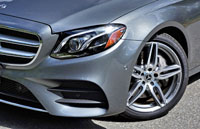 If it weren't for the new V90 the E-Class Wagon would be alone in the mid-size five-door E-segment, but Mercedes shouldn't be too worried about this newfound competition from a sales perspective, at least not for the time being. Mercedes doesn't separate out its five-door sales numbers from other E-Class variants, and even includes CLS deliveries in its mid-size E-segment total, the result being 3,930 deliveries through calendar year 2017, which means it was number one in its segment. The most direct competitor is BMW that managed 3,033 combined 5 and 6 Series sales, but as you're most likely aware no longer offers its 5 Series Touring to go head-to-head with this E-Class Wagon.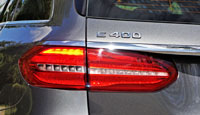 Despite such a sorry lack of competition, Mercedes not only offers the impressively equipped E 400 4Matic Wagon as a base model, but surprisingly an AMG E 63 S 4Matic+ Wagon as well. That's right, not the regular 577 horsepower AMG-tuned E-Class, but a 603 horsepower twin-turbo 4.0-litre V8-powered beast of a family hauler that can scoot from standstill to 100km/h in a mere 3.5 seconds ahead of a 300 km/h (186 mph) terminal velocity, all the while carrying three passengers plus 640 litres (22.6 cubic feet) of gear in back or up to 1,820 litres (64.3 cubic feet) of cargo when the ultra-convenient 40/20/40-split rear seatbacks are folded flat.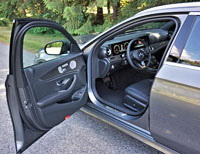 The rear roominess and cargo capacity was identical in my E 400 4Matic Wagon tester, although its forward mobility was more conservatively kept in check. This said 329 horsepower and 354 lb-ft of torque from a twin-turbocharged direct-injection 3.0-litre V6 (this a less formidably tuned variation on the 396 horsepower AMG E43 engine) is nothing to scoff at, nor its 5.3-second sprint to 100 km/h and top speed of 210 km/h (130 mph). Interestingly, these numbers are identical to the E 400 4Matic four-door Sedan and two-door Coupe versions of the same car (the Cabriolet takes 0.2 seconds longer to 100km/h), while all six-cylinder models utilize a highly advanced nine-speed 9G-Tronic longitudinal automatic gearbox that's lighter than the outgoing seven-speed unit, plus wonderfully smooth and brilliantly quick through the cogs.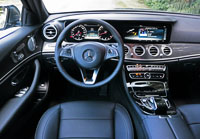 Such a "have your cake and eat it too" philosophy typifies Mercedes-Benz, with only the Wagon's 12.4 L/100km city, 9.5 highway and 11.1 combined fuel economy rating slightly diminished when compared to its siblings, the sedan estimated to achieve 11.8 L/100km in the city, 8.7 on the highway and 10.4 combined, the Coupe rated at 11.9, 9.0 and 10.6 respectively, and the Cabriolet coming in at 12.0, 9.2 and 10.8. Still, considering the performance available, its generous size, wonderfully opulent interior, and wealth of standard features, these numbers are impressive.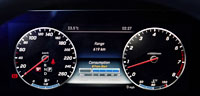 This is actually a seven-passenger wagon, although the rear facing seats, a la 1986 American neo-noir road action horror film "The Hitcher" starring Netherlander Rutger Hauer smiling from the rear window while seated next to an unsuspecting teddy bear, are probably best left for kids. The front two rows are spacious to say the least, with the second-row outboard positions some of the most accommodating in the business, especially due to my tester's optional seat warmers. I can think of few more comfortable standard driver's seats, but take note a $3,100 optional air bladder-enhanced Multi-Contour driver's seat offers even more adjustability along with massage, etcetera.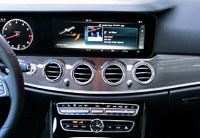 I should mention the enhanced heated front seats in my tester were part of a $4,600 Premium package that also includes heatable front armrests, the most amazing digital instrument cluster in the industry thanks to two 12.3-inch tablet-style displays being fused together at centre, a sensational Burmester surround sound audio system upgrade, proximity-sensing keyless access, a foot activated rear liftgate, rear side sunshades, and a panoramic sunroof.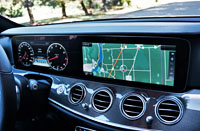 The standard power release buttons for folding the second-row seats down, which can be found right next to the seats on each side door sidewall, or from the cargo area sidewalls, make easy work of opening up the luggage area, while they flip down to an almost completely flat load floor. The only heavy lifting is caused by the incredibly beefy, over-engineered retractable cargo cover cross-member, which took a little more muscle to extract than expected. Still, it's nice to know it was designed to last through the apocalypse, let alone double as a rear strut tower brace.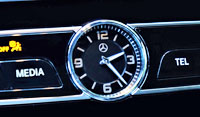 In case you were wondering, the E-Class Wagon's cargo capacity is only slightly reduced from the mid-size GLE-Class SUV's maximum hauling capability, so as long as you're okay with 50 fewer litres (1.8 fewer cubic feet) behind the rear seatbacks and 190 litres (6.7 cubic feet) less when all seats are folded you'll be fine. For me it's a reasonable tradeoff when factoring in the performance benefits that come from a vehicle that hugs the ground more closely, not to mention the fabulous improvements that came with this latest E-Class redesign.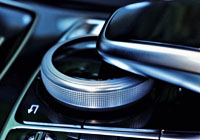 Yes, this Wagon variant was completely overhauled alongside the E-Class Sedan for the 2017 model year, resulting in a larger, roomier car that nevertheless weighs less. Both get some minor updates for 2018, not including my tester's stunning no-charge Selenite Grey Metallic paint and its $1,000 optional 19-inch Twin 5-Spoke alloys. The five-door model and all E 400 four-doors get a 14-litre larger 80-litre fuel tank mind you, plus upgraded premium ambient interior lighting as standard, new Dark Ash hardwood along with carryover Brown Ash and Piano Black lacquer as no-cost options on the centre console (my tester had the latter), and a standard Parking package that includes a backup monitor, front and rear sensors, plus more.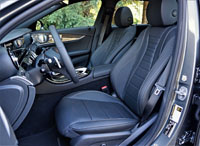 Along with the aforementioned Premium package my tester was upfitted with the $1,000 Lighting package, which is money well spent as it adds active cornering Multibeam LED headlamps featuring 84 individual elements apiece, plus auto high beam assist that makes driving at night a lot easier.
These add some dazzle to the E 400 4Matic Wagon's frontal styling, a car that combines everything I already like about the new E Sedan and Coupe/Cabriolet with a lot more functionality and a certain counterculture five-door coolness. This is especially true with the standard Sport front grille and its more assertive lower fascia, although those who prefer the upscale presence of Mercedes' more traditional upright grille and less aggressive fascia can opt for a $3,000 Luxury package that also adds a more discrete set of 18-inch rims, a more comfort-tuned suspension setup, and rejigs the interior for more elegance.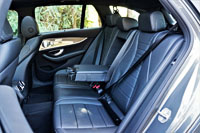 The standard Sport frontal design is much like the rest of the E-Class lineup, but of course this being a wagon its rear styling treatment is completely unique. It comes across more like a two-door shooting brake than a traditional wagon, although its five-door layout doesn't allow for that designation. Still, the elegantly simple taillights are lovely and filled with complex LEDs, their bright metal-topped edges blending smoothly into a chromed strip that stretches all the way across the midpoint of the rear hatch. A nicely sculpted bumper cap finishes off the car's backside with some stylish satin silver detailing and two ovoid tailpipes.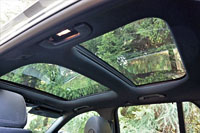 The mostly blackened rooftop is the aforementioned optional dual-pane panoramic sunroof that sheds light on the awe-inspiring interior also noted earlier, its high quality finishings combining with gorgeous $250 optional Metal Weave inlays across the instrument panel and doors, which look a lot like carbon-fibre. Plenty of tastefully applied satin silver aluminized metal brightens up key trim, including a gorgeous row of centre stack toggle switches, knurled detailing for the lower console's scrolling volume controller, rotating infotainment wheel, and performance mode selector, while the metal-trimmed steering wheel gets the same treatment for its paddle shifters.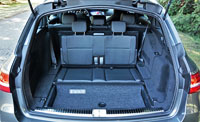 Anyone raised on American iron will feel right at home with the E's column-mounted gear selector, but that's about it for classic station wagon comparisons. The E 400 4Matic Wagon's drive is unparalleled in this segment, its ride sublime yet its performance surprising, even for the initiated. Turn-in is sharp yet smooth, a tad artificial feeling due to an overboosted rack, albeit brilliantly reactive. Simultaneously it tracks effortlessly at high speed, holding its lane no matter how quickly you're traveling, and always feeling rock solid and steady, not to mention ideally agile as soon as the freeway starts to bend. In fact, it feels more like an E-Class sport sedan than a five-door family hauler, even reminding me of the wonderful E 400 4Matic Coupe I tested last year. Its sizeable 245/40 Pirelli Cinturato P7 rubber certainly aided at-the-limit grip, and as noted they weren't overly firm. Just the same, the standard 18s found on the base model, or the 18s and softer suspension setup from the Luxury version would no doubt improve ride quality, but at a slight performance cost.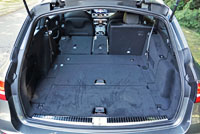 Finding my way was made easier and safer via a standalone $1,500 head-up display that projected key info onto the windshield, while additional options added to my tester that I haven't yet mentioned include a $590 360-degree surround monitor that provided a bird's eye overhead view to ease parking, a fragrance-infused $500 Air Balance package (just don't use lavender, cedarwood, vetiver, marjoram, Roman chamomile, bergamot, orange, frankincense, patchouli, or sandalwood or you might fall asleep, although Mercedes' standard Attention Assist will wake you back up), a $150 wireless device charger that's more advanced than my phone, and those rear seat heaters were a $650 option.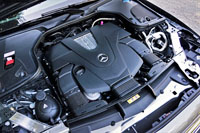 Of note, a heated windshield will set you back $650, while the only other standalone option not featured on my test car was a set of ventilated front seats at $1,200. As for alternative packages, $1,900 Exclusive package could have upgraded the upholstery with Nappa leather, covered the dash top with stitched Artico pleather, modified some of the interior design details, and added illuminated doorsill treadplates, while a $3,000 Intelligent Drive package adds Active Distance Assist Distronic, Active Blind Spot Assist, Active Steering Assist, Active Lane Keeping Assist, Active Lane Changing Assist, Pre-Safe Plus, Traffic Sign Assist, and Pre-Safe Impulse Side, an industry-first technology that prepares occupants for an impending side impact and hopefully reduces the forces of impact by inflating the front-seat bolsters.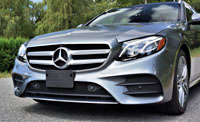 Equally impressive, Mercedes' Pre-Safe system instantly and automatically closes all windows and the sunroof, pulls the seats upright, cinches the seatbelts and more while doing its best to stop and steer you away from the critical path as quickly as possible. What's more, milliseconds before a crash Mercedes' Pre-Safe Sound deploys a high-volume blast of pink noise through the audio system to limit hearing damage from the types of high-pressure noises that occur during an accident. Mercedes says it's "not designed to protect your life, but designed to protect the quality of your life."
A more modest set of LED headlights comes standard with the $74,000 base model, incidentally, as do power-folding side mirrors, rain-sensing wipers, a 12.3-inch infotainment display, navigation, Apple CarPlay and Android Auto smartphone integration, leather upholstery, dual-zone auto climate control, a powered liftgate, radar-based Active Brake Assist autonomous emergency braking, Blind Spot Assist, and much more.
Of course, the E 400 4Matic Wagon is much more than the sum of its parts, and to that end this grand complication of high quality components is the most impressive station wagon I've ever had the pleasure of driving.