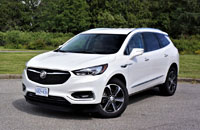 I've rarely heard anyone say anything negative about Buick's styling, at least not during the most recent decade. The brand combines a conservatively classy look with some elegantly sporty elements, resulting in clean, classic and mature design that mostly stands the test of time.
The recently discontinued Regal, a car I covered in its sportiest GS trim in 2019, is a good case in point. Few four-door sedans in its mid-size segment looked anywhere near as good, not to mention drove as well, but alas it's gone the way of the dodo due to cars in this class falling out of favour with consumers. Ditto for the arguably better looking Regal TourX that was never offered in Canada, yet made five-door fanboys like me a tad jealous of my American friends. I should probably mention the 2016-2019 Cascada as well, a sharp looking Opel-designed four-seat convertible that remained south of the 49th as well.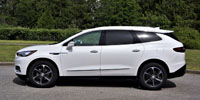 The Regal ended its official tour of duty last year, although anyone interested can probably still find new 2020 models kicking around. That won't be so easy if you're looking to buy a new full-size Lacrosse, which ended production the same year as the just-noted Cascada, in 2019. It was another great looking four-door that drove well, especially on the wide-open highway, while the 2012–2017 Verano was Buick's quiet, comfortable and reasonably quick answer to an entry-level compact luxury conundrum nobody had asked anything about since its forgettable Skylark predecessor drove off into the sunset back in last century.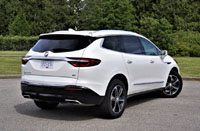 Buick partially filled this multi-car void with the introduction of its Encore (2013-present), Encore GX (2020-present), and Envision (2016-present). The first model on this list is a subcompact crossover SUV that's done very well in its burgeoning entry-level segment, while the GX is a slightly longer variation on the small crossover theme. Finally, the Envision is a larger compact luxury crossover SUV that was nicely updated for this 2021 model year.
I just finished a weeklong test of that model today, and it left such an impression that I came straight back to write a news story about the refreshed 2022 Enclave that will soon replace the very model you're looking at here. Don't worry, as plenty of 2021 Enclaves are still available, and without doubt Buick will tempt you with a deal that's too good to pass up if you like what the current model has to offer.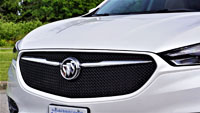 When the Lacrosse left the scene back in 2019, the Enclave became Buick's de facto flagship. I know, the thought of a large family hauler as a luxury brand's most coveted model probably sounds a bit strange to those of us that have followed the automotive industry for decades, but we might as well get used to the idea, because big luxury sedans aren't exactly flying off showroom floors these days.
Joining Buick, Cadillac also said goodbye to its largest CT6 sedan last year, while Lincoln dropped its near full-size Continental as well as its mid-size MKZ in 2020. Acura also dumped its mid-size RLX at the end of the same year, while Infiniti finally halted Q70 and Q70L production at the close of 2019, and Jaguar sadly said so long to its beloved XJ during last decade's penultimate year too, and followed that up by discontinuing its compact XE last year.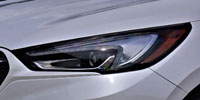 Sorry to stir the tears, but most readers of this review won't likely be crying about a shortage of low-slung sedans anyway. Today's low interest rates are certainly keeping the wolves from entering through the front door, but be certain that automakers around the globe are preparing for survival of the fittest when those same rates are hiked upward to stave off inflation. Therefore, they might as well kill off the slow sellers and make better bets on more popular SUVs ahead of what would otherwise be certain carnage.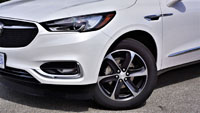 Until Buick arrives with a two-row mid-size crossover to fight it out against the regular-sized Lexus RX, as well as Lincoln's two-row mid-size Nautilus, base versions of the new Genesis GV80, and the list goes on (such a model that should really be in their lineup to take the brand to the next level), the three-row Enclave is where sizeable enough profits can be found to keep Buick in the black.
At a starting point of $48,398 (plus freight and fees), the Enclave is clearly not going solely up against mainstream volume brands, especially when considering Infiniti's QX60 is right alongside with a base price of $48,995. These numbers are only slightly less than where a conventionally-powered Highlander ends up when everything Toyota has to offer gets added on, or for that matter a Hyundai Palisade in its top-tier Ultimate Calligraphy trim. Honestly, those two would provide serious competition for this Enclave and others in its entry-level luxury class, if consumers chose to shop them against each other, but sometimes luxury is a mindset, and to that end Buick owns a bit more real estate in Banbury-Don Mills than Pickering, albeit certainly not much if any in Bridle Path.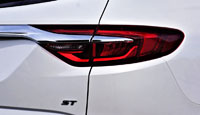 The photos of this Enclave were fittingly taken in North Delta, by the way, a nicer suburb just west of Surrey, which for those not from the area is Vancouver's version of Scarborough. Before getting lambasted for mentioning the latter two cities in what could be imagined as derogatory, there's much good on offer from both, and a lot of visible wealth in nicely developed clusters. Still, everyone knows Surrey isn't West Van or Southwest Marine Drive, just like Scarborough isn't Rosedale or Forest Hill. Likewise, most everyone can appreciate that your new Enclave Avenir has more in common with the just-noted Toyota and Hyundai SUVs than a Mercedes-Maybach GLS 600 or a Range Rover SV Autobiography.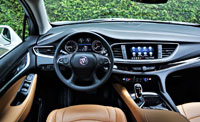 Back to the here and now, changes to the 2022 Enclave only impact the front and rear fascias, wheels, and trim, with Buick combining design cues from the arguably more attractive Chinese version with the best of this 2021 model in order to arrive at another classically conservative luxury SUV option. To be clear, Buick has only shown photos of the top-tier 2022 Enclave Avenir so far, while the 2021 Enclave shown in this review wears the brand's humblest Essence trim line. To be clearer still, this one is priced $3,000 dearer at $51,398 due to having all-wheel drive, and it also shows off a particularly attractive $1,495 Sport Touring upgrade package that adds a sportier black mesh grille, glossy Pitch Dark Night lower accent colouring, and upgraded 20-inch alloys.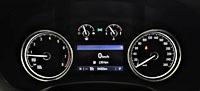 Just the addition of AWD means a similarly equipped Enclave costs more than its Infiniti equivalent that comes standard with four-wheel propulsion, but I'm not going to even poke my head down any sort of comparison rabbit hole in this highly competitive class. Suffice to say the Enclave Essence is equipped with most features an entry-level luxury buyer should need, albeit not everything they'd want, hence the minimalist name, with key items including 18-inch alloy wheels, auto on/off LED headlights, heatable power-folding side mirrors, and more.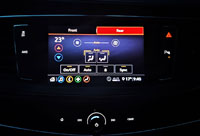 The more is found inside, where proximity-sensing entry will allow you to closer inspect its pushbutton ignition, auto-dimming rearview mirror, 4.2-inch colour multi-information display, 8.0-inch colour touchscreen infotainment system with Apple CarPlay and Android Auto, 10-speaker Bose audio, 4G LTE Wi-Fi hotspot, universal home remote, power tilt and telescopic steering column, heatable leather-wrapped steering wheel rim, Safety Alert driver's seat that vibrates as a warning, perforated leather upholstery, three-way heated and ventilated power-adjustable front seats with four-way powered lumbar, two-way driver memory, tri-zone automatic climate control with rear controls, heated second-row captain's chairs for seven-person occupancy (a second-row bench for eight is available), power-folding 60/40-split third row, hands-free powered liftgate, 120-volt power outlet, remote start, and much more.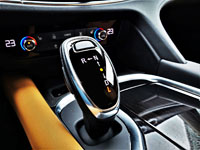 Standard as well, all Enclaves boast the Buick Driver Confidence Plus package of advanced driver assistive and safety tech that includes a Following Distance Indicator, Forward Collision Alert, and Rear Cross Traffic Alert with Automatic Emergency Braking and Front Pedestrian Braking, plus Lane Departure Warning with Lane Keep Assist, Side Blind Zone Alert with Lane Change Alert, front and rear Park Assist, and IntelliBeam auto high beam assist headlamps.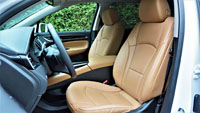 As the Enclave's long list of base features should let on, you won't feel like you're slumming it in this Buick. In fact, even this entry-level model provides fabric-wrapped A, B and C pillars, plus a higher quality of soft-touch synthetic on the dash top and front-to-rear door uppers than I can remember in previous iterations. It's even nicer across the instrument panel facing, plus the lower section of the IP ahead of the front passenger that continues underneath the infotainment touchscreen and along the right side of the lower centre console. This surface treatment is beautifully stitched and finished in a supple leatherette up and down, while the left side of the centre console is padded nicely to protect one's inner knee from chafing, plus it also extends down to the armrest. These areas were finished in a lovely caramel brown in my tester, in order to match the seats and door inserts that were also nicely stitched, with the former featuring perforated leather inserts.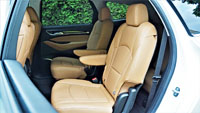 The seat leather is softer than many at this price point too, while those previously noted warming front cushions heat to near therapeutic levels. Speaking of warmth, the climate control interface, while appearing somewhat rudimentary, did its job well, and besides, your eyes will more likely gravitate to the colour touchscreen overtop, which is one of the easiest to use in the industry.
I've been a big fan of General Motors' infotainment systems for some time, and while I like Chevy's more Apple-inspired jelly-drop interface even more than the classier Buick design, they both make ample use of a full colour palette and work identically. This version responded quickly to inputs, which was especially notable when moving the navigation map around with my fingertips (it didn't skip a beat). GM navigation has never let me down either, so kudos to the tech department, while the backup camera was clear and complete with moving guidelines, plus the standard Bose audio system was excellent.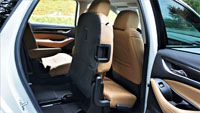 The Enclave's primary gauges, on the other hand, are about as basic as such clusters get, and a bit of a letdown visually. Sure, the chrome trimmed analogue dials are nice, these to each side of chrome-edged gas and engine temp meters above, but the smallish multi-info display is housed in a square shape that makes it appear like an aftermarket add-on, while competitors have made things worse by showing up with entirely digital primary clusters that show virtual dials one minute, and then transform into giant maps when using the navigation system, or alternatively integrate rear-facing camera monitors that automatically show the SUV's blind spot when flicking the turn signal. At least the Enclave's steering wheel that frames it all is superb, with soft leather and a nice sporty feel, while the switchgear on each spoke is high in quality and works well.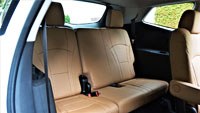 The overhead console just above looks a bit like yesteryear too, but it's functional and includes a sunglasses holder, plus LED reading lights and switches for the garage door opener, OnStar, SOS, and more. There's no power sunroof button, because this base model doesn't have a sunroof, and I must admit it's a strange omission in any new car these days, and especially odd looking when the roof is this long.
Sitting in the driver's seat, the manual tilt and telescopic steering wheel offers plenty of reach, which worked well for my long-legged, short-torso body type, while the seats were quite comfortable, albeit with hardly any lateral side support, so if you're planning to push hard through the corners, you'll need to find something other than the steering wheel to hang on to. I only mention this because the Enclave handles very well, especially with the 20-inch wheel and 255/55 tire upgrade from the package mentioned earlier, so I recommend looking further up the trim line to find something with sportier, more sculpted seat bolsters.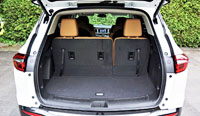 Likewise, the backrests on the Enclave Essence model's second-row captain's chairs are nearly flat too, but if rear passengers fold down their centre armrests they should be just fine when you're having some fun on the way to the cottage. They're generally comfortable seats, with ample legroom when slid all the way back. Second-row amenities include the aforementioned rear climate control panel and seat warming switchgear on the backside of the front console, where you'll also find a set of USB chargers, albeit no air vents. Those are smartly integrated within the roof, which is the case for third-row passengers as well, and likewise for the LED reading lights.
Those in the very back get USB charging points to each side as well, while reasonably large rear quarter windows provide good outward visibility for rear passengers. The rearmost seats are comfortable enough too, while the aft compartment is generously roomy overall. There's reasonable space for legs and feet, at least if those sitting in the second-row seats pull them forward a bit, while it's also easy to flip those seats up and out of the way for third-row ingress and egress, only requiring a simple tug on a handle atop the backrest, while another lever below flips them down for storage.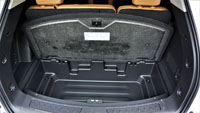 They fold fairly flat too, as does the third row, providing loads of cargo space for almost anything you could want to haul. I was able to carry a double-wide Ikea Pax wardrobe system for a friend, along with its glass sliding doors, and there was room to spare thanks to 2,764 available litres when both rows are lowered, 1,642 litres behind the second row, or 668 litres of dedicated cargo volume behind the third row.
Even fully loaded, the Enclave should be strong off the line, thanks to a potent 3.6-litre V6 good for 310 horsepower and 266 lb-ft of torque. It comes mated to a nine-speed automatic that not only helps to cheat the pump with a commendable fuel economy rating of 13.0 L/100km in the city,  9.1 on the highway and 11.2 combined with FWD, or 13.6, 9.6 and 11.8 respectively as tested with AWD thanks in part to standard idle start/stop, but it provides absolutely seamless, smooth shifts, but then again if you engage manual mode, which requires a shift into the "L" position (that really makes no sense at all), its steering wheel-mounted paddle shifters help transform this calm and sedate traveling companion into a much sportier SUV than initially expected. In fact, BMW doesn't even go so far as to hold its utility's engines at redline before upshifting, so kudos to Buick for giving the Enclave such enjoyable performance. The V6 makes a notable growl too, although don't take that to mean it sounds particularly sporty.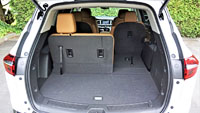 Of course, being a Buick the Enclave's ride is extremely good. The driver and passengers are also well isolated from the elements outside when traveling at slower city speeds, with very little notable road noise. This is why I was a bit surprised by all the wind buffeting at highway speeds, the auditory kerfuffle so evident that I even made sure to check if all the windows were closed tight. This was an unexpected sensation from a brand that prides itself in providing vehicles with tomblike silent interiors, making me guess that upper trims are given an extra dose of Buick's "Quiet Tuning" technologies.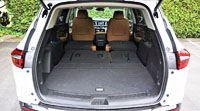 This brings us back to the Enclave's sub-$50k starting price, which is very affordable for a three-row luxury crossover SUV. It actually measures up pretty well to many that cost thousands more, but simultaneously might find itself a bit lacking when put side-by-side with some of the top trims produced by more common volume brands (for more competitive pricing information, be sure to check out my news story on the 2022 Enclave, which links to information about all luxury competitors as well).
If the current 2021 Enclave suits your personal style and overall needs, take note that Buick is currently providing up to $1,000 in additional incentives, while CarCostCanada members are reporting average savings of $2,625. To learn how you can save thousands when buying your next new vehicle too, check out how the CarCostCanada system works. You'll be provided dealer invoice pricing to make negotiating your best deal easier than you ever thought possible, while downloading the free CarCostCanada app from the Google Play Store or Apple Store before visiting your local dealer makes sure that you have all the info required exactly when you need it.
Review and photos by Trevor Hofmann