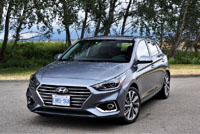 Hyundai's popular Accent hasn't changed all that much since generation-five was introduced for the 2018 model year. Still, the adoption of a new brand-wide trim level naming convention for the 2019 version probably threw a few diehard Hyundai buyers for a loop, with the previous L, LE, GL and GLS lines being creatively redubbed Essential, Preferred and Ultimate.
The car before you would've been named the Accent GLS 5-Door Manual back in 2017 when the 2018 model debuted, but for 2019 was renamed the Accent Ultimate 5-Door Manual. The manual in this top-line trim won't exist for 2020, incidentally, so being that this exact model in 2019 form was still available at the time of writing, I thought I'd tell you about it along with changes made to the new 2020 Accent, plus let you know about any potential savings on either car.
For starters, the Accent Sedan is gone. Yes, those who love subcompact four-door sedans can no longer look to Hyundai to satiate their desires. Hyundai isn't alone, with Toyota dropping its Mazda-built Yaris Sedan for 2020 as well, Nissan saying goodbye to its Versa Note and not bringing its redesigned Versa sedan north of the 49th, Ford killing off its entire Fiesta line that included a sedan and hatchback last year, and Chevy having done likewise with its Sonic the year before, leaving Kia's Rio as the sole option for three-box city car buyers.
Also new, the Accent gets a fully redesigned engine for 2020, plus a new optional continuously variable transmission (CVT). Gone is this car's very reliable 1.6-litre four-cylinder that's good for a commendable 132 horsepower and 119 lb-ft of torque, replaced by the South Korean brand's all-new 1.6-litre Smartstream four-cylinder engine making 120 horsepower and 113 lb-ft of torque.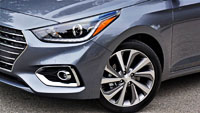 The new powertrain is obviously more about fuel economy than performance, having said goodbye to 12 horsepower plus 6 lb-ft of torque, and to this end it achieves an impressive 7.8 L/100km in the city, 6.1 on the highway and 7.0 combined with its base six-speed manual, or an even better 7.3 city, 6.0 highway and 6.7 combined with its most fuel-efficient CVT. It really shines when compared to the outgoing model shown here, which could only achieve a claimed rating of 8.2 city, 6.3 highway and 7.3 combined no matter whether using its six-speed manual or six-speed automatic.
Of course, the 2019 example before you really shines when taking off from a standing start or passing on the highway. True, I haven't driven the new 2020 model yet, so Hyundai may have made up for its engine output disadvantage with shortened initial gear ratios, but I'm guessing those trading up from old to new will still find it difficult not to notice a sizeable difference in performance. Hyundai is no doubt hoping the car's fuel economy improvements will more than make up for any accelerative shortcomings.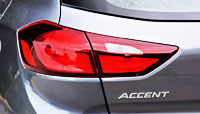 This said, fewer and fewer new vehicle buyers are trading up from subcompact cars to the same type of vehicle, but instead are opting for a small SUV. Hyundai has the subcompact SUV category fully covered with its new city car-sized 2020 Venue and slightly larger Kona, the latter model introduced for 2018. The sales of these two have grown exponentially, whereas the Accent's numbers are dropping at a relatively rapid rate. From a high of 29,751 units in 2018, and still strong Canadian sales of 23,173 in 2014, the Accent's deliveries have steadily slumped downward from 19,371 in 2015, 19,198 in 2016, 13,073 in 2017, 9,021 in 2018 and just 5,989 in 2019.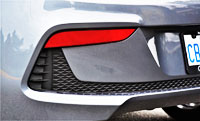 As noted, small SUV sales have been the benefactors, with the Kona finding 14,497 new buyers in its first partial year (it arrived in March) of 2018 and a whopping 25,817 units throughout 2019, making it number one in its class last year, and the same over the first three months of 2020 too. The Venue is too new and the 2020 calendar year too wonky to make any sense of how it will do overall when things normalize, but if it sells anywhere near as well as the similarly sized Nissan Kicks it should rank somewhere amongst the subcompact SUV segment's top three or four (the Venue outsold the Kicks in March and had its best sales in May, but Nissan Canada only reports its sales quarterly so we'll need to wait a little longer to find out—I'll tell you in my upcoming 2020 Venue and Kicks reviews). Of more importance to this review, in Q1 of 2020 the Venue outsold the Accent by about 1.6 to 1, making it easier to appreciate why Hyundai dropped the slower selling sedan variant.
This said there are a lot of reasons to choose the Accent over one of its taller more SUV-like brethren. I say SUV-like because most modern SUVs are little more than raised hatchbacks or wagons with chunkier, beefier styling. Some, like the Venue, don't even offer all-wheel drive, so their buyers are opting for a more rugged go-anywhere design and a taller ride-height for better outward visibility. They give up some handing chops and oftentimes fuel economy too, but that's ok in today's oh-so image conscious society.
The Accent's 2018 redesign was a major improvement over its more sheepish predecessor, its much bolder wide mouth grille adding a little Audi-like presence to this entry-level commuter. In Ultimate trim there's more chrome bits to brighten the exterior, particularly on the front fascia that incorporates a set of fog lamps with metal brightwork bezels on each corner, while the side window belt mouldings and each of its four door handles are chromed as well. The LED headlamps with LED signature accents help spiff up this top-line trim too, as do the LED turn signals integrated within the side mirror housings, while a sporty set of 17-inch multi-spoke alloy wheels round out the look nicely, these framing a set of four-wheel disc brakes in Ultimate trim (lesser versions use rear drums).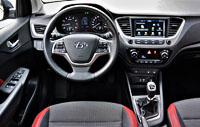 I have to say, the Accent's exterior styling never left me feeling as if I was living at the entry level of the market. Along with the big, bold grille is a wonderfully detailed front fascia worthy of hot hatch respect, albeit the car's dramatically sculpted rear valance is even more eye-catching thanks to a large, body-wide black mesh grille insert resulting in a particularly aggressive look. A rear roof top spoiler gives the Accent's profile a longer, leaner appearance, although it's not as if they need to visually stretch this car in order to make it look longer than it actually is.
This is the largest Accent in its 18-year tenure, or at least it's been on the Canadian market for 18 years. The Accent nameplate has been in existence longer, but here in Canada it was previously dubbed Excel, and before that Pony. I've driven every generation since the mid-'80s rear-wheel drive Giorgetto Giugiaro-designed original took our market by storm, and believe me it's come a long way (as has everything else).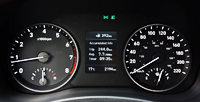 The current 4,190-mm long Accent hatchback is 90 mm lengthier than its 18-year-old predecessor, with a 2,580-mm long wheelbase that now spans 180 mm more, while the new car's 1,729-mm width shows its greatest growth at 109 mm from side-to-side, its 1,450 mm in height only 55 mm taller. Of course, this makes today's subcompact more like the compacts of yesteryear, which actually means they're better value than ever when factoring in that the Accent's price hasn't really gone up when compared to inflation.
The base Essential starts at just $14,949 plus freight and fees for 2020, by the way, which is quite a bit cheaper than last year's $17,349 base price. Unusual I know, especially when factoring in the thrifty new engine, but the 2019 model came standard with a Comfort Package that's extra with the 2020 model, the new 2020 Essential with Comfort Package now starting at $17,699. The price for the Accent's second-rung Preferred trim has increased too, from $17,549 last year to $17,899 this year, while the as-tested Ultimate has added $1,250 from $20,049 to $21,649, but take note the new CVT auto is now standard whereas last year's six-speed automatic was an extra (what do ya know?) $1,250 across the line.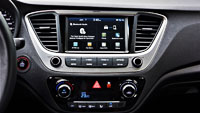 Another interesting point about small car value that most Canadians don't realize is the great deal we're getting here compared to the U.S. The base 2020 Accent south of the 49th (that just happens to be a sedan as no hatchback is offered there) is $15,295 USD, which was $20,735 CAD after calculating the exchange rate at the time of writing. Likewise, their top-line 2020 Accent Limited is $19,400 USD or $26,300 CAD, while our full-load Ultimate is once again just $21,649. We're getting a stellar deal.
On top of this, Hyundai Canada is offering factory leasing and financing rates from zero percent on 2019 models or up to $750 in additional incentives for 2020 models according to CarCostCanada, where you can find out about available rebates, financing rates and even dealer invoice pricing that could save you thousands on your next new car purchase. They've even got a free mobile app to make your car shopping experience easier, so make sure to find out how their smart system can save you big time before you purchase your next car.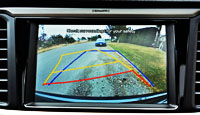 The Accent's larger exterior dimensions translate into a much roomier subcompact hatchback than you might have been expecting, especially when it comes to width. The seats offer plenty of adjustability as long as you're not looking to modulate the driver's lumbar area, which is static as is usually the case in this class. I could've used a more pronounced lower backrest and better side bolstering, but I can understand this is a one-seat-fits-all compromise and therefore it's not going to match everyone's body type ideally. The rest of its adjustments are more than adequate, however, while the tilt and telescopic steering column's reach was particularly good, enough so that my long-legged, short-torso frame was able to feel right at home with excellent control of the wheel and pedals, not always the case in this category.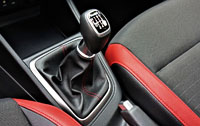 Rear seat spaciousness was very good too, but take note that even in this top-line trim there's no folding centre armrest in back. Instead, the seatbacks fold 60/40 to expand the already generous dedicated cargo area when the need to load in longer items arises. When folded the seatbacks are about four inches above the load floor, which therefore isn't flat, but most will probably prefer that Hyundai chose to maximize available volume instead of creating a level load area when the rear seats are lowered. A spare-saver tire and some tools can be found below the load floor, while a hard-shell cargo cover hovers above, all par for the course in this segment.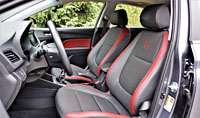 More out of the norm for this subcompact segment is the Accent 5-Door Ultimate's tastefully sporty interior design, plus its impressive load of features. The fact you can leave its key fob in your pocket or purse when opening the door via proximity-sensing access before starting the engine with a button just goes to show how far Hyundai has gone to lift up this lower class into a more sophisticated crowd. The cabin is further enhanced with a sharp-looking two-tone red and black motif. Hyundai doesn't go so far as to finish any surfaces with soft-touch synthetics, other than the padded leatherette armrests and of course the nicely upholstered seats, these complete with red leatherette side bolsters, red stitching and a stack of six hexagonal shapes embroidered onto their cloth backrests, all of which match the door panel inserts, the red stitching on the shifter boot, and the red baseball stitching on the inside rim of the leather-wrapped steering wheel. Once again everything mentioned impresses more than most shopping in this category will expect.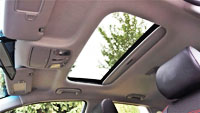 The steering wheel spokes include very high-quality switchgear left and right, the toggles on the former for the audio system and surrounding buttons for audio mode control, voice activation, and connecting to the phone, whereas the latter spoke's switches are for scrolling through the monochromatic multi-information display and cruise controls.
The gauges ahead of the driver are a simple fare, with backlit dials surrounding the just-noted multi-info display, so if you want to be impressed by a digital interface as you'll need to look to the right at the centre stack which gets a large touchscreen infotainment display complete with Android Auto and Apple CarPlay smartphone integration, Bluetooth phone and audio streaming, regular audio functions, the latter including satellite radio, plus more.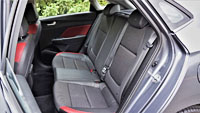 Just below is a single-zone automatic climate control interface that's made easy to use thanks to large dials that accept winter gloves, while below that is a row of buttons for three-way heated front seats and even a heatable steering wheel rim. At the base of the centre stack is a large bin for storing your smartphone, with connections for a USB-A charge port and an auxiliary plug.
Forward collision warning with automatic emergency braking is included in the top-line Accent, as is a powered glass sunroof, while features pulled up from lesser trims include the tilt-and-telescopic steering (an improvement over the tilt steering wheel in base trim), cruise control, front seat warmers and the 7.0-inch infotainment display noted earlier (the base model gets a 5.0-inch colour touchscreen), plus automatic on/off headlights, six-speaker audio (up from four speakers in base trim), keyless entry, and a rear seating area USB-A charging port from Preferred trim, the automatic transmission and Bluetooth mentioned before, plus power-adjustable and heated side mirrors, air conditioning and power windows from the Essential Comfort package, and lastly variable intermittent front wipers, six-way driver and four-way front passenger manually adjustable seats, plus power door locks from base Essential trim.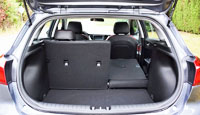 As noted earlier my test car came with a six-speed manual gearbox that's no longer available in top-line Ultimate trim, this a shame to those of us who appreciate the sportier nature of a DIY transmission. The little car really comes alive with the manual, which makes the most of its aforementioned 138 horsepower. Takeoff from standstill is quick, the shifts are smooth and clutch take-up good, while braking is strong too. High-speed handling is more than adequate for the class, the Accent's previously noted width and lower ride height (than an SUV) allowing for less body roll than you might expect. Likewise, it feels nice and stable at highway speeds, making this a car I could cruise in all day. Truly, it's a comfortable and confidence inspiring little ride, which is no doubt a key reason it remains such a strong seller in this class.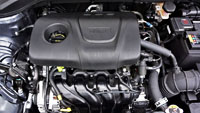 Yes, the Accent's entry-level car category might seem like a dying breed, but all it would take to reignite interest in small, cheap commuters like this is an extended downturn in the economy, and that could very well be just around the next corner. Combined with rising fuel prices (we're once again experiencing that too), the Accent makes a good case for itself, with the icing on its cake being a five-year, 100,000 km comprehensive warranty. I recommend you check this little car out, and remember to opt for the 2019 if your prime focus is performance, or 2020 if you're looking to save a bit more at the pump.
Story and photo credits: Trevor Hofmann
Photo editing: Karen Tuggay